• All That Bombing is Makin' Me Bitch! DJ Dank Offers an Alternative to FOX News
• Baghdad Top Ten Countdown
• Shock and Awe Awards 2003
• Tallest DJ Awards
• New Arrivals in Hip Hop Slam Shop
• DJ and Hip Hop News
• Interview with Charlie Ahearn about the making of Wild Style
• Review of Jurassic 5 @ Red Box in Dublin Ireland by Tall Paul Lowe
• Hip Hop Slam Label News
• Review of Zion I record release show @ Slims in San Francisco by DnZ
• BOMB European Tour report by DJ T-Rock
---
World's Tallest DJs
DJ's Platurn and DnZ were honored at the recent "World's Tallest DJ Awards" in Dallas, TX where Houston Rockets baller Yao Ming bestowed the awards. At 10' 1" DnZ took the top prize with runner-up being the 9' 11" DJ Platurn who is commonly known as "Risi" (meaning 'giant') back in his native Iceland where he is a national hero and where his image appears on an Icelandic postage stamp.
---
Hip Hop Slam Shock and Awe Awards 2003
1) "Creepiest War Award" goes to top dog George W. for shrewdly and successfully initiating the effective "distractionary war" on the American public
2) "Props for Speaking out on the hypocrisy of Bush's War Award" goes to Michael Moore for his "fictitious" statements at the Oscars and also to Davey D and all the other journalists and broadcasters who have the balls to tell it like it is.
3) "Greatest Irony Award" goes to Ashcroft for attempting to stamp out marijuana use at home while the government sanctions amphetamine use ("Go" drugs given to US troops)—giving new meaning to the term: "The War On Drugs."
4) "Go Out And Make Your Own News Award" goes to Clear Channel for funding pro-war rallies that they then reported on. Alternate award goes to the 18,000 protesters who chanted outside the CNN building in Hollywood.
5) "Most Creative-but-Shortsighted form of antiwar Protest Award" goes to the "pukers" in San Francisco whose protest entailed them throwing up on cue. Very effective protest but not practical if you want go to a lot of protests in a day.
---
All That Bombing Is Makin Me Bitch
by DJ Dank
"I feel so stressed and frustrated about this whole war that the only relief I can seem to get is from getting on the turntables and scratching," said a weary looking DJ Pone (no, not the French DJ Pone) on Day 8 of "Iraq Attack". "And sometimes even that (scratching) isn't enough," admitted Pone who, at age 27, thinks that maybe he feels this frustrated, unsettled way now during this war because he was too young to care the same way back in '91 during that other Bush vs. Saddam Battle. But perhaps maybe he feels this way now because this war compared to the Gulf War, or to any other American war even, is so obviously wrong.
The main reason why this war is not only wrong (all war, like all murder, is wrong) but is just plain creepy is that it is first and foremost a distractionary war: one designed to dupe and distract the American public. Drop the old "Shock and Awe" on their TV watching asses, if you will, so that they (us) won't even notice Ashcroft creeping up behind and pick-pocketing all of our civil rights. Plus it's all happening so fast that most people don't fully comprehend how they are being quietly robbed of their civil rights. But the simple fact is that since September 11 the FBI and the Justice Department have radically increased their spying on the American public. Suddenly it's now okay to tap telephones, seize bank records, online activity reports, bug homes and offices... all in the guise of "national security." And when/if this current "war" ends and all the weapons of mass destruction and bad terrorists are found and put away do you think that things will go back to the way they were? If so, then dream on foolio! We're getting fucked, like it or not. Every civil right/liberty that was fought for over time is being permanently taken back.
Just take the marijuana issue. How suddenly weed was demonized. Suddenly there is one TV campaign telling us just how dangerous smoking and driving is. Then another government sanctioned publicity campaign announces that your dime bag of dank is supposedly somehow supporting those Sept. 11th terrorists! Really? I thought chronic was grown by hippies up in Humboldt County! No matter. And then right during the countdown weeks to the US war on Iraq, Ashcroft turns his boys loose early one morning to focus on the "war on drugs"—raiding pipe and bong factories. Note: all legitimate businesses, one even run by Chong (of Cheech and Chong fame). What the hell has getting the bongs off the street got to do with "national security"? Absolutely nothing. But it worked. A few days later Zebra tattoo and head shop on Telegraph in Berkeley, out of fear, pulled every bong and pipe in their shop and posted a "no tobacco smoking materials sold here" sign in their window. "What's the point of carrying a product that we cannot restock? They've closed down all the factories. We might as well just get rid of them all now and use the space for something else," said the owner as several friends and staffers filled bags with the dismantled pipes and bongs. "We will recycle the glass," he said.
---
KMEL: The (Bush) People's Station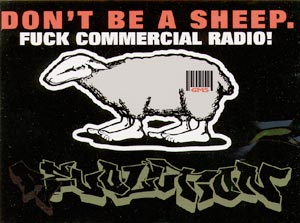 But really what's most scary about all the recent rash of civil liberty strippings is that they are being carried out with no oversight by courts or other outside parties. On the contrary media outlets like FOX News are cheer-leading all aspects of the "war on terrorism" on the sidelines. Not only that but KMEL ("The People's Station") is subject to Bush-stamped views by its parent Clear Channel, whose vice-chairman Tom Hicks is a past donor to Bush's political campaign, and who has not just been monitoring what his stations play on the air, but Clear Channel has also been organizing and paying for a lot of those pro-war, pro-Bush rallies around the country you've learnt about on the news on stations run by Clear Channel. "Many of the rallies, it turns out, have been organized and paid for by Clear Channel Inc.—the country's largest radio conglomerate, owning 1,200 stations—which is not only reporting on the war at the same time, but whose close links with President Bush stretch back to his earliest, much-criticized financial dealings as governor of Texas. The company has paid advertising costs and for the hire of musicians for the rallies." reported Britain's newspaper The Guardian.
(for full report: go to www.guardian.co.uk).
---
This Just In: Continued Budget Cuts
The Davis Administration announced today, amid concerns of the State's deepening budget crisis, that two major state agencies will be combined to reduce administrative costs. Effective April 1st, 2003, the California Highway Patrol and the California Department of Fish & Game will be merged to form the new California Department of Fish & CHiPs.
---
Baghdad Top Ten Countdown: March 2003
1) DJs Of Mass Destruction / "All That Bombing is Makin Me Bitch!"
2) Azeem / "George Bush Is a Gangsta"
3) Paris / "What Would You Do?"
4) Mr. Lif / "EarthCrusher (DJ Pone Remix)"
5) Sway, Tech, Paris, Digital Underground / "Time 4 Peace"
6) v/a / Wartimes: Reports from the Opposition
7) Chuck D & Fine Arts Militia / "Twisted Sense of God parts 1 & 2"
8) Consolidated / "We Gotta Have Peace"
9) Edwin Starr / "War"
10) MC Dubya B. vs. the DJs of Mass Destruction / "50 Miles of Baghdad"
---
DJ and Hip Hop News
Under the alias Mutation Mann, DJ Quest has just released (in our opinion) the best album of the year to date! An hour in length it is an amazing and unique type of Mix-CD meets Scratch-CD, aptly described by its maker as "hardcore thumpin hip-hop electro dark underground smooth breakbeat type shit with flavor." Exactly! It is a must-have for real hip hop fans, fans of mix-CDs, and of course skratch fanatics. Listening to it, as we have repeatedly, proves why so many rightly consider Quest the best (albeit underrated) DJ in the world. Apparently the Live Human/Space Travelers DJ took all of the music off of a ton of break records. And if you listen closely you can trace each beat and sound back to its respective battle record. Really nicely done too! The extremely limited run of "Mutation Mann" CDs on the underground Reverse Techniques 2003 label is available at a handful of select spots including here…
Another mix-CD that is highly recommended is 5th Platoon DJ Neil Armstrong's "Original 2" which will be reviewed in our next HipHopSlam.com NEWS update by Tall Paul Lowe…
DJ QBert, who has been splitting time between Daly City and Hawaii when not traveling to do shows in spots such as Germany and Japan, has been busy finishing up his new "training CD." Titled Hellevator to Heaven, it will be a bonus CD packaged with the brand new Turntable TV DVD—slated for a summer release…
DJ 2 Tall from the U.K. just might be the next big DJ/Producer to emerge out of the British scratch scene. He recently sent us a 5 track demo CD including two dope tracks "The Rise" feat. DJ Blakey and "New Dawn." E-Mail him at jimcoles_uk@yahoo.com, visit his web-site: www.truesicians.com, or check out the U.K.'s Turntable Radio to hear his music…
Sir Golden Chyld has just announced that the artist formerly known as DJ Tico before becoming DJ Teeko, and consequently Teeko the Freeko, from this time forth shall be addressed as Teeko the Scrank Caller since our good friend Teeko, it appears, has been leaving a swath of crank calls to voicemails across the 415/510/408/707 and 925 area codes... but unlike most prank/crank callers Teeko doesn't leave a voice message but instead gets behind the decks to deliver a live turntable scratch routine for an intense 30 seconds or until he is cut off. And they are really good too. Golden Chyld's term for what Teeko does, Scrank, is a combo of Scratch and Crank…
When Mixmaster Mike isn't doing the duties, DJ Apollo can be found behind the turntables spinning between the at-home Golden State Warriors games…
DJ Spair reports that the San Francisco Blueprint parties, once a month at Kelly's Mission Rock, are "good and have been bringing a lot of cool talent to the Bay Area including Brand Nubian and Black Sheep. Black Sheep was a good night but not a big turnout and Mister Lawnge is no longer a DJ. He brought a CD player. He is Dres' hype man basically," reported Spair…
DnZ reports that the coldest/most memorable put down he heard onstage at an emcee battle last month at Oakland's Black Box was when Flo capped on Sayyadina, "You look like you freebase with a tailpipe!"…
Abbey Road Distributors are the latest casualty in the fall of the music industry as we knew it. They join such other fallen distributors as South West…
Napster creator Shawn Fanning is going legit. He just got hired by San Jose's Roxio Inc. as a consultant to help revive the defunct file-swapping program as a legal, fee based service. After a high profile heated fight with the music industry the Redwood City based Napster finally folded to pressure in July 2001 but was soonafter replaced by other file sharing entities such as Kazaa…
April 4th is the date of the unveiling of a Filipino Community Mural at SF State campus in San Francisco. The Filipino artists say the mural "reflects our history, triumphs and struggles both here and in the Philippines." Images include militarism, veteranos, nurses, students, families, activists, farmers, and of course the Filipino DJ, who has made such an impact on hip hop, especially in the Bay Area. 
---
Traveling Radio Show Scratch Attack Keeping Busy:
Next Show On KFJC
Since leaving KPFA a year ago, the Hip Hop Slam traveling radio show Scratch Attack has been keeping busy making guest appearances on other radio stations including WFMU, Resonance FM, VulcanRadio.com, and KUSF. On February 22nd, 2003 the Scratch Attack DJs joined the Beat Sauce Crew (J-Boogie, Wisdom, & Raw-B) on KUSF 90.3FM, San Francisco for a fun skratch session that included on the ones and twos DJ Pone, DJ Platurn and DnZ, and on the mic Billy Jam and Munkifunk. Also in the house were dawgisht and Timi D... (who took accompanying photos)…
Last summer Scratch Attack was one of the shows featured during the WFMU Re:Mixology series (DJ Jester's Heavily Booted release was another show in that series). This summer Scratch Attack will again record another WFMU special for Re:Mixology. Details to follow…
Meanwhile the 2002 special that Scratch Attack recorded for London's Resonance FM's Turntable Radio (hosted by Mr. Trick) was listed in a feature in the April issue of Muzik as one the British radio station's "most memorable moments."…
The next Scratch Attack special is on Saturday April 5th on KFJC 89.7FM (webcast: www.kfjc.org) on "Rucker Park" with DJ Trinity whose show is from Noon-3PM with 1PM til 2:30PM being the scheduled time for the DJs. Lined up for this skratch attack are DJ Platurn (Oakland Fader & "World's Second Tallest DJ"), DJ Teeko the Scrank Caller (voted "California's Sexiest Turntablist" by SOPI sorority), DnZ (T.F.S. DJz & "World's Tallest DJ"), DJ Pone (Backspin Boyz, '89 Skratch Gangstaz), "Sir" Golden Chyld (Finger Banger and Honorary Native Son of San Jose), CutSo (Finger Banger and voted "Most Sexy US DJ" by People magazine Singapore). Also in the house and on the mic talkin hella shit will be dawgisht, DJ Munkifunk, Billy Jam, Timer, and your moms.
---
Hip Hop Slam News
Scratch Attack: the LP will be released in the USA in the very beginning of May. In the meantime however it will be available exclusively in Japan and also online here and at Amoeba Music…
The brand new Hip Hop Slam Productions (Hip Hop Slam sanctioned DJ remixes for other labels/artists) series is off to a good start with artists being remixed including Mr. Lif and The Transplants. The Transplants track "DJ DJ (dj remix)" was done by the ever-talented '89 Skratch Gangstaz featuring DJ Pone and Snayk Eyez. The remix will be released this summer in Europe and Japan: as a Transplants 12" b-side (Eurotaph) and on the Japanese version of the Punkorama 8 double CD compilation which will also feature the Distillers, Rancid, NOFX, Guttermouth, Bad Religion, and Sage Francis. Meanwhile the Mr. Lif remix is of the Def Jux artist's I, Phantom album track "Earth Crusher"and is done by DJ Pone. It will appear on the April 18, 2CD release Amoeba Music Compilation Vol. IValong with 38 other tracks including ones from Da Babylonianz, Balanceman, O-Type, Winfred E. Eye, dawgisht vs. DJ Stoic, Julie Plug, and Tad Bridenthal. Note that there will be two free in-store record release parties/concerts to celebrate this budget-priced, talent-packed release. Both scheduled for Good Friday, April 18, they will be at the San Francisco Amoeba Music at 6PM with performances from Tim'm, Aya de Leon, Joe Quixx, The Meek, and Fabulous Disaster. And at the Amoeba Music in Hollywood at 7PM with performances from Heather Porcaro, Lil Miss Ju Ju B & Uncle Kenny, and Keala C Ramos. For more information on these shows or the new compilation email: billyjam@hiphopslam.com
This summer will be when the much anticipated release of the debut album from Italy's Alien Army, The End, will drop in the USA on Hip Hop Slam. We've been listening to an advance of this album over and over and two words sum it up: Fuckin Amazing! The whole thing including the cool-ass collaboration with US DJ Radar are simply mind-blowing! Much more details to follow on Alien Army in future HipHopSlam.com News.
---
Hip Hop Slam Shop:
New Arrivals
The hiphopslam.com shop continues its gradual expansion with more new titles this week including the aforementioned new Mutation Mann CD by DJ Quest, on vinyl Scratch Attack: The LP, and also the limited edition CD, DJ Drank's Greatest Malt Liquor Hits. There is an interesting story on this early 90's collection of St. Ides Malt Liquor rap commercials in the new XXL magazine (DMX on cover). The 30 track CD includes the Geto Boys' "My Malt's Playin Tricks on Me" and Ice Cube's "Jackin Fo' Malt Liquor."…
Coming soon to the shop will be the 2CD, budget priced ($5.98) Amoeba Music Compilation Vol. IV and also all four CDs in the Return of the DJ BOMB Hip Hop pioneering turntablism series…
Current popular releases on the site include Scratch Attack Vol. 3 and the Digital DJ tool The Ultimate Scratch CD which DJ Pone tested out and reports, "It doesn't skip at all… It's all there (samples) on one CD… It's not produced like scratch records where there is a two second gap, it has 60 minutes of nonstop sounds like if it were a scratch sentence. But a battle record only has about 12-15 minutes. This has 60 minutes!"…
Another popular release on the site is Scratch Attack Vol. 2 CD which has been getting a bunch of cool reviews lately including the March/April issue of XLR8R in which Tamara Palmer praises the release, whose stellar lineup includes QBert, Alien Army, DJ Jester, and D-Styles, for having "techniques, musicality, and a healthy sense of humor." "Jokester Turntablism" is how the March issue of Remix describes the 25-track compilation which it rated with four-stars. Writer Kylee Swenson notes that the fast-paced, skratch collection is also "good for ADD types." Meanwhile the March issue of UK magazine Muzik rate it with four stars and Will Ashon calls it "Another volume of the most astringent, loose, unmarketable turntablism money can buy… it's all utterly lovely and retains the essential property of almost certainly pissing off whoever is in the next room."
---
CHARLIE AHEARN INTERVIEW
by Billy Jam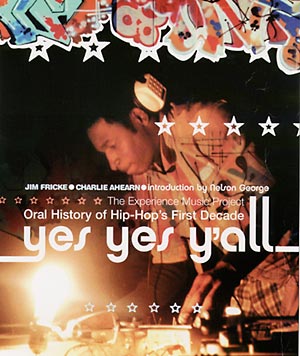 Charlie Ahearn's legendary 1982 hip hop movie Wild Style is now available on DVD so you now have no excuse not to get off yer ass and get it and put it on your Hip Hop DVD shelf. Same for the recently published must-have hip hop history book Yes Yes Y'all by Charlie Ahearn and Jim Fricke (De Capo Press). One of the most satisfying (images and text) books ever made on the history of hip hop. Its got incredible historic hip hop photos and pictures of old school flyers and a ton of insightful engaging interviews. For example there's a great interview with Pistol, one of the original graf artists, who says "Graffiti… it was like a virus. They had no way of controlling it; every subway line was completely covered..... We had this thing called Writer's Corner, which I helped to originate. That was a place where you would go after school or during school, where we would watch our work go by and compare notes and see who was doing what. It was just a train station." The whole book is full of intriguing offerings like this.
HHSNS: What inspired you to make Wild Style?
Ahearn: Well I was working on a kung-fu movie called The Deadly Art of Survival in the late 70's that was made in Lee's neighborhood in the lower east side. And so I was seeing all these great murals by Lee (graf artist with the Fabulous 5 crew) all over the place and every once and awhile he would drift by with this afro and this little scooter he had and I would want to get him involved with this movie and stuff. He would always disappear. He was like this mysterious character and then later in June of 1980 when I finished the film I was showing it in this abandoned massage parlor with a live show, and Fab 5 Freddy wanted to meet me. He was working with Lee on putting together a graffiti show of his work and Lee's work in Italy and he was trying to track me down and talking about making a movie with me and I said "Well if you can bring Lee here then we can get started." And he brought him and they painted this mural at this place in Times Square and that was the first day of the cut.
How long did you spend filming Wild Style?
It took a long time to get started because it involved just running around and acting crazy and watching things for about a year. And after that I felt ready to make the film. There was never a real official script. It was just a loose thing.
Yeah. Which was part of the appeal.
Well, I did try and give them lines but they really never said them anyways (laughs) "A to the K, A to the mutha fucking K" was never my line. So that line was pretty much made up by those guys, Pookie and his two buddies who I brought on to act as stickups in that scene and I've never seen those guys before and like I had recruited them from the night before and were out on this rock street shooting this scene and I give this guy which I thought was a pretty impressive little hand pistol and he says to me "I cant use this, this is a pussy gun!" And I go, "This is the only good thing we got over here in the prop. department." And he goes "Wait a second." So he reaches into his car which was parked right next to us and he goes under his seat and pulls out this old rusty shotgun which is obviously his weapon of choice and that's what he did the scene with. Needless to say he never checked the action to see if anything was in it and that was their line cuz that's what they did.
Now when you were making Wild Style did you visualize an audience for the film?
Well what I was imagining was 42nd street attracted kids from all five boroughs and I thought of 42nd street as being the action scene of what was later called "Hip-Hop" and they used to show kung-fu movies there (42nd Street/Times Square) and they were called grind houses. They would just show 'em round the clock. And that's what I thought I would do was rent one of those theaters and just show it on 42nd.
And you thought the Wild Style screening would be a one time event?
No I thought I would show it and every few months I would bring it back, I was building the film to play hoping that kids in high school would watch it.
Which they do today.
Yeah which is always amazing coz my son is in high school and his friends know it.
That's what I wanted to ask you: Were you amazed of the impact your film had on so many and all around the world?
Yeah the first hints I had of it was in like 1982 when I went to Berlin and on the Berlin Wall there was all these graffiti pieces that were on the wall. And they were lifted from the movie and I was told that it was done by these Turkish kids. That was the first indication that I had that it was going out. And I had a lot of other things like that that have happened to me around the world where I saw the film sorta strike the underground toward people that identified with the film.
Take us back in time to 1980 in New York. Who was documenting Hip-Hop in photography or on film?
Well there was no one in the club per say. The graffiti movement was being documented by Henry Chalfant and Martha Cooper. They were sort of the twin towers in the graffiti scene at that time and they didn't know each other as I didn't know of them. We were all sort of operating simultaneously in different sections looking at different things.
You were documenting thru photography then?
Yeah, what I was interested in was in the graffiti world but it was a certain neighborhood in the South Bronx that I was interested in because there were blocks that you can go in where everybody went to the same junior high school and the same high school and really it turns out that the major part of Hip-Hop history emerges like Hip-Hop pioneers emerge from different blocks. So it was a neighborhood thing and that was what I was really focusing on in Wild Style. And I happened to be really lucky and meet some guys like Grandmaster Caz, Busy Bee, (Lil) Rodney Cee. They were just like hanging out and you could just meet them. They were just hanging out in the street and it was interesting that if got to certain neighborhoods you could reach out to a whole subculture.
What brought about all the graffiti on the New York subway in the late 70's/early 80's?
Well around 1980 New York City had gone through 4 years of desperate financial collapse. In 1980 there was so much ruin in New York City that the graffiti could only be seen as a gift. It was like a bright bouquet of flowers in a ruined city. To me it was the most important art movement in the 20th century in this country and I still think that way about it.
But yet largely ignored by the art world at that time.
Well its not really something the art world can control or bottle or sell. So it never fit into what the art world ever really needed. It has its own needs but obviously around the world it had an impact that far outstrips other movements of similar size in the last fifty years.
The whole New York subway system has been graffiti free for sometime now. How long has it being that way?
Since the late 80's, so I'd say almost 15 years, its quite a long time you have to be realistic about the culture. It would be as if I were casting for the classic Haight-Ashbury culture if I were in San Francisco. You have to be somewhat realistic but the thing that's great about it is that the seeds planted at that time spurted in every city in the world and they got a major DJ culture, a major B-Boy culture, a graf culture in every city.
To me, I looked at this thing: different facets for the high school youth culture. And to me it was a radical culture: seeing different kinds of unguarded art in downtown Manhattan. And when I started to hang out with DJ Grand Wizard Theodore and I would listen to the way he used to cut records, to me this was the most abstract form of music and the most wildly, inventive music that I've heard in any sphere. It was art whether or not if it was done by a high school kid didn't matter to me and so I saw all of it as highly evolved style which I think Hip-Hop is. It describes a reality but it does so in a very stylized type of way.
---
Bomb European Tour Report
by DJ T-Rock
March 21, 2003—Update from the European Bomb Hip Hop Tour. In the midst of war and anti-American protest one thing is still keeping us going over here, and that is the love of Hip Hop! No matter the country, no matter the language barriers, people still want to party. They want to have a good time and our main goal is to give them that. We are doing our best to give an all around good show and just for a few hours, keep their minds off of the craziness happening in the world. Hip Hop is amazing, it brings us all together and allows everyone in each venue we play to share a common love for the music. Dave Paul has been opening the show with an assortment of B-Boy music that takes their heads back to Pop Locking and Up Rocking. Azeem is next, killing it on the mic with party rhymes as well as anti-war acapellas. The crowds have absolutely loved it. Next up is me, DJ T-Rock, and I have been wack as hell!!! Na, it's been going real well. I have been rocking a 45 minute routine mixed with scratch routines, funk music, rock music, and other crazy noises. I have made some new fans and have enjoyed every minute of it. Finally, Foreign Legion takes the stage. Marc Stretch, Prozack, and DJ Design have been blastin crowds with an hour set or more! Honestly, they have put on one of the best shows I have seen in a long time. Their music is very danceable, very upbeat, and full of energy. The crowd response over here has been outstanding. Amsterdam, Berlin, Paris, Dresden, Hannover, and Aarhus, Denmark were ridiculous! We have all learned a lot on this tour. One thing I have learned and a message to all who venture here in the future…."Don't Bring CD's!!!" People aren't checkin for them over here. The first thing everyone always asks is, "Do you have this on Vinyl?" Europe is all about 12 inches and mix tapes and we could have sold way more product if we had more of both over here! We have all had a great time but are looking forward to coming home, I have used up at least 8 cassette tapes in my camera and will be releasing a DVD of this trip and other adventures shortly after arriving in the states (courtesy of Dave Paul and Bomb Records). So, that's it for now, on to Switzerland and the U.K.. Peace to everyone back home and shout out to Billy Jam, like 3 Times Dope, "The Greatest Man Alive!"
— DJ T-Rock
---
ZION-I record release party
by DnZ
Zion-I's tour to celebrate their new album "Deep Water Slang" (www.zionicrew.com/www.raptivism.com) kicked off at the San Francisco club Slims on February 18th. With a dope ass supporting lineup of The Crown City Rockers (formerly Mission), which is a dope hip-hop band with a soulful, funky, hip-hop groove that knows how to rock a packed ass club and get folks jumping. Also there were DJs Vinroc of Triple Threat DJs who only had a 15min. set before Zion-I came on but we all know Vin can rock shit, and DJ Sake-1 (Local 1200's) who ended the night. When I got to the front of Slims there was a line damn near the whole block, a line for tickets and a line to get in. I must have been in line for about a half hour to get my ticket and get in but it was all worth it. The night started off with the Crown City Rockers (CCR) which I think is the dopest band I've seen in a long while. They got a dope drummer who was fucking it up on the solo's, a bass player who was from the looks of it playing his heart out, a funky fresh piano/keyboard player who I was hella feeling, a backup rapper who was also on the sampler who had some dope synths going, and the main rapper was on point the whole set. They had all of the crowd feeling them and jumping off the wall and shit like that coz they are so dope. So if you ever see their name on a flyer, go check em out. After CCR was done Vinroc was spinning his short set in which he did his thing on the one's and two's playing all the classics. The thing I wanted to hear from him was the track they did with Zion-I on the new Triple Threat album (Many Styles) but they didn't put it on. Wuddup wit dat? Once Vin was ending and it was time for Zion-I I noticed that the whole club fucking filled up to the point were you couldn't walk anywhere, no really I couldn't even get my phone from my pocket without going into someone else's or grabbing some ass. The only other time I saw Zion-I was when I saw Zion at an emcee battle a week earlier at the Black Box in Oakland where he was hosting it, and even then when he did one song it was dope. Once Zion-I hit the stage everybody was screaming and throwing hands up and shit like that. Zion-I threw a performance that I think was the best of any group I've seen in like two years, even better than when I saw Black Eyed Peas two years in a row in SF. During Zion I's set they brought out Pep Love who freestyled with Zion-I. He was dope too. They also had Goapele who is FINE as HELL and has a voice that is off the hook. Damn she fine! Back to the subject, these mother fuckers rocked the crowd so hard that they had females dancing on poles and dancing on stage. Zion-I crew also came out with these white masks looking like some shit from Phantom of the Opera and they busted out doing the robot. They also came out with water guns and started spraying the crowd. They have so much love for the hip-hop culture and those who support it: after every song they would thank the crowd and tell them how much they appreciated everybody coming out to see them. And the crew was giving free shit out all nite like shirts, bags, and the best giveaway I thought, vinyl. I only got a bag but I was happy to get that but mostly to go to this event. Last up for the night was DJ Sake-1 who laced everybody up with some more hip-hop beats. Overall this was the dopest hip-hop show I've ever been to. Everybody should go out and support all of these artists.
!!!OnE!!!
---
JURASSIC 5 in Ireland review
by Tall Paul Lowe
Wednesday 26th of March 2003 Redbox in Dublin
Support on the night: DJ Tu-Ki and DJ Format with MC Abdominal
When we arrived at the scene, you could see the queue (line) already forming, so the gig was a sell out. What a line up! Enough to make any pure Hip Hop head's mouth water. It is always great to see one of our own represent and be allowed to show their creative juices and show what they can do. And DJ Tu-Ki did just that. He played a great mixture of tunes although it has to be said that I was very happy not to hear any Bad Boy or Eminem for a change it was a pure listening pleasure to hear artists like Poor Righteous Teachers. And blowing us back in time for a taste of funk and old school Hip Hop. Tu-Ki also gave us a demonstration as to why he is Ireland DMC Champion with mixes that were so nicely mixed and the beat juggling and scratching.
The crowd responded well to one of their own and it is always nice to see the crowd respect and understand the DJ, that the DJ is not just their to play music but to show what creativity they have as well.
Next up to wet our appetites as the appetizer was DJ Format and MC Abdominal. The UK's DJ Format has skills which showed why he is so hot at the moment. New MC for all the heads to watch out for is MC Abdominal hailing from North America. This guy is really good and can rhyme and freestyle and have the craic (Irish for fun) with the crowd. He is very entertaining and also from the way he performs on stage he does this for the love.
When Format introduced Abdominal, Abdominal asked if we were hungry and decided to cook us up some culinary delights and donned an apron for this occasion. Meanwhile the "chef" in the background was spinning the tracks with the likes of gravy, chicken etc. coming from the record and also demonstrating his own cutting and mixing skills. The show was ongoing and very entertaining the crowd were get more and more hyped as the evening went on and the whole crowd was very much in the party mood.
Before Format finished his set, Abdominal said that this was the last tune, standing at the side of the stage was Cut Chemist, all of a sudden he appeared on stage and gave Abdominal a balloon. Abdominal inhaled the air from the helium balloon and proceeded to rhyme at a very fast pace. The crowd responded with shouts and whistles of appreciation.
Next up was the main course, Jurassic 5. Cut Chemist and DJ Nu-Mark were the first up on stage to cut up the tables and spin the tunes. One by one the rest of the crew came on stage and did a verse of a tune to introduce themselves. When all the crew were on stage, the place went ballistic. The party was in full circle and everybody was in total unison with the crew. One thing that I really love, respect, and admire about J5 is the amount of energy, love and dedication that they put into their routines for the crowd. About 45 minutes into the show the MC's Charli 2na, Zaakir, Marc 7 and Akil all left the stage. Once they were off stage, DJ's Cut Chemist and Nu-Mark got stuck into a routine. And what a routine they performed. Now the last time that they played in Ireleand they had this really cool African piece which was just out of this world.
This time around they used various scratching techniques and different beats. They were amazing. They used the drums and the drum machine that they brought with them as well. The crowd was really into this. All that I was waiting for was someone to start breaking but the place was so tightly packed that it was not going to happen.
One of the guys standing beside me apart from been a bit pissed (drunk) was really enjoying himself with his peoples. They were dancing crazily apart from been bumped into and knocked back a few times I didn't really mind. This was the whole feeling through the crowd. One of my favorite tunes from the second album Swing Set they actually performed so I was quite happy with this. All of a sudden Cut Chemist and Nu-Mark were standing at the front of stage and they put on what looked like bags, but when they turned around it turned out to be Cut Chemist had a portable turntable with a mixer attached to and Nu-Mark was on time and rhythm with the portable drum machine that he was wearing.
When the guys came back on stage, it was straight back into the party, they asked people who could remember the first Jurassic 5 album and then the Quality Control album. The place went wild when they dropped "Quality Control". Charli 2na wanted to find out how loud the place could really get, so when he said Dublin everybody screamed the house down.
After a while the guys continued and then ended their show. After much chanting from the crowd for J5 they came back on stage for their encore. What we didn't realize was that this was the last date of the tour and they were ending it in Ireland, just as they had two years previously.
While they were going through their encore set they encountered some technical difficulties: the turntables went dead and so did the mics. They were fully apologetic about this and asked the crowd to bear with them. The crowd did bear with them and started chanting Ole! Ole! Charli 2na looked up with a smile on his face and started to encourage the crowd. One thing that I really admire about J5 is their love for their fans, before the show you will catch mixing with the crowd chilling and having a laugh. They will also sign autographs and pose for photos. Talking of which I hope my photos, come out as I took a few while I was there. Once the technical difficulties were corrected the show got back under way. At one stage I was thinking the Redbox management had cut the band as they usually have something on that night. But thankfully they didn't.
During the show the crew actually did a rendition of Run DMC "Its like that" and paid homage to the late great Jam Master Jay. One of the tunes that they performed is "Thin Line", which Nelly Furtado sings the hook on; the guys performed this very well but had some difficulty in reaching the high notes that Nelly reaches. When they performed Freedom they asked everyone in the audience to raise their fists and sing the lyrics with them. They then commented very briefly on the Iraq conflict.
Overall the show was a huge success, everyone had a great time and the crew really enjoyed themselves. It finished with the whole crew been on stage free styling and Abdominal reading out a list of tour dates of where they had been in Europe. After the show the crew hung around signed more autographs, posed with people for more photos. When people are asking for autographs they handed up the weirdest of things. Some people handed up their shoes.
---
Round Up of Hip Hop and Reggae in Ireland: March 2003
by Tall Paul Lowe
All the parties happened around the same time: Paddy's weekend.
Friday the 14th Temple Bar Music Centre The Bomb 2. Special appearance by Cutmaster Swift and 20 MC Battle Royal. Cutmaster Swift by all reports was not that good and the night was not as good as the previously in Jan. The MC battle was won by Grant Leech aka MC Leech about time too as this kid has been around for a long time doing this. So major props to him.
Also on the same night in Ri-Ra appearances by DJ Mek, Ri-Ra and Rodney P. Rodney P didn't make the gig and his whereabouts are still unknown so if anyone happens to spot him ask when is he going to drop his album. The night was a huge success with Ri-Ra and DJ Mek on the wheels. Big props to Ri-Ra for his new "12" 25 0' Clock.
Also Saint Patrick's night was Lee Scratch Perry who played Redbox. The gig apparently went very well. But he didn't have any drink and wasn't allowed to have any hashish. Apparently a member of the audience gave him a hash plant and he sung to it.
March 20: The legendary Jimmy Cliff was meant to play but due to illness his show had to be canceled.
March 28 Sly n Robbie with Michael Rose play Dublin's ambassador.
Up and Coming News
April 12 sees the return of P.E. to our fair shores playing Vicar Street in Dublin's Thomas Street. Ticket price is EUR28.90 and they are playing with a live band.
Also performing on the night are Irelands former Creative Controle now going by the name of Messiah J and the Xpert due to legal reasons. They will be performing material from their new album about to drop soon. New 12" about to drop Captain Moonlight and production by Hazo label All City Records. This is good as I got a listen to it last week.
And finally.....rumours are circulating about a Scary Eire reunion tour. Will be excellent if this comes off.
---
Meow Mixer?: A Peek at New Scratch Technology
Oakland, California—
Hip Hop Slam's Billy "Goddamn" Jam has announced today that he, in partnership with Gemini Sound Products Co., will be developing the world's first turntable and mixer for cats. The uniquely-designed turntables will not feature the classic tonearm or cartridges of human-style tables, but simply a pair of wires with clip-on diamond-needle tips that attach directly to the DJ's claws. An optional second pair of wires/needles will also be available to allow the scratching of Quadraphonic recordings. The mixer component will feature full-surface carpeting and a catnip-filled Gerbil Knob™.
Recent focus group testing has yielded positive feedback, with many feline DJs preferring the claw-to-vinyl feel over the more synthetic, rubber-mouse-ish feel of the digital tables. One member of the focus group commented, "I like to feel my victim's pulse before I snap its neck... this is not a game, and I am not a toy."
When Jam asked whether she would soon be "rocking doubles of Ted Nugent's Cat Scratch Fever," the focus group member replied "Back up off me, beeyotch!"
Press Release — 04.01.03