• HIP HOP SLAM NEWS
• Scratch Attack @ KFJC & Scratch Attack Top Six Chart
• SHOP: NEW ARRIVALS inc. RETURN OF DJ series
• DJ PLATURN's Top Ten
• RANDOM SHIT
• OLD SCHOOL HIP HOP SLAM BAY AREA CHARTS
• Thoughts of a 19 year old DJ by DnZ
• UK DJ report from Mr. Trick
• Nordic Skratch Report by Mats Hokdahl
• Turnable Timmy report by Michael Perry
---
HIP HOP SLAM NEWS
Just released is the fourth in the ongoing independent music series compilation, jointly produced by Hip Hop Slam and Amoeba Music, Amoeba Music Compilation Vol. IV .......More music than last one even! 39 tracks! Sold at Amoeba Music or here for only $5.98. The goal is to promote these musically diverse artists. So if you are a radio station programmer and wish to have a copy mailed to your station for airplay please Email a request to billyjam@hiphopslam.com. To celebrate this new double CD compilation there will be a FREE instore CONCERT at the San Francisco Amoeba Music on Friday, April 18th at 6PM with performances from Tim'm, Aya de Leon, Joe Quixx, The Meek, and Fabulous Disaster. There will also be a free show at the Hollywood Amoeba that same day (Good Friday) at 7PM with performances from Keala C. Ramos, Heather Porcaro, and Lil Miss Ju Ju B with Uncle Kenny.
Five Hip Hop Slam album covers by the artists Dug-One, Mars, Damion Silver, Eskae, and Hidehiko Ishizaka have been chosen to be displayed in the Spring 2003 art exhibition Scenes & Zines at the Richmond Art Center. The covers include Turntables By The Bay Vol. 2 LP (Dug-One), Turntables By The Bay Vol. 3 LP (Mars), Cat Five's
Kataphonics (Eskae), DJ Sushi's The Lost Dub Plates EP (Hidehiko Ishizaka), and Independent Sounds: Amoeba Music Compilation Vol. III (Damion Silver). Also featured will be the December 1995 issue of NO JOKE, the mid-nineties Hip Hop Slam/Doxx co-published rapzine that focused exclusively on Bay Area rap/hip hop. The exhibit at the non-profit East Bay arts center, which will focus on the best Bay Area LP/CD cover art and music zines, will be open from April 16 May 31. The Richmond Art Center is located at 2540 Barrett Avenue, Richmond, CA 94804 (www.therichmondartcenter.org)
---
SCRATCH ATTACK ON KFJC
On April 5th the Scratch Attack crew descended on the studios of KFJC for a fun session during DJ Trinity's Rucker Park show. KFJC is the cool station in Los Altos Hills California who recently released the 2CD compilation "Ghost Machine Live From KFJC 89.7FM." For the KFJC/Scratch Attack show Bas-One called in live from Sweden. In the studio were dawgisht, Munkifunk, Billy Jam, Timer, and Timi D... (who took accompanying pictures). Meanwhile getting busy on the turns were DJ Platurn, DJ Teeko, DJ Pone, "Sir" Golden Chyld, CutSo, and DnZ & On One from the T.F.S. DJz.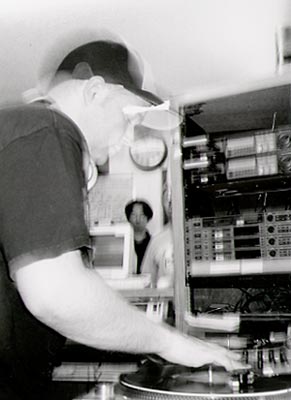 The next live Scratch Attack radio broadcast will be Sunday May 4th between 10AM and Noon. So far confirmed to spin for that Scratch Attack special will be DJs Teeko, Pone, DJ A-1 (Freelancers United), and possibly Triple Threat DJs (we still need confirmation back from Shortkut on this one but will update in next NEWS on hiphopslam.com)...>Note that on that same Sunday Hip Hop Slam will be one of the arts organizations represented at the all day (11AM-6PM) Expo for the Artists & Musicians at the Cell Space (Mission District San Francisco) and we are hoping on bringing in turntables and a mixer and amp to the event and let anyone scratch.........There will also be an underground/invite only Hip Hop Slam 420 Skratch party, hosted by DJ Dank (April 20th...cough cough and later broadcast as a radio show).
---
SCRATCH ATTACK TOP SIX — April 2003
1) Alien Army / The End (not yet released LP: Hip Hop Slam/Bad Newz)
2) DJ Quest / Mutation Mann (Reverse Techniques 2003)
3) Various / The Best of Return of the DJ (BOMB Hip Hop)
4) Neil Armstrong / 2 Original (5th Platoon)
5) Various / Scratch Attack Vol. 3 (Hip Hop Slam)
6) The Ultimate Scratch CD (2003 Replicant Music)
---
DJ Platurn's Top Ten 45's he played between sets with Melvin Sparks (legendary old school jazz/funk fusion guitarist) at the Boom Boom Room (April 11, 2003)
1. Bowlegged Woman, Knock-Kneed Man, pt. 1 ­ Bobby Rush (Jewel Records)
2. The Cat Walk ­ The Village Soul Choir (Abbott Records)
3. Funky Donkey ­ Pretty Purdie (Date)
4. Nobody's Fault But Mine ­ Otis Redding (ATCO Records)
5. Funky Bull Pt. 1 ­ Dyke and The Blazers (Original Sound)
6. Do Your Thing ­ The Watts 103rd Street Rhythm Band (Warner Brothers-Seven Arts Records)
7. Foxy Girls in Oakland ­ Rodger Collins (Galaxy)
8. Razor Blade ­ Little Royal and The Swingmasters (Tri-Us)
9. Country Girl ­ The Johnny Otis Show (Kent)
10. War ­ Edwin Starr (Gordy) ­ R.I.P. and much respect!
---
RANDOM SHIT
DJ Quest has just launched his website: www.questdj.com "Nothing fancy really. All it is is a website with some bios." said the ever modest Dj, adding what we always love to hear. "It's about the music."…
Censorship note: Interesting thing discovered recently: MTV Europe doesnt beep out all the curses when it airs The Osbournes in Europe making for a refreshingly different experience…
Is Emimen The Antichrist? The Weekly World News recently posed this stunning question in a very entertaining article in the tabloid, stating how "Bizarre comparisons stun rap music world." And they did their homework too! For example in proving that Em carries the mark of the 666 they report that, among other startling revelations, that "Eminem repeated the ninth grade three times. Jot the numeral 9 three times on a scrap of paper and turn it upside down.....it's 666 - the Bible's mark of the beast." There yours proof!…
With a bold name like "THE BASTARD LANGUAGE TOUR" you sense you're in for some good shit. And rightly fuckin so! Featuring D-STYLES, RICCI RUCKER, TOADSTYLE, EXCESS and MIKE BOOGIE rockin' simultaneously on a five turntable, five mixer setup this might well be the one show this year that you definitely don't want to miss! Plus in addition to the aforementioned sure-to-amaze live five-turntable orchestration there is also a live mpc set by FAT JACK. There is also an opening turntable set by none other than DADDY KEV. Hence this may become one of those tours that will divide future West Coast skratch fans into two camps: those who went and experienced first hand that "bastard language" and those who meant to go, but didn't. But this time there is no excuse saying "I'm poor" or "I'm only 19. I don't have ID" since many of the shows on the current West Coast (Cali-NV-OR-WA) tour are free, all-ages instores including the opening April 23rd San Diego performance at Access Music, 1537 Garnet Ave st 5PM and also the April 26th, 2PM instore at Below the Surface in Burlingame (1007 California Dr). Other tour stops include Humboldt (4/28), Ashland, OR (4/29), and Seattle (5/03). For more details/info check www.djdstyles.com…
AOL Time Warner's America Online recently launched a subscription music service with music and technology being supplied by MusicNet, a joint venture of RealNetworks Inc. and three major media companies including Warner Music…
Fans of Hip Hop Slam at www.palermolongboards.com in Southern Cali will be pleased to know that we've linked their longboard website on our links page…
As of midnight, April 15th the popular old school rap artist Young MC will now be officially known as Middle-Aged MC…
And speaking of back-n-da-day, check the following Hip Hop Slam Oakland rap top ten from 1990, when Hip Hop Slam used to be on KALX and listed in the Source regional charts; a time when Oakland rap was the epicenter of the Bay Area rap movement, when "the town" was pumping out at the time often overlooked rap that later beceame recognized as Yay Area classics. Damn, but 415/Richie Rich/D-Loc records were amazing, especially their funk-fueled production courtesy of DJ Darryl…
Also from the archives are charts from 1995 and January 1996 when Hip Hop Slam was on Pirate Fuckin Radio and its charts published in NO JOKE (the only all Bay Area hip hop/rapzine co-published by HipHopSlam and DOXX). Notice that the Hip Hop Slam Top Ten of 1995, from Pirate Radio and BAM magazine, includes in the #1 slot the origanal Return of the DJ compilation from BOMB Hip Hop Records. Best album of the year and the one that changed things for a lot of people including Rob Swift who in the movie "Scratch" talks about how being on this album altered his DJ life.
---
[ from the archives: ]
HIP HOP SLAM OAKTOWN TOP TEN — Sept. 1990
01) Too $hort / "The Ghetto"
02) Richie Rich / "Don't Do It"
03) Mhisani / "Y.O.U.T.H."
04) 415 / "Groupie"
05) Mac Mall / "Dangler"
06) D-Loc / "Ace In The Hole"
07) Digital Underground / "The Way We Swing"
08) 2 Bigg MC / "He's the King of Hype"
09) Freddy B / "Why"
10) MC Valentine, K-Cloud & Crew / "Have You Seen Her?"
---
UK DJ REPORT
by Mr. Trick (Turntable Radio, London)
Right now its safe to say the UK tablist scene has never looked healthier. For the first time ever we have a compilation of UK tablists coming on one CD. "Turning The Tables" will feature the likes of 2Tall, Woody, Timestretch, Scarfade, Daredevil, Blakey, Short-e, Clockwork, Wristmaster, Juice, Doubles, Random, the Stereotypes and more, and its shaping up to be a truly excellent release, with some fine original tracks as well as excellent routines, skits and freestyles. Look out for it dropping sometime around June. On the battle scene, many DJs are now hard at work preparing their routines for the UK DMC heats, which this year look certain to bring some emergent talent to the forefront. Without question the standards were much higher at last year's battles, and so I look forward to seeing just how much further we've come for 2003. Elsewhere, London's Needlework night continues to go from strength to strength, providing a sick monthly night for DJs in the area to hook up, Q&A and generally throw down. Last month was especially dope as some of the London DMC battlers took it as a chance to test-fire their routines… hence my assertion as to the quality. Check out the audio on last week's Turntable Radio! (reach Mr. Trick by email: trick@turntableradio.com)
---
[ from the archives: ]
HIP HOP SLAM BAY AREA TOP TEN CHART — Jan 1996
01) Askari X / "Message To The Black Man" (Slow Motion)
02) Hobo Junction / "E.P." (South Paw)
03) Various / "Bay Area Playaz" (Anonymous)
04) West Coast Rhyme Sayrz / "The Land Of Pimps And Hoe's" (In-A-Minute)
05) The Click / "Game Related" (Sick Wit' It/Jive)
06) 2PAC / "California Love" (Death Row)
07) Spice-1 / "1990-Sick" (Jive)
08) GLP / "What We Known Fo" (Get Low)
09) Ironic / "Ironic" (40 Ounce)
10) The Dangerous Crew / "Dont Try This At Home" (Jive)
---
[ from the archives: ]
HIP HOP SLAM BAY AREA TOP TEN— 1995
01) Various / "Return Of The DJ" (BOMB)
02) RBL Posse / "Ruthless By Law" (In-A-Minute)
03) Various / "Bay Area Playaz" (Anonymous)
04) The Click / "Game Related" (Sick Wit' It/Jive)
05) Digital Underground / "Untitled" (Wet)
06) J. Dubb / "Game Related" (Relentless)
07) Askari X / "Message To The Black Man" (Slow Motion)
08) The Govenor And The House Reps / "Floss Mode" (Handle Bar)
09) Souls Of Mischief / "No Man's Land" (Jive)
10) Young "D" Boyz / "Straight Game" (River-T)
---
RETURN OF THE DJ SERIES NOW AVAILABLE:
NEW ARRIVALS AT SHOP
The hip hop history collection DJ Drank's Greatest Malt Liquor Hits 30-track CD, with all the early nineties St. Ides TV/radio commercials by famous rappers continues to get lots of write ups including in Wire UK magazine by Dave Tompkins and by Hua Hsu in the current Village Voice (www.villagevoice.com/issues/0315/hsu.php). Although difficult to find (only for sale here and at a few other select spots) it is well worth tracking down…
The new Amoeba Music Compilation Vol. IV is now available in our shop for $5.98 (plus S&H). Also available for sale are all four compilations in the series (four releases/six CDs in all) for $15.98 (plus S&H)…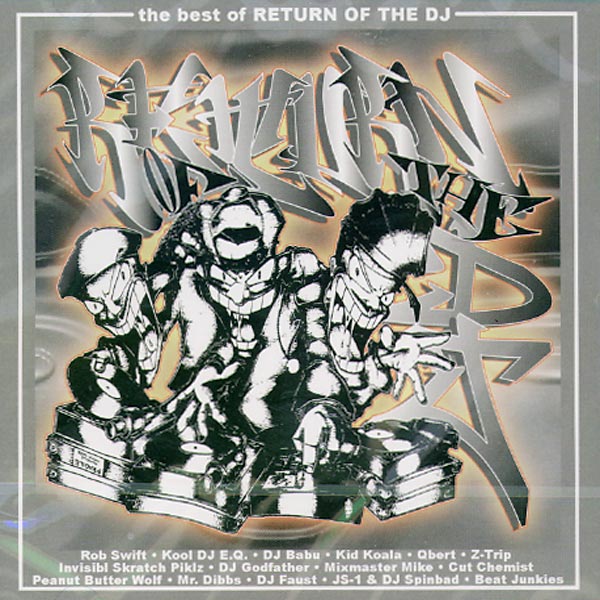 Dave Paul and his BOMB Hip Hop label has just released The Best of RETURN OF THE DJ which includes Kid Koala, Rob Swift, Mr. Dibbs, Z-Trip, Beat Junkies and many more (16 tracks all taken from the pioneering four-volume Best of the DJ turntablist series plus a bonus 14 minute DJ T-Rock megamix). The new CD compilation is now for sale at the hiphopslam.com SHOP. But also available, and ideal for those who don't have all of the "Return of the DJ" compilaitons in their collections, is a special offer. Get all four volumes of "Return of the DJ" compilaitons on CD for only $27.98 (plus S&H). Check out the four compilations' tracking below: Also included with each four-CD-pak is a free copy of the return issue of BOMB hip hop magazine (the rapzine that Dave Paul of BOMB hip hop records published between 91 and '96 and recently issued a one-off issue that includes interviews with Mr. Lif and J-Live. It sells for $2 at select news agencies.
RETURN OF THE DJ - VOLUME I CD
(BHH2002)
01 Death of Hip-Hop - Kool DJ E.Q.
02 Ghetto on the Cut - DJ Ghetto
03 Rob Get's Busy - Rob Swift
04 The Bomb Drops - Jeep Beat Collective
05 Scratch Monopoly II - The Beat Junkies
06 Invasion of the Octopus People - The Invisibl Skratch Picklz (Q-Bert, Disk, Shortkut)
07 U Can Get With Discs or U Can Get With D.A.T. - DJ Z-Trip
08 The Chronicles (i will always love h.e.r.) - Peanut Butter Wolf
09 Terrorwrist (beneath the under) - Mixmaster Mike
10 The Track - ASAP Productions (Yutaka, Honda, Aladdin)
11 Lesson 4 : The Radio - Cut Chemist
12 Suckas (sucka dj dis) - DJ Babu
RETURN OF THE DJ - VOLUME II
(BHH2003)
01 The Positive Step - Beyond There
02 B-Boy's Revenge 96 Porkopolis Turntable Jazz - Mr. Dibbs/1200 Hobos
03 Change the Scratch - DJ Jeff
04 Vinyl Overdose - DJ Format
05 Who's On The Turntables - LF Peee
06 Private Parts - Radar & Z-Trip
07 Call Me Goldfinger - Pepe Deluxe
08 Static's Waltz - Kid Koala
09 Flat Chested - DJ Ruthless
10 Aerosoul - Tommy Tee
11 X-Men Style Beatz - Roc Raida
12 Hide Your Wrecords When We Come Through - Kool DJ E.Q.
13 Itchy Vinyl Session Part II: Babylon 5 - DJ JS-One & DJ Spinbad
14 Jimmie's Jam - DJ Jimmie Jam
15 On Da Flex - DJ Godfather
16 Rockstar - Z-Trip
RETURN OF THE DJ - VOLUME III
(BHH2040)
01 All Points Bulletin (album disclaimer) - Mr. Dibbs
02 Return of the DJ - DJ Faust
03 Rockstar II - Z-Trip
04 The Return of Scratching - DJ Talkback
05 The Brothers Grim Sideshow - DJ Bombjack featuring Ben Grim
06 Mood Swing - Furious
07 Science Friction - DJ Shiro
08 Brain Confusion - Eddie Def & Extrakd
09 Shortee's Return - Shortee
10 Unorthodox Turntabular Angles - Maniphest with Mr. Thing
11 Cold Cutz - Cold Cutz Crew (Spinbad / JS-One / Slynke)
12 Doo Doo On Yourself - DJ T-Rock
13 Deedz In Da Mix - Innernational (Myk B / Trace / Clitch / Chico / Kair One / Rip One / Day)
14 Never Be the Same - DJ Design
RETURN OF THE DJ - VOLUME IV
(BHH2044)
01 Here 4 Years - DJ Storm
02 My Definition - DJ Static
03 Scroll of the Wrist Beam - Qbert
04 Lesson 89 - 89 Skratch Gangstaz (DJ Pone and Snayk Eyez)
05 World Domination 2001 - Happee & Dinoh
06 Dangerous - DJ JS-1 & DJ Spinbad
07 U.T.A. : 2 - DJ Maniphest featuring Mr. Thing
08 Unpleasant Thoughts - DJ Shortfuse
09 X Marks the Skratch - Slate
10 Buenos Dias Bitch - DJ Prolifix
11 Symphony 3000 - Top Rawmen (featuring Yeroc, Nando, Nomad, Mike C and Jay Slim)
12 We Are The Ones - The Wristerons
13 Girlz Didn1t Give Me None - DJ T-Rock
14 Schwicky - The Animal Crackers
15 Music Evolution - E-Jay & Rocky-Rock
---
Skratch report from the Nordic side of the wax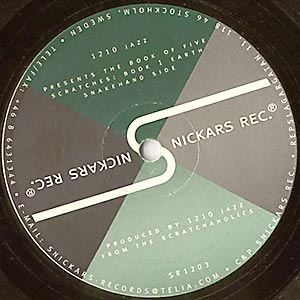 Feels like the turntable has been more present over the last 6 month than in a long time in the land of the Vikings, yehh ­ Sweden is on the rise. The original source for news on the Nordic scène has been DJ Stig's [Stig Mortensen] Scratch.dk but he decided to droop from the Webb in January 2003. The one thing that gets the word out these days are djbattle.net [www.djbattle.net] ­ communicating in Swwwedish but if someone gets WM Tobbe some green maybe he translates this amazing site into English. The most promising thing to happen in ages is the scratch Gothenburg crew [www.scratch-gothenburg.com] that has challenged all the Swedish rap clubs [read: r n'b] who are looting the creative mind of the youth. The crew consisting of £öv1 aka Adam the Swedish gangsta, Ayes One and JAM has presented P.B Wolf & Egon, The legendary NMS&DMC champ Cash Money and A-Trak among fine Nordic tablists Static and Confuze for the line up. The night of Stones Throw fame was also the Sweden Vs. Denmark battle where Confuze of Sweden did defend Turkman Souljah of Denmark in the final round. This club is damn nice so I have been riding down from Stockholm twice and that's a 5-hour ride one way by car but that fine as long as the company are kool. First time was with Adam as driver to escort P.B & Egon as me and another passenger was throwing up last night's escapades, the bizarre ride went smooth despite the heavy snowfall near Gothenburg. Second time did I pick up bay areas own Bas 1 for the ride as he was going on stage the same night as Cash Money [www.djcashmoney.com]. The sounds in the rental was old funk, soul and of course P.E's Yo! Bum Rush The Show tipped of with some Skratch attack releases. Later that night did Bas 1 hit the mic and the Gothenburg crowd loved his "To All The DJ's". In Stockholm under tight schedule did I and Sweden DJ legend 1210 Jazz visit another former Sweden DMC champ Mika Snickars record store to show a-trizzy some nicer sides of this country and also so he could pick up some Swedish rare grooves [Mika and 1210 Jazz are part of dj crew Scratchaholics]. The fucked up part is that while A-trak was doing his thing in 4 cities across Sweden did the crowd failed to show up on some dates due to bad promotion. Dj Confuze [www.djconfuze.com] was also part of the tour and I'll have to say that A-trak is one of the most humble persons of that great talent. The grandest of em all Grandmaster Flash did pass through Stockholm in Mars and the end of April will see DJ Rhetthmatic bless Stockholm together with Visionaries. Another fine moment of vinyl manipulation was last weekends one day Recycle festival in Stockholm that featured Scratch PhD Kjetil Falkenberg [www.speech.kth.se/~hansen] on a lecture and later on did Janek Schaefer [www.audioh.com] from the U.K an amazing far out set with no hands on the vinyl. To finish of a nice day in the name of sound was Prao-D the man on the turntables. He has also been busy producing tunes for his band Speech Defect. If someone needs some fresh battle tools/breaks you gotta check for 1210 Jazz [alexander1210jazz@hotmail.com] three first instalments entitled "Earth", "Water" and "Fire" in a series of five. The 3rd wax entitled "Fire" is just released on Snickars records and the 4th is around the corner filled with more variation of Biaaaaaaaatch that you can take cause' 1210 got an special relationship to Oakland's finest Too $hort.
The main event to come is the 2003 Swedish DMC on 24th of august in Stockholm. It will be the day when Confuze who has been taking home most battles during last year will face the young guns and some old cats that are returning to the battle circus. Just one word ­ Kid Sid, an 14 year old that during last years world DMC finals managed to do his thing off competition to an amazed crowd - he is Sweden's best kept secret so watch out…
MagikM™ magikm@dof.se
You can't fake the funk - Troop gear is the flyest - Scratch...more than Rap!
---
Thingz that suckz about being a 19 year old DJ with no ID
by DnZ
Just growing up as a teenager is hard for most but also if you're a nineteen year old DJ with no ID trying to get gigz is a fucking mind blower! You either got to be 21, on the fuckin' radio, or a superstar to land some gigz on the Bay Area club scene. For real! I can't even get into clubs I'm on a guest list for without proper ID. Damn it! Take my old high-school ID biotch! How many kids still in high school do you know are 6' 7" and trying to get into clubs and trying to DJ for 'em? I mean I think it's a good thing if you can find a DJ that spins house, hip-hop, and jungle/drum'n'bass and can rock a party with a flick of the crossfader! But promoters want you to be a big name, usually big club DJz suck a lot of dick to get where there at to be spinning damn near every weekend and most of the time they're wack as fuck. Plus probably the worst part of being 19 is that I can't buy alcohol yet. What kind of shit is that? My life is full enough trying to do work and school all at once to worry about a fucking piece of plastic that says how old I am. If anybody would like to help me out with a fake ID or some suggestions holla at me on my E-Mail: tfsdjz@hotmail.com
Representin' Your Mom: DnZ
!!!OnE!!! (editor's note to DnZ: "Stop Whining!")
---
TURNTABLE TIMMY UPDATE
by author Michael Perry


Peace HipHopSlam.com: I just wanted to bring your readers up-to-speed on current affairs surrounding Hip Hop's favorite little purple hued dude. Double-T a.k.a. Turntable Timmy (the first children's book to incorporate the four pillars of Hip-Hop culture). During the past four months, (since Timmy's release date) I have received countless props from many people in many different countries (i.e., Japan, Germany, France, and Oregon) stating how much they like the books educational philosophy and concept. The overwhelming response from the media has been as equally supportive. Double-T has already graced the pages of such magazines as, XXL, The Source, Dazed & Confused (UK), Yolk, and Hip Hop Connection (UK). With reviews and features to appear in the following publications: Vapors, BPM Culture, Remix, Liquide (Singapore), Big Shot Magazine (Premier Edition), Mugshot, I-D Magazine (London), and Marie Claire (Italy). However, the biggest response I've received thus far has been from the next generation of DJs - the kids. I visit their schools and read from my works (it's a blast). The kids love the kinetic sounds of the bonus 3 track DJ Qbert audio CD (included in every book). As well as the innovative (graffiti style) illustrations by Doug "Dug1" Cunningham of Wave Twisters fame. Also, a team of writers (including myself) are working hard on the outline for the Turntable Timmy animated series (I can't give away too much - but best believe that it's gonna be hot)! Marc Herbert Productions will begin shopping the pilot late this year (so be on the look out). Lastly, publisher Free Will Press has just inked a deal with The Stanton Group, to distribute Turntable Timmy to various MI's and retailers worldwide (www.stantondj.com). So, as you can see, our little lever shiftin' lad is doin' big things. If you have not yet picked up your copy of T Timmy - don't trip! Just go to turntabletimmy.com and click the "Book Order" bar (do your thing) and I'll break-you-off an autographed copy, signed by me (the author) Mike P. (U.S. only). Good lookin' out!
Retailers contact the publisher for pricing info: books@freewillpress.com
For international orders online hit-up: www.djqbert.com or turntabletoystore.com Bookstores in the US and Canada can order from www.wordsdistributing.com Also distributed by Thud Rumble and Revolver USA.
---
ANTI-ANTI-WAR FEEDBACK
In response to our last NEWS update in which we expressed our anti-War viewpoint we got many emails, mostly in agreement. But we did get one that disagreed with us: an intelligent well-wrtten email which, both out of fairness and also to show how the stand for or against war is not as simple a black and white issue, we have reprinted this letter. We have also included the disclaimer that accompanied this email. We also would like to point out the irony of this Pro-War statement being signed off with the word "Peace" which really captures the inner-conflict that many hip hop generation age Americans face/have faced in these recent WAR times when many feel they are pressured to be on one side or the other:
DISCLAIMER: THESE ARE NOT THE VIEWS OF __________, ONLY ONE OF THE LAZY STONERS PERSONAL VIEWS ON THIS FUCKED UP WORLD SITUATION.
I just read your latest news and I wanted to come back at you with my perspective on the anti-war and anti-America vibes.
First off, let me say that I don't live in a perfect country. In fact there are many flaws in America. From fast food, to a tv obsessed culture, to some shady government figures, it's clear to see that there are obstacles to my ideal version of life. But when it comes down to it, why do I live in America?Because it's the best system of individual freedom in the world. I pretty much get to do whatever the fuck I want in my life. I chill with family and friends, go to record stores, explore my hobbies and play sports, try to grow personally and professionaly, all within a sytem that allows for it. I am not stopped from pursuing my dreams by a government that kills me and my family for any opposition. If I feel like the government sucks, I can go to the streets and let that be known without being hanged in the town square for disrespecting the man at the top. If I wanna start up a pirate radio station, I have access to the information and tools to make it happen.
On a larger level, yes, the government does try to get in the way here and there. The Patriot Act is an obstacle and some of the new laws concern me as well, but I have not seen a single change to my daily routine because of these new laws and I don't really think I will as long as my most illegal activity continues to be smoking a fat bowl. It is very unfortunate, but when New York City was attacked, the world changed. We were targeted on our own land and that is a serious declaration of war. Now we will fight back. For the first time in a long time, we're showing the world our strength and determination to fight for our continued right to be free and chill.
War sucks but that is how we got this country. Our freedom was not negotiated in a meeting, it was won on a battlefield with many human sacrifices. And war is also how we're gonna keep this country. It's one of the sad realities of our world. Who the fuck doesn't want world peace? I sure as hell do, but it's just not reality. Reality is the fact that there are plenty of people who want to destroy America and they are trying to do it with violence and murder. Either we defend ourselves and show our strength or we cease to exist.
Get back at me with your thoughts if you feel like it.
Peace,
Soup