JAMES BROWN IS GOD: SUMMER 2002
Goddam! Another summer and still rockin to the sound of the funky drummer and every goddam classic James Brown record… Even in this stage of the hip hop game James Brown remains as vital as ever, especially to the beat diggers and funk fiends who will never tire of his music…
Have you noticed the godfather of soul or more often his tight music machine, the JB's, still popping up all over the place? On battle records, on the airwaves in hip hop samples, and in the originals as witnessed by KPFA's recent engaging James Brown tribute with DJs Uhuru Maggot, G-Spot, & others. You'll also hear lots of JB in the sets of club DJs including DJ Platurn (he even has his personal custom-made "Book Of James" 7" single set) and DJ Quest who has a true passion for JB…
In fact fools be trippin' so much for James Brown records that one of them (a United Airlines baggage handler) stole every James Brown record out of DJ Shortkut's travel record case (hear full story on "Scratch Attack: Vol. 1" CD titled "By The Time I got to Phoenix Half My Crate Was Gone"). Bottom line is if you found yourself on some desert island and could only have one CD (records would melt & sand would get into their grooves) to satisfy you musically it would have to be a James Brown album…
Actually no, I take that back. It would have to be the brand new (aforementioned) " Scratch Attack I Want My Battle Record Back You Bastard. Vol. 1" which naturally also includes some James. In stores July 2nd, this original skratch collection - highlights from the Hip Hop Slam produced radio show - strikes a perfect balance between live on-air DJ sessions and especially recorded studio DJ tracks. Included are D-Styles with the 89 Skratch Gangstaz' DJs Pone and Snayk Eyez, DJ Shortkut, 8-Ball, Troubled Soul, DJ Quest, DJ Stoic, Relm & Streak, T-Rock, DJ Ngobility, Golden Chyld, DJ Vandal, Kid Ginseng, DJ 704, DJ Platurn, Sum-1, and the Backspin Boyz. Also noteworthy on this CD compilation are the three bonus-tracks: edutaining interview/spoken-word montages of DJ interviews over beats from the Last Kreep. Meanwhile the CD's liner notes include a comprehensive guide to all of the artists plus one of DJ Pone's infamous "Pone's Porn Reports." For more details on this release go to "The Label."
---
MEXICAN WRESTLER DJ BATTLE (BANNED IN USA)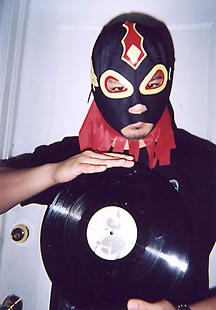 To celebrate the release of "Scratch Attack Vol. 1" and also the two Last Kreep battle records on Chip Shop Spam we will be broadcasting (from a very secret Bay Area location) a Mexican Wrestler DJ Battle (will take place August 5, 2002). Those who have followed the often violent DJ sport know that Mexican Wrestler DJ battling has been banned in the USA since 1996 when San Diego's DJ Grim lost an eye in the final round of that year's So. Cal Regionals against DJ Alto Gringo. The controversial DJ Alto Gringo, who just got released on good behavior after six years in San Quentin for the highly publicized attack, will be one of the DJs in this summer's Hip Hop Slam sponsored event. But despite his and other Mexican Wrestler DJs' bloody reputations, certified referee Bas-One insists that "No physical fighting will be tolerated whatsoever at this Mexican Wrestler DJ Battle. None!" Other Mexican wrestler DJs competing at this battle include El Nino, El Destroyo, El Chorizo Grande, El Panochero, and El Loco. Also scheduled for this special broadcast, which will be streamed (audio/video) on www.vulcanradio.com, will be performances from the Oakland Faders, DJ Pone, Deeandroid & Celskiii, Teeko and many others including some very special guests. There will also be such other distractions as DJ Pone's Porn Report, a Hip Hop Slam Hall of Fame Award being given in honor of the late graffiti great Mike "DREAM" Francisco, a special breaker performance by the dance crew 69 Degrees, and lots more shizit.
For full details on all of the Mexican Wrestler DJs and for updates on the exact date etc. (August 5th at 8:30PM) of this event (titled: Scratch Attack: A Nite at The Vulcan) click to "Scratch Attack" on this site.
"Scratch Attack" on New York/New Jersey radio station WFMU FM: July 26, Friday at 8:00PM New York/New Jersey radio listeners will get an opportunity to tune into "Scratch Attack" radio when WFMU will broadcast a special one-hour edition of the critically acclaimed West Coast radio show that was previously recorded as a live underground skratch session at VulcanRadio.com in Oakland. The show's stellar lineup includes Tico & H.O.P., DJ Quest & Marz, '89 Skratch Gangstaz vs. Cat Five, Finger Bangerz, Oakland Faders, and Deeandroid & Celskiii. WFMU FM, an independent freeform radio station, broadcasts at 91.1FM in the New York City area, and at 90.1FM in the Hudson Valley, and also live on the web at: www.wfmu.org/ssaudionet.shtml For a complete playlist on this show click to "Scratch Attack" on this site.

---
"EVER GET THE FEELING YOU'VE BEEN CHEATED?"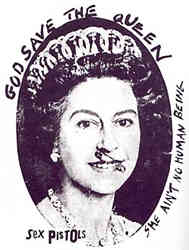 July 27th: As the 76 year old monarch of England, Queen Elizibeth II celebrates her Golden Jubilee, the Sex Pistols will attempt to stir some shit up once again and upstage the monarch, who exactly half way thru her 50 years on the throne was the target of their controversial surprise hit "God Save The Queen" which was banned by the BBC. Back then the Sex Pistols really stirred up shit creating havoc and creativity with things such as their ability to force major record labels pay them twice: once by signing them and twice by paying to just get rid of the then way too controversial act. So all these years after their 1978 breakup Johnny Lydon will again become Rotten when he reunites with the remaining Sex Pistols (pour a lil on the curb for Sid) to once again perform their anti-crown "God Save The Queen" July 27th at London's Crystal Palace and rerelease the their record and see if it stirs up shit again. For more insight on the these most interesting artists, especially to focus on how radically differnet Johnny was from the others and how manager Malcolm McLaren manipulated both the group and the media, check out the following: The video/DVD "The Filth and The Fury" is one of the most honest and engaging documentaries ever made. You won't be disappointed.
Also most telling is limited edition CD "The Sex Pistols in San Francisco Jan 14, 1978" (SuCk my filthy DOT com ReCOrds beyaatch! - 1998) that can be filed under "Punk" or "Comedy" and whose spoken word/radio interview & call ins are sometimes more entertaining than the music itself which was culled from the Sex Pistols last show ever, at the Winterland Ballroom in San Francisco where Johnny Rotten uttered those infamous words: "Ever get the feeling you've been cheated."
---
HIP HOP SLAM ARTIST NEWS
Here's an overview of what select artists who have been featured on Hip Hop Slam releases are up to: DJ Quest ("Questside"/"Live Human Live"/"Monostereosis") has released a second album in the Mission Cartel series: his collaboration with DJ 2Fresh. The first was the dope battle record "Vinyl Hedz" and the latest is a cool ass electro feast titled "Electrosox." Meanwhile if you haven't already peeped out the limited edition new "Live Human Live" CD on C.O.D. RECORD$, do yourself a favor and get to it. Recorded live in San Francisco last summer it captures the dynofuckinmyte trio (Quest, Albert Mathias, & Andrew Kushin) in their best element: live. At time of writing the album was garnering lots of airplay on such stations as KALX, KPFA, KUSF, and WFMU.…
Quest's fellow Space Traveler Eddie Def ("Wax People" series) has just dropped his second battle record, "Space Breaks," (under the Last Kreep alias) on Chip Shop Spam Records. Currently Eddie is busy recording "Hemp Lords V" and also doing sessions with Traveler DJ Marz (these days they both live in the Chico/Oroville vicinity)…
Yvette Pylant (featured on both the Amoeba Music Compilation Volumes 1 & 3) recently won the John Lennon Songwriting Contest for her song "Dity Dati Dae" which was chosen over hundreds of others by a panel of judges that included Elton John, Wyclef Jean, and Enrique Iglesias. Yvette won in the R&B category and was flown out to Ohio to the awards show at the Rock N Roll Hall of Fame. Note that all of Yvette's music is produced by Hip Hop Slam studio honcho Stevie K (Ice Chamber) who recently became an officially certified personal trainer and has been busy lately spending a lot of time doing martial arts and also working on the forthcoming Chip Shop Spam release "Stevie K's Breaks."…
Cat Five's debut "Kataphonics" (released last year on Hip Hop Slam) garnered the talented Oakland laptop/turntable quintet lots of airplay and publicity nationally and led to many shows in the Bay Area including a performance with the 89 Skratch Gangstaz at vulcanradio.com. In June Cat Five's founding member Balanceman announced that he would no longer be recording/performing with the group so that he could concentrate on recording his second solo album. His first solo was 1999's "Well Balanced Meal" on DeLuxe (Matmos' former label). The remaining members of Cat Five (Dr. Oliver, Darkat, Tweak Tech, DJ Ryan) are busy performing all Summer, including opening for Run DMC/Public Enemy at Berkeley Community Theater. They are also currently working on their second album…
Atlanta DJ T-Rock (Scratch Attack Vol 1) who laced up a track for the Cartoon Network has a dope website (www.djtrock.com) that includes T-Rock Radio where you can tune into his latest mixes…
Prozack from Foreign Legion (Amoeba Music Compilation Vol 1) just got signed as a solo artist to DreamWorks. Meanwhile the new Foreign Legion single ("The Happy Drunk" off their forthcoming album on Look Records) is getting the trio lots of airplay across the US…
Highly talented Kid Ginseng (Scratch Attack Vol 1) has just dropped the new underground, industrial noize laced, five-song CD "Kraftjerkz 2002" and will be performing selections from it on his tour this summer that includes opening for the B52's in Central Park and many other dates opening for the Tom Tom Club who are his parents (how cool is that?) More info: www.kidginseng.com…
DJ Shadow ("Flashback" on "Turntables By The Bay") is getting deserved props lately in the press and on the radio for his long-awaited (but well worth the wait) new album. The week of its release he performed to an enthusiastic sold-out Fillmore Auditorium, San Francisco audience with videos backing him courtesy of Ben Stokes & H-Gun ("DJ TV Vol.1")…
Bas-One, who has just released the 12" single "Instant Rap Star" from "The Real Deal" BOMB Hip Hop compilation that will drop in September, is scheduled to be performing at some hip hop events in Germany this summer. "Hip hop sometimes seems to be much more repected in Europe," noted the diehard b-boy before leaving the USA. Look for Bas-One's great track about DJs ("For The DJ's") on "Scratch Attack. Vol 2"…
To coincide with the release of "The Real Deal" (compilation that exposes music industry) in August BOMB Hip Hop will simultaneously publish one issue of its legendary Hip Hop Magazine…
And this summer BOMB Hip Hop will throw weekly parties every Thursday at Storyville in San Francisco. BOMB's Dave Paul is telling DJ's who play the club that they should spin pre-1994 hip hop, electro, and breaks. August 8, Thursday — line-up includes: Grand Wizard Theodore, and also the Scratch Attack DJs (DJs Pone, Platurn, Stoic, Teeko, Munkifunk, Billy Jam). Info: www.bombhiphop.com…
DJ Skizo from Italy's superstar skratch DJ crew Alien Army ("Global Turntables") reports that he and his talented battle champ crew are working on a new LP that most likely will be released in the USA on Hip Hop Slam in late 2002 or early 2003…
Around that same time look for the Hip Hop Slam full-length debut from DJ Stoic ("Turntables By The Bay," "Scratch Attack" "Shigger Fragger Breaks")…
DJ Munkifunk ("Turntables By The Bay Vol. 3") will be dropping his first mix-tape (cassette-only ol skool style) sometime later this summer…
DJ Platurn (Oakland Faders, Hip Hop Slam) proved to be a knowledgeable, well-spoken, and funny expert on the art of DJ'ing when talking to the packed McBean Theater in San Francisco's Exploritorium June 8/9. Joining Platurn for the wonderful "Mixing, Scratching, & Sampling" symposium were fellow Fader Spair, DJ Tico, Celskiii and Deeandroid, Mile Ill, DJ Centipede, and Petaluma sample duo Scatter-Shot Theory…
"Wave Twisters" illustrator Doug Cunningham (aka Dug-One) who designed the "Scratch Attack" and "Turntables By The Bay" CD covers has finished up illustrating a kids book ("Turntable Timmy") along with writer/emcee Micheal Perry (formerly of DFTC) which, geared for "Ages 6-Up," also includes a three-song CD featuring the text from the book in a rap form by the author, plus two QBert tracks including a slight remix of "Turntable TV" which is now "Turntable Timmy." The unique kid's book is expected in stores before Christmas (Info: www.freewillpress.com or wordsdistributing.com)…
Holland's DJ Sniper ("Global Turntables") has a new self-titled mix CD out on Straight A's Entertainment/Hip Hop Slam with lots of West Coast shizit on it. When the Dutch vinyl-addict visited Cali earlier this year he bought more records than he could possibly carry on the plane back home to the Netherlands. And since he was way over the legally allowed weight he had to pay extra to transport all the vinyl back to Europe…
But luckily his records made it home safely unlike poor DJ Shortkut who, on his way to Phoenix, got gaffled by a United Airlines, baggage-handling James Brown fan. To hear the Triple Threat/Beat Junkie relay this sordid tale of crate thievery check out the spoken word track (#24) on "Scratch Attack Vol 1" CD…
Australia's DJ Bonez ("Global Turntables"), who has just dropped the dope "Bonez Breaks/Australasian Dragon Edition" on Statik/Hip Hop Slam (www.statik.com.au), recommends the new 4LP/2CD set "Culture of Kings 2" which he calls "definitely the best Australian compilation ever created."…
Turntable Lab's new store in Manhattan is looking real good. As is their ever-dependable website (www.turntablelab.com) where you can find tons of battle records and other DJ releases…
KutMasta Kurt ("Pirate Fuckin Radio/Video") along with fellow Master of Illusion Motion Man recently finished working on a track for Linkin Park's remixed album project Reanimation, due July 30.
---
MORE SKRATCH & DJ NEWZ
The movie "Scratch" will soon be available on DVD thru Palm Pictures. It will include lots of extra footage such as the Cash Money and Jazzy Jeff interviews that didn't make it into the movie version. Not only that but the DVD will be a double-disk set so you can expect lots of unseen footage: including some from some outside contributors. While putting together the second DVD (the one with lots and lots of bonus cuts) director Doug Pray told us that, "I want stuff that's genuinely different than the movie itself and takes viewers into some very different ideas or images or teaches them something." That includes lots of outtakes from the hours and hours of DJ footage that Pray and his film crew shot over a two year period plus some dope video contributions culled from the likes of QBert/Thud Rumble and John Caruluccio/Battle Sounds. The "Scratch" 2/DVD set is scheduled for an August release date. For more info & updates go to www.scratchmovie.com…
Ever since DJ Swamp demonstrated the latest CD/digital scratch machine at last year's DMC battle at San Francisco's Club Townsend (where he smashed the Pioneer promo to DMC mainman Tony Prince's utter horror) seems like lots and lots more DJ's are turning up with CD scratch players. DJ Shadow had a pair between two pairs of turntables on his current tour. Reportedly Cut Chemist is also using them. And when DJ Apollo showed up at the Storyville recently to spin at the BOMB hip hop release party for "Revenge Of The B-Boy 2 " he placed on top of the turntables a pair of Pioneer CD scratch units and rocked the party off them exclusively, despite some grumbles from a few diehard vinyl heads looking on in disapproval. While most skratch DJs agree that the latest CD/digital skratch players sound damned close to turntables many still refuse to use them. DJ QBert summed it up best when he told us that, "They're really good sounding and they also feel good to skratch. I'd say they are about 90% of the way there but it is that extra 10% that makes all the difference between them and using vinyl and turntables…
Expect to see DJ Pone at just about every DJ battle on the West Coast this summer. So far he has taken a title at a Guitar Center Battle…
July 6th: DJ Pone will be among the DJs competing in the DMC San Fran Regional at the Great Amercian Music Hall on Saturday July 6th. Kuttin Kandi will be among the talented DJs in the house for the nite that will culminate in the Triple Threat DJs (Apollo, Vin Roc, Shortkut) first hometown performance since last year…
Also props to DJ Platurn who placed in the Top Ten of the recent Mixwell mix-tape contest, out of hundreds of contestants…
Meanwhile fellow Oakland Fader DJ Spair has been collaborating lately in the studio with San Jose's favorite son Golden Chyld.…
Teeko (formerly Tico) has been collaborating with Mike Boogie…
D-Styles, who now lives in LA to be closer to his fellow Beat Junkies, has announced that his much anticipated debut album "Phantazmagorea" will be released through the Beat Junkies record label. If you were lucky to hear D-Styles play sneak previews of this album o n "Scratch Attack" radio then you know how fuckin amazing it will be…
Z-Trip, Peanut Butter Wolf, Chief Xcel, and Steinski are among the artists featured on the highly recommended "Constant Elevation" CD/2LP set on Astralwerks. Put together by Joseph Patel (aka Jazzbo), who was one of the producers behind the acclaimed "Deep Concentration" project on OM Records a few years back, this new collection acts as the perfect sequel to that series…
July 24th is the date of the big Grand Wizzard Theodore Anniversary Party in New York that promises to be "straight partyrocking madness" in the old old school tradition with performances from Grand Wizzard Theodore, Grand Master Caz, the original Jazzy Jay (Soul Sonic Force), The Rock Steady Crew, The Crash Crew, GrandMaster Caz (DJ'ing and Rhyming), Whippa Whip, Raheim (Furious 5), KayGee (Cold Crush), DJ Charlie Chase (Cold Crush), and Tony Tone (Cold Crush). Wow! What a lineup! Starts at 8PM sharp on Wed. July 24th, at S.O.B.'s at 204 Varick St @ W. Houston New York 10014 212-243-4940/www.sobs.com. (capacity is only 450 so get there early fool!)…
The 2nd Annual Allies All-Star Beatdown takes place on July 26th, not in New York this year, but in Los Angeles, CA at the El Rey Theater at 5515 Wilshire Blvd. where the best DJ's from the US and CANADA battle it out for various incentives plus a chance to compete in NYC for the Allies All Star Beatdown World Finals where they will battle the European and Australian champions. Scheduled to perform are Mix Master Mike (Beastie Boys), Craze: 3x DMC World Champion (Allies), A-Trak: 4x World Champion(Allies), Klever: 2x DMC US Champion (Allies), P-Trix 99 DMC US Champ (IF2), J-Smoke: 99 Team World co-champion(Allies), Spictakular: 99 DMC US Runner Up (Allies) plus a Beat Junkies routine featuring Babu, Melo-D, D-Styles, J-Rooc and Rhettmatic. who will also emcee the event along with the Allies' Infamous. The competitors are: Abstru (Tek Masters) North Carolina, Boogie Blind (Lo Livez) New York City, Enferno (Trooperz) Virginia, Golden Chyld (Finger Bangers) San Jose, Impereal (Turntable Technicians) Long Island, Perseus (Turntable Technicians) Providence, RI, J-Tec (Turntable Monks) Toronto , Jr-Flo (Funky Technicianz) Toronto , Kid Dragon (Top Rawmen) Los Angeles, M-Rok (Funky Technicianz) Toronto, Precision (Lo Livez) Queens, and Solution (Nocturnal Sounds) Hawaii. Tix are $15/$20 thru turntablelab.com. (info@the-allies.com)…
Number one fan of the DJ and hip hop culture, Tools of War's Christie Z-Pabon has teamed up with Jazzy Jay and created a new "beat battle" aimed at DJ/Producers. "We're going to allow MPC's, keyboards, turntables, mixers, and anything else we can think of to bring out the entrants best," said Christie of the battle which is titled "The King (or Queen) of the Beat Battle" and scheduled to take place in NYC at CBGB's Gallery (313 Bowery) on June 29th (3-7 PM 21+). The battle's high profile judges include DJ Premier, Lord Finesse, Jazzy Jay and Steve Dee. For more info hit off toolsofwar@aol.com
---
THE SAN JOSE HUMAN BEATBOX: PEANUT BUTTER WOLF
Todd Inoue recently did a wonderful piece on Chris Manak, a.k.a. DJ Peanut Butter Wolf, for the San Jose Metro magazine in which he invited the former East Side San Jo resident to trace his earliest hip hop memories. Here are two of the Stones Throw mainman's "Top 11 Hip-Hop Memories of the South Bay from 1982 to 1992."

1.) Setting up a "human jukebox" outside my house in 1982 My best friend, "Sweet Steve" Helmer, and I had this incredible idea to bring our turntable console and all our records outside and invent our own jukebox to make money. Steve and I had hundreds of 45s, and even though we were only 11, we felt like grown men trapped inside the bodies of kids. We put the record player under a table, covered it with a tablecloth, hid underneath and charged 25 cents for two songs. My little sister, Amy, decided to cash in as well, setting up a lemonade stand next to us. Nobody was interested in the jukebox, but my sister made some good money.
2.) Recording a cassette with Steve of our top 50 songs of 1982 (which he recently dug up) Inspired by our favorite radio station at the time, KSOL, we announced songs in prepubescent voices, mentioned a few things about the artists and tried our best at being radio personalities. Kraftwerk, Soul Sonic Force and the Time got equal plugs in our top 50. We even did a fake ad for Grandmaster Flash's "The Message." The No. 1 song of the year in our opinion back then? Prince's "1999."

For the recommended complete list of all eleven, and also to check out a picture of a very young Peanut Butter Wolf with ol skool potna 'Sweet Steve' Helmer taken in 1982 go to: www.metroactive.com/papers/metro/05.23.02/hip-hop-0221.html
---
"HOW QBERT GAVE ME ARTHRITIS"
This story by one of the many QBert fans, B. Moniker was submitted for possible inclusion in the forthcoming QBert book that is being written by myself, Billy Jam, along with editor extraordinaire Frank Casianno III. For more info on the book, which will include many insightful quotes from QBert, his contemporary DJs, his fans, his parents (pictured), and lots more good stuff, go to www.djqbert.com
But read this first: "how Qbert gave me arthiritis" When I was 17 my hood-rat cousin gave me my first (stolen) set of tables. They were Technics 1800's (older than I am). Thus I embarked on my quest to become a Knight Of The Scratchtable (Im inventing catchy names here, bear with me) Anyhow, my first attempts at cutting records were awful, so I sought professional lessons. Okay, I LIVE IN KANSAS! Do you know how small of a DJ (real DJ's and not rave kids with records and skateboards) community we have here? There were maybe two people who could have shown me anything, but they (who shall remain nameless) were simply too high on themselves to spare any pointers. Skip to 1999, in comes a guy I know with a video tape, to this day I cant remember which actual episode it was but it was called Turntable TV! I watched this tape only once because the guy left with it shortly after and then lost it when his car got jacked. BUT I gathered enough technique just from watching Q-berts hands on the mixer and records, that I had more of a base to develop my current style. Understand that I knew nothing of how to scratch other than dragging the record under the needle, the crossfader was never a tool to be used until I saw that video. And now, after all the practice, coffee, crate digging, cutting, mixing, watching Wave Twisters, cutting faster, more coffee, watching Reverse Oyster Beard, cutting even faster, a 2litre of JOLT and cutting at blazing speeds, MY WRISTS HURT!!!!! ……… But hey thanks Q-bert, if it weren't for you I might have taken up a different instrument, like a banjo or something.
Cheers — B.Moniker www.bmoniker.com