• Hip Hop Slam NEWS Roundup by Billy Jam
• Fat Asian Kid Voted Website of the Week by William Chung
• Bay Area DJ Profile #018: DJ Pone
(voted "Sexiest Man of the Year 2003" in Singapore)
• "From Slanging Boca Burgers to Huggin Hotties" by DJ Jester
• Freelancers United Take 1 Step Back, 2 Forward with Analog Assault
by Munkifunk
• Azeem, T-Rock, Marc Stretch, DJ Sniper, in Amsterdam: Gallery Additions
---
HIP HOP SLAM NEWS ROUND UP
by Billy Jam
G.R.E.A.M. (Guinness Rules Everything Around Me). Hip Hop Slam Irish representative Tall Paul Lowe reports that many celebrated St. Patrick's Day with Raekwon who set a difficult precedent for all future touring acts who visit the Emerald Isle. He passed out free booze from the stage of Dublin's Red Box during the sold-out Paddy's Day show. "He also requested an Irish flag from the audience which someone happened to have on them and which he very proudly hung high on the stage," reported Paul of the show whose opening acts included DJ Flip. Paul notes that Wu Tang Clan will be performing in Ireland as part of the big Oxegen festival in July.
D-Styles is clearly one of the most underratated musicians or our time! And this the turntable-artist/producer/musical genius proved once again when he and his (other group) progressive jazz ensemble Gunkhole (Ace, Ricci Rucker, Mike Boogie) blew away the lucky San Jose audience who caught their March 25th performance at club Stank. Their new DVD (The Bastard Language Tour) is out now. Gunkhole will be touring the UK in April/May.
Fellow former ISP member/current Beat Junkie DJ Shortkut, who was also spinning at Stank, informs HipHopSlam-News that in October he will embark on the Reconstructed Elements Tour along with DJs J-Rocc and Japan's Tashi..... Much respect and thanks to Fuse-One for his consistently phenomenal DJ oriented weekly Stank in San Jose. April 1st will the very last nite of the club (feat. J-Boogie, Fuse-One + others) because the DJ/producer/promoter is moving to LA.
Separated at birth? What do Willam Hung and Master P have in common? (besides both being seen on TV lately - one on Nickelodeon and one on American Idol). They are both signed to KOCH and each about to drop full-lengths on the diverse NY label. Additionally they each have beaten the odds and proven if you believe in self and set NO LIMITS you will succeed! TRU! (PS: there is no truth to the rumor of a collaboration between these two!)
MOOG FEST: Mixmaster Mike, Money Mark, Tino Corp (feat. Jack Dangers and Ben Stokes) and others will be at Bimbos, April 1st in celebration of Bob Moog's keyboard invention - created waay back in da day at Mills College. Money Mark will start the San Francisco set doing 30 minutes, then be joined by Mix Master Mike for 15 minutes performing together and then Mix Master Mike will do 30 minutes on his own. Should be a memorable night. It will be filmed for a future documentary. For more info on this and the forthcoming Moog compilation (feat. Meat Beat Manifesto, DJ Spooky, Money Mark, Luke Vibert & Jean-Jacques Perrey, Bernie Worrell, and tons more) go to Moog Movie or Tino Corp
Grand Wizzard Theodore will be among the performers paying tribute to the late Jam Master Jay at Mezzanine, 444 Jessie @ Mint, San Francisco, on April 2nd. Also billed are Pam the Funkstress, DJ Pone, Marz, Mike Relm, Toph One and others. The benefit will help buy music instruments for underprivileged children through The Jam Master Jay Foundation for Music, NextAid and potentially I.S. 192 (the middle school that Jay attended in Hollis, Queens)..Tools of War reports. djadnan.com
Check out some pics (inc. Azeem, T-Rock, and Foreign Legion) from the BOMB European tour in Amsterdam last year in Gallery.... Also in this HipHopSlamNEWS Freelancers United (feat. Shing02, DJ A-1, and Dawgisht) innovate with their fat analog driven sound. Munkifunk reports.... DJ Jester goes from selling Boca burgers to performing with Kid Koala - all within a matter of months.... Read his first hand report and JESTER FACTOIDS..... Voted "Sexiest Man of the Year: 2003" in Singapore DJ Pone, Fairfield's favorite son whose fave all time records include the Less Than Zero soundtrack, is this week's Bay Area DJ Profile...... and..... Fat Asian Kid wins our website contest::Read on for full details:
---
FAT ASIAN KID VOTED WEBSITE OF THE WEEK
by William Chung
Well we are happy to have finally tallied the results of our latest AMERICA GOES ONLINE POLL. We received a staggering 2.3 Million response Emails (via our Clear Channell head office) and ladies and gentlemen America has spoken: and America voted overwhelmingly for the FAT ASIAN KID as the most popular website of the week!
Thank you to everyone in America who voted and also to ebaumsworld.com!
---
"HOW I WENT FROM SLANGING BOCA BURGERS TO GETTING INVITED BY RADIOHEAD TO PERFORM ON THE BBC" —
DJ Jester
"Slanging Boca Burgers was the wisest career decision I ever made. Who knew that it would lead to touring with Kid Koala and hugging girls all over the world?!" - is what DJ Jester (whose recent colorful career includes soy-slanging,, DJ teaching, and skratching) told us when he first got invited by Kid Koala to join him and P-Love and Lederhosen Lucil on tour of the USA, Canada, and Europe. The tour was a huge success, including the killer show at Bimbo's in San Francisco, and now that Jester is back home in Texas he has time to share his story of the tour and how it all came about with HipHopSlam.Com:
So, it's June 2003 and I am busy teaching my Scratch Skool workshops for kids for the local San Antonio public library. I get home and there's a message in my Hotmail box from Eric San (Kid Koala). It says, "Yo Mike, hope you're free later this year. Would love to have you on tour again through the US and Europe this winter." So, in September 2003, I quit my day job and flew to Montreal to join Kid Koala's Short Attention Span Theater tour, along with DJ P-Love and Lederhosen Lucil. Montreal is probably one of my favorite cities so it was no problem leaving San Antonio to hang in Montreal for a bit for rehearsals. While I was there, P-Love even hooked me up with a few gigs. One night, dope producer extraordinaire, Sixtoo, took me to see his fellow Sebutone, Buck 65, play. Seeing Buck for the first time was amazing because I am a huge fan. What struck me was Buck's charisma on the mic and his ability to tell stories. I also liked how, when he was done, he just walked off the stage and hugged and kissed all the girls in the front row. This inspired me to bite Buck's style and use that hug routine during the Koala tour. So, thanks, Buck. You got me lots of hugs. So, SASTT worked like this: First, it was me playing solo for 30 minutes. Then, it was Lederhosen Lucil after me for another 30 minutes. Lederhosen Lucil was the perfect choice for this tour. Everything about her made me laugh: from her fake blonde wig and faux German accent to her songs with titles like, "The Best Dishwasher I Ever Had." I don't know what's in the water there in Canada, but these are some of the funniest most creative people I've ever been around. So anyway, after Lederhosen Lucil finished, Kid Koala and Company would go on for the next hour and a half. The "and Company" part means me, P-Love, and Koala performing as a turntable band on 8 turntables, a slide projector, 2 screens, a Wurlitzer piano, and a game of bingo. Since it was a band, Koala's idea was to make sure everything was set up as a band would. All the drum sounds were coming from the turntables on risers. Although it was mostly Koala and P-Love, I joined in on live renditions of "Skanky Panky," "Annie's Parlor," and "Stompin' at Le Savoi" from Kid Koala's excellent SOME OF MY BEST FRIENDS ARE DJs album on Ninja Tune. So, we did the show all through the US/Canada for a month and then we went to Europe/UK for another month. When all was said and done, we did close to 60 shows in less than 3 months! The highlight of the tour came in the form of an invitation from Radiohead to perform on the BBC. Since it was the BBC's anniversary, various bands were curating shows for a week. When it was Radiohead's turn, they had asked former tourmate, Kid Koala and his turntable band (hey, that's me!), to be on the show. That was the most surreal thing I've done thus far in my DJ career. Thank you, Koala, for bringing me on your tour!
JESTER-FACTOIDS:
900 = Total Number of hugs from hotties that Jester received on his recent tour
The Filipino Fist = Other name that Jester is known by
San Antonio, Texas = DJ Jester's hometown
Genuine Electric Latin Love Machine = the name of Jester's band
Austin, Texas = Jester's current residence
Soy = The main ingredient of a Boca Burger
500 = Number of hugs received in USA & Canada
400 = Number of hugs received in Europe
15 = Average number of hugs Jester received per show
WFMU = Radio station that Jester originally made his Heavily Booted mix-CD for
River Walk Riots = Name of another dope mix CD by Jester
2003 = Year that URB magazine showcased DJ Jester in their "Next 100"
Scratch Attack Volume 2 = Hip Hop Slam CD compilation feat. DJ Jester & GELLM
Summer 2004 = when Jester's new album drops
filipinofist.com = info on DJ Jester inc. buying his vinyl & cds
---
Turntable/Faderboard Session Vol.4
by Munkifunk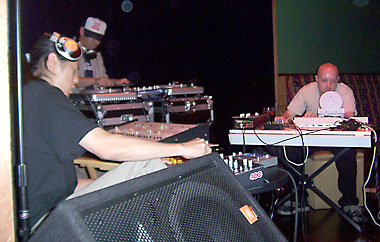 The Freelancers United continued their turntable/
faderboard sessions with a recent show at The Beat Lounge in San Francisco's North Beach. The lineup for this particular session featured Shing02 (Faderboard and ARP Odyssey), A-1 on the wheels of steel, and Hip Hop Slam's very own Geoff Rantala a.k.a. Dawgisht who provided live beats on the Commodore Amiga 1200. The progressive jazz venue provided the perfect basement setting for two completely improvised sets that Dawgisht described as "loose and crunchy and fun." While the Faderboard is still a relatively new piece of musical equipment, Shing02 manages to push its sonic boundaries endlessly with each performance. He traded leads, rhythms, and noise with DJ A-1 who drew much crowd response for his own amazing skills on the turntables. Unique and innovative about this particular performance was Shing02's use of the 1972 model, Moog like analog synth whose modulations substituted perfectly for a turntable. "Plug anything into the mixer....not just the turntable.. ....but a whole wide range of instruments," Shing02 said about his refreshingly innovative approach to live DJ based music. DJ A-1 also spun solo and got everyone moving with ample amounts of both scratching and juggling while never once missing the beat. e22.com
Upcoming Shows:
FREELANCERS UNITED presents TURNTABLE + FADERBOARD SESSIONS
04/04/04 (sun) — VOL.5
feat. Shing02 (faderboard + ARP Odyssey), DJ A-1 (Turntables), Geoff Rantala (Amiga 1200), plus guests
04/18/04 (sun) — VOL.6
feat. Shing02 (faderboard + ARP Odyssey), DJ A-1 (Turntables), Doc Max (ASR-X), plus guests
The Beat Lounge
San Francisco, CA (501 Broadway x Kearny)
9pm - 1am / 21+ / $5 donation
---
BAY AREA DJ PROFILE #018: DJ Pone
DJ Name: DJ Pone
Hometown: Fairfield, CA native transplanted to Berkeley
Trademark saying or philosophy toward your music/your life: Without revealing too much of my motivation and personal history (which is mine, and mine alone, you nosey bastards), I like to think I live by the maxim which is succinctly expressed by the classic Latin saying "Carpe diem". That's some old high school graduation sounding bullshit, but yeah. As read in Macbeth To the last syllable of recorded time, And all our yesterdays have lighted fools The way to dusty death. Out, out, brief candle! Life's but a walking shadow, a poor player That struts and frets his hour upon the stage, And then is heard no more. Life's too short to fuck around. I like to get out and do shit, lest I rage, rage against the dying of the light.
Groups that you have been a member of: Canned Beats (my original mobile DJ crew with DJs NeoGeo, Verge, and Mars D); '89 Skratch Gangstaz (my scratch crew with Snayk Eyez); Dub FX (my reggae band); TFS DJs (party/club DJ crew with DnZ, NeoGeo, and Onedr Love); Hip Hop Slam (that one record label I work for); DJs of Mass Destruction (with Billy Jam & Dawgisht); The Backspin Boys (the internationally-acclaimed turntablist boy band); the NoCal DJ & Music Production Academy (the DJ school I teach at); The Skratch Pistolz (you'll soon see)
How would describe the music you spin? I like anything recorded, although standard classification would probably call me hip-hop. But what is hip-hop but every kind of music? I like to go back to the stories where Bambaataa would flip anything from classic soul to funk to Rolling Stones to a Josie & The Pussycats record – and keep the crowd with him every step of the way. I like to spin Ludacris and Barry Manilow and Brand New Heavies and Green Day and 5th Dimension and Pete Rock and Vince Guaraldi and everything else I like to listen to, which is everything. Every kind of popular music in America stems from a common blues source anyway. It's the music industry and corporate America that insists on classifying things and dividing the people they only consider as consumers – I can link this to a greater political overview, but I'll get off the soapbox now.
How would u describe yourself as a DJ? I would consider myself as striving to be the Bay Area uber-DJ type (of which the Triple Threat DJs are the epitome): one who can DJ weddings, but also rock the club parties, but also have enough skills to battle, and produce turntablist tracks. I am like water. Sometimes I flow downstream, adapting myself to the dictates of the surrounding environment. Sometimes I am cold and solid, breaking pipes and freezing everything around me. Sometimes I am like vapor, light and ethereal, making people sweat without anyone ever noticing me. Damn, that sounded like some Kung Fu shit.
Discography: Turntablist tracks with 89 Skratch Gangstaz: "Cut From Behind" on Turntables by the Bay (Hip Hop Slam); "Lesson 89" on Return of the DJ Volume IV (Bomb Hip Hop); "Lesson 3" (Extra Credit Remix) on Global Turntables (Hip Hop Slam); "Directors Cut" on Return of the DJ Volume V (Bomb Hip Hop).
Recorded scratch appearances with Hip Hop Slam: Scratch Attack 1; Scratch Attack 2; Scratch Attack 3. Co-produced with Hip Hop Slam: War (If It Feels Good, Do It!) with DJs of Mass Destruction.
Official remixes produced with 89 Skratch Gangstaz: Remix of "Lesson 3" by Double Dee & Steinski (Tommy Boy); remix of "DJ DJ" by Transplants (Epitaph Records)
Official remixes: "Earthcrusher" by Mr. Lif (Def Jux); "Son of a Bush" by Public Enemy.
Mix CDs: Hits from the 90s with DJ Spair.
DJ Battle History (solo & team): (abridged) 1999 DMC US Regional Champion; 1999 DMC US Finalist
First record you ever bought: As a kid? Probably some of those storybooks with 7" records from Golden Books and Peter Pan Records (I still have some of them). With actual music? K-solo's "Fugitive" or Gerardo's "Rico Suave". Lost the "Rico Suave"; still have "Fugitive".
Most influential record(s) in your life: "The Adventures of Grandmaster Flash on the Wheels of Steel" by Grandmaster Flash; "Bring the Noise" by Public Enemy; Less Than Zero OST; Blue Haze by Miles Davis; Ultimate Beats & Breaks Vol. 10; "Give it All You Got" by Afro Rican; "Planet Rock (Bass in the Planet Remix)" by DJ Magic Mike; Step into the Arena by Gangstarr; "So Whatcha Sayin" by EPMD; "Ugly People Be Quiet" by Cash Money & Marvelous
When did you first DJ? My first time to DJ in public was sometime in 1992. It was probably some house party in someone's garage in good ol' Fairfield; I can't remember exactly.

What made you want to be a DJ? In contrast to the numerous stories of many other DJs, listening to "Rockit" was not my first experience hearing a DJ cut and mix it up. Rather, my first experience hearing a hip-hop DJ is listening to "The Adventures of Grandmaster Flash on the Wheels of Steel" back around 1983 or 1984, featured as a track on some generic K-tel compilation. The sublime import of that experience was not actualized until about 1989, the year I really got into listening to hip-hop music and music in general. My favorite parts of the record were the parts where the DJs scratched – I especially enjoyed DJ Scratch and DJ K La Boss of EPMD and DJ Magic Mike, the king of Miami bass. I didn't really think about DJing myself until about 1991. My old high school friend Mike just moved to Fairfield from Daly City – the city known for its vibrant mobile DJ scene, of which Mike was a part of. He told me stories about the legendary DJ Qbert, who was just beginning to emerge on the national scene about that time. The stories of Qbert, combined with my fascination with scratching, motivated my desire to DJ. My sister's ex boyfriend gave me his old Pyramid mixer, and I got a Gemini belt-driven turntable, and so began the actualization of DJ Pone.

What is your most memorable performance of your DJ career? I will always cherish the memory of competing at the 1999 DMC US Finals – for most battle DJs, getting to the DMC US Finals is a major achievement. I'll remember meeting one of my idols, DJ Magic Mike, who was there watching that night. However, one of my favorite performances took place at a rave I DJed in Chico, CA a few years ago. While I was spinning, there was a little power outage and the sound equipment turned off. I was stuck in front of a crowd of hundreds, with no music. I felt the urge to sing (which for people that know me, know that my urge to sing comes quite often), and I sang the Tom Jones classic "It's Not Unusual." I had the crowd clapping the beat, and I got to finish the song, even as the power returned in the middle of my song. In 2002, I played with my reggae band Dub FX at the Reggae on the River festival. That must have been the largest crowd I ever played for – tens of thousands, all there to watch people like Burning Spear and the Marleys. It was great to open up such reggae legends, at such a high profile event.
How do you transport your records and/or gear to gigs? Like every other working DJ, I put everything in cases, and lug it along, most of the time by myself. I guess I just am not at that level to have roadies yet.
Do you play CDs ever at gigs? Yes. I need a CD turntable to scratch Bush samples for the DJs of Mass Destruction.
In your opinion, who is the best DJ of all time? Of course, on the scratching end, it's Qbert, probably the most technically skilled scratcher of our time. The fact that he continued learning and innovating after he won the DMC championship is amazing to me, and sets him apart from many other DJs.
The best overall DJ of all time, in my opinion, would have to be DJ Shortkut. He is the quintessential DJ – he has world-class turntablist skills, has knowledge of a wide range of music, from hip-hop to reggae to soul & funk to 80s to disco, and he can mix with the best of them. No one else has as broad a range of high-level DJ skills as Shortkut. He is an inspiration to me.
Best website or way for folks to find out more about you? www.djpone.com is my personal website, but it's more of a joke site. For updated event information, check out my crew's site, www.cannedbeats.com. For the latest on my Hip Hop Slam production projects, of course there is www.hiphopslam.com. To find out more about the the hottest DJ school in the country (where I teach scratching), check out www.norcaldjmpa.com. And to find out more about my reggae band, Dub FX, check out www.dubfx.com