• Chuck D gets Hip Hop Slam Hall of Fame Award
• Finger Bangerz top Hip Hop Slam Top 20 Playlist: February 2004
• Bands Unite Against Bush in Berkeley Concert
• Shop additions for 2004: CDs, Vinyl, T-Shirts
• Best Lyrics of the Week
• Top Ten Black History Month Wordsmiths
• Bay Area DJ Profile #013: Kevvy Kev
• Canned Beats Newsletter
---
CHUCK D — ARTIST, ACTIVIST, LEADER:
TRUE AMERICAN HERO
On the evening of February 5th Chuck D delivered an engaging lecture entitled "State of the Union Address and Vibe Session" at Sacramento State University to a tightly packed and spellbound audience of over five hundred Sac-town students. Following the lecture DJ Pone, who had traveled to the state capitol with DJ Munkifunk, presented Mista Chuck with a Hip Hop Slam Hall of Fame Award for a lifetime committment to hip hop culture and social/
political activism - something personified during the hip hop legend's moving two-and-a-half hour speech which tackled countless pertinent issues head on.
Drawing upon examples such as the recent Janet Jackson Super Bowl goings on and rap music's co-opting of racial epithets, the Public Enemy frontman spoke passionately and at length about issues such as the corporate influence in America in 2004, and the mass media's methods of suppressing the opinion of intelligent individuals. Other topics included his disdain for overt materialism, a point made very clearly when he stated that he still rode around in his old '94 Mitsubishi Montero - a far cry from the trademark Escalade favored by so many of today's young, easily influenced, materialist rappers.
The creator of such classics as "It Takes A Nation of Millions To Hold Us Back" also stressed the need for people to think outside the 3,000 mile box called America and realize that there is a whole other world out there to consider. Chuck D pulled no punches, giving thoughtful and significant views in his trademark no-nonsense manner, all the while remaining ever humble, most gracious, and always engaging. Afterwards as he signed autographs, he kept dropping knowledge with the audience in a question-and-answer session. After this DJ Pone and Munkifunk of Hip Hop Slam were on hand to present Chuck with his award for many many things including being a "True American Hero" and for a "Consistant Career of Integrity as Artist, Activist, & Leader."

Previous Hip Hop Slam Hall of Fame Awards were presented to Grand Wizard Theodore, KRS-1, Too $hort, DJ QBert, Paul Mooney, and DJ Apollo. Chuck D's well-deserved award is an acknowledgment of his groundbreaking, consistent committment to hip hop culture and political activism. DJ Pone who presented the award did the scratch-remix of Public Enemy's "Son of a Bush" featured on the Hip Hop Slam compilation WAR (if it feels good, do it!).
---
HIP HOP SLAM TOP 20 PLAYLIST: February 2004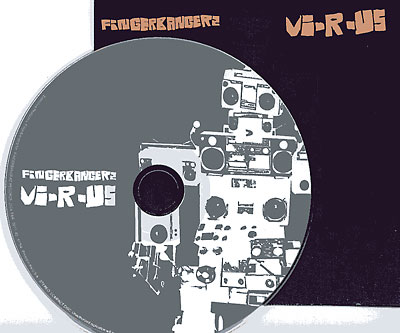 01) Finger Bangerz Unheard Of, Street Dreams, Lesson Unlearned (feat. Illtraxx), Chinese Spare Ribs, Emancipation (feat. Shortkut), and Rewind (feat. Raashan Ahmad Morris) - from new CD VI-R-US
02) Immortal Technique Freedom of Speech, Peruvian Cocaine, Homeland & Hip Hop (feat. Mumia Abul Jamal) - from CD Revolutionary Music Vol. 2
03) Paris Sonic Jihad - LP & CD plus Freedom 12" (Guerrilla Funk)
04) Ri-Ra Front Bar, 25 O' Clock In The Morning - import 12" singles (All City)
05) Jello Biafra Die for Oil/Pledge of Allegiance - 7" reissue (Alternative Tentacles)
06) Z-Man "Dope or Dogfood" (Refill/Hieroglyphics) (www.hieroglyphics.com)
07) Top R Burning the Candle At Both Endz (2004)
08) The Embedded DJ Freedom of Fingerz (Downloaded Dreams & Stolen MP3's)
09) Charizma & Peanut Butter Wolf singles & "Big Shots" LP (Stones Throw)
10) Opus X Rat vs. Squirrell - battle record (subvertundergroundpress.com)
11) Backyard Bangers Perception/Opposite Direction (Transistor Music)
12) Z-Trip vs. Skyjuice Rhymtic Metaphor (Ubiquity 12", 1997)
13) DJ Signify 12" (2004)
14) DJ Icewater Mixtape feat. Shing02 freestyle (westcoastmixtapes.com)
15) Variable Unit Handbook for the Apocalypse (Wide Hive)
16) Messiah J & the Expert What's Confusing You? (Volta Sounds)
17) Jello Biafra Become the Media - triple CD/LP sets (Alternative Tentacles)
18) E da Boss double A-sided 7" single (Slept On)
19) DJ Spooky Riddim Warfare (Outpost, 1997)
20) Thavius Beck Decomposition (Mush Records, 2004)
---
WAR: WHAT IS IT GOOD FOR? ABSOLUTELY NATHIN'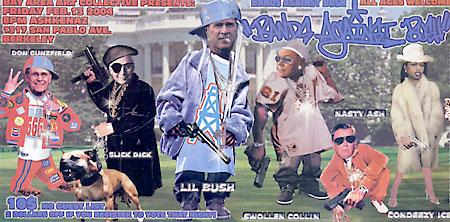 DJs Of Mass Destruction will be among the numerous artists and activists at this Friday's "BANDS AGAINST BUSH!!" benefit at the Ashkenaz on San Pablo Ave. in Berkeley. The Feb. 13th all-ages event will have a register to vote table set up outside the club and those who register will get an instant $2 refund off the $10 admission.The goal of this event say the organizers "is to raise the awareness among the younger generations of the importance of voting, as one of the most crucial ways to bring about social, economic, and political change in the United States. Although we hope all ages will come, we are particularly focused on inspiring 17 to 28 year olds to become informed about what's going on politically in our country and to get out and vote. This demographic is very important and probably one of the least represented at the various political rallys and democratic presidential events." Scheduled to be at the event are presidental hopeful DENNIS J. KUCINICH, the publishers of AWOL magazine, and of course numerous hip hop/spoken word performers including Bamuthi, EyeCue of Hobo Junction, Relic, Scroo, and the DJs of Mass Destruction (DJsOMD) whose ever-changing lineup will include DJ Pone (aka The Embedded DJ), 4AM, Angela "LadyBug" Louie, and members of Cat Five. Members of the DJs of Mass Destruction will also be heard on KPFA Berkeley that same night (Friday 13 between 10PM & Midnite) when they help DJs Uhuru Maggot and G-Spot raise money for the Pacifica radio station. The following Wednesday morning DJsOMD members' Pone and 4AM will stop by KZSU Stanford to perform live on DJ Stirling's Feb 18th show (10:30AM-Noon ish).
---
Best Lyrics of the Week
"I love the place I live but I hate the people in charge"
by Immortal Technique — "Freedom of Speech" from the album Revolutionary Vol. 2
---
HipHopSlam Top 10 BLACK HISTORY MONTH WORDSMITHS
01) Chuck D (including lecture @ SAC U)
02) DJ Spooky (including KALX Cultural Affairs interview)
03) Sarah Jones
04) Saul Williams
05) Mumia Abu Jamal
06) Cornell West
07) Malcolm X
08) Gil Scott Heron
09) Angela "Ladybug" Louie
10) Michael Franti
---
"BAY AREA DJ" T-SHIRTS AVAILABLE AT HIPHOPSLAM.COM
HipHopSlam's online SHOP will continue its gradual but steady expansion in 2004. As well as the popular "Bay Area DJ" t-shirt (sported in the accompanying pics by QBert, Dan the Automator, and Grand Wizard Theodore -and he's not even from tha Bay!), which was designed by Hip Hop Slam and is only sold here and at GiantPeach.com, there will be more unique T-shirt designs added this year.
Also look for new CD, DVD, and vinyl titles: some brand new releases and some classics. Added just in the past week to the SHOP are both the brand new Finger Bangerz CD Vi-R-Us and the limited edition must get Future Primitive DJ compilation, Urban Revolutions (it includes Z-Trip, DJ Zeph, Space Travelers, & Rob Swift).
Future CD additions to the shop will include such Yay Area classics as 11/5's Fiedin' For Tha Funk and such brand new releases as Dawgisht's forthcoming 8.bitz.o.luv://dump.or.die.vol.05 - an amazing array of smoldering funk beats and instrumentals from the producer with the DJs of Mass Destruction and other crews. Other SHOP additions will include the vinyl-only "Turntables by the Bay Vol. 3" - the "All That Scratchin' Is Makin Me Bitch"/"Bay Area DJ Series" T-shirts (XL, black), plus such hip hop collectables as mint-condition copies of the 1991 "Nation of Islam" (#19) issue of the Source magazine with Lakim Shabazz, Paris, and Big Daddy Kane on the cover.
---
BAY AREA DJ PROFILE #013: Kevvy Kev
DJ Name: Kevvy Kev
Hometown: New York
Trademark saying or philosophy toward your music/life: "Socrates' philosophies were fatal." ______ and
"The grinding that would wear a lesser stone to nothing serves only to give luster to a diamond."
Groups that you have been a member of: Members Only Crew, The Drum Posse
How would describe the music you spin? Hot
How would you describe yourself as a DJ? Funky Fresh
Discography: You're Not Down, Fame, Bang The Drum Freestyle Compilation, plus countless snippets, skits & guest shots
The first record you ever bought: NO idea!
Most influential record(s) in your life? Rappin' & Rockin' the House - Funky 4 Plus One More, Why is That - KRS-1, The Power of One - Crash Crew
When did you first DJ? 1983
What made you want to be a DJ? The dearth of good DJs where I was
What is your most memorable performance of your DJ career? Too many to count
How do you transport your records and/or gear to gigs? Record bags or crates, flight cases if overseas
Do you play CDs ever at gigs? Nah
In your opinion who is the best DJ of all time? Impossible; there are too many that are in that rarefied territory
Best website or way for folks to find out more about you? get@KevvyKev.com for The Weekly G.I.R.L.
---
THE CANNED BEATS NEWSLETTER
Canned Beats = DJ Verge + DJ Pone + DJ NeoGeo + DJ Mars D
c/o Canned Beats
CannedBeats.Com is NOW up so check it out. Meanwhile here's the Canned Beats:
Professor Pone Teaches Scratching at the NorCal DJMPA: DJ Pone started off his DJ201: Scratching Fundamentals class recently at the norcal DJMPA (DJ & Music Production Academy), San Francisco's premier DJ and production school. Located in San Francisco within the Macromedia Building, the norcalDJMPA currently offers classes in mixing and scratching, across all genres from hip-hop to house, in an academic and professional setting unparalleled by any other school of its type.
Pier 23 Fridays: DJ Pone continues his Pier 23 residency, moving up to Friday nights! Friday nights at Pier 23 feature mix sets by DJ Pone as well as live performances by the Bay Area's best bands (January 16 featured Marque and January 23 featured Through Walls). On top of the standard classic and current hip-hop fare, look for DJ Pone to mix up anything on any given Friday night, such as a recent Friday's wild mix set that featured early 90s top 40, from Tara Kemp to Bell Biv Devoe!
MF Doom, Jan. 22, 2004, DNA Lounge: MF Doom rocked the mic in his first-ever Bay Area performance at the DNA Lounge in San Francisco. Donning his trademark metal-faced mask and playing beats directly off of his Roland VS-series recorder, Doom took us through a medley of his songs, including numerous cuts off of the classic Operation: Doomsday album. Amongst the opening acts for Doom were the Oakland Faders (DJs Spair & Platurn), who rocked the party on 4 turntables, despite some on-stage drama caused by a hater on the stage; and Joe Quixx & the Specialist, who jammed on their MPCs live on stage. On the Corner Productions gets a big pat on the back for being the first to bring Doom out to the Bay - shout out to Jon for getting DJ Pone backstage to meet the Super Villain himself. Look out for more dope Bay Area shows from On The Corner Productions.
DJ Pone hit KALX, Jan. 31, 2004: DJ Pone invaded the Bay Area airwaves as a guest on DJ Sergio's show on KALX. DJ Pone blazed through the turntables on his hour-long set, quick-mixing through forty top 40 tunes from the late 80s-early 90s era, from well known songs such as Bobby Brown's "Every Little Step" to more less-remembered hits such as Skee-lo's "I Wish". For more 90s action, check out the Hits From the 90s mix CD by DJ Pone and DJ Spair, currently available at Turntablelab.com or Rasputin Music.
DJs of Mass Destruction invade Airwaves, Feb. 1, 2004: With their first live performance on KALX, the DJs of Mass Destruction (Billy Jam, Dawgisht, DJ Pone) have been picking up momentum since the release of the critically acclaimed, politically charged album, War (if it feels good, do it!). In a purely improvisational performance, The Embedded DJ (DJ Pone), using a CD turntable, scratched a CD with sound bites taken from the past week's news prepared by Billy Jam. With manually cut up sounds from the likes of Dubya and Howard Dean, among others, DJ Pone deconstructed the mess of political dialogue. Look out for more live performances from the DJs of Mass Destruction on the KALX Sunday mornings, on the Cultural Affairs Outreach show from 10am-12pm.
DJ Pone and Mixmaster Mike @NAMM '04
The NAMM Show, January 15-18, 2004: DJ Pone took a trip to the Anaheim Convention Center, to visit the NAMM annual convention featuring the latest products from every major music instrument manufacturer in the United States. Almost every major DJ hardware manufacturer was present to feature new products, and almost any DJ of note either showed up or performed at a manufacturer's booth. Amongst the DJs that Pone ran into: DJ QBert, Mixmaster Mike of the Beastie Boys (pictured above with DJ Pone), The World Famous Beat Junkies (DJs Babu, J-Rocc, Melo-D, Rhettmatic), D-Styles, the X-ecutioners, A-trak, T-Rock, Shing02, and DJ Icewater.
Soothe Ur Soul, Cloud 9, Jan. 31, 2004: This past Saturday, Jan. 31st, DJ Chris-Style brought San Francisco it's first taste of "Soothe Ur Soul", an event of pure music and Bay Area party bliss. For its first night, DJ Chris-Style put together an all-star DJ lineup featuring Derrick D, Ross Hogg (Ital Selection HiFi), DJ Classic, Rainman (Perfect Sounds), and finally Chris-Style himself, who brought the house down with some of that old school electro hip hop. All floors were packed with some of the Bay Area's beautiful groove junkies as everyone got low to hip hop, house, soul, dancehall, and even a little rock. To check out the next wave of this smooth, sexy, upscale event, mark your calendars for future last Saturday's of the month with the next one hitting Cloud 9 on February 28th.

UPCOMING FEATURES: DJ NeoGeo scratches on XO's "2 Step" single: Keep your ears and eyes open for the new blazing single by the Bay Area's XO (of Under Survalance) entitled "2 Step". The track could set the clubs on fire with its hard hittin' production and hypnotic hook and features Squint Lo of the Wildcats and background scratches by DJ NeoGeo. Visit Under Survalance at the PTB Music website .

UPCOMING EVENTS: Starting in February party each and every Thursday for FREE in San Jose at the 5th Quarter. MadMuzik.com has Canned Beats, T.F.S. DJz, and DJ Joe will be spinning the hottest commercial and underground hip hop, rap, and R&B with guest artists/DJs coming by.
Resident DJs: DJ DnZ (T.F.S. DJz), DJ Pone (Canned Beats, T.F.S., 89 Skratch)
DJ Joe, DJ NeoGeo (Canned Beats, T.F.S., The Formula)