HIP HOP SLAM
NEWS SERVICE
#022A — 12/16/03
#022B — 12/16/03


SCRATCH ATTACK NEWS

#02 — 02/04/02

#01 — 09/15/01



• Hip Hop Slam News inc. Scratch Attack Broadcasts this month
• DJ Battle News by DJ Pone
• "Superstar" DJ T-Rock Reports from his pop mega-tour
• Bay Area DJ profile 3, Dan "the Automator" Nakamura
• DJ T-Rock's Hip Hop Sundae added to SHOP
• San Jose Guitar Center Spinoff '03 by Joefu
• Crate Digging with DJ Platurn for 45's
---
HIP HOP SLAM NEWS #014, JULY 2003
by Billy Jam
The '89 Skratch Gangstaz (feat Pone and Snayk Eyez) have a brand new Hip Hop Slam Production remix of the Transplants' song "DJ DJ" on Hellcat Records that just got released by Epitaph Europe in both CD single and 45rpm/7inch colored vinyl formats. This remix will also be released in Japan on an import version of Epitaph's Punkorama 8 compilation.
There will be two Scratch Attack radio shows broadcast this month on July 20th and August 1st. DJs featured on these shows, which were culled from the DJ session recorded at the Hip Hop Slam BBQ on Memorial Day, include DJ Pone, DJ Platurn, CutSo, Minus-1, DJ Spair, Impereal, Teeko, T-Rock, DnZ, Finger Bangerz, Billy Jam, DnZ, Munifunk, and DJ Stoic.
The Turntable Radio show, hosted by Mister Trick, will broadcast on Sunday, July 20th on Resonance FM, 104.4FM in London, England. Broadcast time is from 10 p.m. until 11.30 p.m. GWT (Greenwich Mean Time). It can also be heard via the icecast and realaudio streams at www.resonancefm.com or to the archive on www.turntableradio.com.
Meanwhile, the August 1st Scratch Attack, will be broadcst on WFMU 91.1FM Jersey City as part of the respected New Jersey/New York area independent radio station's Re:Mixology summer series. Broadcast time is 5PM - 6PM, EST (Eastern Standard Time). It can also be heard on the web at www.wfmu.org/ssaudionet.shtml
Recent reviews of Hip Hop Slam CD/record releases include one of Scratch Attack: the LP by Brolin Winning in the East Bay Express, Scratch Attack Vols. 2 & Vol. 3 CDs by DJ Yoda in the British magazine Hip Hop Connection, and one of Amoeba Music Compilation Vol. IV in XLR8R by Rachel Swan who gave particularly positive mention to Tim'm, Balanceman, and DJ Pone's remix of Mr. Lif's Earthcrusher.
Damion Silver, the artist responsible for the Amoeba III and IV compilations' cover art, recently was part of a cool art exhibit at San Francisco's Punch Gallery. See pics from gallery party.
Hip Hop Slam welcomes new member Joefu (see bio) who is interning for the summer. The next HipHopSlam.com NEWS update (#15) will include a French DJ Report by Bachir, a cool review of the Glastonbury Festival by DJ Trinity, Bay Area DJ Profile #4 on DJ Shortkut, preview news on Return of the DJ VOL. 5 by Dave Paul, and Random Record Reviews by DnZ. And coming in the NEWS #16 will be an indepth interview with Tony Silver & Henry Chalfant about their legendary hip hop/graf flick Style Wars.
---
DJ NEWS
Big up to Frisco's 4OneFunk crew who proved that they definitely run this 415 shit when members Mr. B took the regional Kool Mixx DJ battle title and DJ Teeko won the West Coast DMC Regionals (see full DJ battles report by DJ Pone below). "We're gonna bring it back to the Bay," Teeko promised Hip Hop Slam. Note that Teeko and fellow 4OneFunk DJ Ales One will have a track on the forthcoming Return of the DJ Vol. 5 on BOMB Hip Hop.
YogaFrog tells us that SkratchCon/The Main Event will take place on November 8th, 2003 in San Francisco at an as yet to be confirmed location. YogaFrog was at QBert's fun Turntable TV session at the world reknowned Octagon in Daly City recently. Others in the house included Automator, DJ Flare, Relm, El Dawg, UB, DnZ, Snayk Eyez, Pone, Spair, Deeandroid & Cellskiiii, and many more. (see rotating pics)
Joefu reports that the Brainfreeze DVD is pretty damn good. Clocking in at roughly ninety minutes it has lots to hear/see including bonus footage not on the album such as 45rpm sets by Z-trip, Numark, Dante plus such special guests as Lateef and Irie Science
Tall Paul Lowe reports that the ITF, Irish Chapter will be on July 25th, 7:30PM at The Village, in Dublin. Judges will include DJ Hype (Germany), Richie Ruftone (Scotland), and DJ Krime (Poland). Winners will go onto the European finals.
---
BRITNEY SPEARS IS HOT! DJ SKRIBBLE IS A DICK! THE REALITY OF BEING A HIP HOP DJ ON THE TOP 40 POP TOUR CIRCUIT
by DJ T-Rock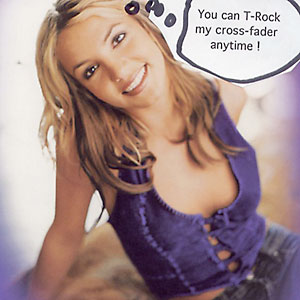 Wattup Party People....just checkin in with Hip Hop Slam to let you know the Business of me and my latest adventures. If you haven't heard, I am currently on tour with Virgin Records artist Amanda Perez who has the single Angel on the pop airwaves at the moment. It has been a very surreal experience, I have performed in venues that seat anywhere from 2,000 to 100,000 people, and have performed on the same bill as Britney Spears, Michelle Branch, Jewel, TLC, Ja Rule and Ashanti, Third Eye Blind, Simple Plan, and even Jennifer Love Hewitt. And Yes! I had sex with all them hoes while all the dudes watched. Ja rule was like, "Word, now flip her over" and the guys from Simple Plan were like, "Damn, look at him go!" and Third Eye Blind just sat in a corner and played with themselves. It was Fresh...Jewel is a freak, Brittney just kept sayin' "Oooooh, Justin did it just like that!" How annoying, and Michelle Branch kept asking, "Are you sure you're only 22 years old?" Na' for real though, I have had quite a good time. Although I'll admit...it hasn't been that good! Truth is, It's a whole different world out there in pop radio land. Back stage is mad hectic, You are ushered around from place to place with absolutely NO time to really hang and meet and talk with people. Britney Spears has about thirty people around her at all times so there was absolutely no hope at all for me to give her my phone number..I know she wanted it. Sometimes there is absolutely NO soundcheck which is a nightmare for a DJ who controls all the music. Plus, It's an even bigger nightmare when the people at the venue don't know how to work with TURNTABLES. I know when I'm in trouble when I show up with a bag of records and the soundman says "Man, They still make those?" Holy Shit!!!! It's been that kind of tour. It is actually really sad to see how the turntable is NOT as big a part of the hip hop world as it used to be. But Yo! I am on a mission to change that shit...bring it back where it needs to be! But another thing I have noticed is that "Damn Man!" These groups that DO have DJ's..."Are they for Real?" most of the DJ's are Not Real, not true to the art, just a soundman who knows how to push play and also knows how to dress well. The pop world is just one big machine...even I have been approached by the "Machine" to start dressing "More Hip-Hop", wear some bling and one color jump suit. Don't get me wrong, I ain't complaining...I'm DJing for a living and that's what I want to do! I love it. All I'm saying is that it is a different world than what I was used to. But yo, more later. Right now I am chillin at home until the 19th of July . I just finished a song for Bomb Hip Hop's , Return of the DJ Vol. 5 and have a new mix CD out entitled Hip Hop Sundae Check it out Y'all. Peace to everyone doing their thing. DJ's I have met and never met, Guy's who are doing this shit for the Love of it! And DJ Skribble is WACK!! I met that dude and he was a Dick! You can print that!
DJ T-Rock was voted "the world's greatest goddam DJ for 2003" by Hip Hop Slam Dot Com because he is the fuckin man! He can scratch and do tricks equally as well as he can rock the party or stadium and if he lived in the Bay Area he'd probably be invited to join the Triple Threat DJs.....His latest limited-edition mix-CD Hip Hop Sundae (Replicant), advance excerpts of which appeared on Scratch Attack Vol. 3, is the fuckin shit and is available at the hiphopslam.com SHOP.
---
BAY AREA DJ PROFILE #003: Dan "the Automator"
Name: Dan "the Automator" Nakamura
Trademark saying or philosphy: I guess my philosophy is not summed up that easily but, in general it's enjoy what you do and do the best you can do at the time because A.) you'll probably be better tomorrow, but you can't keep pushing off till tomorrow and B.) It's like you know most mistakes or decisions you make in music and probably in life to a degree..If you follow what your feeling it was the right decision at the time even if maybe you'll go out later and go done that now, we all grow up and look at decisions through life and go i wouldn't have done that...but if you were never able to trust umm your instincts and do it...you would never get anywhere...you'd still be in the beginning.
Hometown: San Francisco
The first record you ever bought/owned? The first record I ever owned my parents bought me and it was Saturday Night Fever album, there was a couple 45's I had bought maybe before that but I dont know what they were or I know what they were but I know they were like top 40 hit's from the top 10 at that time, but the first album was Saturday Night Fever.
Most influential records(s) in your life? Well there are alot or records that have altered the way I about music but one I want to talk about is Do You Like Scratching by the Worlds Famous Supreme Team, it was kinda intresting cuz the skill level was moderate which was what made it intresting I can hear t and go these guys are rubbing records and I want to do this, I mean it came out fairly early about 82-83 not quiet sure it was rite when uh people were thinking about hip-hop and rap music and the rhyming, I'm from the west coast so like that was the first exposure as far as I ever knew, but that record Do You Like Scratching had alot of movement and stuff that was a little ahead of it's time for what was going on I mean there was scratching in other elements in stuff but that was really the first time I could really pin it down and know what was going on.
When did you first DJ? I dont know exactly but I guess it was about 1983...84 sometime around there. I was just starting to DJ, but in 84 I was DJ'ing at various party's, high schools and stuff.
What is most memorable performance of your DJ career? Well, I mean over the years...one of the great shows i ever did as far as i'm concerned wasn't nececarily a great show, in the realm of shows, but i did a house of blues show with Prince Paul one year it was a purely dj'd thing, uh it was the night before the Tibetan Freedom concert in Chicago, Wisconsin..Chicago so it was umm it was pretty packed, and we went out there to play...we had just...I think Handsome Boy Modeling School wasn't out yet but we were about to debut it and umm we brought it out there and we were playing records and talking to the crowd kinda in general and we brought out Del with us...Del tha Funkee Homosapien...and he had just done this song for us called "magnetizing" and "magnetizing has this incredibly long verse...it's like 26-28 bars..it's weird and um Del comes out there and starts rhyming...by the 8th bar he's totally lost place of where he is and all the words are wrong....but he keeps rhyming cause Del can freestyle and that's cool, cause Hiero's? freestyle...haha hiero's! But he keeps going and going and going and then all of a sudden he just stops when the hook ends...and to the life of me to this day..I can't figure out how he did that.
In your opinion who is best DJ of all time? DJ QBert. While obviously there's all different kinds of DJ's, but Q's probably the best DJ there ever was...he's brought so many different things out there and so many different levels of skill. He can do things with records that no one thought was possible.
Partial AUTOMATOR Discography: Automator, Music to be murdered By (1988), Automator, King of the beats (radioactive records 1990), Dr. Octagon, Dr. Octagon (Bulk, 1996/(Dreamworks, 1997), The Automator, A Better Tomorrow (Ubiquity, 1996), Dr. Octagon, Dr. Octagonecologyst, Dr. Octagon, Insrumentalsyst (Dreamworks, 1997), The Automator, Bombay the Hard Way (Motel 1998) Part II, Handsome Boy Modeling School, So…How's your girl? (Tommy Boy, 1999), The Automator, A Much Better Tomorrow (75 Ark, 2000), Deltron 3030, Deltron 3030 (75 Ark, 2000), Gorillaz, Gorillaz (Parlophone/EMI, 2001), Wanna Buy a Mokney, mixtape session (2003), 12" "Bear Witness Part 3" (2003), Dan the Automator, Music to Make Love to Your Old Lady, The Good, The Bad and The Ugly (Dan the Automator with Prince Paul & Mike Simpson), Sammy's Romanians (Dan the automator & El-P).... and many more that he contributed to such as Cornershop and track on a BOMB Hip Hop flexidisk that came free with the zine.
Best website or way for folks to find out more about you? You know I really don't know I mean there is a www.DantheAutomator.net that's coming up soon...
---
BAY AREA DJ BATTLE REPORTS (DMC & KOOL DJ)
by DJ Pone
DMC San Francisco Regional Heat, Cafe Cocomo, July 6, 2003 16 DJs from around the Bay Area entered the DMC San Francisco Regional heat, and 10 of DJs made it past the eliminations to the final round: Illogic, Teeko, Mikey Bear, Ales One, Mr. B, Illtraxx, C Plus, Virus, Ejay, and Rezz. Each DJ had six minutes in the final round to showcase their skills. San Francisco, being a center for world-class turntablists, traditionally has had some of the fiercest DMC competitions, and this one was no different - all 10 DJs came through with impressive skills. Mr. B, representing the 4OneFunk crew, took third place. He came through with a variety of old school 80s tunes and beatjuggled them in ways which have never been seen before - watch out for Mr. B, who will be competing in the Allies All-Star Beatdown in LA on July 26 (www.the-allies.com). Illtraxx, from the Evolution DJs, took second place. He showcased his amazing technical skills in a six-minute flurry of high-speed scratching and juggling - he will definitely be someone to watch in upcoming DMC regionals. Teeko, also representing Four One Funk, took first place with his awe-inspiring set which brought the house down - it was a well-planned and well-mixed set which used a variety of old originals from Jimi Hendrix to the Mission Impossible theme and at the same time featured Teeko's awesome scratching skills. Teeko will be representing San Francisco in the DMC US Finals in Washington DC on August 16 (www.dmcworld.com), competing against 9 other regional champions and Perseus, the defending US champion. Kool Mixx DJ Competion, San Francisco Regional Final, Roccapulco, July 7, 2003: The Kool Mixx DJ Competition, sponsored by the makers of Kool cigarettes, is probably the premier turntablist competition in terms of budget - besides the thousands of dollars in prize money offered to all the competitors. The San Francsico regional finals featured a free-admission hip hop show hosted by Doug E. Fresh, and featured performances from DJ Honda and PMD, and headliners Gang Starr. Four finalists from the two Kool Mixx elimination competitions held earlier faced off in head-to-head competition at the Kool Mixx DJ Competition finals at Roccapulco on July 7. The finalists were AM37 and three members of the 4OneFunk crew, Ales One, Mr. B, and Teeko (the previous night's DMC winner). The other finalist, Impereal, was on tour in Europe. The first round featured Ales One paired up against AM37. Ales One reworked E-40's "Gasoline" in a funky beatjuggle while AM37 retorted with a juggle of Triple Threat's "Set It Off". The crowd made it clear that they prefered AM37's set, and he advanced to the next round. The other first round matchup was Teeko versus Mr. B. Teeko came out first with a furious scratch set featuring Lord Finesse samples. Mr. B prevailed, answering with an amazing and unconventional juggle set. In the final round, it was AM37 versus Mr. B, and Mr. B continued to amaze with a showcase of old 80's tunes - Art of Noise, INXS, and Kraftwerk, among others - beatjuggled with Mr. B's many unusual juggle techniques. Mr. B was chosen the winner over AM37, taking home Stanton's Final Scratch innovative computer mixing interface, a $2500 check which Mr. B humbly accepted and announced he would use to help his family, and a $500 donation in Mr. B's name to the Jam Master Jay Foundation. Mr. B managed to impress everyone that night: the judges (DJ Honda, Alex Aquino of the I.T.F., and DJ Qbert), the crowd, the host Doug E. Fresh, and even Gangstarr, who summoned Mr. B to the stage during their performance to give Mr. B props for keeping it real. Mr. B will have the chance to impress the country next week in the Kool Mixx national finals in Chicago, featuring champions of other regions throughout the country. Mr. B will also be competing in the Allies All-Star Beatdown invitational, in Los Angeles on July 26 (www.the-allies.com).
---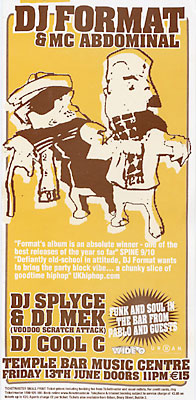 DJ Format in Dublin, Ireland
by Tall Paul Lowe
The Venue: Temple Bar Music Centre
Price: EUR12
Support Bar Area: Cool C
Main Floor: DJ Mek and DJ Splyce 4 deck madness
I arrived at the gig late, so I missed Mek and Splyce which was a shame as I believe that they were pretty damn good. Also MC Abdominal, who was on the bill, did not make the show. The place was only a third full which was a bit of a disappointment. The beats were lovely some real nice funk breaks and a lot of rare stuff being spun as well. DJ Format does not seem to scratch too much but can mix no problem.
So for the most of the time I was there I hung out in the bar with Cool C as he gave a demonstration of his skills mixing some unusual stuff. We are talking Michael Jackson with the Outkast acapella of The Whole World and wonderful mixes like this. He was mixing stuff that you would not consider that could not mix with. To celebrate DJ Supreme coming here he playing a track from Hijack as well.
Towards the end of the night in the main hall, DJ Mek came back on stage to play with Format and this what I was looking for some four deck madness. Mek got straight in the groove and showed why he was made a five time DMC champion. Mek and Format were a very good team as well.
---
CRATE DIGGING FOR 45rpm FINDS AT AN UNDISCLOSED BAY AREA LOCATION
by vinyl addict DJ PLATURN
Top ten 45 rpm finds at an undisclosed Bay Area, CA location on Sunday, June 29, 2003
1. Latimore - Sweet Vibrations (Glades) - Pimp shit.
2. Johnnie Taylor - Ain't That Lovin' You (For More Reasons Than One) [Stax] - The big kids don't play!
3. Jean Knight - What One Man Won't Do Another Man Will (Open) - Obscure label. Dude had a whole box (I think he said a 100?), all in mint condition. Not the best Jean Knight track ("Here Come The Girls" is my favorite) but real funky and smooth nonetheless.
4. Sly and the Family Stone - I Ain't Got Nobody (Loadstone) - Another obscure Bay Area label. Early Sly before his zajor label era and a real uptempo banger for the kiddies.
5. Willie Mitchell - Mercy, Mercy, Mercy (Hi) - Gotta read the labels. Nuff ' said.
6. Buddy Lamp - Where Have You Been (Duke) - The drummer kills on this one. I love the love funk.
7. Kwick - Can't Help Myself (EMI) - Gotta throw my 80's gangster funk in the mix. This one is something to ride to.
8. Whodini - Funky Beat (Jive) - On the turntables he's quick and nimble!
9. Mr. Hyde - Hyde's Beat (Profile) - The Witch is on the flip. These guys are the O.G. horrorcore emcees but in the Disneyland/Haunted House not really that scary kind of way. Aleem productions getting' down.
10. Mixmasters - Tony G's So Good (MCA) - Picture cover nonetheless with Tony G getting down and the fog machine going off in the background. Super fast and the cuts are on fire!
I mentioned the choice cuts and not the flip to save space. No more than a buck was spent on each of these-most were 50 cent like the rapper. The new GangStarr is the shiite and Billy Jam is a neato kind of person.
peace and fresh beats: DJ Platurn
---
SHOP ADDITION
DJ T-Rocks' Hip-Hop Sundae mix cd will appeal to those who loved Brainfreeze, Product Placement and Uneasy Listening. T-Rock serves up a healthy serving of hip-hop, soul and rock with some turntablism sprinkled on top. Alkaholics and Gang Starr to Joan Jett and Jimi Hendrix to Otis Redding and James Brown get mixed, blended, cut and scratched into this funky recipe. Hip-Hop Sundae is the must have cd to stay cool this summer. Total Running Time - 61 minutes and 58 seconds. Available at the Shop.
---
SAN JOSE GUITAR CENTER SPINOFFS '03
by Joefu
May 13 Week 1: After peeping out the DJ BATTLE at the Universoul event held @ SJSU on Mother's Day (San Jose State University) I got to see a couple of new dj's - Mastermind and Gtek from a crew called Tabletubbies and knowing that DJ Mastermind took 1st place, i knew this kid was gonna have some heat! Although my boy, Idea didn't place he should have been tied with Gtek. 5 DJ's competing : Gyro, Idea, Paul, Mastermind and Gtek. 1st was DJ Mastermind and 2nd DJ Gtek.
May 20 Week 2: This battle was easily predictable...as soon as I saw E-Jay (Evolution) at this battle, i knew it was over "THAT IS WHY THEY CAN'T COMPETE!" 7 DJ's competing : Gilbert, Cplus, Randy, Ryan, Phuney, E-jay and Marvelous. 1st was E-jay & 2nd Marvelous
May 27 Week 3: This battle had the most dj's competing overall. After having seen As-Is enter a few years ago alongside my homie Sektor-J, at the Guitar Center SPINOFF'S in San Jose, I was expecting some heat! Unfortunately he had problems with the setup and his performance wasn't as he expected. This battle was crazy! Raven had problems with his set-up as well(the levels were all jacked up!)Jeff-1 broke his needle because he's too gangsta! Fonzo amazed the crowd with some body tricks(two 360's) and the Roc Raida (mouth on the fader juggle)!!! Rezz and Dstukt earned their spots, accordingly. 8 DJ's competing : As-is, Raven, Jeff-1,Tigerstylez, Fonzo, Heist, Rezz and Dstrukt. 1st was Rezz and 2nd Dstrukt
June 3rd Week 4 San Jose Guitar Center SPINOFFS 03' Store Finals:
The Dj's who placed 1st and 2nd of the first 3 weeks advanced to move on to the store finals. 6 DJ's competing: Mastermind, Gtek, E-jay, Marvelous, Rezz and Dstrukt. Rezz came out with the same set he did in week 3 (so there was nothing new to see.). The competitors all came out hard (Gtek dissing Dstrukt). The results of this battle was so close it was by a point. 1st E-Jay and 2nd Mastermind.
June 27th San Jose Guitar Center DJ SPINOFF'S 03' Regional Finals @ The Spy:
Not sure how many DJ's were competing but they included E-jay, Mastermind, Illtraxx, and Snayk Eyez. And the winner was E-Jay