HIP HOP SLAM
NEWS SERVICE
#022A — 12/16/03
#022B — 12/16/03


SCRATCH ATTACK NEWS

#02 — 02/04/02

#01 — 09/15/01



• Hip Hop Slam News Round Up
• Water Destroys DJ's Record Collection
• Gallery Pics: Tim Armstrong, Z-Trip, DJ Jester, etc.
• Bay Area DJ Profile #016: Mike Relm
• Why DJ Battles Suck These Days by DnZ
---
HIP HOP SLAM NEWS ROUND UP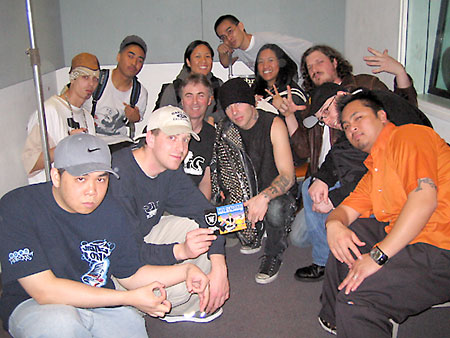 The March 7th Sunday morning show on KALX 90.7FM was a fun all-star event! Hosted and produced by the UC Berkeley radio station's Cultural Affairs Department including new member Jessica Chan, the two-hour broadcast included DJs cutting up and mixing and emcees/spoken-wordsmiths/singers all getting busy on the mic. Most of the on-air guests are pictured in the accompanying photo which was taken by Rachel. FRONT: Left to Right: Snayk Eyez (89 Skratch Gangstaz), DJ Spair (Oakland Faders), Billy Jam (KALX/Hip Hop Slam), Tim Armstrong (Rancid/Transplants), 4AM, Munkifunk (DJs of Mass Destruction, etc.). BACK ROW, L to R: DnZ (The Forbidden Style aka TFS), Onedr Love (TFS), Deeandroid, DJ Pone (89 Skratch/Canned Beats/DJsOMD), Celskiii, and Top R (aka Top Rawman). Highlights included Tim Armstrong singing with DJ Pone scratching, 4AM's funny-as-fuck spoken-word rant about stereotypical stupid music store shoppers, Top-R's genuine freestyle, and the female turntable wizardry of Deeandroid and Celskiii.

To see more pics of everyone from this memorable KALX session go to the Gallery. Also new to gallery pages are photo additions taken at such Bay Area events/venues as the BOMB/Milk show (Ales One, Teeko, T-Rock, DJ Jester), the Scratch-Fillmore show (Z-Trip & fans), Stank weekly in San Jose (Fuse-One, Greyboy, E da Boss, Joe Quixx, Platurn), B-Side Records DJ Battle (Shing02 and A-1), and Hip Hop Slam's Holland/Alameda DJ Convention (DJ Sniper, Dawgisht). Regular listeners to the KALX (kalx.berkeley.edu) Cultural Affairs Sunday morning show (10AM-Noon) should tune in on March 21st to hear Aya de Leon talking with Billy Jam about her new one-woman hip hop show.
The next big DJ/MC session (with many of the same artists from the KALX set plus some others including Shing02 and Dawgisht) will be when the collective descend on our good pal DJ Trinity's weekly show on KFJC on Saturday, April 10th, Noon- 2:30PM. The cool Los Altos Hills station, KFJC, has been bumping the WAR (if it feels good, do it!) compilation a lot lately. Consequently it is charting at number five on their current CMJ Top 30. The 28 track anti-war compilation has also been getting lots of love on Hawaii's new music station KTUH where on a recent CMJ Top 30 it beat out the likes of Norah Jones and Stereolab and went straight to number one. As such it got props all over Hawaii including in the Honolulu Advertiser.
B-Sides Records (bsiderecordshop.com) is a brand new record store in Berkeley, CA featuring monthly DJ battles.... DJ Spairs' new mix CD. Hip Hop's Best Kept Secret (The Old Skool) Vol.1, features forty classic hip hop tracks, remixes, and original routines masterfully mixed by the self-proclaimed "Bay Area Mixtape King" and Oakland Fader (pensivemokey.com)
The good people at long running Bay Area bi-weekly hip hop/funk club True Skool note that Saturday, March 20th is the one year anniversary of the U.S. bombing on Iraq and to mark that date there will be protests in both New York and San Francisco (internationalanswer). Other causes that always politically aware True Skool website support include IMPEACH BUSH, REGISTER TO VOTE, and Boycott 106 KMEL Upcoming True Skool parties include March 26th with DJs Quest, Teeko, and Devro and April 9th with Shortkut and the Oakland Faders (Platurn & Spair). Both are Friday nights at Milk in San Francisco and both feature resident True Skool DJ Ren the Vinyl Archaeologist.
Also featured in this NEWS is Mike Relm's Bay Area DJ Profile, DnZ's editorial Why DJ Battles Suck These Days, and the sad tale of how a Bay Area hip hop DJ's record collection was wiped out overnight.... And in next week's HipHopSlamNEWS San Antonio's funkiest Filipino DJ Jester will break down how - within a few months - he went from slanging soy burgers to hugging hotties and peforming with Radiohead. Also in an upcoming HipHopSlamNEWS Ireland's DJ Flip will talk about winning the ITF World Championship in Munich, celebrating his 21st birthday in San Franicsco, and how (against his wishes) a certain Bay Area emcee had sex in his mom's bed back home in suburban Dublin.
---
YOUR RECORDS' BIGGEST ENEMIES:
THEFT, FIRE, and WATER
by Billy Jam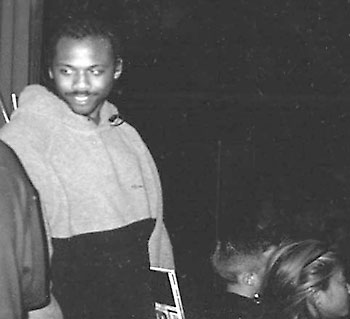 I always remember years ago when I was marveling at the impressive vinyl collection that belonged to veteran radio DJ Norman Davis and how he sadly shook his head and said: "There used to be a lot more of them," wisely warning me, "Don't ever get too attached to your records because someday something bad is bound to happen to them". Maybe they'll get stolen but more likely they'll get damaged by fire or water he pessimistically predicted. And he was right. Since then I've witnessed many of my good DJ friends' having their collections being destroyed by apartment or house fires. And some have had their records stolen. For example Davey D's were stolen out of his car, Shortkut's were stolen out of his crate by a shady employee in the United Airlines terminal in Phoenix, and DJ Platurn's were stolen right under his nose at gunpoint at a party in Berkeley.

Luckily I never got held up or had my records stolen from me or destroyed by fire. But they got hit by water several years ago when I endured a basement flood that got to the letters R, S, T, U, and V of my vast vinyl collection. That's when I noticed how many great artists' names start with the letters R and S and started to get teary-eyed until I remembered what the older and wiser DJ had told me about getting too attached to your records. And he was right. But anyways it could have been worse: much worse. Like the damage caused by the rain storms that hit the Bay Area recently.

These unrelenting downpours, mostly last month, attacked the record collections of at least two DJs I know: Dave Paul and Kevvy Kev. Luckily Dave Paul's collection (part of which he had stored in a badly drained garage area) was rescued before too much damage could occur. Unfortunately, the same could not be said for longtime hip hop Bay Area radio DJ Kevvy Kev who wasn't nearly as lucky when a "flood-like rain" attacked his beloved music collection. "Five thousand records, twice that number of books, and assorted other materials," were all hit he reported still in shock, "And my insurance company is indicating that they won't cover it." said a devastated Kev. If you have any words of advise or encouragement he would appreciate hearing them KevvyKev
---
BAY AREA DJ PROFILE #016: MIKE RELM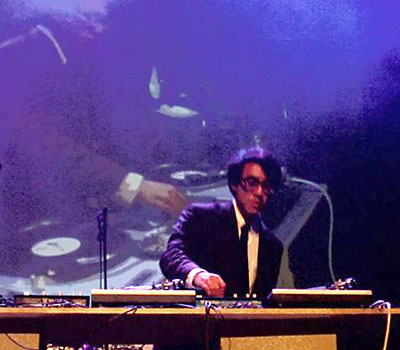 DJ Name: Mike Relm

Your Hometown: Daly City, CA

Trademark saying or philosophy toward your music/life: I wouldn't call this my trademark saying, but one thing I've learned as an artist is not to set limits on yourself. There are plenty people in the world who do that for you.

Groups you have been a member of: The first group I was ever a part of was the Supernatural Turntable Artists. We were together for a good 4 years and then decided that the group thing wasn't really doing anything for us. For those of you who are wondering, yes, most of us are good friends still.

How would describe the music you spin? I don't like holding back, if the moment calls for a certain song, skratch, juggle, burp, etc. I'll do it. Nothing's worse than leaving a show thinking "Man, I probably should have taken more risks with my set!" Safe sucks. It's all about tapping into the energy of the room and the elements around you and responding to that.

Discography: "Along Came Polly" (Universal Studios, 2004), "Scratch" (Palm Pictures, 2002), "The Mike Relm Holiday Special" (mix, 2003), "Aaahs" (skratch record, 2004), "The Zodyax Scop System" (skratch record, 2004), "The Wizard of Aaahs" (skratch record, 2003), "Jugglin Jawz" (skratch record, 2003), "Turntables By The Bay" (compilation, 2002), "Awaken" (compilation, 2001)

DJ battle history (solo&team): 1998-99 ITF (advancement, beat juggling, teams), 1997-2000 DMC

The first record you ever bought: '93 Til Infinity by Souls of Mischief

Most influential record(s) in your life: Batman (Danny Elfman), Funky Child (Lords of the Underground), Paul's Boutique (Beastie Boys), Blue Monday (New Order), Bizarre Ride II the Pharcyde (Pharcyde), 36 Chambers (Wu Tang Clan), Preemptive Strike (DJ Shadow), Daily Operation (Gangstarr), Sgt. Pepper's Lonely Hearts Club Band (The Beatles), Odelay (Beck), Moon Safari (Air), and any old school MixMaster Mike mix.

When did you first DJ? It was waaaaay back in '93. I was a sophomore in high school and my brother Wes and I chipped in to buy a pair of turntables and a mixer. I don't think we slept for a week, we were so excited about our new gear and 5 records! To this day I still have that same excitement every time I touch the turntables.

What made you want to be a DJ? I grew up in a very DJ driven musical culture. While most other towns in the US had garage bands, we had garage battles. I saw DJing as a way for me to express myself without having to talk. (Ironically, I do a lot of talking in my sets now.) It's funny because I actually didn't plan on DJing past high school, it was something that I did to get away from the stress of being a teenager.

What is your most memorable performance of your DJ career? I'll never forget my very first public performance, it was a DJ battle at my high school. I was terrified. Everyone I knew in the world was there. It was a life altering experience, just getting in front of people and showing what I put my heart and soul into. Even though I didn't come out the winner and no one quite understood what I was doing, I will always cherish that experience.

How do you transport your records and/or gear to gigs? Anvil cases for my turntables and records, Pelican cases for my mixers and misc cables and effects.
Do you play CDs ever at gigs? I use 2 turntables, 2 mixers, and a CDJ 1000. Since the introduction of the CDJ my set has been altered drastically for the better. Now I don't have to wait for my custom vinyl to be pressed, I can process music at the speed of thought (as Robert Rodriguez would say).

In your opinion who is the best DJ of all time? Howard Stern

Best website to find out more about you: www.mikerelm.com
---
WHY DJ BATTLES SUCK THESE DAYS
by DnZ
This is an editorial, hence my personal opinion based on what I see from attending DJ battles. You may agree or disagree. Either way, if you also have a strong opinion on this subject please Email me: tsfdjz@hotmail.com
As I see it the DJ battle scene is getting worse and worse. Everyone is sounding the same...... using the same damn break records and juggling the same damn shit in the same damn way.....like all the new jiggy shit at 45 -8 (33RPM record at 45RPM with the pitch control set at minus eight). Now I'm not saying that u can't do this....But at least if you do, try and at least be a little bit innovative bitch. In the well-sampled battle record quote of Bas-One Come on now! Get creative!- Ya know! Try not to be exactly like the guy u saw 2 months ago at some battle somewhere. And when was it ever a requirement to bust juggles in your routine? And who said if u didn't do juggles that u would be looked down upon? What has this scene come to? Every battle you see now are trying to be the next DMC or like here in the Bay Area, Zebra...nothing is being brought to these battles that are new or original and formats are looking all the same. During a recent weekend B-Side in Berkeley held a DJ battle which I entered. (Props to the winner DJ C-Plus from San Jose and to the store for being a true hip hop vinyl spot that shows love for DJs!) and it was a nicely run event but as far as the battle went: it was the same old, same old.....LIKE...since when am I SUPPOSED to do a juggle within my routine? Within that weekend there was also another battle 2 days before the B Side battle in Santa Cruz called "Battle Ave" (my T.F.S. (TheForbiddenStyle) DJz crew mate Oneder Love won this battle) which is a tour that is going up and down the state of Killa Kali (California). Now this was a dope show/battle. This event was not just a DJ battle, But an all out 5 elements battle! There was a DJ battle, emcee battle, graf battle, beatbox battle, and a 1 on 1 and a 3 on 3 Bboy/Bgirl battle as well. Now this battle was different only because there was something for all the hip-hop heads. I was one of the DJs battling and my whole routine did not have any juggles. Afterwards someone asked me why I didn't do any juggling and I simply replied with "what am I supposed to juggle if I battle???" I'm not so much one to be juggling my ass of like other people, I just like to do what I want and thats how it should be!!! That night and at the end of my routine I threw on "I Got The Power" by SNAP...now the concept of me throwing on this record last was not cuz of the sample "I got the power" and make it seem like I was hot shit and got the power but when I throw the record on I just leave the stage with it still playing and just BAM that's...leave and just chill to the beat ya know? People thought it was like my ending shit and then I would turn it off and leave it at just "I got the power" then turn it off but nope not at all. Why give them what they expect right? Well this is how I thought of it...how long ago was it when you heard that song and looking back at it now people are like "damn, I remember that shit" or "holy shit this guy is playing that lame song?" But instead they just waited for me to hit stop on the turntable and leave it at that. So you know what I did? I just let that fucker play and went into the back area of the stage and chilled! HA! I hella thought someone was going to turn it off but they didn't, I had to come back out and turn that shit off. They all just sat there like "where the fuck did he go" and "what the fuck?" the only people who knew what it was about was my crew mate and the judges and even gave me props on it cuz it was weird and different. Even the host didn't know what to make of it so he was just like "uhh..DnZ's got the power?" I don't know but maybe I'M just talking out of my ass now so I'll end it now.
If any body else out there feel the same bout the battle scene E-mail us back and let us know how u feel!!! tsfdjz@hotmail.com !!!OnE!!!