HIP HOP SLAM
NEWS SERVICE
#022A — 12/16/03
#022B — 12/16/03


SCRATCH ATTACK NEWS

#02 — 02/04/02

#01 — 09/15/01



• Hip Hop Slam NEWS Roundup by Billy Jam
• Bay Area DJ Profile #020: DJ Spair
• Diary of a Frustrated French Fan of Hip Hop by Matthiew S.
• How A Coloring Book Propelled Artist to International Fame by Aye Jay
---
HIP HOP SLAM NEWS ROUND UP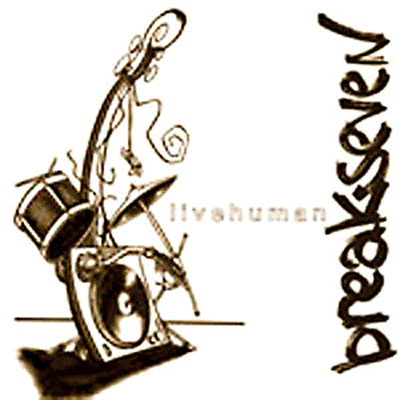 Livehuman have just released the brilliant and unique break record Breakseven which is a must-have for all DJs, turntablists, and producers. For sale at HIPHOPSLAM SHOP. Produced by DJ Quest with all original organic sounds by percussionist Albert Mathias and bassist Andrew Kushin it features great grooves to scratch to, beats for juggles, plus various instrument sounds. But what makes this release even more unique is that it is also a tool for a future Livehuman album (to be released as a Japanese import. bonus to a DVD) with remixes by other artists. All tracks will be made exclusively from this record by such artists as Shing02, DJ Spair, Teeko, and the HipHopSlam DJs. DJ Quest informs us that there is still space for a few last minute remix submissions for this album. If you would like to submit your remix made from Breakseven to be considered for possible inclusion, do so right away. Submissions can be anywhere from 30 seconds to 5 minutes in length but must be received by no later than May 10th. Livehuman's three members will chose the tracks to be included on their forthcoming remix album. Mail submissions to HipHopSlam: Attn Livehuman Remix, PO BOX 5124, Berkeley, CA 94705, USA.
Freelancers United featuring Shing02, DJ A-1, and G_Rantala have been busy lately performing at various spots including their bi-weekly residency at Beat Lounge in San Francisco and on the radio. Recent radio sets included April 10th on KFJC during DJ Trinity's show and April 4th on the KALX Cultural Affairs Sunday Morning show. Also featured on that guest-heavy KALX show were DJ Pone, DnZ, singer Tim Armstrong, and spoken-word artists Angela Ladybug Louie, Damon, and Manny Black. Meanwhile the KFJC live session also featured members of the Skratch Pistolz and DJs of Mass Destruction including Munkipunk (aka Munkifunk), 4AM, DJ Pone, DnZ, and yours truly Billy Jam. (see pics from KALX and KFJC in gallery)
Speaking of KALX 90.7FM recently DJs Rawman, Sergio, and myself have been scheduling the weekly Sunday night, one-hour, freeform electronic music show Shortwave. Upcoming weeks will include sets from the aforementioned three KALX DJs plus guest DJ's Charlotte the Baroness, Doc Martin, and Marty. San Francisco mainstay Marty, who has spun at parties such as Wicked, Kitkat, Conscious Session, Sunset, Pepper, Roots, Musicbox, Sugar, Deep Inside, House Plant and Be Here, will be our special guest DJ this Sunday (4/18) at midnight. (kalx.berkeley.edu)
DJs Deeandroid and Celskiii will be among the talents at this year's Hip Hop In The Park in Berkeley's Peoples' Park (near Dwight & Telegraph) on Saturday afternoon, May 1st....DJ T-Rock has just released a DVD version of his second album Sikinthehed. Directed by Larry Morris the DVD includes individual music video's for tracks with alternate angles and alternate audio as well, plus high quality MP3's of all 24 album tracks. Also included is the short film G.E.O.B. filmed on location in New York City. Available at: bombhiphop.com
Rock Against Bush Comp. Vol. 1, a co-production of Fat Wreck Chords (fatwreck.com) and Punkvoter.com, drops on April 20th. The budget priced CD/DVD punk compilation (only $8.98) features 26 songs (inc. NOFX, the Offspring, Decendents, Social Distortion), several documentaries including Uncovered, Unprecedented, No More Enrons and a piece by comedian David Cross, and some politically charged music videos from the likes of Anti-Flag and Bad Religion.
Best wishes to former Hip Hop Slam crew members Rocky Hanes (who did stage management and a grip of other tasks before moving to Hawaii), activist and all around good person Yve-One, Joefu (who interned with us last summer), Mars-One (who did album/CD cover art for numerous of the Hip Hop Slam releases), and DJ Sniper (who reported on the Dutch hip hop scene). Big shout out and good luck to all of these great people!
---
THOUGHTS OF A FRUSTRATED FRENCH HIP HOP FAN
by Matthiew S.
French Hip Hop Slam fan Matthiew S. (M.S.), who recently purchased some CDs from our site shop, wrote us to say that "I really appreciate Hip Hop Slam productions because they are fresh, positive, really inventive, agressive sometimes, pollitically engaging, respectfull to man and woman.... they're the part of hip hop I like the most, the true essence of it!" Mathiew also mentioned how "lucky" we were to "live in the the Bay Area" - the epicenter of DJ/turntablism - compared to living, as he does, in France. This prompted us to ask him what exactly it was like for a hip hop fan like him living in France. He wrote us back this indepth, heartfelt Email on his perspective. We left the translation as Matthiew wrote it in his English so as not to lose any of the French flavor and authenticity. Hence it may take a moment to decipher some of his words/sentences. But hopefully you will easily figure out when he writes things such as "car with gunshots impact" that he means a "drive-by shooting."

In France hip-hop wasn't born in "block parties" like in NYC. At first French hip hop would only mimic the American style. But then, by about the middle of the 1980's, we began to develope our own hip-hop style. But please notice that there are some very vast cultural differences. First the idea of car with gunshots impact even if there are problems with guns and drugs. We don't have so much (or not at all) free radios who broadcast small labels because administration is a French invention so everything is controlled by officials/ It's very difficult to built your own projects if you don't have family in the business even if your talented. French are more intellectuals passive than active and positive people. It's true that the censorship is not so extreme here because we don't feel the weight of religion so much (here, Marilyn Manson or Eminem disturb nobody...). But the censorship is more vicious. We are in a country where we are sleeping feeding of everything we (don't) need, and we think we are free and democratics but it's fake. Here human rights are only paper. So no small labels and most inventive hip-hop crews had pressure from politics and they have to sign on majors to continue their art but it becomes shit because of big money and they now talking only about fuck chicks on big cars with goldchains! Which is bad example for kids and you need your models when you're a kid, no? So the "engaged" lyrics become demagogue... I've heard a politician ask to a famous band (N.T.M) who talks about ghetto and violence, "Why don't you talk about a flower growing?" , "Because it' s not the reality of my days you destroyed all the fields with your supermarkets..." But now rappers talk about violence and insecutity and it' s what the government is talking about to put the police and the cameras in the street. But in reality it's not so dangerous. 90% parnoia.

They broadcast fascists and sexists principles from beautifull artform like hip-hop and people change of sidewalk at night when they see kids in hip-hop dresscode. It's very complex problem which I'm not sure to talk about very well. Hip-hop is different too because we are very close to Africa. So you can see in the street a lot of women in traditional dress, beautiful & colorful textile, and people like a mix of hip-hop and Zouk music from West Africa where there are interesting hiphop crewz. In France I've never heard good scratch deejays maybe in few years. The most known DJ from Bay Area is Mixmaster Mike because he worked with Beastie Boys. Q-Bert is known but not so much and not particulary by hiphop fans but more people who are interested in avant garde culture (because of course we can compare hip-hop to the writings of William Burroughs and specially scratch).
maintain! peace . M.S.
---
BAY AREA DJ PROFILE #020: Spair
DJ Name: DJ Spair
Hometown: Oakland, CA
Trademark saying or philosophy toward your music/your life: Don't let no one get you down no matter how many times they tell you "NO".

Groups (if any) that you have been a member of: Oakland Faders
How would describe the music you spin? Old skool uptempo beats.. I.E.. Hip Hop,Funk.Soul, Disco
Is there a style to the way you put your music together? I usually group my records in BPM so if i start a set with a record thats 100 Bpms most of the records I have in that crate are around that tempo. Also I make sure that the records flow with each other.
DISCOGRAPHY: Cue's Hip Hop Shop Vol 2 -Oakland Faders Dope Music, Oakland Faders-Fader Beats Vol 1. Turntables By The Bay-Typical Skratch Song, Bas One- For The Mentally Astute Vol (Cuts for 2 Lp tracks) Streets SF-Judah Skateboards(Beats), DJ Mere & DJ Spair -Dope Mixtapes For Dummies Vol 1-3
DJ Mere & Dj Spair The After Party Vol 1-2, Dj Spair & Platurn-Flea Market Treats, Dj Spair -The Spair Mix Project, DJ Spair -Live From Cybertron(Won Hip Hop Category in URB Magazines 1st Mixtape Comp.), Dj Spair & Dj Icewater-The Spice Channel, Dj Pone & DJ Spair-Hits From The 90's, Featured On Dj Qbert's D.I.Y Vol 2, Compound Elements-Confused & Stranged (Cuts), Dj Spair -Hip Hop Best Kept Secret (The Old Skool), solo on "Turntables By The Bay Vol. 3" (Hip Hop Slam)
DJ Battle History: 1st Place in 1999 URB Magazine Mixtape Competition.
1st Place in Zebra Records 1999 Monthly Battle.
The first record you ever bought: EPMD-Unfinished Business (when it first came out)
Most influential record(s) in your life: Too many to name, but a few are Public Enemy-It Takes A Nation, Too Short-Life Is Too Short, Ice Cube-Amerikkas Most Wanted, De La Soul-De La Soul Is DeaD, The Beatles-Magical Mysterey Tour..the list goes on.
When did you first DJ? 1994
What made you want to be a DJ? I always had a strong passion for hip hop ever since I was young. I use to watch Soulbeat religiously and watched the very first episodes of Rap City with Chris Thomas. I got my first glimpse of Dj'n from videos like Supersonic and So Watcha Sayin. My parents asked me if I wanted Turntables back then, but I guess I suffered from lack of confidence being that I was only 12 years old at the time. Around the age of 16 I was doing alot of graffiti..I was never that good at it: meaning that I couldn't do pieces or throw ups and I knew I would never go as far then tag on a bus window. Around that time (1994) a cafe called Ya Mama's opened in North Oakland. Ya Mama's was pretty much the hang out for all the local graff writers. The cafe had turntables, and a resident Dj by the name of 2 Black who was more then generous to help any young kid at the time get there start. He showed me a few basic tricks,and told me to come back anytime I wanted to practice. Right then and there I knew this what I was placed on this earth for.
Most memorable performance of your DJ career: I would have to say me and Platurn opening for Mix Master Mike @ DNA Lounge. The crowd's vibe was best I ever felt especially with that many people.
How do you transport your records and/or gear to gigs? In the egg.
Do you play CDs ever at gigs? Only at my Country gigs
In your opinion, who is the best DJ of all time? Thats hard to say but I would have to say me. Just kidding =) I Like too many, but a few are.. Melo-D, 45 King, the defunked ISP crew, Beat Junkies, Oakland FAders, 4 One Funk, DJ SKRATCH, etc
Best website or Email to find out more about you: djspair@hotmail.com, www.hiphopslam.com
---
How A Coloring-Book Propelled Smalltown Artist Aye Jay To International Fame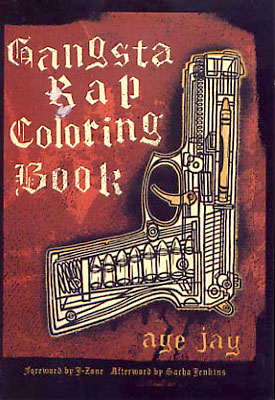 Based in Chico, CA, graphic artist Aye Jay Morano (who contibuted art to the Hip Hop Slam release Wax People Vol I by Eddie Def) lived and worked in virtual obscurity as an artist for the first ten years of his career. Then one day about a couple of years ago he was inspired to draw up a childrens' styled coloring book filled with pictures of some of his favorite gangsta rappers. He titled it the Gangsta Rap Coloring Book and was as surprised as anyone when it went on to become an international smash hit, making him somewhat of a celebrity in the modern art world. Since then the artist has been in big demand, doing art shows, and having his work published in such European and American publications as Muzik, Marie Claire, New York Times, GQ, Hip Hop Connection, Vibe, Jane, Thrasher, Black Book, Grand Slam, Mass Appeal, Elemental, and XLR8R. He has also contributed his art to such recent projects as Danger Mouse's Grey Album and Livehuman's Breakseven. HipHopSlam.com NEWS asked Aye Jay to share this whole experience of his rise to fame: from the book's inception to today. Here is his story:
On the idea: Coloring with my son, Cohen, I wondered why there were no Hip Hop coloring books. Being a freelance artist, and doing it for a decade plus, I thought it would be good promotion to get work outside of my town, Chico, CA.
Then: Put it together pretty quickly, consulted friends who I considered experts in the genre on who should go in it.Drew it up, layed it out, took it to the copy shop, then sent one sheets to record store, got a few orders. Turntable lab and Dusty Groove ordered it. I sent them to magazines, got reviews, got picked up by a few distributors, word spreads. Sold a lot, lot of photocopied books.
After that: As I worked on my next book, Indie Rock Connect the Dots, I decided to pitch the coloring book to publishers for an expanded edition. The kind folks at Last Gasp, who distributed the book, were helping me edit the pitch, and a few days later asked if I would like them to publish it. So now I'm on the same press with Crumb and Kozik, all time favorites. So now my mind is blown.
On putting it together: For the new gangsta book, I wanted to have a foreword and afterword, as well as an established designer to work on the cover. Shepard Fairey from Obey Giant was kind enough to cut his fee to work on a smaller budget project, as did rapper/producer/gangsta rap expert J-Zone and Ego Trip's Sacha Jenkins. I am a huge fan of their work, so it was a honor that they would want to participate.
The whole idea of Janky Industries (my fake business name) is the work not having to be perfect. Janky is California slang for something broke down, crappy, etc. so I was trying to take the name back, to show that art doesn't have to be perfect, as long as it has feeling.
On the benefits: With the coloring book getting a fair amount of press, I can approach art directors and editors at magazines and have them sometimes be familiar with my work. The book got me work with a few magazines I really like (Mass Appeal, Chunklet, Gum) and some great freelance projects (Danger Mouse's Grey Album). I've also been able to meet some of my art heroes through the book, which may sound cheesy, but going from enjoying someone's music or art to talking with them about it has been mind blowing.
On the future: I have been able to balance freelance work with working on my own art and music. I am starting to work on a new activity book, the heavy metal fun time activity book and the country music drinkin' board game. As far as I can see, even if no one is interested in putting out my books I can do it myself. I love what I do, and I hope that comes across in the work. I really feel lucky!
For more stuff, please visit www.ayejay.com