• Hip Hop Slam News Round-Up by Billy Jam
• Diary of A DJ in the U.S. Air Force by ALF
• Attack of the Barbie Dolls by Fresh Joyce
• Hip Hop Slam Flashback: Charizma, 1993
• Greece's Skeptic Druid's Top Battle records
• Bay Area DJ Profile #015: Dave Paul
• New Additions to The Shop
---
HIP HOP SLAM NEWS ROUND-UP
by Billy Jam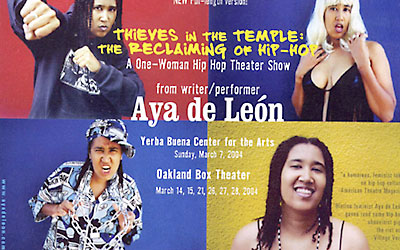 Hard working, spoken word artist Aya de Leon, who is featured on the Hip Hop Slam releases - WAR and Amoeba Music Compilation Vol. 4 - will be doing her much anticipated and highly recommended one woman show: Thieves in the Temple: The Reclaiming of Hip-Hop in the Bay Area this month. Directed by Ellen Sebastian-Chang and written by De Leon, Aya's much-needed to be heard message is one of empowerment for women in hip hop. And this she does in a humorous yet profound way via several characters she creates including one who is a sex object emcee on the verge of a nervous breakdown and another who is a West Coast hardcore emcee with a sensitive side and a case of Tourettes Syndrome. You don't have to be a feminist to appreciate this show. If you are an open-minded hip hop fan tired of the bullshit and stereotypes that dominate your favorite music and culture then this play is definitely for you. It will be at the Oakland Box March 14, 15, 21, 26, 27, and 28th. More info: ayadeleon.com

Alien Army - the dopest DJ crew out of Italy whose album The End on BOMB Hip Hop Slam got a nice review in the new URB by Brian Coleman - are busy with several projects including live dates in Europe, working on a new DVD, plus doing some radio specials for US radio including one for KZSU for DJ Crisco's Wednesday afternoon show. For more information on them visit: alienarmy.net
Speaking of KZSU Stanford... that's just one of the stations where WAR (if it feels good, do it!) topped the Charts lately. Other stations where the anti-WAR compilation has recently gone to number one in airplay charts have included WFMU in New Jersey and KZUU in Pullman, Washington where this week it sits at number one on their new CMJ Top 30 Chart. Much love to all the DJs at these stations and at all the stations that have played the anti-WAR collection that includes Mr. Lif, Azeem, DJ Stoic, Cat Five, 4AM, Public Enemy, and Aya de Leon.
Meanwhile on the San Francsico club front check out the Lit Lounge (6th Street at Mission in San Francisco) every Friday for The Turning Point. Plus every 3rd Friday of the month is Open Mic Night at 10:00 p.m! Resident DJs are Longevity and Sinic along with live drummer Seoul Avenger provide the beats for the rhymers. Music: hip hop, dancehall, reggae, and soul. Age 21+; no cover
Our good friend Nadia, the tireless East Bay peace activist, informs us that there is still time (but not much: deadline is March 12) to register for DESIGNS ON DEMOCRACY: Communication for Liberation. Check out the WAR page for full details.
---
DIARY OF A U.S. AIR FORCE DJ
by ALF
(EDITORS NOTE: This is part one in a new series written by ALF (an abbreviation), who is a longtime fan of Hip Hop Slam's from years before he joined the US Air Force. Currently stationed in Japan, ALF spends whatever free time he has listening to hip hop, buying it online from sites like this one or GiantPeach, and also DJ'ing whenever possible from his well traveled crate of records that include some anti-war songs like Cat Five's American Military Operations).
VIA RECENT EMAIL FROM JAPAN:
Hey HipHopSlam: here's the first part of my story. Keep in mind that I'm half awake in writing this. LaterZzzz. ALF
------------------------------------------------------------------------------
December 2002, will be the month that will reside in my memories for a very long time. I'm flying into the airport staring at the nice blue water, amazed at what lies ahead. Later as the plane taxis on the runaway I look and see the fighters that I will soon be working on knowing that I was told a bunch of lies about how this next assignment will be excellent. Imagine it like how Colin Powell sat in front of Congress a year or so ago and convinced them about WMD's in Iraq. After the first couple of weeks working at my job, I was already realizing that my job isn't the greatest place to be on Earth. I was very anxious for my turntables to arrive from last base because I knew after awhile I was going to kick somebody's ass because of all the stress I was going through at my job and that music is my only stress reliever from all that. After I finally got my turns over here, I connected with a few DJ's and they put me on at this "jiggy" club where I played usually first in our lineup. I practiced a "Don't Give A Fuck Style" at this club with dumb ass customers constantly bothering me to play some "real shit" as they say. Now, the key thing in all of this was that at that particular time, I was working twelve hour shifts almost 6 times a week throughout a majority of 2003 and still managed to film two videos and DJ at club. I realized that being a DJ in the military isn't quite that easy. It really depends on what type of job you are doing in the military. Whenever I get a chance to practice, I practice on the turns. Sometimes I sleep on only for three hours because I have developed a small case of insomnia because of my job. Late 2003, I left the "jiggy" spot and headed to greener pastures by DJing at this bar where I'm currently at.....
------------------------------------------------------------------------------
Alright, that's all for now. I've gotta get some sleep and get ready to work on these pieces of shit F-15C's at ten tonight. Yes, once again I've been working over 12 hours. The next part will talk about how I picked up on American Military Operations by Cat Five....LaterZzzz. ALF
---
BAY AREA DJ PROFILE #015: DAVE PAUL
DJ Name: Dave Paul but have used various names for battle records & remixes.
Hometown: San Francisco, CA.
Trademark saying/philosophy toward your music/ life: Another day. Another dollar
Groups (if any) that you have been a member of: Nitestalker MC (this was before the serial killer) and then we changed the name to Midnight Connections.
How would describe the music you spin: Mish-mash of 1985-1993 hip-hop, new wave, rock and dance.
First record you ever bought: Actual first piece of vinyl was at a JROTC bake sale at McAteer high school. The record was some disco record called 'Keeping Your Head Above Water'. After that I bought albums and then my first 12" remix single was 'Safety Dance' by Men Without Hats. First full length album was the self titled Run
DMC album. I traded some kid at my high school some rock records for some electro hip-hop 12" singles and that Run DMC record. Shouts to Bobby G and Soul Disco Records. They used to be on 14th and Market street and Bobby always had the newest and dopest hip-hop and 12" singles. After he closed the shop I heard he moved to Florida or something like that. Anyone have any contact info for him?
Most influential record(s) in your life: Damn... too many to name. Prince's '1999' was definitely an influence. Those songs were hits and i thought it was cool that all the beats were programmed on a Linn Drum machine and not played by a live drummer.
When did you first DJ: Senior year in high school - 1985. It was our first gig and we battled Nitelife Sensations at a high school dance. They mopped us up, we were suckas, but I learned a lot from that night and over the next few years. As a mobile dj you learn everything - people skills, song selection, lighting, transportation, sound design etc. These new kids that watch a few battle videos and learn how to crab and chirp scratch really, really fast (with no soul)... come on, you're not a deejay. That's like someone learning to spin on their head and saying they're a b-boy.
What made you want to be a DJ: In the mid-eighties everyone was dj. That's just the way it was in the Bay Area.
What is your most memorable performance of your DJ career: There's only been 2-3 where they were just fantastic. I remember one was in Walnut Creek at a high school dance in the late 80's. My song selection and mixing were on. My homie running the lighting was on too. We killed those kids and had them going nuts. It's a great feeling when you can rock a crowd and keep everyone happy from the hip-hop kids to the punks all in the same room. Another fresh night was the second Prince vs. Michael party we held in the front room of Storyville. Hooked up 2 VCR's and was running classic footage from the Prince and Michael camps all night. Can't front on the Bay NPG, those freax know how to partay!
How do you transport your records and/or gear to gigs: Taxi, or luck out and catch a ride from someone.
Do you play CDs ever at gigs: No I don't, I did once at Asia SF and trying to cue up cd's takes way too long. Plus I can't afford those new CD turntables. Vinyl just works a lot better on the fly.
In your opinion who is the best DJ of all time: That's a tough question. It's been a LONG time since I went to a club and have been blown away by a dj. I'll have to get back to you at the end of the year on this one. A couple of my favorites would be T-Rock, Quest, Faust and from back in the day Michael Erickson, Cameron Paul, Dodie and Big Bob.
Best website to find out more about you & BOMB Hip Hop: bombhiphop.com
---
WHEN CLOWNS & BARBIE DOLLS REVOLT:
THE NEW PROTEST ERA
by Fresh Joyce
The corporate saboteurs of ®™ark (pronounced "Artmark") behind the Barbie Liberation Organization and Project Loft have been around for over a decade, but both their past and current projects are as fresh and relevant as ever for us citizens of Rome, err, the U.S. This is the group that do some truly wild public pranks such as going into toy stores and discretely switching the heads of Barbie dolls with Ken dolls and neatly placing them back in their boxes for the next young customer to take home. That is just one of their many diverse corporate sabotage maneouvres. Equally as intruiging is the irony that ®™ark itself is a corporate body that funds multiple projects via "mutual funds". So whether you need comic relief from the gray-cubicle monotony of work, or have been itching to implement your brilliant ideas of corporate/consumer subversion, here's your venue. Plus there are plenty of links to other sites where you can find such goodies as the "The U.S. Regime Change Playing Card Game". Their site is well worth a visit, especially if you have some spare time on your hands and are feeling a bit mischevious rtmark.com

Another form of creative protest in the form of a public prank took place recently in San Francisco when a mini-army of clowns took over the last car of a BART (public transit) train as a protest against George W. Bush and the war on Iraq. "Bush has been getting clowns a bad name," said one clown as his comrades wandered up and down the otherwise staid commuter train brining smiles to the weary workers on their way home and making a strong political point. The clowns are members of Clownarchy - which is as their name implies an anarchist clown group committed to bringing about change through non-violent entertaining methods. "We are people committed to creating laughter & spreading the good word of 'Peace, love, and throw-the-lying-bums-out-of-office," is how they describe themselves on their website: clownarchy.org
---
HIP HOP SLAM FLASHBACK OF THE WEEK: CHARIZMA, 1993
Left to right: Charizma (R.I.P.), Peanut Butter Wolf, and Billy Jam at Hip Hop Slam Radio, 1993. Photo taken by Timi D... at KUSF radio in San Francisco at Hip Hop Slam during the 1993 Gavin Report Seminar in San Francisco. Because of all the other out of town guests that came through the two-hour show (including the Pharcyde and Freestyle Fellowshop, etc.) many of whom were all performing at the big BOMB hip hop show that nite, there was very little time for each guest to get on the mic. And since Charizma was from the Bay Area Billy Jam had him promise to make a return visit to Hip Hop Slam in the near future to make up for this rushed visit. Unfortunately like the album that he was supposed to have come out on Hollywood Basic, Charizma never made it back onto KUSF or Hip Hop Slam. He was murdered some months later. However this brief interview and the freestyle Charizma did on Hip Hop Slam can be heard on stonesthrow.com as an MP3. There is also info on the Stones Throw website about how to buy Big Shots - the long-awaited and highly recommended recently released Charizma & Peanut Butter Wolf debut album.
---
"MOST COMPREHENSIVE TURNTABLIST / DJ COLLECTION EVER" IS FINALLY AVAILABLE AT HIPHOPSLAM.COM SHOP
Finally the four CD set spanning the most important decade in the history of turntablism BOMB ANNIVERSARY COLLECTION: 1991-2001 is finally available at this website's shop. Furthermore the limited edition release has been marked down from its list price of $32.99 to $22.99 - plus shipping and handling. Boasting sixty tracks over the four CDs, including the previously unreleased RJD2 song "Black", the collector's edition box set celebrates BOMB Hip Hop's illustrious history as a pioneering record label in the field of turntablism and underground hip hop. Artists include Z-Trip, DJ Babu, Mixmaster Mike, Dilated Peoples, Blackalicous, and DJ Craze. Free BOMB full-color poster with first five orders: For full details go to SHOP.
Also finally available here at hiphopslam.com are the two Last Kreep (aka Eddie Def) battle records released on Chip Shop Spam Records - The Good Scratching Record and Space Breaks. Each of these battle records are priced at our usual - don't gaffle the hip hop DJ - of $8.98 plus shipping and handling.
---
SKEPTIC DRUID's FAT-FIVE BATTLE RECORDS
Hip Hop Slam's main-man in Greece, Skeptic Druid, offers his "Fat 5 Battle Records:The breaks your mom will appreciate!!" skepticdruid@hotmail.com
1. Superduck breaks - Classic,simple and effective brought to you by the Turntablist (and if you didn't know you'd better ask somebody!)
2. Hee Haw breaks - Butchwax does it once again! A break record that looks more like a sample library because of the amount of phrases, stabs etc. Ruling.
3. Toasted Marshmellow Feet breaks - Another Dirtsyle classic which was out early '96. Some classic drum snippets, old skool phrases and electro/downtempo beats that can't go wrong.
4. Space breaks - This one really surprised me when I realized that it's like a whole scratch sentence on 12'' record! About 12 minutes of the record are full of old skool phrases, drum fills, etc., and it also offers some drum snippets and 2-3 beats. Props to the Last Kreep aka Eddie Def
5. Hater breaks - Adiar Cor is responsible for this one.You want to diss somebody? You surely can find something that could fit in the situation and solve your problem, ha!