• SF Peace Rally Photo Gallery by Geoff Rantala
• Drunken Raiders Fans Inadvertently Make Political Statement and
Other Newz by Billy Jam
• "Keepin' In Time" Project Update by Fuse-One
• Jam Master Jay DVD Reviewed by DNZ
• Swedish Report from Bas-One
• Kool Keith a No-Show in Ireland, Irish B-Boy Battle Report, and
Irish Hip Hop News by Tall Paul Lowe
---
PICTURE OF THE WEEK
… is the Hammer/Vanilla Ice love dolls picture. It comes courtesy of the inside art of DJ Fuse-One's new mix-CD Metamorphosis. Fuse One, who cleverly put the two dollies together, reports: "Yup, I bought those things years ago…they were just too goofy to pass up. They both came with mics and trading cards and all that. For years I was trying to figure out a way to maximize their potential, so what better way than to have them buttram each other? I even kept the box that the Vanilla Ice doll came in….it reads: 'This boy is one bad rapper! His hot songs and cool moves are the freshest news on the street. Check out his awesome concert wardrobe and that totally radical streak in his hair! Pose him in a hundred dance actions. This dude can MOVE!'
---
DRUNKEN RAIDERS FANS INADVERTENTLY MAKE ANTI-GLOBALIZATION STATEMENT
Several Hip Hop Slammers including DJ Munkifunk and Geoff Rantala attended the big peace march and rally in San Francisco on Saturday, January 18th. Will their efforts stop Bush's war on Iraq? Probably not, but at least they know that they are not alone in their anti-war beliefs. Check out pictures of the rally taken by Geoff, which trace the march up Market Street from the Embarcedero to Civic Center Plaza where those on-stage included Martin Sheen and Mr. Lif. Along the march some protesters had a sound system pounding out songs by The Coup.
The next day the SF Chronicle reported that about 200 "black clad… renegades" with their faces covered broke away from the march and went on a vandalism rampage. They had a picture of one of the renegades kicking over newspaper vending machines. But on close inspection you see that it was a Bay Guardian rack that the disguised 'renegade' was kicking over. The Bay Guardian? Probably the most pro-peace, anti-war publication out there! At least the rampaging post-Super Bowl Raiders fans in East Oakland attacked and looted the ultimate global corporate symbol: a McDonalds, even if it was a drunken decision. So either the peace-rally breakaway "renegade" was a fucking idiot who can't read or simply just didn't give a fuck, or else, as some conspiracy theorists have suggested, was actually part of deliberately planted and orchestrated group of instigators whose goal was to disrupt and discredit the otherwise peaceful event. Hmmmm! In this age of fear and increased government control nothing would be surprising.
---
THE OTHER WAR: THE WAR ON DOWNLOADING MUSIC
While George W. Bush prepares for the imminent war on Iraq the music industry is waging its own war, the war against "music piracy"—mainly downloading/sharing free files on the Internet. And in this war the music industry (read: major labels and the RIAA—Recording Industry Association of America) recently won a big battle when on Jan, 21st a federal judge ruled that Internet service providers must now hand over the names of suspected copyright violators upon request. In other words a record label or copyright holder of a certain song that you might have downloaded at any time could subpoena your server for you legal name/address and then take you to court for stealing music! And if the RIAA has its way you will be treated the same as if you had shoplifted a CD at your local Virgin megastore. Yes, this whole music war is going to get ugly… real ugly. But music fans are not taking things lying down and, as in any war, all is fair. Hence the retaliation against the RIAA a few days later on January 27th when hackers broke into the RIAA website (www.riaa.com) and rendered it largely inaccessible to visitors. Two days later, at time of writing this, the site was still inaccessible. Also on Jan 27th another "battle" in this global copyright war took place when the Australian based Kazaa (popular file sharing program that succeeded Napster and was recently sued by US record labels and movie studios for copyright infringement) filed a countersuit against these same US labels and movie companies claiming that they "illegally conspired to control online distribution" of music and movies.
Like I said it's gonna get real ugly. And too bad since, like Bush's war on Iraq, this war could be easily avoided also. Let's face it, fans would buy music legally if CDs weren't so goddam unjustifiably overpriced! So instead of going to war with the fans they should embrace them and figure out how to sell music for less (Trim their wasteful promotional budgets? Cut out distributors and all the bullshit middlemen?). The ganster-mentality music labels need to admit that they have had a very good run of over-inflated profit-heavy years and face it that those days are gone. Note that it is this same music industry that in 2000 was charged with violating federal and state antitrust laws by overcharging customers for CDs to the tune of $500 million! Hence the ongoing refund of $67.4 million to anyone who bought CDs from a store between January 1995 and December 2000. For more information on this refund, whereby consumers can get up to $20 back per person from the music industry, go to www.musicsettlement.com, but do it soon.
It's obvious that the music industry, as we knew it, is dead and that only radical progressive changes from within are going to alter its course. Waging war on music fans is not the solution. To read a very informative account of how the money hungry, monopolistic major labels lost control of their over-inflated profits read the excellent new February 2003 issue of Wired magazine titled "Rip. Mix. Burn. The Fall of the Music Industry." Meanwhile the Los Angeles Times reported on Jan. 27 that six music retailers (including Tower, Virgin, and Wherehouse) have teamed up and developed a new system for music fans to burn CDs in their respective stores or on their websites. Some may remember a similar type of instore personalized cassette making system about a dozen years ago whereby a music fan could go into a Tower Records and pick specific songs by various artists and on the spot make his/her own custom mix tape. At least these retailers are attempting to tackle the current woes of their falling sales in a creative and positive way.
---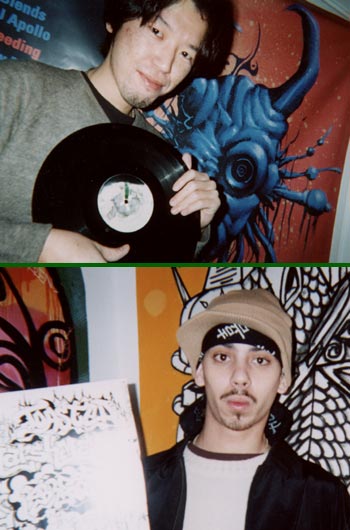 HIP HOP SLAM
NEWS ROUNDUP
Hip Hop Slam welcomes its two newest staff members, DnZ and Timer. Timer
(Japanese translator & dank tester) recently moved to the Bay Area from
Japan. Meanwhile Bay Area native DnZ (production & publicity assistant) is a
DJ and writer. He reviewed the Jam Master Jay DVD in this update.
QBert was among the many DJs at the big NAMM conference in Southern Cali last week. Also in attendence was DJ Quest who reports that, "Last weekend was at the NAMM… there seems to be a lot of new female DJs on the scene and a lot of new digital scrath type shit, new turntables, and bigger interest in DJ'ing from the general public than any previous year I have attended."…
On January 20, the Adidas Store in Santa Monica unveiled the new Jam Master Jay Shoe Pre Sale with proceeds going to JMJ's DJ Scratch Academy. "Only 200 pair of the Adidas are available in LA," said store spokesperson Porsche T. At $200 a pop they sold out fast…
Recommended recent DJ albums and mix-CDs include Rob Swift's Sound Event (www.tableturns.com), DJ Fuse-One's Metamorphosis (djfuseone@hotmail.com), and DJ Tu-Ki's Diggin In The Crates (beatbandit@hotmail.com)…
Bas-One reports from Scandinavia that, "I'm in Sweden right now chillin' and I'm lecturin' this dope high school on the topic of, you guessed it, hip hop… This high school is amazing. It has a skate park in it. It's in a building. It's also got a production class where they teach kids all aspects of engineering and production. They have MPC 3000's… and in like every class they've got Logic on every computer and they are learnin' ill mixin' techniques in recording: Shit's advanced here. Cats was remakin Knee Deep… no samples… just playin' it and the versions sounded different but all had flava'… Anyway makin moves… I think I should know a good bit of Swedish soon… Talk to ya later: peace: Bas."
If you want to reach Bas while he is in Europe email him at bdopeskills@hotmail.com…

Meanwhile, Kid Ginseng, who has played with Tom Tom Club and Deep Banana Blackout, and will be one of the DJs on the soon-to-drop Scratch Attack Vol. 3, reports from the East Coast that, "Right now I'm doing electroclash, and advancing my skratching too. I have been on tour with a few bands skratching. I have a 12" being released by a Brooklyn label. I have an interview coming up with a 5 city distributed zine. sanfrancisco is one, RE_VERB. I'm taking a class this February, pop music business, then march I go on tour again skratching with MAD HAPPY. I now play in MAD HAPPY, an artsy hiphop influenced drum machine rock band. We just did a mini tour on the East coast… RICKY POWELL the new york culture photographer is taking pictures of MAD HAPPY. I look like an electro synth boy, and consider myself an art punk. Im finding my identity in the electro scene. I still go to punk shows though, I recently saw my brother's band, the misjudged, with KRAYS, and Treason. all those bands play a speedy, dangerous style. they are thrashy and wear bullet belts, tight jeans and have the fashion hair (tall mohawks) and studded vests misjudged has shrieky vocals. I also like toxic narcotic. shoot people, not drugs."
Reach the talented Kid by email: KidGinseng@aol.com
---
KEEP'IN TIME LA SHOW REVIEW
by FuseOne
Sunday, December 29th, 2002… El Rey Theater… Los Angeles, California… Was the place for once again the B+ get down entitled KeepInTime. For those that aren't familiar with the whole KeepInTime concept, it started out as a vision for DJ Shadow and photographer/film maker B+ (aka Brian Cross). It was to bridge the generation gap between those that were responsible for creating the foundation for all Hip-Hop, the beat, and those that are taking it to the next level, in this time. The Legendary Funk drummers of the '60s and '70s and the Hip-Hop DJs of today. The event once again heralded an all-star line-up of musicians. Drummers: Paul Humphrey (responsible for breaks such as ATCQ's "What"), James Gadson (who did the famous Hip-Hop break for the Bill Wither's song "Sending My Love") and Derf Reklaw (who's played for legends such as Curtis Mayfield) DJs: Shortkut (Beat Junkies), Cut Chemist (Jurassic 5), Nu-Mark (Jurassic 5), J-Rocc (Beat Junkies), Babu (Beat Junkies, Dilated Peoples), and Madlib (producer, Lootpack, Yesterday's New Quintet, Quasimoto).
The line-up was also to feature DJ Shadow, but for reasons unknown, he was not there. This clearly disappointed a number of people, those that probably don't have a fucking clue about Hip-Hop or for Hip-Hop DJs and Funk Drummers as a whole for that matter.
The night started off juiced… Paul Humphrey and James Gadson took to the stage first, and set the pace by jamming in unison not missing a beat. Then one by one, the DJs fused their sounds over the drumming. Anything from the conventional scratch, Cut Chemist and Nu-mark pounding on the dust covers of the turntables (which simulates an 808 type kick), Nu-mark on the MPC and a bunch of assorted toys, from Madlib on the samplers as wells. Then of course, Derf Reklaw took to the stage playing a multitude of different instruments… congas, hammond organ, flute, sax, even a milk bottle.
Of course, since the whole event's purpose is to be a freestyle session and unrehearsed, it had it's high and low moments. At times they were all right on the money, completely in unison, and every single person contributing their bit to an overall whole sound. At times they also lost a little control, becoming repetitive. I think having a stage composed of artists that could all headline a show of their own, and artists that are all used to taking control of the flow of a show, caused a few miscommunications as far as who was taking the lead. When a tempo was becoming monotaneous, someone would attempt to change the tempo by doing whatever they were doing at a faster or slower tempo than everybody else. Sometimes the other artist didn't notice this, therefore there was two different sounds at two different tempos at times. This, as you could imagine, caused kind of an ear sore for some because of the different pitches. It didn't help that the sound man couldn't get things right… Madlib's stuff didn't work the whole night causing him to just give up on what he was doing and sitting back to just watch. Also Derf's mic levels were too low for half the show, so most of the time you couldn't hear clearly what he was doing with some instruments.
Despite the problems and miscommunications, it was still one of the "if only you were there" kind of shows. Maybe I'm also a little jaded because I was able to witness this event go down in Brazil last month which included three legendary Brazilian drummers as well (and I wasn't drunk off my ass this time). Either way, I'm sure this will be an event to be talked about for years to come. Icing on the cake for the whole night was the cameo appearance of the most recorded drummer ever, Earl Palmer. Sometimes, I don't think that some people in the crowd truely appreciate what they witnessed. If it wasn't for these drummers gettin' down on the one back in the day, there not only wouldn't be Hip-Hop music, but modern music as we know it. By bridging this gap of Hip-Hop pioneers of today, with those that literally created it 30-40 years ago, is just one of the ways we can all say "Thank You", and show that we still care what inspired you to create what you did when you were our age. Their music is just as relevant today as it was yesteryear.
---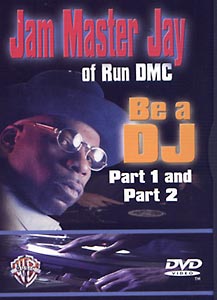 NEW JMJ DVD REVIEW
by DNZ
Jam Master Jay (of Run DMC) Be a DJ
Part 1 and Part 2

Running Time: 80 minutes approx.

DJ Times/Warner Brothers DVD (www.djtimes.com)

Review by DNZ



This instructional DVD featuring the late great Run DMC DJ, Jam Master Jay, recorded apparently in the months just before his tragic murder, is one dope ass instructional DVD! It is also a good collectors item for any Run DMC and Jam Maser Jay fan. But most of all it is top rated instructional DVD for beginning and advanced hip hop DJ's (it also addresses house DJs).
Divided into two parts and a total of thirteen chapters, the DVD starts off by giving a good brief history of DJ'ing: how Jay got started out in the late 1970's in Queens, NY and how he saw the DJ scene progress over the years. Part 1 gives new DJs a good break down of the basic DJ set up, from plugging up the mixer to setting up the turntables and speakers. Jay also gives a definition of accapellas and instrumentals on a record: in other words the vocals and the beat. He demonstrates how to do a basic mix by putting an accapella over a Biggie (R.I.P) beat which i think he should have showed later on in the lessons when at least beginning DJ's know how to blend mix. Jay also explains a digital CD set up and how they work. Part 1 is more of just a break down of the equipment and how to get started like different starter kits, or as other folks know it as "DJ in a box", and what to look for in equipment.
Part 2 is the break down of being a club, mobile, and scratch DJ. He shows you how to BPM your records, mark'em, and how to blend mix. Also he brings out a guest, DJ Gerald Web, a digital turntablist who shows off some of the advantages of a digital set up like being able to loop shit up to make a clean break and how with a CD set up you don't have to bring hella records, just CDs. Near the end of the DVD Jay gives you tips on how to go about being a mobile DJ like getting business cards, advertisements, and so on. Some of the Special Features on this DVD are lessons to help you scratch, get the sounds you want, and also a list of other DVDs/CDs to get including a dope Run DMC live DVD.
Just watching the late Jam Master Jay in between lessons and seeing him get hella into it was really inspiring. I would recommend this DVD to everybody and anybody who wants to be a DJ cuz so far this is the best instructional DVD for the average DJ and beyond. Ten out of ten. Oh yeah and as Jay himself said, "dont forget, practice, practice, practice" and "DJing is DJing is DJing"!!! Word to your motha, OnE.
reach DnZ by email: tfsdjz@hotmail.com
---
IRISH HIP HOP REPORT
by Tall Paul Lowe
Kool Keith cancelled his Irish show at last minute to much disappointment but the hip hop could not be stopped as proven by the D'Bomb show in Dublin on Friday night (Jan 17) at Temple Bar Music Centre in Dublin. The sold out show was very reminiscent of the great Tommy Boy party last year with an even bigger turnout. When I arrived at the gig on Friday night the queue outside wanting to get tickets went right around the corner. This is great to see as it shows that people in Ireland at long last are starting to get interested in Hip Hop. Once inside I hooked up with DJ Splyce and went backstage talking to Laz-E and Goldy as well. The MC battle had already started on stage and they were going through the heats. What I don't understand is the following one of the MC's was battling some guy who in the end they found out was not registered to take part. And the other MC was not allowed to go through, as she was more less told there is nothing that we can do. This emcee is MC Jen who works with Goldy. Look for her six track debut. But other than that the MC's kept were just okay, some shouldn't have been on stage at all, but it was all part of growing up and getting skooled I suppose.
The overall MC battle was won by a guy called Mr. B who defeated Sir Scratch in the final. The Human beatbox turned out to be 3 guys beat boxing it is always nice to see and hear someone doing the beatbox as it is an area of Hip Hop that is not fully appreciated. Unless you are a member of the Roots kru, or Kila Kela from the Scratch Perverts. So they were good on stage but their style is very reminiscent of the early 80's Fat Boys, Lov Bug Starski and Doug E Fresh. The crowd appreciated it and at the end of the day that is what counts. But they if want to stick to around they are seriously going to have to update their skills.
Next up on stage was the long awaited return of Ghost n Jay. Boy was it good to see these guys back on stage after getting a preview from the week before performing live on the radio. I was really looking forward to seeing them playing live. Ghost n Jay put on a great show. Ghost is the MC and Jay is the DJ and Colleen is the beat mixer, maker and creator . Ghost has a great stage presence and is well able to handle the mic and also the crowd. They looked good and sounded good too, it just seemed liked yesterday when they were supporting Scary Eire in places like Barnstormers in Capel Street. So I am hoping that they are going to stick around for a long time and release some stuff as well. I was talking to Ghost and he was saying that they have more than enough material for an album but they need to mix it and get into a studio. Next up the Voodoo Skratch Attack Kru. DJ Laz-E made the introductions and Mek and Splyce appeared on stage. Out on the floor the breakers appeared as well it was time to get it on and get down. The beats that Mek and Splyce were dropping were old skool and funk beats the crowd went nuts and the Breakers got down I was hoping to see the guys break but could not get near them. As the crowd just swamped them. Ther were calls for the crowd to push back but this just fell on deaf ears. The breaking by all accounts was very good, we had the return of the TML crew from Dublin the Bad Taste kru from Omagh and the Style Bandits from Ballymun - an old skool kru from back in the day led by Chi-Chi.
Up on stage we were entertained by the talented duo of Mek and Splyce cutting, scratching, beat juggling and tricks galore by the Irish Grandmaster. After the breakers were over DJ Laz-E took over their decks and started to skit on what DJ's get up to in the bedroom when they are home praticing and looking in the mirror. So you can imagine the craic, Laz-E on stage looking in the mirror and posing making sure that that the hair looks etc. The night ended when Laz-E came back on stage and bust it the old skool way and the Breakers got down again, I was lucky enough to catch some of the breaking this time around. Chi-Chi from the old Skool gave a demonstration of how Poppin n Lockin was done back in the day and when I say that he can literally lock every part of his body, I mean it I have not seen locking like that since back in the day when the System were around and they had a guy named Narks who used to lock like this. It was tough on the B-Boy's as there was no lino and they had to break on a concrete floor, that drink would have been spilled and maybe glass smashed on. One of the B-Boys actually cut the side of his head from doing head windmills not sure what you call them in the States. The Graf exbhition from the TDA crew and Mister Who was quite cool there were a few pieces I took some photos of so I will send these to you as well. Overall it was a great night for Irish Hip Hop as it showed a lot of people have an interest in it now. Of course our friends were there: a very drunken Tu-Ki and Troubled Soul with his woman Regan. Hopefully there will be more nights like this in the future.
So we had a great of Hip Hop which should have been a great weekend, but when you have one of the greatest MC's Kool Keith who decides at the last minute that he is canceling his European tour it kinda dampens it.
Email Paul Lowe: lowep@zomax.ie