• "The BOMBING of SHIT FUCK CITY" by Munkifunk
• DJ Platurn's Top Ten Best Things about being the World's Second Tallest DJ
• The Bastard Language Tour by Fuse-One
• Bay Area DJ Profile #005: Toph-One
• Hip Hop Slam NEWS by Billy Jam
• ITF Ireland by Tall Paul Lowe
• Style Wars Interview with Tony Silver & Henry Chalfant
• SHOP Fan writes us / new to SHOP
---
HIP HOP SLAM NEWS
by Billy Jam
The Thud Rumble Main Event Postponed til late March 2004: Originally scheduled for November 8th, 2003 in San Francisco the big Thud Rumble event has been postponed until Spring 2004. "We wanted to delay the event because we wanted to ensure that all the new creations were up and ready by then, especially the new QFO turntable," said YogaFrog who is overseeing this much anticipated follow up to SkratchCon from a few years ago. "There is going to be a lot of new things to be coordinated with this event like the the new cables, the new needle, the new mixer, and the QFO turntable, not to mention the QBert Documentary and the QBert Book." Note that the Q book is by yours truly, Billy Jam, along with my trust-worthy editor Munkifunk. Also note that Vestax will be manufacturing both the QFO turntable and the new mixer. And as previously announced both DJ Flare and DJ A-trak will each still be performing. For more info: www.thudrumble.com
AAARNOLD MANIA: Outlets that carry the DJ Prank's Greatest Celebrity Phone Calls CD, including the HipHopSlam.com shop, that features the voice of Arnold Schwarzenegger in numerous hilarious prank phone calls ("I'm a cop you idiot!", "Who is your daddy and what does he do?", "Stop Whining!", etc.etc.) have reported a noticable jump in sales since our favorite action hero recently announced his run for governor of Cali. Also sampling Aaarnold, along with Van Damme, is the dope new '89 Skratch Gangstaz (DJ Pone and Snayk Eyez) track titled "Coming Attractions" and featured on the forthcoming Return of the DJ Vol. 5 (BOMB Hip Hop) compilation that will (coincidentally) drop on election day.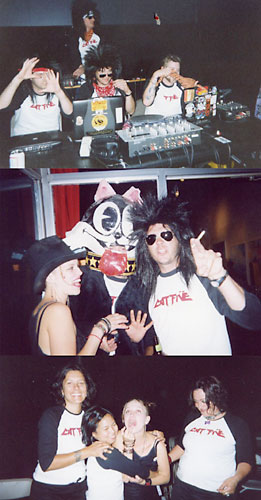 Cat Five, whose cool new T-shirts are based on classic Iron Maiden rock T's, did a performance at the Black Box in Oakland recently wearing the T's and donning heavy metal wigs (see pics) and although they were late in getting onstage when a lot of folks had already split they did an amazing show (albeit sans a turntable) with lots of cool visuals especially the ones that accompanied their new 7" single American Military Operations which will also appear in a remix on the next Hip Hop Slam release: All That Dubya Is Makin Me Bitch. Also look for members of Cat Five at Burning Man this year (last week of August) or you can simply visit their website: www.katfive.com
FREE PEACE CONCERT IN GOLDEN GATE PARK: Michael Franti and friends have lined up the fifth annual 911 Power to the Peaceful Festival Free Concert and Social Justice Rally that will feature Spearhead, Saul Williams, Lyrics Born and many many more performers and speakers. The free concert will take place on Saturday, September 6th at Speedway Meadows in Golden Gate Park, San Francisco. More details in next NEWS report.
DJ Marz and G-Spot (KPFA) were among those at the big East Bay Funk Fest last weekend which featured Con Funk Shun, Gap Band, The Time, Midnight Starr, and Cameo. And goddamn but Cameo still look and sound the exact same as twenty years ago...And they're still playing the same songs too! AOOOWW: She's strange and I like it! And note: big booty womens sure like the funk! Proof of this abounded at the 2/3 full, hot-as-hell Sunday afternoon, Concord Pavilion whose largely Black and Mexican (and ten white people) fans of the funk, aged late twenties to forties, were there to hear the funk hits they grew up on or danced to in da clubs two decades ago: songs like The Time's "Cool".
DJ scratching continually gets more and more exposure on mainstream TV and radio. TV commercials that have featured DJs or turntables include Twix, Huggies, GAP, and Dr. Pepper. Starting this week will be a national radio spot by DJ Melo-D (Beat Junkies) for the youth-oriented Scion car in the auto company's ongoing aggressive marketing campaign. Meanwhile on a recent Simpsons episode Homer got on the wicky wicky in his totally tricked out car interior with every possible accessory, including a cell phone, DVD, fax, a microwave, and a turntable/mixer on which he scratched Chaka Khan, Chaka Khan.
Munkifunk and his brother, Gamin have a new mixtape adventure titled The Super Terr!fic Happy Hour which super-tough Hip Hop Slam critic DnZ rated with a "six out of ten." For more info on this mix tape hit up Munkifunk @ munkifunk@mindspring.com
Japan's infamous multi-skilled Shing02 came to the most recent Hip Hop Slam BBQ and demonstrated the very very latest on his Faderboard creation (the cool DJ accessory he designed for Vestax and is now on the market). "It's the shit.....it's fuckin amazing...especially when he recreates the songs and then starts to beat-juggle!" - commented DnZ after witnessing one of Shing02's one-on-one performances. Pal 58, en route back to NYC, was at Hip Hop Slam and caught Shing02 on video to broadcast on SUBA TV which he produces back in Manhattan. For his latest Faderboard performances Shing02 hooks his creation up with an MPC - Midi controller - which transforms it into a live beat machine and fully functional programming tool. At the BBQ Shing02 kept everyone spellbound as he ably ripped thru cool-as-fuck impromptu covers of Jeru's Playin Ya Self, Gang Starr's You Know My Steez, and other classics. For all the latest on the Faderboard and also on his Peace Crane visit Shing02's website: www.e22.com "Oh and...," stressed DnZ, "Another thing that is very important about Shing02.....He's a fuckin' pimp!"
DJ Stoic has a new website which includes an interview with DJ Shortkut plus the classic "Death Of The Mixtape" piece by Munkifunk that also appears on this site. For these and a slew of other interesting stories/pieces about hip hop music and life in general go to: www.line-in.org
Big shout-out to reigning Irish DJ champ DJ Tu-Ki (see Irish ITF report below by Paul Lowe) who is our favorite Irish DJ. Tu-Ki visited the Yay Area two summers ago when he bought nearly all the records, drank nearly all the beer, and broke nearly all the girls' hearts in San Francisco.
Unagi, who was one of the featured artists on the Amoeba Compilation Vol. IV, has a remix CD floating aorund featuring his remixes of tracks by Masters of Illusion, Camp-Lo, Black Moon, Mobb Deep, and Big L. Contact: unagi442@hotmail.com
---
BAY AREA DJ PROFILE #005: TOPH-ONE
DJ Name: TophOne
Hometown: San FranDisco
Trademark saying or philosophy: "The road of excess leads to the palace of wisdom"- William Blake
Past DJ Crews and/or Graffiti crews: founder- Red Wine DJ/Wino collective... founder- AS graffiti crew (Oakland/SF/Berkeley/LA/NY, etc)... also THK (The Honkey Krew/ They Hate Kops), GO (Ghetto Overdose), STP (Stompin' Toy Ploys), EMB (Embarcadero), TBC, Sukebe, Lords...
What music do you spin: hip-slop, junk rock, electro trash, jellyfish jazz & lazy beats...
Discography: Executive Producer for DJ Buck (as Spins Inc.) "The New Frontier" on TCX in 1992... vocals on DJ EFX "Sha-Boo-Tay!" on Underground Construction in 1993... vocals on Stellar Trax SoundSystem "Whatever's Clever" from the Urban Revolutions compilation on Future Primitive Sound in 2000...
DJ battle history if any: I couldn't battle my way out of a paper bag, no wait- Red Wine battled Red Five and me, Charlotte the Baroness & Doc Fu slaughtered VinRoc, J-Boogie and Dr. Naughty in 2 rooms at 111 Minna Gallery! But anyway, I invented a drink called the Roy (named after Roy Ayers) and I routinely outdrink the likes of Apollo, DJ Anna, and Mr. E... now DJ Wisdom- that kid can hold his own, but don't tell him I said that.
The first record you ever bought: "Centerfold" 7" by J. Giles and... first hip-hop record was "Roxanne Roxanne" 7" traded for "Tainted Love" 7" in 7th grade.
Most influential record(s) in your life: "A Love Supreme" lp by John Coltrane, "Appalachian Spring" by Aaron Copeland, "Nation of Millions" lp by Public Enemy, "Radio Clash" 12" by the Clash and "Damaged" lp by Black Flag
When did you first DJ: around '92, but really got into it around '95 or so.
What made you want to be a DJ: I got tired of throwing parties and watching kooks like DJ Pause and Buck talk to all the hot chicks and drink for free! For real! That, and I really wanted to hear certain songs played with other certain songs that just weren't getting played, so I decided to do it myself...
What is your most memorable performance of your DJ career: Doing an all Too $hort set at the first Big Booty Bass Bowling night w/ DJ Shadow was pretty fun... The first time I played w/ DJ Krush at the King Street Garage- WOW!... the Rubber Curtain nights with Tommy Guerrero, Gadget and Steady-P—some of those were epic...
How do you transport your records and/or gear to gigs: a bag from True and a handmade flightcase by Ray Stevens at Cal Cases on the motherfuckin MUNI, baby!
Do you play CDs ever at gigs: hells nah!
In your opinion who is the best DJ of all time: Damn. My favorites are folks like Premier, Revolution, Krush, Spooky... but all time? It's gotta be Afrika Bambaataa. None of us would be doing anything like this if it weren't for the work that man has done over the last 30 years—in all facets of the culture. Bam is the Father...
Best website or way for folks to find out more about you: Go sit on a rooftop. Drink a lot of wine. Hear those weird voices telling you all kinds of crazy ideas? I'm the guy right there next to you..Otherwise, call 415.332-5800ext.211 or hit up redwine@xlr8r.com for upcoming parties and Wino nonsense...
Gracias & mad love & respect to Billy Jam & Hip-Hop Slam and all the true Bay Area crews and familia! (Mr. 5's, West Coast Rock Steady/Skratch Piklz, Pirate DJs, Groove Merchant, Beatsauce, Future Primitive, DJ Pause, Mike B., TMF, TWS, AS Crew, CBS, Zebra Records, 48th&O, Dank Mob, Broun Fellinis, Last2Serve, Heiro, Hoboes, Mr. Brown, True Skool, etc, etc, etc)
Photo by: chad@roundersound.com
---
GETTING UP with SHAM: The Bombing of Shit Fuck City
by Munkifunk
"The Greatest Graffiti is NO Graffiti" - SFPD Motto
"It's so easy to do. Anybody can make a mess. Some people just don't get it. Fucking shit up is just so much fun."
— Sham, KUK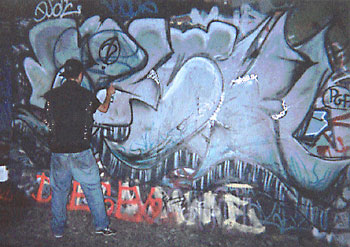 "We got seven minutes to buy more beer, and all night to kill toys!" That's how our evening began. The liquor stores were closing and renegade graff writer Sham needed more alcohol to get his perv on. The agenda for the night was a simple bombing run: "What I'm going to do tonight is walk through this tunnel and pick something that I don't like. I'm going to go over it nice and good and thick. I'm going over everything...mad killing fool right now...I'm drunk...I'm high on speedballs...I've been smoking
weed...I've been shooting dope...I've been shooting speed...I've been shooting crack...you know how to do that? You take a little bit of lemon juice and drop it on your crack...stir it up...you don't even put a flame to it... you only cook dope...and then you fucking put it right in your vein and call it a 'ringer.' Speedballs and crack are one of the best things I've ever found in my life. Drinking that Tenderloin ninja juice really gets me fired up!" Indeed.
That was a couple years ago. Since then, our renegade graff writer has been evicted from his home and fired from his job, while his crew, KUK (Kill Until Killed), have earned the distinction of being the first graff crew in SF to be raided by the police and subsequently indicted by a grand jury on 24 felony charges of graffiti and conspiracy to commit graffiti as a gang. Law enforcement officials have adopted a zero-tolerance stance against the graffiti writers and the District Attorney's office is reportedly opting for full prosecution, which could lead to time in state prison. "In March, a San Francisco grand jury indicted 8 people on 24 counts, including conspiracy (182); gang participation (186.22); graffiti (594); and there were gang enhancements. On a legal point, defendants are charged with participating in a gang, as well as crimes committed for a gang purpose. All are felony counts. A conviction could mean state prison. Of the 8 indicted, 5 are allegedly members of KUK, which stands for Kill Until Killed (or according to one member, Kiss Until Kissed). One alleged gang member is a woman. All are in their 20s and come from middle or upper middle class backgrounds. All are Caucasian. Some have multiple prior convictions for related crimes. The crimes that lead to the indictment occurred in 2002 and included the gang tag, KUK, as well as the tags of individuals. Those included: deth; abhor; sleaze; vic20; and a graphic of a large dead cat, with Xs for eyes. That was allegedly the product of the female member. KUK Graffiti has appeared in San Francisco, Oakland and Berkeley; on cars, trucks, road signs, light boxes, overpasses, and public and private buildings. One tag stretched, and maybe still stretches, over 200 feet. On Potrero Hill, on a housing project called Turner Terrace, and which is visible from hwy 280, I'm told there is a tag 6 feet tall and perhaps 100 feet long. "Practical considerations," says Harry Dorfman, "made it so that we only presented a portion of the available evidence to the grand jury." Mr. Dorfman says there were more than 100 separate tags that might have been used as evidence. Seven of the eight indicted were arrested. I don't have a date yet. One has a warrant. Sept 6 is the trial date." -Press Notes from the Office of the District Attorney website
But that's all beside the point. What we need to focus on right now is not the overwhelming need for the DA's office to successfully prosecute someone, anyone, even if it is just a ragtag bunch of delinquents obsessed with writing their names on the sides of buildings. When compared to 3 off-duty cops who went on a drunken rampage over fajitas and the alleged cover up by top brass officials, terms like "property damage" and graffiti-abatement" start to sound like a poor substitute for "police scandal." Let us instead return to that innocent night when we bombed the West Portal Muni tunnel in San Francisco. It was dark and stormy. I had a 6-pack. Sham had the Krylon. He turned to me and said: "When God created Earth he said, Sham I created everything. Now I want you to go out there and spread the word. I said, Sure God, I will."
This is what he told me...In the beginning "It kind of started like this: I like fucking shit up. I'm a fucking vandal. I'm scandalous. I'm a scandalous vandal. I take what I can get and I give even more. Any fools get in my way, best to them. I don't consider myself an artist at all. I consider myself a vandal. I just fuck shit up. I think I was just born that way. I was born with this ingenious plan to destroy the earth. Maybe it was my good friend and dark lord Satan. Somewhere along the line it was that guy sticking his big dick up in my mother's fucking twat, coming all up in there, and [making] this little beast of a boy that turned out to be Sham. I don't know exactly all that bestiality bullshit, but here I am, and you're all sorry for it. I've hopped trains across the US I've hit everything. When I was writing, I never thought about no hiphop thing, or punk rock thing, or styles and shit. It just all started as fucking shit up. I just had to fuck it up. I just couldn't stop it once it began. Now here I am with a name and it's up everywhere. Motherfuckers hate me because I did it on purpose. I did it intentionally. I see all these fucking fools calling themselves artists throwing shit up all over the city. Fuck that dude. That ain't art. That's fucking vandalism. That's what I'm here for. Fuck that art bullshit. I'm here for real just fucking it up." And you shall know his name...
"Sham wasn't my first word, but it's the best one yet. The reason I picked Sham [was] because that's what it all is...this whole masquerade...everything that we live around...this government...this whole fucking world...it's all a sham. You think writing graffiti makes you cool? No, that's a fucking sham, too! Fuck that. Everything is a fucking sham. That's why I'm here. That's why I write Sham. KUK, that stands for Kill Until Killed. That's just the way it is. One day me and Sect were sitting around and we decided let's see who can be the most hated writer in this city. We ain't going to write unless we're going to write over somebody, and that's how KUK became. We just said we're going to kill until killed, but no one's been able to step up to kill us so I guess we just keep killing. We've had some good battles. We've battled quite a bit. It's all been fun. I like every minute of it. Me and Sect fucking made this shit. Motherfuckers, they don't know what to think. Here we are, punk as fuck, hitting KUK everywhere. They get scared when they see it 'cause they know we don't give a fuck. We are the fucking masters. I just want to set the fucking record straight: Any graffiti artist that ain't in KUK should get really fucking pissed because we know you suck."
Art vs. Graff
"I'm an artist, too. I'm a good artist, but that's not what I see graffiti for. Graffiti is a fucking game. It's all about getting your name up. It ain't about who can draw the prettiest picture. It's about who can fuck shit up the most.I ain't got no fancy caps. I don't care. Some people think, 'Oh you've got to have this pen, you've got to have this kind of paint, you got to have all that shit...' Nah, fuck it, what you've got to have is just shit to fucking mark on things and say, 'Hey, I fucked your shit up!' Some people think graffiti should be legalized...like an art form...it's like the art of the man on the street...fuck that. Just like skateboarding, keep it illegal so it makes it fun. If graffiti was legal, I wouldn't fucking write that shit. Hell no.You want to know why it's fun? I'm fucking famous, but nobody knows myface. Some fools do, but that's just because I catch them slipping and Irun up on them. I'm not afraid to hide who I am. The wrong motherfuckerswho cross my path, they know who I am. For the most part, graffiti is done strictly for the people who write graffiti. I don't do this for the fucking normal Joe. I actually do it for other writers because that's the only people that care. They fucking see that shit. They know what's up. They fucking see me. I'm fucking famous. Hell, it's not what I went out to do intentionally. I fucked shit up so bad that people just took notice. Now here they are, all my fucking fans, and they hate my guts. I'm kind of like the GG Allin of graff."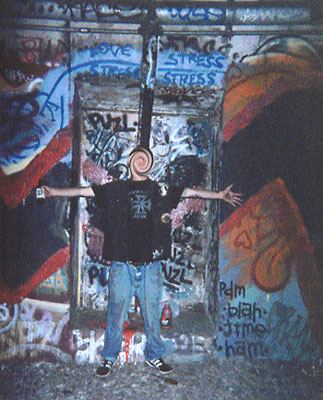 Battling
"I have a hard time writing if I ain't beefing with someone. I need some incentive there. It's like a game. Who can be up the most? Who can be the best? I battle people for various reasons. If I see something I don't like, I'll cross it out. Fuck it, whatever...you want to beef me? C'mon let's get it on! It's more fun to write over other people than it is to write on something blank.When I first started writing there was no fucking unity. It was battle,battle, battle! People don't battle anymore. They're all a bunch of fucking sissies. They're all a big 'Get A Long Gang.' Fuck that. That's not what graffiti is about at all. It's just getting up and stomping anybody in your way. It's about fame. Most fools who write, they get hella mad when they get crossed out. I fucking love getting crossed out! That means they love me. But the funnything is that nobody ever signs their name. If you're going to beef somebody, if you're going to hack somebody, if you're going to go over somebody, you better sign your name or that's fucking pussy shit. What the fuck? Let them know. Don't be a sissy. Put your fucking name on it. Graffiti writers, they write for other graffiti writers. But in my case, I don't do it to make friends. That's just not what it's about. Not in my eyes. I don't know who these 'Get A Long Gang' fuckers think they are...trying to say peace, love and all that shit. When has peace and love really ever existed in this society?"
Hiphop vs. Punk rock
"I give props to hiphop. I like hiphop. I like what they're doing. It's a lot like punk rock. But I just can't groove with it. I like to be angry. I like to be mad all the fucking time. It's the only thing that makes me happy. It's fucking energy. It's what keeps you going. You can see it in my graff, too. That's what KUK is all about. Abhor, Sleaze, Sect, all these kids...we used to squat and shit...live in abandoned buildings...selling fake crack to buy our beers. Some people think you're miserable if you hate all the time. I don't understand how these people can love all the time. Who's really got love anymore? Hate is an energy, too. I got plenty of love. I give all my friends love, but if you ain't one of my friends you get my hate.Look at this world. You can look at it with jaded eyes and think it's all pretty. Hell, there's a lot of beautiful shit in this world. I'm not going to say the whole world is a fucking dump but for the most part it is.
People are more into fashion than anything else. Most of these fools change their shoes 10 times before they leave the house. Fuck all that shit. Just put your fucking shit on, get out there, and get up. I dig hiphop. I like it, but that's not my roots. I'm punk as fuck. I like hardcore and shit. All these hiphop kids...I fucking run up on 'em when I'm writing and shit...they can't fucking believe it, but here I am. Writing ain't all just about hiphop. It's about a lot of things. To me, it's like this: Life is a sport, and the sport is war. Slaughter is the intention. And the only winner is the one who is left alive."
The Rules of Graffiti according to SHAM
"For anybody out there who doesn't know the rules about graffiti, let me tell you: There are none. Some people will say, 'Well you can't go over this and that...'
Listen, if it's there, go over it. The more people I take out, the happier I am.
* * * * * * * * *
So there you have it. Straight from the orifice, a violent regurgitation of bullshit so twisted and laced with lies that no normal decent person could ever hope to understand it. But prosecute it the District Attorney will, and to the fullest. In fact, they'll probably even convict the little bastards because let's face it, everyone loves sticking it to kids. Especially 30-year old defendants acting like kids. The DA will force them to act their age by sending them to state prison. There they will live with murderers and rapists. They will be made to grow up and learn about adult things such as respect, relationships and sodomy. Perhaps then the DA office will begin to feel better about itself. Maybe they'll "get up" again and "tag" something bigger and more meaningful than graff writers. Hopefully they'll prosecute some corrupt cops.
---
Bay Area Hip Hop Archives Top 30 Chart — July '03
KALX 90.7FM, Cultural Affairs Sunday Morning Show
compiled by BillyJam
01) Too $hort "Mack Attack" "You Know What I Mean" (JIVE) Oakland 1988
02) Paris "Bush Killa" (Scarface Records) San Francisco 1992
03) Del Tha Funkee Homosapien "Made In America" (Elektra) Oakland 1993
04) Mac Dre "California Livin'" (Strictly Business Records) Vallejo 1992
05) E-40 "I practice Lookin' Hard" (Sick Wid It Records) Vallejo
06) Capital Tax "I Can't Believe It" (MCA Records) Oakland 1993
07) What The Hell "Young Girls" (Tandem Records) EPA/Canada 1993
08) E-40 "Get Em Up" (Siick Wid It Records) Vallejo1992
09) M.C. Pooh "Life Of A Criminal" (In-A-Minute Records) Oakland 1990
10) Andre Nickatina "3 A.M." (Dog Day Records) San Francisco 1997
11) Strong Soul "Ya Feel Me" (Strongsoul) Oakland 1994
12) R.B.L. Posse "Sorta Likea Psycho" (In-A-Minute Records) San Francisco 1993
13) C-Funk "What You Sayin' (Raggamuffunkin)" (Tandem) E. Palo Alto 1992
14) Motion Man "'93 Swing" (Stepsun) Hayward 1993
15) A.P.G. Crew "Action Packed Gangstas" (Metro Records) Oakland 1989
16) Charizma/Peanut Butter Wolf "That's Word" (S. Throw/S. Paw) Milpitas 1996
17) Delinquents "Smooth Getaway" (Priority Records) Oakland 1997
18) Casual "That's How It Is" (Jive) Oakland 1993
19) 10 Bass T "10 Bass Hit" (San Jose Sound Recording Co.) San Jose 1996
20) A.T.C. "This Beat Is Def" (Scarface Records) San Francisco 1987
21) Rappin Ron & Ant Diddley Dog "All Rapped UP" (Cell Block) Oakland 1994
22) Askari X "Ward Of The State" (Righteous Records) Oakland 1992
23) Chunk "Dying Black Race" (Tandem Records) East Palo Alto 1992
24) C-Bo "Groovin' On A Sunday" (AWOL Records) SAC 1995
25) B.L.A.C.K. "It comes with The Color" (J.Crow) Oakland 1994
26) The B.U.M.S "6 Figures And Up" (Priority Records) Oakland 1994
27) Conscious Daughters "Something To Ride To" (Scarface) Oakland 1993
28) N2Deep "Back To The Hotel" (Profile) Vallejo 1992
29) Dangerous Dame "I Call Your Name" (T Cap Records) Oakland 1989
30) Bigg Ocean Mobb IV 1 5 "Ghetto Radio" (King J Records) Vallejo 1990
---
THE BASTARD LANGUAGE TOUR
by DJ Fuse One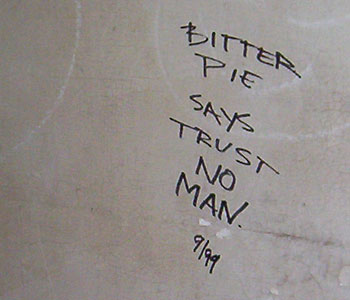 Octopus Lounge, Pacifica, CA "Bastard Language Tour" April 26th, 2003 Pacifica is like a coastal timewarp. A town where about 60% of it's inhabitants are over the age of 30. It's largest employers in the town are it's local school districts, The City of Pacifica itself, and....Safeway Food Stores. Occasionally you'll see a couple of old men drive by in a pick-up truck with their fishing poles, ready to stare off into the abyss of the ocean, in the hopes of bringing back the next evenings grub. Yet, Pacifica lay only about 15 minutes away from the heart of San Francisco. I don't know if anybody has actually been to the Octopus Lounge before. A cramped hole-in-the-wall place next to a tiny asian restaurant, it looked more accustomed for your local punk bands, and cult fetish acts. It was the first time I've ever been there. In fact, it's the first time I've even been to Pacifica since the mid '90s, when the local DJ equipment store Manor Music used to have it's infamous DJ battles there. Basically, there's absolutely no reason for anyone to ever go to Pacifica. Unless you live there, want to fish, or get away from the city for a long stroll along the gutter stenched beaches. Yet, as surreal as the setting was, it was almost as appropriate as can be. As much as "Turntablism" has been exploited by the commerically minded in recent years, the night was almost symbolic of the true vangaurds of the artform snatching it back as their own, and returning it to the underground. With a five turntable, five mixer line-up consisting of: D-Styles, Ricci Rucker, Mike Boogie, Excess, and Toadstyle...and opening sets by Fat Jack and Daddy Kev...this was indeed, appropriate. If you didn't have an inkling of an idea of what you were coming to see this night, or if the only scratching you've ever heard was from Linkin Park, Limp Bizkit, the vaginal yeast commerical, or whatever...then you did not belong here. You weren't going to see your 5 minute DMC highlight reel, or your "everybody scratch over a beat for an hour" set. You weren't going
to see Djs doing body tricks with their nutsacks, or crowd pleasing antics to mask the fact that there's no substance. What you did see, hear, and feel...was pure MUSIC...created from turntables. With 5 DJs simulateously performing as instruments in a band, you would think that one might dominate over another. This did not happen, instead, they seemlessly blended atmospheric acoustics with bump laden drums and polyrhythmic scratches. Sonically, it was one of the most pleasant sensations to ever reach my ear, yet headnotic to the point of neck snapage. It was almost mindnumbing to follow, not because of intricate flurries
within the precise arrangements, but the minimalistic usage of sporadic technicality. As abruptly as a sample intervened between another layer, and your mind absorbed what had just taken place, they were already somewhere else. Yet, the subtlety of the executions, may have left the average listener unaware of the perplexity that was taking place amidst the synchronous madness developed from those 5 spinning little platters.
LISTEN...LISten...listen...
Yeah, everybody that was in attendance heard exactly what I heard, and the majority were likewise equally as astonished. Yet, I still ask myself if those same people complied to what was tantamount of a plea emanating from Mike Boogie's instrument. LISTEN...LISten...listen. Were you all listening, or just merely hearing it? French Dramatist Jean Cocteau once said, "The worst tragedy for a poet is to be admired through being misunderstood". Ambiant does not equal Boring, and Minimalism does not equal Simple. Understand? Of course not, because the most animated acceptance in the form of cheers came when one of the performers executed a solo, enabling the audience to consume the dosages in smaller portions. What do you think is easier, drawing a straight line, or drawing five straight lines all at once? NOOoow LISSSTENNN!!!Well, despite my obvious disapproval in the ineptness of the commonplace fan that is surely to scuttle off to his/her little dwelling they call a lab to, no doubt, light up the message boards to contrive an impression of legitamacy among their peers in the world we call Scratch...I do have to say that it was pleasant to see those that were present giving them a welcome reception. I also do have to admit, about half way through
the performance I spaced out into no man's land for a good 20 minutes...weather it was the over indulgence in the rotgut, or homie dude lighting a spliff next to me, remains to be seen....but know this: There were only two times I ever spaced out at a show, not knowing what happened in that given amount of time. One, was when DJ Shadow played at the Fillmore. Two, when DJ Krush was at the Justice League. You do the math. You make the comparisons. Lovely How I Let My Mind Float. Some of us may never understand them. Many of us will never achieve their level of superiority. Jimi. Bruce. Pele. D-Styles. Ned Hoddings.
It's more than just technic that sets them apart. It's insight. It's knowledge. It's the perceptivity of one's craft down to the most bare essence of it...the intricacies that the mere mortal eye is blind to. Pure is to be free from discordant qualities. Untainted from impurities introduced by trend. Free from simplification for the purpose of decipherment. Pure is, in short, what the Bastard Language Tour was all about. Whether you're a DJ, a jazz aficionado, an uptight avant-garde wanker, or just a regular music enthusiast....the next time D-Styles and Company plays at a small city near yours....grab a map....make the trek....and most important of all....Listen.
DJ Fuse One
((:plug: Look out for the new CD by DJ Fuse One entitled "irREGULAR i" featuring D-Styles, RicciRucker, and Mike Boogie due for release in the Fall of 2003!!!))
---
Bay Area Hip Hop Archive Flyers
These three Bay Area Archive Flyers are from the mid-nineties, two are from Hip Hop Slam and one is from BOMB Hip Hop. One of the Hip Hop Slam flyers advertised the free to the community BAY AREA RAPLINE that ran for several years in the latter 1990s. Meanwhile the BOMB Party #5 flyer was for the the cool lineup at the DNA Lounge in San Francisco in September 1995. It was a benefit fot the BOMB magazine. This was before BOMB became known as a label and still recognized more for its respected magazine. This show was just two months after the release of the (later legendary) "Return of the DJ" volume one compilation. At the same venue six months later, in March 1996, was the Hip Hop Slam show that also featured DJs QBert and Shortkut - along with Disk as the West Coast Rock Steady DJs. Also onstage was DJ Shadow with Lateef, The Coup, Concious Daughters, BLACK, and Askari X.
---
STYLE WARS INTERVIEW: TONY SILVER & HENRY CHALFANT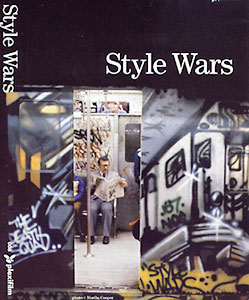 Style Wars producers Henry Chalfant and Tony Silver were interviewed by Billy Jam for this long but really interesting interview which can be found in full in the Articles section. Here is an excerpt from the interview, which originally broadcast on KALX Berkeley, in which Tony Silver talks about the legendary 1983 graffiti/hip hop documentary being re-released as a double DVD set. "Well the beginning of the (DVD) project was a two prong effort. One was we were at the rock and roll hall of fame in the year 2000 and we've been thinking how to do a DVD and was talking to distributors who didn't quite get it and we had them bring out Skeme and his mother, who you must remember from the film, to do a Q & A with us at the screening at the Rock and Roll Museum and we were able to hang with him for a couple of days and just shoot some footage and it was extraordinary to see how much alike they were in both their affection for one another in regard for one another and in Barbara Andalcio (Skeme's mother) absolutely unreconstructed condemnation of what he was doing. It was remarkable, they were exactly the same except more and more matured. They were wonderful and so we shot this footage and didn't do anything with it and then I went to New York........
---
DJ Platurn's Top 10 Reasons why it's great to be "The World's SECOND Tallest DJ"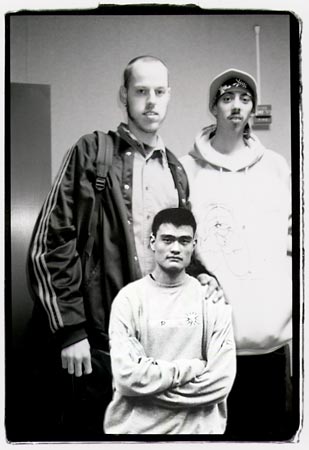 1. The pressure is finally off...thanks DNZ!
2. Digging in places other deejays deem impossible...no, not in my ass...like taller shelves and shit like that.
3. No matter how much I fall off all you short muhpluckies (pretty much the rest of the DJ scene in the world) are always gonna look up to me: HA!!
4. Exclusive membership to T.H.A.T. crew and all of it's wonderful benefits-peace to DJ Hues, founder of the Tall Honkies And Turntables bay area deejay coalition.
5. Bustin' body tricks without raising my legs.
6. I can kick your ass if you try and take my shit (unless you've got a piece but that's a whole other story).
7. Reaching around to the other side of the mixer to fix the grounds attachment without having to go all the way around the tables.
8. Stealing refills at the bar without the bartender noticing.
9. Girls the girls they love me...cuz i'm the second tallest clown gettin' down (and boy do they believe those rumors)...hahaha, just kidding world...oh, and I love you mucho Megan!
10. The taller the baller the flyer the stylee - believe that!!!
Check out the new weekly every monday at Butterfly (Mission and Duboce in S.F.) - fly place with a posh atmosphere, good food and slammin' drinks. Come and eat dinner (7-9:59) - the party starts at 10 - be there or be DJ Rectangle (get it?) - DJ Platurn ill44magson@hotmail.com
---
HIP HOP SLAM SHOP
HipHopSlamDotCom SHOP lately has been getting a lot of hits for the Ultimate Scratch CD, DJ Quest's Mutation Mann, DJ Prank's Greatest Celebrity Phone Calls (feat. Aaaarnold) as well as the "Return of the DJ" series and also the "Scratch Attack" series.
For example "hobby DJ" Al in Detroit just ordered the "Scratch Attack" Volumes 1, 2, and 3 CD series. He also Emailed us his DJ history: "I bought my first set of turntables when I was 13 in 1983 and used to have a blast trying to be Mix Master Ice and JMJ. Also, being from Detroit we had the Electrifying Mojo and The Wizard (Jeff MIlls) cuttin' it up every night (on the radio). Around '91 I got out of it (mistake) and just a month ago bought a whole new set and mixer. It's a hobby, but man it's fun. I stumbled across your site a while ago and finally got around to purchasing some stuff and plan on purchasing a lot more. It's hard to find skratch albums in the mainstream. Keep up the great work......Gracias, Al (no dj name, but friends joke and say I should be DJ Jalapeño or some other mexican name) :)" — AL19Peace@aol.com
The Shiggar Fraggar Show! Vol. 3 CD, which is in limited supply, is now available at the HIPHOPSLAM.COM SHOP. Featuring DJs Qbert, Disk, 8-Ball, UB, the Toadman, Billy Jam, and Shiggar Fraggar this remastered limited edition CD release captures all the zany highlights from that infamous orchestrated turntablist session recorded live in Oakland, CA @ Hip Hop Slam back on August 17th, 1995 as part of the Pirate Fuckin' Radio Top 100 series and the Invisibl Skratch Piklz' mixtape (cassette only) series.
---
Irish ITF 2003
by Tall Paul Lowe
This DJ battle on July 25th, 2003 was the first ever ITF in Ireland so history was created that memorable night at the Village on Wexford Street in Dublin. The Judges for the night were: DJ Krime from Poland, DJ Hype from Germany, and DJ Richie Ruftone from Scotland.
The Quarterfinals from the earlier heats were as follows:
DJ Mayhem Vs DJ Deviant
DJ Tu-Ki Vs DJ Gem
DJ Savage Vs Calvin James
DJ Mos Chops Vs DJ Flip
So it was number 1 Mayhem Vs DJ Deviant
The layout of the competition is totally different to that of the DMC's. The fact that the two DJ's are facing one another in a face off makes a huge difference. There are 5 categories on which the DJ's get marked on and these are: 1) Musicality 2) Originality 3) Skills 4) Patterns & 5) Accuracy
This competition is also divided into two sets. Each set is 90 seconds long. So the competition kicks off with Mayhem and DJ Deviant. Mayhem gets busy on the turntables and demonstrates as to why he is one of Ireland's finest at the end of his first set. He sticks up his middle finger in defiance at Deviant. So Deviant takes off playing some nice tunes Deviant is one of the DJ's that was at the DMC's last year and he appears to have become more confident in his ability. Deviant also uses a drum bass loop and at the end of his set replies to Mayhem with "Guess who the faggot DJ is?"
Mayhem replies in his second set by using a nice execution of "never gonna get it" by En Vogue and ends his set with What you standing there for, looking so stupid. The MC for the night is Wuzo, Wuzo is usually associated with Drum n Bass and House. But this guy can free style and is a match for any of our MC's out there. As they face to watch amongst the crowd.
Tu-Ki Vs Gem
Now this was an interesting one. It was the student meets the Master. Background on DJ Gem he is a 14 year old so A-Trak watch out we could have our own champ on the way. And if he continues to practice the way he is at the moment he will be unstoppable in the next year or two. The crowd really appreciated his skills and gave him great encouragement to get down. Gem also used a track and you could see some of the guys starting to pop in the crowd, as the track that he was playing was Hashim Al-Naayfish. (Oh I remember this tune from the Streetsounds label Electro 7). He demonstrated his skills and won the crowd. What more can be said for the current DMC champ except for that he was using this set as a warm up. In his set he was demonstrating breaks with fresh and wack and displaying some of his skills not them all. As I said he was only warming up. He ended his set with I am sorry but your burned.
Gem did reply in his next set askin the crowd Scratchin what is it? The World Famous Supreme Team. He then demonstrated to the crowd as to why he advanced to the Quarterfinals by giving a demo of his skills as they are at the moment.
Tu-Ki second warm up set was pretty outstanding as well, with samples such "No One Can Stop Me", "You Don't Stop" and "Dumb Motherfu*ckers". I thought this last part was a bit harsh to play against the kid. But hey this is the art of battling.
At the end of his sets Tu-Ki applauded DJ Gem and so did the crowd.
DJ Savage Vs Calvin James (Body Tonic DJ's)
These two guys I have to admit I am not familiar with. Calvin James started off I think that he was very nervous, as he appeared to be very stiff and a bit robotic. As a result I don't he quite his first set the way he wanted it to go even though his crew was in the house as they were encouraging him and Savage. Calvin James also had no dis records I think this is something that you need for this type of competition, as everyone is out to prove who is the best. His second set he was a lot more relaxed and this was evident by the way he was scratching and mixing this set suited him better as it was more skill related.
DJ Savage lived up to his name. This kid is quite good and I think has been around for a while it was my first time to see him. And he did impress. Savage started of his set "Ready for More" break and "Do you Wanna Battle". His skills are really quite impressive as was his display. This guy plays to the crowd as well and is a real showman in his second set he was sampling Eddie Murphy "Hey Faggot" and he mixed this in with Big Fun. He then cut these two up and just went crazy on the decks. At times he would stop the records and look into the crowd pull some faces and start up again. On the "Hey Faggot" sample he actually had the record singing. The scratchin was that good.
Final round of the Quarter Finals.
DJ Mos Chops Vs DJ Flip
I was surprised to see DJ Flip in this. And when I seen his set even though it was a little bit experimental it appeared to be a little bit mixed up. From listening to it I didn't think that things were working out for him. And he also appeared not to be very relaxed and also a bit robotic. His skill level is really impressive, DJ Laz-E was not joking when he said give Flip a set of turntables and watch him get busy on the 1s and 2s. His scratching is really good and his use of the mixer is also very impressive. His second set was by far the better of the two and I think this is what won it for him. As he is not afraid to take risks. In his second set one of the samples that he dropped was "Terrible isn't it" and "Breathe in, Breathe Out". The mixes were coming quick and fast the speed was slowed down and then sped up. He ended his set with a bit of Drum n Bass.
I first seen Mos Chops last year at DMC's he also goes by the name of DJ Harry in the Drum n Bass scene. In his first set he dropped the sample "Don't fu*k with me, I kill anyone who goes against me". His skills have greatly improved on last year and he appears to be a lot more relaxed. Although his set was really good he played it very safe, as he didn't appear to be experimental as Flip. In his second set some of the samples that he dropped were "Battle me Ain't workin", "Its likes this n that". He did stop the record and then start again. For the end of his set he also dropped Drum n Bass.
The Semi-Finals.
1) DJ Mayhem Vs DJ Flip
2) DJ Tu-Ki Vs DJ Savage & DJ Mayhem Vs DJ Flip
Now in all honesty as I was writing this report I really thought that Flip had no chance against Mayhem oh boy was I proven wrong and I was glad is well. This was a battle that I thoroughly enjoyed and I was glad that I was an observer and not a judge.
DJ Flip came out firing on all cylinders starting of his set with "Bitches They Come n Go" also dropping "Just Don't Stop" and "Guess Who the Fag is?" and pointed to Mayhem. This set was a lot tighter and Flip was really enjoying himself as he gave a demo of his skills.
In his second set he dropped some Scratch Perverts Drum n Bass. During the set it was like if he was tapping the top of the needle arm with a coin as he got some strange sound from it. He ended his set with "Thank You n Fuck You " pointing to Mayhem. Mayhem when he is challenged he responds and he responds well. He gave a demo as to why he is one of the best. He dropped some funky scratchin and cut and cut out real quick his beat juggling was really good.
In his second set Mayhem dropped some Biggie and the crowd really loved this. He then started to rip and cut it. He gave a more in-depth knowledge of his skills on the turntables. He slowed the record down and then sped it back and finished of his by bringing it back to normal speed. Apologies for not naming all the tunes that he was spinning as I was watching the crowd reaction and Mayhem on the decks.
DJ Tu-Ki Vs DJ Savage
This was also another battle that I was glad that I was an observer rather than a judge. DJ Savage started of the proceedings with one hand scratchin on two turntables and also giving the Tu-Ki the middle finger. Savage played to the crowd and was also very calm and relaxed. In his second set Savage starts of with a dis to Tu-Ki by donning the cap that Tu-Ki wore last year at DMC's. After scratching for a few minutes he then throws the hat across to Tu-Ki. He then got busy on the ones and twos.
When Tu-Ki started of his second set he was starting to move up a gear and this was very evident by the way that he was scratching and the way he made the records sing. His scratching cuttin had moved up a level. His beat juggling had also moved up a level. As Tu-Ki was challenged he answered really well. He ended his set with a blazing rendition of Mantronix "Who Is It?"
In his second set Tu-ki had a straw hat as a prop and put this on. He then took it to another level. The tunes that he was playing were experimental and I had never heard like them before. It was like Tu-Ki decided what set he was going to play and how he was going to do this. The skills that Tu-Ki demonstrated as he slowed the scratch down to a fade out and brought the tempo back up again.
Battle for 3rd
DJ Flip Vs DJ Savage was a real battle of sorts. I think the guys realizing that they were not in the final were not too interested.
Well that is what Cool C said anyway. To me it didn't come across like this. The guys from where I was standing were giving it their all. DJ Flip was definitely on form and definitely going for it. He started of his set with L.L. Cool J.'s "Mama Said Knock You Out". And just ripped and tore up the set from there. I was bouncing around that much that I was not paying that much to the tunes that were been played but just enjoying the mixing and scratching. When DJ Savage stepped to the plate he did something that I was not expecting. It took a lot of balls to do what he done and play. He gave us a scratch rendition of Justin Timberlake. I was amazed and really impressed with this. As I can't stand Justin Timberlake and anytime he comes on I switch him off. But this was truly amazing Justin has never sounded so good.
Before we got to the final
DJ Krime and DJ Hype played for the crowd and gave us a demonstration of their skills. And boy is this impressive.
They showed the crowd why they are the champions of their respected countries.
Watching was like they were at home just warming up and playing with the decks. They didn't really use a backing track just let the record sing.
The Final was the final that everyone wanted and everyone got
DJ Tu-Ki Vs. DJ Mayhem
This was a battle. And Tu-Ki was the first to start of as he came second in the eliminations. Out of the whole night Tu-Ki came with the most original set. Anything that Mayhem came up with Tu-Ki was there to take it from him. I don't know where Tu-Ki got the beats from but they were amazing and his skills were taken to another level yet again.
The final was fairly balanced but I think for originality, music ability, pure skill. They gave it to the right person. So on the night the final went to Tu-Ki he has now created DJ History in this country, as he has become the first person to wear both belts so to speak. He is now the current ITF and current DMC champ. And he well deserves the title. It will be interesting to see if he defends his title at the DMC's in August on the 29th at the Red box.
Contact Tall Paul Lowe in Dulbin @ lowep@zomax.ie