• Hip Hop Slam News
• Bay Area DJ Profile #007: DJ Shadow
• Letters From My "Stalker" by DJ T-Rock
• Tim'm: Poem and Update
• How to DJ Right Book Overview
• Hip Hop Slam Bay Area Archive Pic of the Week: The Coup, 1993
• DJ Platurn's Top Ten Reasons Why Scratching is Greatest Thing in the World
• Random Record (and DVD) Reviews by DnZ
• Hip Hop Slam Dot Com Shop
---
HIP HOP SLAM NEWS
On September 11th, 2003 the Hip Hop Slam produced DJs of Mass Destruction joined a politically charged concert lineup including Zion I, DJ Zeph, Azeem, and Soul at the Great American Music Hall in San Francisco. The ever-evolving DJs of Mass Destruction lineup included Cat Five, DJ Pone, DJ Quest, Shing02, DJ Icewater, DJ A-1, and MC Dubya all of whom will be featured on the anticipated forthcoming (Nov. 5) compilation WAR (If It Feels Good, Do It!) along with many other artists. (Look for pictures from show on next NEWS update)
A week earlier, Sept. 4 at Studio Z, Timi D... reports that there was another good show when: "DJ Disk opened with his new progressive quartet, lay'n down deep dub saturated scratches ...inna phonopsychographdisk style....Also onstage was Live Human...with DJ Quest cuttin up his new break record.....Two drum beat driven jams (feat. master percussionist Albert Mathias) were reminiscent of the artist's recent solo releases.....Highlights of the nite included a dope interpretation of Eric B & Rakim's "Don't Sweat the Technique" which was plucked and bowed out by bassist Andrew Kushin......Also onstage on mic for a couple of songs was Space Traveler Eddie K" (timi_dphoto@yahoo.com)
RAP O' THA WEEK: "IT'S HARDCORE LUST!" by Pam R***ds (DJ T-Rock's "Stalker")
On the road making da phat money/He's my one and only DJ T-Rock Honey
Gonna come and see him in the sunny state/Soon too he will realize I am his soulmate
One of a kind, a hotty on the stage/A super fly soul well beyond his age
Gotta see him soon or I think that I will bust/It's not just infatuation, it's hardcore lust!
Read the full T-Rock/Stalker story by scrolling down a bit.
DJs Craze + Klever's Scratch Nerds is a new scratch practice CD of the two DJs cutting shit up over their own productions. Meawhile on the new Allies Beatdown 2 DVD, competitors include Perseus, J-Tec, Precision, Abstru, Boogie Blind, Imperial, Solution, Enferno, Golden Chyld, M-Rok, Jr. Flow and Spryte - reports Joefu.
Jamie Kennedy's Mailibu's Most Wanted (just released on VHS/DVD) is well worth renting for a funny yet intelligently presented teen comedy; one that rises above the expected 'rap movie' stereotypes and cheap laughs. Especially well done is the movie's tracing the rap influences of young B. Rad (aka Bradley the rap lovin' overprivelaged son of Cali Governor to be).
College Radio Catch-phrases of the week: "Shared seven inch" or "Shared CD" NEW DJ CULTURE WORD OF THE WEEK; Journaltablist: A journalist who reports primarily on turntablists: from party rockin hip hop DJs to skratch and battle Djs to cut'n'paste Dj/producers. Examples include folks at Tablist magazine and UK journaltablist DJ Yoda.
---
How To DJ Right (the art and science of playing records)
by Frank Broughton and Bill Brewster
Grove Press — www.groveatlantic.com
overview by DnZ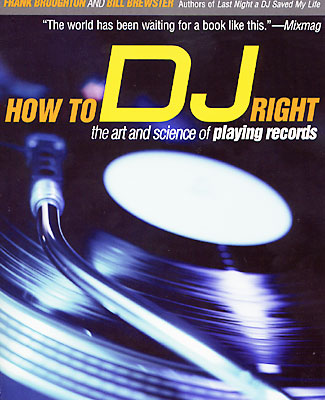 "This is a dope ass book...and I can't even read!!!.... Just kiddin. But this book covers damn-near everything from setting up your DJ decks and mixer (inc. CD as well as vinyl players) to how to run FX to your set's. It's a clear, accessible, and entertaining well-written and presented book put together by the same 2 mo' fo's that wrote "Last Night A DJ Saved My Life"- Frank Broughton and Bill Brewster. It includes such helpful DJ guidelines as diagrams to help your brain process a different song coming in each ear and how to understand beat timing without even understanding music theory. With an invaluable list of good web-sites to go to (but where's tha link to www.hiphopslam.com beyoooooch? huh!) from good MP3 sources towhere to buy stuff and lots more shizit. Recently published in paperbackat a reasonable retail price of $15.00 it is a must-have for any DJ: just starting or an OG in tha turntable game.....We will be doing an indepth interview with the authors of this book in the coming weeks so stay tuned to a future website NEWS for lots more on this invaluable book. OnE !!!" DnZ
---
HIP HOP SLAM BAY AREA ARCHIVE PICTURE
This picture of DJ Pam the Funkstress, Boots Riley, and E-Roc was taken exactly ten years ago in September 1993 outside Hip Hop Slam's weekly live TV show (on Soulbeat in East Oakland) where Pam was one of the Hip Hop Slam house DJs and Boots and E-Roc were regular visitors to the Saturday afternoon (2PM-6PM) hip hop TV show.

---
BAY AREA DJ PROFILE #007: DJ Shadow
Trademark saying or philosophy? "The catchphrase that seems to stick is from the Biggie/Method Man song..."Fuck the world, don't ask me for shit" ...and to a lesser degree, "Everything you get you got to work hard for it."
When you DJ out what music do you spin? "Throughout my whole career, whenever I spin, what I'm trying to articulate is the vastness of hiphop. If I think I'm going to be encountering people that think I'm going to be playing nothing but classic hiphop then I'll throw in some... Lil Jon and stuff like that....."
How do you transport your records to gigs? "I drive."
The first record you ever bought? "Street Beats Vol. 2 which was a Sugar Hill Records double album compiling all the 12 inches that had come out on the label recently in '83. That was the first time I went to the store and put down my saved up allowance money and actually went halves with a buddy of mine. The reason we got it was because it was such a good value. It was $7.99 for 2 records as opposed to $6.99 for 1 record. Devo was the first time I ever chose music on my own."
Most influential record(s) in your life? "I would have to say "The Message" by Grandmaster Flash and the Furious 5 because that was the first hip hop song I heard. And then also in the top 10 would be (BAM's) "Planet Rock" because that's the second hip hop song I ever heard. Both were on KFRC"
What exactly made you want to be a DJ? "I don't know if I could ever say it was one thing in particular. It would be a combination of seeing the World Famous Supreme Team video for "Hey DJ" and seeing little snatches of them scratching and stuff"
When was the very first time you scratched? "The first time I started scratching was really at the end of '84. In the early eighties, the big rage was to get these component systems. It was a turntable/dual cassette deck/radio all in one for $99.00. So I got one of those and that's when I started scratching. I remember trying to scratch like Dr. Dre on "Surgery" and it was impossible!"
When did you first DJ for others? "The first time I played in public was in '87. It was Black Family Day on the campus at UC Davis.
And when did you start as a DJ on KDVS FM, the UC Davis station? "Probably in '87. I used to make little pause tapes at home. I could scratch over the top. If I held the little selector knob on the unit in between phono and tape, I could record from a tape onto another tape and do overdubs at the same time. So that's how I was able to do these mixes and then in '89 I got a 4-track. But by then I was doing stuff for KMEL."
You are a reknowed crate-digger. But do you have time to listen to all those records? "Right now I've got this one storage unit that's dedicated to stuff I haven't gone through yet. I kind of got that from the store...where I shot the album cover for Entroducing."
How important is it to crate-dig? "For me it's become a cultural thing. Some of my best memories that I have of my lifetime are on roadtrips looking for records. I've been doing it now really since '87 as far as looking for old stuff..... A lot of times people are like well you don't need to do this anymore. You can download samples online, but...... it's a cultural part of being a DJ.....It's ingrained in me. If I were to stop making music, I'd still dig. The people that you meet and the places that it takes you and the adventures that you have along the way......."
In your opinion who is the best DJ or best two DJs of all time? "I would say (Grandmaster) Flash and QBert.....I think Flash for all the reasons you could think of and QBert for all the reasons you could think of."
What is the best thing about success? "Some sort of validity that what you're doing means something to somebody. Just the feeling that no matter what anybody can do, no matter what these fucked up labels try and do. No matter what these different snakes in the industry try and do to fuck you up. Nobody can take away what I've done. I've never gone gold. I've never done this. I've never done that. There's so many things I still want to do. But if it were all to end today, nobody could take away whatever contribution I did make. That's a great feeling! At the end of the day I was able to get through to some people.
And what's your main goal for the future? "To continue to try hader and harder to streamline the avenue between what I hear in my mind and what I'm able to actually release to the public."
For more information on DJ Shadow, including his vast discogrpahy, visit his official website: www.djshadow.com
NOTE: This Q&A with DJ Shadow is an excerpt from a much, much longer interview conducted by Billy Jam as part of the research for the forthcoming DJ QBert biography book/DVD.
---
Letters From My "Stalker"
by DJ T-Rock
Okay party people...I didn't make this shit up.....These are actual letters to me via my website from my "stalker" Pam R****ds who came into my life recently and over a period of about seven or eight weeks sent me the following Emails (which were not responded to)....
EMail 1: T-Rock- I am interested in hiring you for a gig...my parents are bugging me about starting a family and I would very much like you to impregnate me by Christmas. I would like to start trying right away so let me know if you could give up some swimmers?
EMail 2: You are so adorable! I'm going to try and see you anywhere I can afford to travel to! Instead of being a "Dead Head" I'm going to start my own group called "Rock Head!" But I'm going to come by myself so I don't have to share you with any other fans!
EMail 3: Hey T-Rock, I've been avoiding this, but will you PLEASE call me? I was hesitant to ask you after all this time, but I don't care anymore. My number is @#1-&*@!. I look forward to hearing from you! I'll be waiting. Thank You!!!
EMail 4: CALL ME!
EMail 5: Hey T-Rock, I was wondering why you haven't mailed me back yet? I was wondering if you want to hook up next month? My friend found out you are in California and I was thinking about going back to San Diego to stay with my dad's friend and want to know if you live anywhere close to there? I can rent a car and come see you...I will take you anywhere you want to go-Please let me know so I can book a flight-Big Hugs, Pam. P.S. Here's a song I wrote for you...
On the road making da phat money
He's my one and only DJ T-Rock Honey
Gonna come and see him in the sunny state
Soon too he will realize I am his soulmate
One of a kind, a hotty on the stage
A super fly soul well beyond his age
Gotta see him soon or I think that I will bust
It's not just infatuation, it's hardcore lust!
EMail 6: HELLO!!!! What the F? Are you ever going to get back to me? If you want me to come see you I need to book the flight this month. Please mail me back this week, I'm feeling really bummedout and I really want to talk to you-P.
EMail 7: Listen dude!!! What is the deal? You are acting like a spoiled child! This treatment of your number one fan is not so classy! All I wanted was to come and see you and take you anywhere you wanted to go and treat you like a king....How can you be ignoring me? Everyday I check my mail for your response and quite frankly I'm never ever, ever, ever, ever, ever, ever, ever, ever, giving up on you. My feelings for you run deeper than the bottomist of the largest ocean! I know I can make you happy and you should atleast give me a chance to try! Please don't be such a butt head and let a really special girl get upset.
EMail 8: P.S. I am really falling hard for you, don't let me down. Pam DJ T-ROCK R***ds.
T-ROCK: OH MY GOD!! "Pam DJ T-ROCK R***ds"...This is some scary shit but I hope to God that it is just a fake, just someone playing a trick on me! But yo, I did some investigating...and called the number she gave me and sure enough it was a residence in her family's name. Thank God I only got the answering machine. Then, I called information and the number was a South Carolina number....I don't know NOBODY in South Carolina. Plus this chick had written to me before saying her dad was a pilot and she could fly anywhere to see me play! I should write her ass and tell her I'm playing in the South Pole!! I'm out but look for more psycho stalker Email here...that is.....if I'm still around....Peace out, T-Rock (djt_rock@hotmail.com)
---
DJ Platurn's Top Ten Reasons Why Skratching Is The Greatest Thing On Earth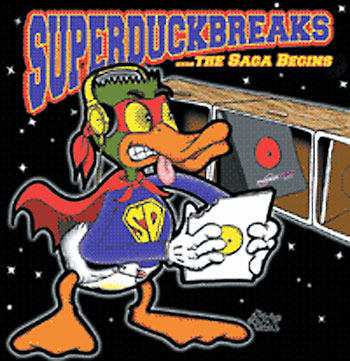 1. Because that record Cut Chemist sampled says so.
2. It relieves the itch.
3. It relieves DA BIOTCH!!!
4. You can make any piece of shit record (its contents, its condition or both) that no one could give two shits about sound good if you're funky fresh enough. One man's trash is another deejay's treasure.
5. You can talk to aliens n' shit.
6. 50 million bedroom lurking skratch nerds all across the planet can't be wrong.
7. Cuz mixing is for suckers.
8. DJ Aladdin, Joe Quixx, Jam Master Jay, DJ Teeko, DJ Skratch, DJ Pone, Jazzy Jeff, E Da Boss, Cash Money, Devro, Q-Bert, DJ Weej, Babu, DJ Spair, etc., etc., etc., etc., etc..................to many to mention...
9. Super Duck, Toasted Marshmallow, The Lump Lump, Impeach the President, Awww & Fresh, Sex Ed records, saucy basslines, James Brown, World Famous Supreme Team, break it down like this, so why is it gotta be so damn TOUGH!, Awww Yeah!, Ohhh yeeeah!, Woo hah!, etc., etc., etc., etc., etc....................
10. It just feels right.
Catch DJ Platurn every Sunday night at the Oasis in Oakland, CA (135 12th Street) with the Smarbeat Sound System playing all the b-boy shit you can stuff in your pants - AIGHT! Email: oaklandfaders@hotmail.com
---
From Dirt Road to Oakland: Tim'm T. West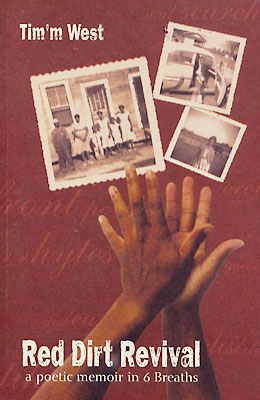 Tim'm, who along with his group Deep Dickollective performed recently at The Third Annual World HomoHop Festival in Oakland, CA, spent the better part of the summer on a fifteen-plus US city book tour....one that took him to such spots as his native Little Rock, and also Memphis, Jackson (MS), Raleigh/Durham, Dallas. He's made quite an impression in NYC doing Hip Hop and Spoken Word shows at a range of venues from Halcyon in Brooklyn to Lincoln Center for the Performing Arts. Hoping to balance the hype produced by the book ( "Red Dirt Revival (a poetic memoir in 6 breaths)" (A Poz' Trophy Book) with simultaneous Hip Hop production, he is working with his comrades in Deep Dickollective to finish D/DC's follow up to their BourgieBohoPostPomoAfroHomo debut, entitled The Famous Outlaw League of Proto Negroes. He also hopes to release his solo album, Songs from Red Dirt, which includes a range of works spanning the Hip Hop/House/Soul influences on his work over the years. Tim'm is also launching his own publishing company, Poz'Trophy Publishing, and is working with an array of national talent on various projects. Tim'm, however, is a very committed teacher at Oakland School for the Arts, where he continues to steer English and Literary Studies departments. More of his work can be found at: www.reddirt.biz Other links for Tim'm or his group or related topics include: sugartruck.tripod.com -- gayhiphop.com--and- deepdickollective.com
"OAKLAND" (from the book Red Dirt Revival)
I need my blackness close to me.
Snug tight like grandma's quilt on a chilly mid-morning.
Black like the sediment when you smell it.
Black like the safety of quiet under eyelids
during some beautiful daydream.
Or like the graying blacklady dreadlock goddess
glance at you on BART
cuz whitefolk's kids are acting "typical"
and you are both grinding your teeth
underneath a polite smile, like;
"they so cute!"
when you know they bad asses
and kicking the back of your seat
and you tryin to sleep!
Real black like you or her gonna get if they don't quit.
Like the lack of it you sense
across the bridge in that city
with the black mayor
but fewer and fewer
black people.
Black like our mayor here ain't.
I need my blackness close to me.
Smug like the sunny smile I get from some
headwrapped sistah stridin' round the lake.
Black like the undercurl of my napps.
Like the rhythmic way we speak and gesture and laugh.
I need my blackness close to me.
Like mirrors reflecting my black back to me
or the depth of my baritone poem.
Like history ain't in public schools.
Black like the infinite universe
or like black art that has that scent and shine.
And like the ghetto girlz on the corner
That make your eyes roll back and tummy tight
cuz they look a mess and they babies
look worse
but they your peoples anyway
and this is Oakland
and the way you like it:
Smug . . . . . . Tight . . . . . .Black.
---
Random Record (and DVD) Reviews
by DnZ (your_mom_likes_it_like_dat@thebakof711.com)
This week I have two records and one DVD to tell you about:
Atmosphere on the Rhymesayers label has a dope new 12" single out called Cats Van Bags off of his album Seven's Travels, but that not the song I want to talk about. The only good song I liked was the bonus track of a unreleased track called Self Hate, Bad Dub. Now this is some funky-ass shit with da dopest rhymes i've heard in a while. Now if you like the real shit and not that damn bling bling type shit then go cop this record and you will be pleased. I give Atmosphere a 8 outta 10.
Next is what I think is going to be the funkyest record of the year. DJ Zeph's Floor Wax brings me back to the 80's when I was out in the school yard pop'n and lock'n and bust'n caps and what not. It's full of funky-ass energy with rhymes by Raashan Ahmad. On the B-side is the track Underscore with DJ Ill Media and that track is like a funky orcastra playing in your ear. I'll give Zeph a 9 outta 10 so I better see a free copy in the mail for me!!!
DVD: iLLRePuTePRoDuCTioNS' Control The Air Space (A Surf Film for Skaters) by Casey Kindred which we watched and enjoyed. Note we are not skate or surf experts but we know a good slap in the face when we see one as this DVD film features many of....... it's pretty good if you are into surfing or skating....It is mostly downhill skating, not X-Game type urban acrobatic skate-trickstaz. Meanwhile the surfing, which is accompanied by a diverse soundtrack that includes NoFx and Ozomatli, rates a 5 out of 10" For more info: www.illrepute.com
!!!OnE!!! you can reach DnZ if your'e 9 feet tall, or at tfsdjz@hotmail.com
---
HIP HOP SHOP
Over the next month look for world premieres in the HipHopSlam.Com Shop of new such new albums as BOMB Hip Hop's Return of the DJ Vol. 5, Alien Army's The End (a BOMB Hip Hop Slam co-release) and the antiBU$H hip hop compilation WAR (If It Feels Good, Do It!) — all of which will be sold via this website a month or so before they are available in stores..... hell jeyeah!