• Hip Hop Slam News
• Mixmaster Mike Amazes Audience
• Future Primitive Rules the Bay
• Bay Area DJ Profile #008: DJ Zeph
• Mars-One Art & News
• SHOP: Return of the DJ — Vol. V
---
HIP HOP SLAM NEWS
The RIAA raided Berry's Music in Indiana last week and busted the mom-and-pop store for selling DJ Mix-CDs, confiscating $10,000 worth of DJ CD mixes. Thanks to our man Steinski alerted us to this story which was reported by RapNewsDirect.com. This raid comes hot on the heels of the RIAA losing the lawsuit against the grandmother who downloaded free music online. (Editor's note: The sooner the greedy music industry and their facist enforcer (RIAA) - who have as little love for artists as their fans - wise up and face the music the better. Truth is that (A) CDs cost too much (B) how people acquire music has changed forever & (C) biting the hand that feeds you (music fans) won't solve anything.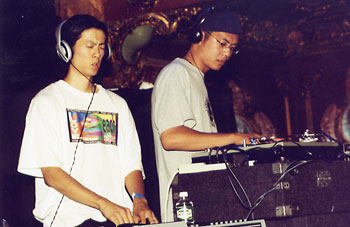 Pictured opposite are Shing02 and DJ Icewater from the DJs of Mass Destruction set at the Great American Music Hall in San Francisco on 9/11/2003. Go to Photo Gallery #06 to see more pics from this concert including DJ Quest, A-1, DJ Dubya, and Cat Five. Other new gallery pics include Peanut Butter Wolf and Foreign Legion from the recent Puma party in San Fran, Live Human in the Mission, Pone, dawgisht, and DnZ at KALX, and Irene at Hip Hop Slam BBQ.
Tall Paul Lowe in Dublin reports that in the recent Irish DMC Finals the winners were: 3rd place: DJ Flip, Second: DJ Mayhem, and First place: Tu-Ki and that in the DMC/Technics World DJ Championships the Top 3 DJs were: #1 DJ Dopey Canada, #2 Enferno USA, #3) DJ Quest UK. Battle for World Supremacy #1 Tigerstyle UK. and #2 M-Roc Canada. Team Championships # 1 Coup 2 Cross France, #2 La Guilde Belgium, and # 3 Funky Teknicianz Canada.
Advance/discounted copies of the new BOMB Hip Hop compilation Return of the DJ — Vol. V CD (only $8.98) are available at the SHOP (scroll down to end of this NEWS for info). And for all the latest on Italy's #1 DJ crew, Alien Army and their label Bad New Records, who will soon release The End in the USA on Bomb Hip Hop Slam go to their website www.alienarmy.net
Tony Silver emailed to say that he's "Just back from Edinburgh Intl film festival where Style Wars & Style Wars:ReVisited got great reception, similarly at the remarkable Backjumps - The Live Issue exhibition/event in Berlin. Style Wars has Scandinavia covered like a blanket festival-wise - Copenhagen in July and August, Oulu (Finland) in August, Stockholm and Bergen (Norway) in October. Add those to the Berlin and Edinburgh events and upcoming in Rotterdam in November and northern europe definitely fallilng into place. For more info on Style Wars read the interview with Tony Silver and Tony Chalfant at: Style Wars on DVD.
DJ Fuse-One continues to bring quality live music to San Jose with STANK: his weekly DJ-oriented nite Thursdays at the Agenda Lounge. On Sept. 18th the lineup included DJ Greyboy, Platurn, and Gunkhole (D-Styles, Ricci Rucker, Mike Boogie, Ace on drums). In the house were such individuals as Celskiii, Deeandroid, Joe Quixx, and Joefu whose favorite was "When they did John Wayne on Acid....but overall they wer just insane, especially with the live drummer.... For three turntable set ups and drummer they were so musical, so damn melodic.... I loved when they put some crazy reverb on the skratches.... all fuckin amazing!" www.stankmusic.com
Prop 54: If you are registered to vote in California and are opposed to "the new ethnic cleansing... inequalities in education, jobs, and housing... and.. racial profiling by police.... etc." as the legions in opposition to Prop 54 describe it, then vote NO, October 7th, 2003 and STOP Prop 54! (www.stop54.com)
A brand new San Francisco club night with promise is Fairplay (Weds @ 330 Ritch) whose statement of purpose is to "share and play the music we love without the trappings of modern clubs, namely promoters, hosts, VIPs, and high costs" ($3 cover, cheap drinks, and free food!) and to recapture the vibe of such oft-missed SF clubs as Mr. Fives and Soulvation with DJs Kirk and George spinning Oct. 1st, Matthew Africa and Joe Quixx on Oct. 8th, and Shante and Sake One on Oct. 15th.
New mix CDs we recently recently received include DJ Conshus & DJ Icewater's Waterproof International, Irish DJ who lives in NYC DJ Wool's new mix CD (www.itchyrevolutions.com), DJ Darkat's RPM Vol. 1, and DJ Bin Laden's Mix Tape #006.... Meanwhile new battle/break records include Mike Boogie's recommended Soul Canvas and 2Fresh's Mission Cartel Presents: The Soul Keeper (futuromusic@hotmail.com).
---
MIXMASTER MIKE AT FUTURE PRIMITIVE SOUND SESSION
by Billy Jam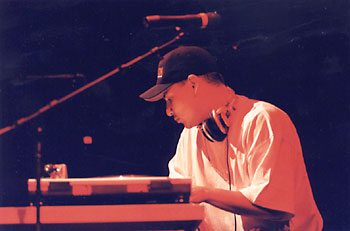 Mixmaster Mike tore shit up at the DNA in San Francisco at the Future Primitive Sound Session party, September 20th. The hometown hero (who currently resides in LA) amazed and delighted the packed crowd - some dancing/many more just staring in awe as the turntable master worked his magic: a non-stop assualt of speed-of-light segues'ncuts'n'swift-deck- transitions. Incorporating all types of music from party rocking beats n breaks (old & nu skool) to rock riffs etc. - even those bugged out beautiful turntable noises that aliens hear -Mike offered up just the perfect amount of cuttng and scratching to keep everyone happy: consistantly keeping the energy level high as he tweaked the pitch control well into the + side on nearly every record on his 1200's. Memorable moments included when he got the crowd going crazy by dropping in House of Pain's Jump Around. But before the delighted jumping crowd could sing along for too long (Feel it, funk it Amps it are junking And I got more rhymes than there's cops that are dunking...) Mike was already into the next record, the one that launched his career into the pop relm: the Beastie Boys' Intergalactic Planatery. But once again, before things stayed the same for too long he was already effortlessy into the next record: the Incredible Bongo Band's Apache. Goddam that DJ made my day! Fuckin amazing show! After the show (Mike's second that day as he had performed earlier at the big Cyber Fest at the Cow Palace) the former Invisibl Skratch Piklz DJ told Hip Hop Slam that he has been hella busy in the studio for the past several months and will be for next few months as he winds up recording of both his brand new (next level type shit that will blow your mind!) solo album and also the next Beastie Boys album which will feature even more of the DJ than the last one. Note that both the Beasties album and his solo album will be released simultaneously: most likely early summer 2004. Meantime fans of Mixmaster Mike's should be sure to look for the Hip Hop Slam Bay Area DJ Profile on the DJ in upcoming hiphopslam.com NEWS #022.
Also spinning at this same Future Primitive Sound Session were the amazing Oakland Faders' DJ Spair and DJ Platurn and the less-than-amazing UK drum'n'bass star Goldie and many other DJs. The next Future Primitive Sound Session will be on November 1. Meanwhile every Thursday Future Primitive hosts Money Shot at Milk in San Francisco. DJ's at last week's always fun party included Romanowski and Rasta Cue Tip. Milk is located on Haight St. in San Francisco (opposite Amoeba).
Down the other end of the street is the recently opened Future Primitive Sound Headquarters (415-551-2328). which is offices for the organization's parties and record label as well as a retail spot and gallery. (597 Haight St. "It houses the office for our record label and our parties. Plus it is a gallery and a store where we sell music, clothing, art, and limited edition sneakers," said owner Mark Herlihy, noting that, "Everything we sell we make ourselves, except for the sneakers." Infamous Rock Steady Crew member Doze Green will have an art show at the space in December.
NOTE: shoppers outside the Bay Area who want to buy items from the store can do so online: www.futureprimitive.com
---
BAY AREA DJ PROFILE #008: DJ Zeph
DJ Name: DJ Zeph
Hometown: Santa Cruz CA, lived in SF since '92.
Trademark saying or philosophy: If it sounds good it doesn't matter.
Solo/Collaborative History: In the mid 80's my breaking crew was the atomic rockers (how corny is that name?)....I get down with Future Primitive Sound Session as often as possible. I put out the Break Builders and Electrospective mix cd's and did shows with fellow santa cruz turntable wizard DJ Imperial. Around the time of producing the L-ron album we were doing shows so you could call us a group. I've also been tight with the BeatSauce family (J boogie, Raw b, Wisdom), there's a promo I did where I get a shout out at the end as if I were part of the crew. There's the ever evolving VU live band project on Wide Hive Records. Azeem and I aren't really a group, we put out music and do shows together, but we bring our own identities to the table.
How would describe the music you spin? Hip Hop that respects itself. I try to hold onto the philosophies of the Zulu Nation and promote that musically. Genre is irrelevant, but I was raised on hip hop and breaks, so that's a big part of me and my sound.
Discography: the new 12" with Rashan Ahmad "Floorwax", the self titled debut lp "DJ Zeph", and the "Rubber and Glue" 12" with Azeem, all 3 on Wide Hive Records. The 2 mix cd's I did with DJ Imperial; "Break Builders" and "ElectroSpective". I have a track each on the compilations "Deep Concentration 4" with Azeem, "Urban Revolutions" with Future Primitive Sound, & "Cue's hip hip shop vol. 2" with Raw B.
DJ battle history: I won two DJ battles at SF State around '93, one had DJ Relm competing. BeatSauce used to host a monthly battle that I entered twice, only winning once. I was a runner up at a battle in Gilroy in like 1990. I've never entered any major competitions.
First record you bought: my first trip to the record store I bought a few things. 3 of the Roxanne battle records (Roxanne's doctor, Roxanne Roxanne, and The Real Roxanne), and, like DJ Shadow, I also got the Street Beat Vol. 2 comp. This was around 1985.
Most influential record(s) in your life? The Jungle Brothers 2nd lp, "Done By The Forces of Nature", and "Death Mix" the Jazzy Jay side. Creativity never goes out of style, these records are as fresh to me today as when I first heard them.
When did you first DJ? In a garage for a girls birthday in my hometown. There was punch and cookies and after the party was over the girls dad stepped to me and asked me if i had any coke. I was like "Coca Cola?" and he was like "cocaine!". I was thinking Whats a 14 year old kid gonna be doing with narcotics like that? Thats when I knew djing would be a wild ride, full of obstacles to overcome and mentally rise above.
What made you want to be a DJ? There was a DJ down with Bam and the Zulu Nation in the Monterey Bay. His name was Bubba G. Scotch, or Professor BGS, and he did a weekly radio show. He epitomized what makes a good DJ; selection, skills, knowledge, and a style on the mic that got you more excited to hear what he would do next. He even did a live show once with Melle Mel, and simulcasted it live on the radio. With inspiration from Bubba, and Kutmasta Kurt giving me more hands on
experience, I was addicted to DJing immediately.
Most memorable performance? Playing in Japan with Azeem in May of this year. Sometimes at shows when I feel like I'm really doing something special, the crowd isn't paying attention, and sometimes i'll get props for shows that feel way off. It isn't usually so much about the performance as it is about the vibe in the audience. In Japan the vibe was like the bay area in the early 90's, people were wide open and excited about the music in general.
How do you transport your records to gigs? Flight cases. the record bags keep falling apart on me.
Do you play CDs ever at gigs? Not yet.
In your opinion who is the best DJ of all time? Right now I'm thinking about Jazzy Jay. He's murdering the Death Mix. He had a Studio and worked with the likes of Masters of Ceremony (Grand Puba), Diamond D, Tribe Called Quest. He can cut, he can juggle. And almost 30 years later, he's still doing his thing to this day. Big up Jazzy Jay.
Best website or way for folks to find out more about you: deejay_zeph@yahoo, www.widehive.com, www.djzeph.com
---
MARS-ONE:
ARTIST'S FANS INCLUDE QBERT & HIP HOP SLAM
Mars-One: the Bay Area's most talented and coolest muthafuckin artist, who has done several album covers for Hip Hop Slam Records (including Eddie Def's Wax People II (Open Your Mind) and Turntables By The Bay Vol. 3 / various artists), has been hella busy the past couple of years doing a zillion and two gallery exhibits. DJ QBert is among fans/collectors of Mars One's work (two of the three flashing Mars-One paintings that accompany this story hang in QBert's Daly City home). Currently the Fresno born, Mission district Mars-One (real name Mario Martinez) is working on his first book and updating his recently launched recommended new website:
www.mars-1.com
---
HIP HOP SHOP
Title: Return of the DJ Vol. V
Format: CD
Catalog #: BHH2060
Bomb Hip-Hop helped spark the turntablist revolution in 1995 with the release of the first ever all dj/all scratching album RETURN OF THE DJ. This fifth installment in the pioneering series features the newest & best turntablists assembled from the USA, Canada, the UK, Italy, Germany and Japan. These songs showcase stellar dj scratching as well as creative concepts like Azzurro & Hashim B.'s guide to breathing techniques "Quattro Respirato", Noisy Stylus' tune about getting kids to eat their green vegetables "Broccoli Wars", and the hilarious "Director's Cut" that features the '89 Skratch Gangstaz cutting up vocal bits from two action movie stars - Arnold Schwarzenegger and Jean-Claude Van Damme.
TRACKING
01. ROTDJ Radio / DJ Shortfuse
02. Disc Duel / DJ Hype & the Phaderheadz
03. Directors' Cut / '89 Skratch Gangstaz (DJ Pone & Snayk Eyez)
04. The Detonator / Ales One & DJ Teeko
05. 1-8-7 / DJ Marvel
06. Recognize / The Fingerbangerz
07. Hate Me / DJ Astro
08. Destroy / Alien Army
09. Panic / Timestretch, DJ Nerve and Trouble B
10. Quattro Respirato / Azzurro feat. Hashim B.
11. Catch Wreck / Jazz Addixx feat. DJ Ragz, DJ Boom and Mudd
12. The Old School Day Trip / DJ X-Rated
13. Aych 2 Oh / H.O.P.
14. Broccoli Wars / Noisy Stylus
15. I'm the Mutha F'in Man / DJ T-Rock
16. The Boys Dope! / Mista Ed
17. Ventilation / DJ JS1