• SPECIAL REPORT! — Bomb Hip Hop owner Dave Paul Interrogated by The Secret Service
Added October 27
• Total Recall or Total Bullshit? Editorials on Aaaarnald
• Is Arnold the New Ronald? by DJ Prank
• California Uber Alles by Munkifunk
• The Irony of Everything Political is Unbelievable by Fresh Joyce
• Hip Hop Slam News by Billy Jam
• Bay Area DJ Profile #009: 8-Ball
• E-40: Fifteen Years in tha Game & Going Stronger Than Ever by DJ Killahoe
• Cool New DJ Toys including One That Looks Like Shing02: DnZ Reports
• New Shop Item: Alien Army / The End
---
TOTAL RECALL OR TOTAL BULLSHIT?
The Unhappy Minority Editorialize on Arnold
IS ARNOLD THE NEW RONALD?
by DJ Prank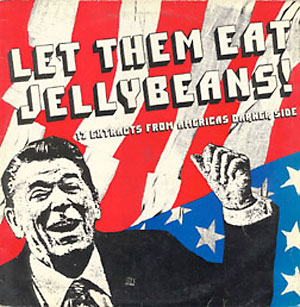 Holy shit! Just when you thought that 2003 - the year that made America look like a right load of twats for not stopping Dubya and his war - couldn't get anymore bizarre - along comes another surreal slap in the face - the election of that guy, that bad actor guy with the funny accent from Kindergarden Cop (Stop whining!) But it's true. (Come on. Don't bullshit me!) Arnaaald, the joke we love to sample and laugh at and make our prank calls with is now in charge of one of the largest economies in the US... In a cruel twist of fate the tables have been turned. The prank is now on us. (You must be very proud of yourself). I didn't think it could happen... or rather I was in denial...thinking that history wouldn't repeat itself. Would it? We couldnt get another bad movie actor turned republican elected as guv of Cali... especially one with no background in politics or qualifications for the job... But history really does repeat itself and in an almost clockwork fashion, recalling what happened two decades or three decades ago. Deja' fuckin vu alright or Total Recall! - regressing three decades back to when Ronald was the guv of Cali (up until '75) or back to two decades ago when he was prez (into the 80's). Which means that if this repeat pattern continues Arnaaaald will next be president of the USA. Oh shit! If you thought such Reaganism's as "We begin bombing in five minutes" were bad, can you imagine Arnold as prez blindly taking the USA into some future bullshit war - all the while paraphrasing his own old macho movie quotes? Shit he was already quoting his own movies during the campaign for guv... next stop the white house. "But he can't be president. He's not born in this country" - you meakly protest. (You idiot!) Arnold can do what he wants. He is a super hero... just like he is in the movies... for real... and as he continues to paraphrase his own movies, soon the lines between reality and super-hero-movie land will be completely blurred.. My fellow Americans we are in for a bumpy but interesting ride... Arnaald will do and get whatever he wants... including becoming president, thanks to good buddies like Dubya (with whom he recently had a highly-publicized private meeting), and another republican buddy Sen. Orrin Hatch (Utah) who conveniently began pushing to change the rules allowing foreign-born citizens to become prez... Arnaaald is here to stay and we can't do shit about it, except maybe watch his old movies to get an idea of what he is going to say next. (You are mine now… you belong to ME!)
NOTE: Since the upset of election day DJ Prank has not been able to sleep... and this sleep-deprived state has caused him to hear voices in his head… all of them Arnold movie soundbites.

CALIFORNIA UBER ALLES
by Munkifunk
"Democracy is the art and science of running the circus from the monkey-cage." --- H.L. Menken, Sucker Free City --- G. Dubya and his gang of Neocons continued their grab for power as they stole yet another election, forcing Gray Davis out of office and installing Arnold Schwarzenegger as the new governor of California. It is now three days after the now historic Recall Electon and I am still in a stupor trying to understand how 2,650,613 morons were duped into thinking that electing a third-rate actor to head of state was a good idea. My only conclusion is that I grossly underestimated the "idiot factor" embedded within our golden state. If this is indeed the case, then we reallly are doomed, and California would be better off burning up and falling into the ocean. Hell, if Jesus woke up after 3 days and found Herr Schwarzenegger in charge, he would have personally smited those fools who wasted their votes, and then turned them all into lepers. My only consolation is that the SF Bay Area voted a resounding NO on all this bullshit with 80% of the city's electorate telling Arnold to go fuck himself. CA... All Day, indeed!

THE IRONY OF EVERYTHING POLITICAL IS UNBELIEVABLE
by Fresh Joyce
At a time when Californians could not feel that things could get worse, they reached out for a hero and got, well, The Arnold. The morning after the recall/election I remember checking the results by county, red for yes on the recall and Arnold, and blue for no and not-Arnold. Disheartened by the tiny island of blue for Bay Area counties surrounded by a whole lot of red, I couldn't help but think--as I still do now--what this would bode for the near future, namely, the presidential elections almost exactly a year from now. The very real possibility that the reach of Dictator Bush will now be able to extend even farther looms prominently in my mind.
The irony of everything political is unbelievable. While some of my peers with university degrees toil at Starbucks (!) or receive unemployment checks, a person with absolutely no applicable skills has, with the help of scripted one-liners, landed a six-figure-salaried job. It just goes to show that the Old Boys' Club is still going strong.
On the positive tip, despite the lengthening shadows of Big Brother I feel a growing solidarity amongst those who have found that the current sociopolitical climate has galvanized them to focus on defending and promoting their rights here at home, and not against some imaginary weapons of mass destruction. Does that constitute a violation of the Patriot Act?
---
HIP HOP SLAM NEWS
by Billy Jam
DJ Quest is busy recording and DJ'ing both as a solo artist and with his group Live Human (feat. Quest, bassist Andrew Kushin, and percussionist Albert Mathias) - who later this month will be off to Japan to do some shows (thanks to Shing02). On that and all upcoming tours Quest will be using Breakseven - the brand new break record that he and co-producers - Mathias and Kushin tailored specifically for their shows. This record will be pressed up and released in the coming months. Meanwhile, DJ Quest has given duplicate copies of the test pressings of Breakseven to several DJs, who will be recording songs utilizing only this record (questDJ@aol.com). After all of the DJs have completed their tracks, Quest will assemble them into an album. For more information on all things Live Human visit www.livehuman.net.
The Return of the DJ Tour date in San Francisco (Oct 22 @ MILK) willl have a ton of DJs inc. DJ Quest, T-Rock, Shortfuse, Pone & Snayk Eyez, Dave Paul, AlesOne, Teeko, Spair, Platurn, Finger Bangerz, King One, and Ross Hogg... DJ Q-Bert will be doing his first solo Bay Area performance in five years when he plays the big Hallofest near Kelly's Mission Rock in San Francisco on October 31st... The Scratch Tour rolls through San Francisco on Nov. 7th with a lineup that includes Mixmaster Mike, Jazzy Jay, Z-Trip, and the X-ecutioners
Italy's premier DJ crew, Alien Army, are about to release their anticipated album The End in the USA on BOMB Hip Hop Slam (a combo of the two Bay Area DJ-oriented record labels). The CD (only $8.98) can now be purchased at this site (scroll down a bit)... Hieroglyphics have just dropped their anticipated new album and are touring to support it... Lyrics Born also has his new album... Boots Riley of The Coup recently finished up work in an Oakland studio producing an album with Stickman of Dead Prez fame. Meanwhile Boots tells us that we can expect a new Coup album in 2004... Oakland's multi-talented Goldie the Poet is busy doing screenings around the Bay Area of his new "Docu-Film" Heavy In The Game, which traces the devastation of rock cocaine (crack) on communities like the East Bay city of Oakland, CA. (www.heavyinthegame.com)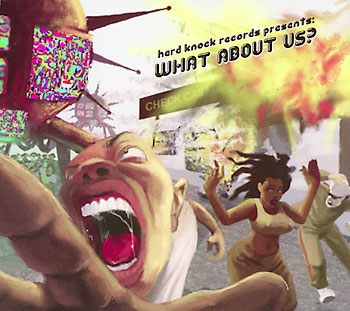 Paris is back with his politically charged new album, Sonic Jihad, which addresses such pertinent issues as the Bush administration's war on terror, the origins of AIDs, police brutality, and the state of hip hop today. Album guests include Dead Prez, Public Enemy, Kam, and Capelton. What Would You Do is the first single off the album which was released in both CD and double vinyl formats. www.guerrillafunk.com In a similar vein is the new five-star pro-peace compilation What About Us (Hard Knock Records) which boasts eighteen politically powerful tracks from The Frontline, Blackalicious, Zion I, Abstract Tribe Unique, Spearhead, Non Prophets, Cool Nutz f/Bosco, Rico Pabon, Bukue One, Raashan, The Piper and many more including a wonderful segment with Hard Knock Radio's Davey D interviewing Barbara Lee. The compilation will be available at the Hip Hop Slam Shop in the coming weeks. For more info: www.hardknockrecords.com
Hip Hop Slam Staff News: Fresh Joyce, whose editorial on Arnold's election is in the opening segment of this NEWS, is back working at Hip Hop Slam after a break for studies. As well as writing she is working hard on various graphic design projects and also setting up the brand new auxilary website that Hip Hop Slam will be launching in the new year: details to follow...... Dutch Hip Hop Slam member DJ Sniper will soon be returning from the Netherlands to the USA to visit his second home (the Bay Area)... DnZ's "Top five dopest things" are Life, Skratching, Newportz, Femalez, and Dirt Style records. Read these and lots more about DnZ in his brand new bio posted on the Hip Hop Slam Staff page.
DJ Shadow did an impromptu performance, Oct 15th, at MILK during the Quannum/Wax Poetics party... Jazzy Jeff - in San Francisco recently - headed over to QBert's for an impromptu session at the Octagon. Other DJs in the mix included Teeko... Skratchpad happens the first Weds of every month at SubLounge and has open tables (bring your own needles and records). For more info on this cool skratch nite: onthe_one@yahoo.com
Every second Saturday at the Shattuck DownLow in Berkeley is a Angel Magik with superdope DJs Icewater and Engine Room each spinning a nice mix ranging from deep-dancehall to older and current Top 40 rap/hip hop. A recent night's set by Icewater's included Quarterbackin' by E-40 f/ The Clipse, Gotta Get Mine by MC Breed f/ 2pac, and Can't Stop, Won't Stop by Young Guns. www.jonathanmack.com
If you already have such essentials as the Ego Trip Book of Rap Lists and Yes Yes Ye'all in your hip hop print library a good book to add is Classic Material: The Hip-Hop Album Guide (ECW Press: $15.98), which the publishers say "covers more than sixty definitive albums" (inc. Rhyme Pays (Ice T) Step In The Arena (Gang Starr), and '93 Til Infinity (Souls of Mischief) and "features a collection of forty unique entries by America's foremost hiphop journalists" (inc. Jeff Chang, David Toop, Joesph "Jazzbo" Patel, Hua Hsu, Billy Jam, Reginald Dennis, and Serena Kim). Munkifunk, who calls the book "an intelligent discussion about hiphop" bought it online at Sandbox Automatic where he got an autographed copy by Oliver Wang and Dante Ross, plus a free copy of the "Unofficial Mix-CD" by DJ O-Dub (editor Wang's DJ name).
_______________________________________________________________
NEW RELEASE JUST IN SHOP
Artist: Alien Army
Title: The End
Format: CD
Catalog #: BHH2062
The End - the stunning second album from Italian hip hop DJ supergroup Alien Army, and the first available outside of Europe, has already drawn comparisions to both D-Styles' Phantazmegorea and QBert's Wave Twisters. And no wonder since like those two Invisibl Skratch Piklz famed DJs, the six-member Alien Army also possess a powerfully unique strong song structure approach to turntalbism: something often absent from the "skratch" music genre. "What sets Alien Army apart from even some of the best hip hop scratch DJs of today, even many of their fellow DMC or ITF champs, is that they make good head-nodding hip hop music that is universally appealing," said Billy Jam of Hip Hop Slam Records, who has featured Alien Army's music on several of the criticaly acclaimed compilations released on his US label including Global Turntables and Scratch Attack: the LP which also featured QBert and Steinski. Dave Paul of BOMB Hip Hop, who pioneered the current turntablist craze with his infamous Return of the DJ series, agrees that Alien Army are a most unique DJ collective. "They are not just amazing scratch DJs but more importantly quality producers who make hip hop songs, complete with choruses and hooks. The kind of tracks that you keep hitting the repeat button on. But what's really amazing about Alien Army is that they create all this great music on just turntables!"
Featuring the DJ/producers Zak, Skizo, Inesha, MicroMetz, Type10, and Tayone, Alien Army have been together for the past seven years. In that time they have become national DJ heroes in their native Italy: winning hands down twelve national DJ battle titles (DMC and ITF) and releasing the first all scratch album in Italy (Orgasmi Meccanici, 1998). They have also become mainstays on Italian radio and Television with regular appearances on MTV Europe. Additionally their expansive discography includes a slew of 12" singles, battle records, and mix-CDs. DJ Skizo, the groups founding member, says that "The End" is what they are most proud of after spending the past year-plus honing it to perfection. For proof check out such instantly likable tracks as the sinister "Destroy" (already a hit single in Italy), the spooky mood-induced "Daily Nightmares" and the track that features US guest DJ Radar, "The Terrible Invasion Pt. 1." "Our goal with this album," said DJ Skizo, "Was to combine the ultimate frontiers of the so called scratch music, passing through electronic, electro, abstract hip-hop and downtempo."
TRACKING
01. Intro
02. Magnetikal Chemistry
03. We Keep Things Rollin Thru
04. Thronic Harmonic
05. Tales From the Dark Side Pt. 2
06. Sorry Wrong Number
07. The Classic
08. Daily Nightmares
09. Destroy
10. 40 Degrees of Revolution
11. Help Me I'm Falling
12. Scratchoetry
13. Let You All Know
14. Fresh Confidence
15. The Terrible Invasion Pt. 1 feat. DJ Radar
16. Phrases In My Mind
---
BAY AREA DJ PROFILE #009: 8-Ball
DJ Name: 8-Ball
Hometown: San Francisco
Trademark saying or philosophy: You've got to practice your craft and do so on regular basis....get into a routine of practicing on a daily basis. When I was battling I used to practice all the time....sometimes from sundown to sun up....I would lose track of all time.
DJ Crews: Sounds In Effect, Sound In Motion, Tsunami Sound, Invisibl Skratch Piklz
How would describe the music you spin? 80's Hip Hop and HiNRG
Discography: includes Shiggar Fraggar Vol. 3 and contributions to the Turntables by the Bay and Scratch Attack series and also the Thud Rumble VHS.
DJ battle history: won 1992 West Coast DMC and 1993 NMS/Superman Battle.
First record you bought: Theme from Star Wars on a seven inch single
Most influential record in your life? First battle record by D-Styles with the test tone on it.
When did you first DJ? Oh...way back in early eighties...whenever Toni Basil ("Oh Mickey") first came out ('81) coz I was trying to mix that with "Designer Music" by Lipps Inc.
What made you want to be a DJ? I like mixes and I wanted to be able to do that.
Most memorable performance? The 1992 DMC West Coast Finals
How do you transport your records to gigs? By car.
Do you play CDs ever at gigs? Sometimes...if I am doing a wedding or a corporate gig....I am still a mobile DJ.
In your opinion who is the best DJ of all time? Hmmm..it would be either QBert or Shortkut. QBert because of his influence on skratch music and Shortkut because of his beat creating....both great DJs but both very different styles.
Best way for folks to find out more about you: Email me at Cls8saiyan@aol.com
---
OUTSMART THE ELROYS:
Forty Belanfonte Really is The King of The Bay
by DJ Killahoe
E-40 DISCOGRAPHY (only solo — does not include Click/MVP or other collaborations; not all full-length releases):
"Mr. Flamboyant" (1991)
"Federal" (1992)
"The Mailman" (1994)
"In A Major Way" (1995)
"The Hall Of Game" (1996)
"The Element of Surprise" (1998)
"Charlie Hustle: The Blueprint of A Self-Made Millionaire" (1999)
"Loyalty & Betrayal" (2000)
"Grit & Grind" (2002)
"Breakin' News" (2003)
"Straight out tha ghetto. They call me E-4-O. Still hungry. Still rappin' like I'm still po'."
E40 Belafonte... The Innovator. The King of the Bay's Breakin' News is the Vallejo (aka Valley Jo, Califoolya) rap legend's best album in years and marks a return to his roots. In fact it is the most well rounded album of the rapper's illustrious fifteen year career as both a solo artist and member of family crew The Click. On this (his eight solo full-length release) the slang-pioneer (who recently pulbished his own slanguage dictionary) delivers seventeen new tracks that cover a well-balanced mix of styles and tempos. While most drug-dealer-to-pop-star success story makers are quick to shun their illicit pasts E-4-O does just the opposite, warmly embracing and celebrating his. Much as he did on such earlier releases as his 1994 album The Mailman, where he was pictured on the cover cooking up some ya yo (rock cocaine), on Breakin' News cleverly phrased references and metaphors to his pre-rap career abound. Man. I'm a legend. They call me E-4-0. Ex D-boy. Used to push that blow. or I graduated from YaYo college....that's where I learnt my knowlege he reminisces on the bouncy, bass-driven, street-anthem Married To The Ave, while a similar ghetto-player, street-hustling theme ("I got it all...weed, hop, speed") is echoed on I Got Dat Work.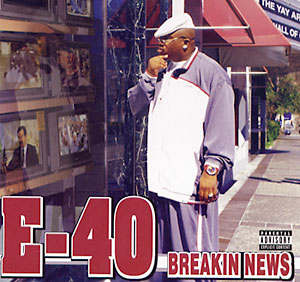 Of course slanging is only one of the numerous topics tackled by the always astute and sociologically observant emcee. In Breakin' News' opening title track E40 addresses the serious issue of obesity among African Americans ("the leading cause of death among black folk"), noting how historically it all began with the plantation owners' habit of feeding their black slaves fattening, starch-heavy leftovers. And the large MC also shares his own fight with staying healthy: Get in shape before it's late/ I'm at 320 now but I used to weigh 358....turn that fat into muscle. Music piracy is annother topic close to home for the rapper who has witnessed entire albums of his being digitally stolen bootlegged as cheap CDs at flea markets even prior to their official release dates, making him understandable very guarded about allowing advances of his new CDs available. Even still the new album track Gasoline (feat. Turf Talk and Doonie of Rick Rock's new rap group The Federation) somehow got copied and popped up on a bootleg vinyl release three months before this album's release.
"You know I came in Top Ten on the Soundscan. I probably would have came in bigger.
But them bootleggers and that Internet shit be fuckin' off a nigga."
The slow heartfelt I Hope You Get this Kite, which E40 dedicates to "all the incarcerated soldiers across America" is an open letter to the incarcerated including those who support him by buying his music through mail-order. In return E40 offers genuinely appreciative and warm words of encouragement and support (got your back like a masseuse....tomorrow I 'm gonna shoot you some pictures coz they mean everything). Meanwhile Forty's trademark quick wit includes the ultimate putdown "Boy you're the opposite of cold. Your lyrics stick out like a turd in a punch bowl" Ever the clever wordsmith, E40 continually drops smart and memorable lyrics like these from the funk-fueled, dancefloor pleaser If If Was A 5th:
"I'm lookin' at the ladies. I'm thinking if she was a car she would be a Mercedes.
I'm thinking if she was Pat Benatar I'd could take her back to the '80's.
Hit me with your best shot girl I'm off this Baileys."
Northern Califoolya features some the best from the West including the Bay Area's B-Legit, EA-Ski, Keek Da Sneek, San Quinn, Messy Marv, and James "Stomp" Bailey. On the dirty south anthemic Anybody Can Get It E40 Belafonte is joined by an all star cast that includes Lil Jon & the Eastside Boyz, Bone Crusher, and David Banner. On the much mellower, sultry neo soul-rap love ballad Show & Prove, sweet soulful Bay Area R&B vocalist Goapele offers the perfect balance to E40's delivery. One Night Stand, the album's first single, features infamous "drama king" DJ KaySlay while the current single, Quarterbackin, features duo The Clipse. In this song 40 explains that the term Quarterbackin has nothing to do with "football" but rather it is slang for "hustling....gritting and grinding." Other slanguage terms introduced on Breakin' News by the man, who literally wrote the book or rather dictionary on slangauge, include the latest word for police. Formerly referred to as "po po" the latest slanguage term for cop is "elroy." For more info on E40 visit: www.e-40.com
---
DON'T BE HATIN' JUST CUZ I LIKE LIL DJ TOYS
by DnZ
Yo wuddup to all da DJ's who like to collect bullshit DJ toy's and wut not... I got some bullshit DJ toys. And as my boy Jamie Kennedy in Malibu's Most Wanted would say "Don't Be Hatin!". So check it out DJs and collectors. Here's an overview of some pretty cool new DJ themed toys that I stumbled across at Toys 'R' Us, especially the Skribble's Spinheads.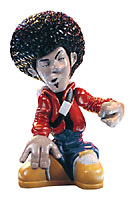 Each and every figure has a music type all its' own. Dzak gets down with hip-hop beats. Like all Spinheads, his head works just like a computer game joystick: Overlay your own mixes on top of an original looped rhythm! DZak has 4 ill lyricals: "Naw, chill wit' dat", "Type Gangsta", "Flossin", or "Make it hot" -- There are 2 scratch F/X that are activated when his head is twisted - a DJ style "Scratch" or Warp".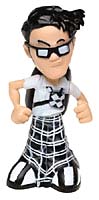 Hey look, it's DJ Relm...Just kidding....sorrda. n-e-wayz Mod is a rude boy that grooves to pulsating Ska rhythms. Like all Spinheads, his head works just like a computer game joystick: Overlay your own mixes on top of an original looped rhythm! Mod has 4 ill lyricals: He says "Skankin", "Pick it up, Pick it up", "Move out rude boy" or "Simmer down". There are 2 scratch F/X that are activated when his head is twisted - "Paradiddle" or "Cat?s Meow".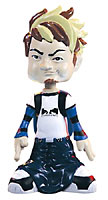 Troi is a punk rocker all the way! His head works just like a computer game joystick: Overlay your own mixes on top of an original looped rhythm! Troi has 4 ill lyricals: "Troi-oi-oi", "Punk Rock", "2-3-Go", and "Twisted" - each activated when his head is tilted. There are 2 scratch F/X that are activated when his head is twisted - a "guitar riff" and a guitar strum?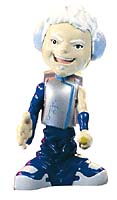 Drum & Bass is the sound that you will hear when playing with Moxy. Like all Spinheads, his head works just like a computer game joystick: Overlay your own mixes on top of an original looped rhythm! Moxy has 4 ill lyricals: "Hear the DJ get wicked", "Cybertronic", "3-2-1", or "The beat controls your mind". There are 2 scratch F/X that are activated when his head is twisted - "Charge Up" and "Zap"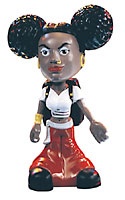 Reggae is Rya's favorite style. Like all Spinheads, her head works just like a computer game joystick: Overlay your own mixes on top of an original looped rhythm! Rya has 4 ill lyricals: She says: "Representin", "Inna di lights", "Ragga dis Bwoy" and "I an Iree mon". There are 2 scratch F/X that are activated when her head is twisted - either a "Reverse Scratch" or an "Echo"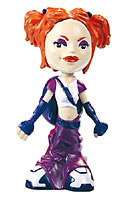 Adel loves to dance to the hot rhythms of house music. Her head works just like a computer game joystick: Overlay your own mixes on top of an original looped rhythm! Adel has 4 ill lyricals: "I got sumthin for ya", "I know you didn't?", "Ya wanna dance wit' me", or "I can't stop baby" - each activated when her head is tilted. There are 2 scratch F/X that are activated when her head is twisted - "Electric Glass" or "Whiplash".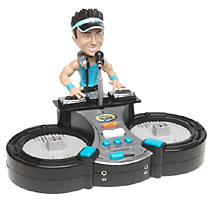 DJ Skribble MC's over all the hot music action as you try to become the ultimate Master of the Mix! The Vinylizer is the ultimate mixing board for any DJ Skribble's Spinheads figure. Check this out: it's got 9 original hot music tracks, 9 wild scratch F/X and Skribs has recorded 6 ill lyricals to keep the action going. You can mix, transform, and crossfade like a real DJ. When you plug any Spinhead's figure into one of the "turntables" different styles of music can be mixed and remixed. Accessory jacks allow Phat Rides and CD or MP3 players to be connected with ease.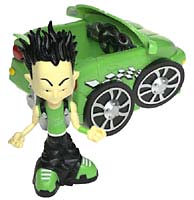 Hey looks like Shing02 has a new ride.....oops, did I say that? Now wid this ride your able to hook it up to your boombox or your mom or wut not through the headphone jak and hear it through the car and the lights blink to the bass. the figure also comes out but im not sure if he does anything or not.
Wanna battle? Miniture style? If so check out the DJ Battle Mix and battle against your friends on the mixing decks! Create various sounds by scratching either of the two mixing decks or by using the cross-fader between the two decks. Between the 2 players you build up a pattern of sounds and moves, but the trick is that you have to remember and repeat each others moves before you can go on to the next level. The winner is the player that can remember the most moves in the right order and they get to have a freestyle session on the mixing decks. in freestyle they get to create their own sounds with a couple of different background beats to help. Requires 3 x AA batteries, Not included.
So if you want ya'll can go and check them out and waste money (ranging from about $10 to $30 each) you should be spending on records and porn. so peace out beyooch'z!!!
OnE!!! -DnZ