• ITF World Champ: DJ Flip
• Bay Area DJ Profile #017: Romanowski
• Hip Hop Slam NEWS Roundup by DJ Dank
• Land of the Free… Yeah Right
• SHOP Adds All of the Return of the DJ Volumes
---
HIP HOP SLAM NEWS ROUND UP
by DJ Dank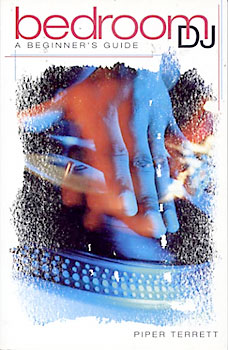 There is a new book on DJ'ing entitled Bedroom DJ: a beginner's guide (Omni) which is unique in that it is written by a woman DJ, Piper Terrett.....Hip Hop Slam's Fresh Joyce reports that the UC Berkeley classes on DJ'ing and breaking, which have been in existence for the past few years, are going strong with a long waiting list to get into both of these cool b-boy two-credits classes......Concert footage from Scratch (the movie) tour, filmed on the New Zealand/Australia/Japan leg of the 2002 world tour, will be available on DVD sometime this year. (Info: scratchmovie.com)......Also coming this year will be DVD versions of the Turntable TV series. For updates check out the Thud Rumble site...Speaking of QBert-related things: display copies of the unique turntable/mixer QFO, which he designed for Vestax, has been a big hit at such recent DJ oriented events as NAMM and the W.M.C. (Winter Music Conference) earlier this month. And despite that it is priced at a hefty $2000 per unit and the fact that buyers have to put down an advance deposit of about $500 for the not yet commercially available QFO, eager young DJs are lined up around the block to buy it......NOW AVAILABLE: Each of the BOMB Hip Hop Return of the DJ compilaiton volumes (1, 2, 3, 4, 5 plus the "best of" CD) are all for sale at the SHOP.....
WAR: (If It Feels Good Do It) cd continues to gain credibility everywhere it is heard. It got equal ratings to albums by Outkast, Justin Timberlake, Lyrics Born, and others released in 2003 in the Village Voice's Pazz and Jop Critic's Poll submitted by music journalist Todd Inoue.....Other fans of the Hip Hop Slam anti-WAR compilation include DJ Spooky who lists it in his latest Top 11 Discs in High Rotation for March/April (djspooky.com). Elsewhere online the CD pops up as a favorite on the political website Grumpy Voices where in its On The Menu section it gets listed as the top "audio" pick alongside Noam Chomsky's Secrets, Lies and Democracy as the top "book" pick...Another site the CD popped up on is Dean Remixes - the site kickstarted by the fun/funny remixes of Howard Dean's infamous raging rant. This site has a short list of links to such other recommended political cut-up labels/artists/projects as Ninja Tune and DJ Spooky.
DJ Pone has become a regular spin-master on KALX in recent weeks making guest appearances on such shows as the recommended DJ Sergio Saturday afternoon (Noon-3PM) spot where he recently did a "hip hop love songs" set which resulted in a slew of postive phone-in feedback from the Berkeley radio station's female listeners according to Sergio.....DnZ and Munkifunk will be among the Hip Hop Slam DJs appearing on DJ Trinity's April 10th radio show on KFJC between Noon and 3PM. Check back here in the coming weeks for more specifics on what the complete lineup will be for that special.....The latest installment from the French website HipHopCore.NET has an indepth interview with Billy Jam which be can be read in either French or English on the hip hop site that also features an interview with Buck 65 in its latest online update.
Check the WAR page's Land of the Free....Yeah Right by DJ Killabush for his breakdown of your rights as a US citizen. Also in this NEWS is a Bay Area DJ Profile on Romanowski and also an indepth interview with Ireland's DJ Flip who is the current ITF world champion.....Upcoming weeks' HipHopSlamNEWS will feature interviews with DJ Jester, graphic artist Aye Jay (Gangsta Rap Coloring Book), and Bill Brewster & Frank Broughton - authors of the recommended books Last Night A DJ Saved My Life and How to DJ Right.
---
BAY AREA DJ PROFILE #017: Romanowski
DJ Name: Romanowski

Your Hometown: San Francisco

Trademark saying or philosophy toward your music/ life: Looking for the perfect beat. Everything is everything.

Groups you have been a member of: O.C.B. (Opiated Circutry Board - with JAN Whitefield), Aromadozeski Therapy (with Doze), I.B.M. (Intelligent Body Music - with Oh No This Guy), Romjack (with Jacko Peak), The Curators Art Group (with P Nut, Gonzo, and Marlo), & Future Primitive.
How would describe the music you spin? Black.
Discography: 1994 Romjack (Across The Panhandel: Soulciety Records), 1999 O.C.B.remix for Syrup, 2ooo Aromadozeskitherapy: strudel strut : future primitiv, 2002 My Adidas soundtrack:for the curators, 2004 Steady rocking Romanowski EP:future primitive, 2004 O.C.B skank:for Tommy Guererro compilation in Japan, 2004 Party in my pants EP:future primitive.
Do you ever spin CDs? Only CD's of my own music or remixes I made.
The first record(s) you ever bought: AC/DC, Blondie, Kraftwerk, Bambaataa.
Most influential record(s) in your life: Kraftwerk, DAF, Art of Noise, Bambaataa, Bomb Squad productions.
When did you first DJ? 1983
What made you want to be a DJ? I like to move people.
How do you transport your records and/or gear to gigs? in a 1968 230 Mercedes
In your opinion, who is the best DJ of all time? Harry Titts
Best websites to find out more about you: Romanowksi 45, The Curators, Future Primitive, Google
---
IRELAND's DJ FLIP TALKS ABOUT ABOUT BUYING RECORDS, GOING TO STRIP CLUBS, AND BEING THE ITF WORLD CHAMP
INTERVIEW CONDUCTED BY BILLY JAM IN A PUB IN DUBLIN IRELAND.
DJ Flip: Let me first say hello to DJ Design and the rest of Foreign Legion and also to Dave Paul at Bomb Hip Hop.
Billy Jam: I heard when Foreign Legion were here in Dublin that they slept on your mom's kitchen floor. Is that a true story?
DJ Flip: Uh, Design didn't make it over....he was stuck in London. Actually DJ Fanatik slept on my fold-out couch and Prozack and his girlfriend slept upstairs in my mom's bed. And I know they fucked in my mom's bed too even though I asked them not to.....(Laughter all around the table of Irish DJs and pints of Irish beer in this downtown, Dublin Ireland pub).
Billy Jam: So do you feel different now that you won the ITF World Championship?
DJ Flip: Uh, yeah. It's like I haven't won. Really. It's amazing, the best feeling ever. I can't describe it. It's like kissing the girl that you've always wanted to fuck. It's like getting with that girl, you know what I'm saying. That's what it feels like. People know your name now. I'll be going up to gigs like DJ Tigerstyle, and I'll be like,"Hey! Tiger Style! Blah, blah. And this time they were coming up to me and saying, Flip, hey, well done! So that's the most noticeable thing. So now you can be all dickhead to people and say,"Hey Flip! Yeah, whatever. I also want to say hey to all my Internet friends for giving me nothing but love. That's all.
Billy Jam: You were in the Bay Area last year for two weeks, right?
DJ Flip: Two weeks, yeah.
Billy Jam: And you said you went to primarily to buy records.
DJ Flip: Basically. I came out to buy records. I bought them for my 21st birthday, and I just went to see my friends again. Foreign Legion guys and Dave Paul, as well, who took real nice care of me, sold me some gems for real dirt cheap. He gave me some good shit, thank you Dave, and he took me to the Mitchell Brothers. I'll never forget that. I'm sure your readers know very well what that is. (ED note: A notorious adult theater on O'Farrell Street). And then again I went to the Century Club on my actual birthday with the Foreign Legion guys. And that was a nice experience too.
Billy Jam: And as far as buying records in San Francisco on that visit, did you reach your goal?
DJ Flip: Oh yeah. Hell yeah.
Billy Jam: Where did you go?
DJ Flip: Let me see. First there was Dave Paul's personal record collection where I got some really old original Lord Finese stuff and Amoeba Music had some amazing reissues—they had everything I needed. And as well there was another one—Open Mind. I got some nice independent stuff there which was cool. It was just everywhere I went had something different.
Billy Jam: Did you go to thrift stores, suburban yard sales, etc.
DJ Flip: No, I was too high the whole time.
Billy Jam: Did you like the dank?
DJ Flip: The dank, yeah. Damn. It was the whole wake up, have some dank, as you call it, have a Heineken and then go back to sleep. It was the best time. I'm planning on moving out to San Francisco.
Billy Jam: What were some of the DJ highlights for you?
DJ Flip: I went to the U.S. ITF's and that was dope. I met everyone: Qbert, Teeko, all the brilliant DJs that I love. And then J-Rocc was playing as well. I also DJed there at Dave Paul's night, I don't know if he still runs it every second week. He gave me a gig, so…my birthday was on Saturday. So Friday night at 12 midnight I was 21. And I went out at 5 to 12 as I was DJing in California as I hit 21. Hear me now!
Billy Jam: You can start drinking in bars here in Ireland at what age.
DJ Flip: 16. If you look it, 15. And if you are a girl and have big tits, easily 15. So…
Billy Jam: So what else was different about San Francisco compared to Dublin?
DJ Flip: Everywhere everyone's a DJ in San Francisco and that's the problem. It's like, oh yeah, congratulations. Like someone could come up to you and say, "Congratulations on winning the ITF." And they're probably 10 times better than me at scratching. So that's the funny part. Everyone is a DJ there. And, rappers. Just the hip hop scene is so good, you know. It's lovely.
Billy Jam: What is it about here in Dublin, Ireland that is better?
DJ Flip: It's nice in that it's small so we can be known. Everyone here has a good name. That's the difference with the Dublin scene. You can just be a good DJ and everyone will like you for it. Because no one in Dublin really gives you shit. You know, if you have a good record collection, they like it. If you don't, you'll get shit on the Internet.
Billy Jam: But buying records in Ireland is expensive, isn't it.
DJ Flip: It is, enough, yeah.
Billy Jam: Like say if I was looking for a good hip hop single from a New York independent label from 1992. That would be hard, yeah?
DJ Flip: Yeah, very hard.
Billy Jam: If you found an original De La Soul 12-inch. How much would you pay for something like that. And how about old funk records?
DJ Flip: Funk is reissued a bit as well, but…it's hard to find the good proper stuff.
Billy Jam: Was there some bad vibes from DJ Teeko who you beat in Munich?
DJ Flip: I just want to say hello to DJ Teeko from San Francisco, good luck. He was one I was against in the finals. He didn't have the nicest things to say about me but…
Billy Jam: What exactly happened?
DJ Flip: I heard he said something about me on the Internet but I haven't read it. ....It's all good, though, so…I always have nothing but love for him. Nothing but love for you Teeko. There you go. And the 4 0ne Five Funk Crew, so…
Billy Jam: Good for you! What's the next battle you're going to get into: the DMC?
DJ Flip: Yeah, hopefully. I'll have to win in Ireland first for fuck's sake.
Billy Jam: Who are some of the best DJs today?
DJ Flip: The French. The French are going to own hip hop very soon. The French and the English. Tiger Style is the best DJ in the world. He's won everything that you have to win. Then there's all the French…
Billy Jam: The French DJ Pone.
DJ Flip: All the French are dope and as I always tell them there's something in their water, I don't know what it is......but they're coming with their own style of turntablism. It's real original and funky like DJ Fail this year who was incredible. I was lucky enough to share a room with him in Germany. I have to mention very quickly OB tells me here, I'm bringing out a 12-inch, me and Eric from Foreign Legion. We're bringing the 12-inch out. DJ Design is doing the remix; Solmers from Raw Shack is doing the remix. It should be out in March, look out for it on All City Records.
Billy Jam: And you did scratching and beat production?
DJ Flip: Yeah. I did one beat and the scratches, and I'm doing a scratch track on the B-side so it's like an 8-track EP. Please buy it because it's feeding my kid.
Billy Jam: What kid?
DJ Flip: I was just trying to get some sympathy, here. (laughs) I have three babies. So basically that will be out in March. Then I have a mix CD coming out with DJ Beware from Hong Kong it's called The Gangster Snakes Present also on All City. And then hopefully if the 12-inch sells well All City will print out a second 12 for me.
Billy Jam: What website should we go to for all the info?
DJ Flip: All City's website I don't know, I'd say, irishhiphop