• Hip Hop Slam NEWS Roundup by DJ Bollocks
• American Military Operations: Diary of a DJ in the US Air Force PT 2 by ALF
• Bay Area DJ Profile #019: DJ Stef
• Funny But True Story of the Week
• Bay Area Hip Hop News Archives from April 1996 by Billy Jam
---
HIP HOP SLAM NEWS ROUND UP
by DJ Bollocks
Billy Jam started in radio exactly twenty years ago. The very first radio piece he produced was an interview for KALX Public Affairs with New York graffiti artist Chico whom he followed around the Lower East Side streets of Manhattan with a tape deck in Spring 1984. Twenty hip hop radio years later Billy Jam is back with the station he loves, KALX, and still doing what he loves best: hip hop. Pictured from a very recent KALX Cultural Affairs Sunday Morning show are Billy with Azeem, DJ Pone, DnZ, and Onedr Love. To celebrate his twentieth year in radio and hip hop Jam promises to "go all out this year and really try and do something original since life is Too $hort beeyooootch!" He also plans on doing a series of online features with many of the hip hop artists he met over the past twenty years including Chico.
The Hip Hop Slam DJ Army are being deployed to DJ Trinity's KFJC show on 89.7FM on Saturday April 10th, Noon to 3PM when the lineup will include DJs of Mass Destruction (Dawgisht, The Embedded DJ Pone, and DJ Killabush), DJ Stoic, DnZ, Freelancers United (Shing02, DJ A-1, G_Rantala), Skratch Pistolz (Munkipunk, Sid Vinyl, DJ Pain), 4AM, Angela LadyBug Louie, Canned Beats, and more TBA. The Hip Hop Slam CD WAR (if it feels good, do it!) recently went to Number One on the KFJC CMJ Top 30. Other stations bumping the fun anti-Dubya compilation include KZUU in Pullman, WA......Italy's greatest DJs Alien Army - whose album "The End" on BOMB Hip Hop Slam got another nice review - in the latest Hip Hop Connection by Graehme Bent - will soon be heard on KZSU when the Stanford, CA station (kzsu.org) broadcasts the special turntable session they recorded especially for DJ Crisco's Wednesday afternoon show.
Return of the DJ DVD is the current project Dave Paul and the folks at BOMB Hip Hop are busy working on and word has it that there is still time for DJs to submit video footage (battles, routines, practice sessions, skits etc.) for possible inclusion in this DVD edition in the legendary series. Submissions of any length (good time is 3 to 5 minutes) should be good sound quality on DVD, Mini-DV, or VHS (NTSC) formats and arrive at BOMB's SF, CA offices no later than April 22nd. MAIL TO: Bomb Hip-Hop Records, Attn. - DVD Submission, 4104 24th Street - #105, San Francisco, CA 94114
Hate fuckin censorship? Then fight the FCC head on by signing an online petition posted by the good folks at stopfcc.com who are shooting for 1 million signatures. So do it now and say aloud with me FUCK THE FCC! .......DJ Nuttz took first place at B-Side Records' second monthly DJ battle on March 28 w here the judges included Jay Slim, Vin Roc, Deeandroid, and Celskiii. Next B-Side battle is April 25th..... Cat Five recently celebrated their new 12" release (On The Rise) with a performance/party at Oaklandish in Oakland. The mixed-media artists, whose first album Kataphonics is still available in our shop, are finishing up their second full-length which will be the seventh release on CatFive's Discography.
Hip Hop Slam's DnZ who is also a member of T.F.S. (TheForbiddenStyle) DJ has joined the funk/reggae/hip-hop band LowFat along with TFS' Onedr Love. On April 24th they're @ Pioneer Inn and May 8th & June 12th @ the Outopus Lounge. DnZ along with DJ Pone are spinning April 9th rave Mystic Wonderland Check for the entire four-member T.F.S. crew (Pone, NeoGeo, DnZ, Onedr Love) cutting and mixing @ Palermo's for Mad Muzik April 16th. For Guestlist e-mail: tfsdjz@hotmail.com........ BOMB'S Dave Paul and Jeff Harris will be doing a Prince vs. Michael Jackson battle as part of their old school theme nite at Milk in San Francisco, Saturday, April 10th.
---
AMERICAN MILITARY OPERATIONS…
DIARY OF A US AIR FORCE DJ: Part Two
by ALF

(EDITORS NOTE: This is part two of a series written by ALF (an abbreviation) who is a longtime fan of Hip Hop Slam. Currently stationed in Japan, ALF spends whatever free time he has listening to hip hop, buying it online from sites like this one or Giant Peach, and also DJ'ing whenever possible from his well traveled crate of records that include some anti-war songs like Cat Five's American Military Operations seven inch single)::::

VIA RECENT EMAIL FROM JAPAN:

------------------------------------------------------------------------------

How did I come across the record "American Military Operations?" Well I was simply browsing through Hip Hop Slam.Com one day and saw the 7". While I was looking at the weird cover, I asked myself "Who is Cat Five?", and "What the heck is this record?" I then realized that it has a political song of some sort on one side and samples that include Bill Clinton, jet fighters, and other samples that are used in the political song. Now being the crazy turntablist that I am, I wanted to explore and mess mainly around the samples. When I received the record in the mail, the first thing I actually played was "American Military Operations." When I started listening to it, I somewhat paused and placed myself in a different world. The beat and the eerie samples were the main culprits of this. I was placed in a world as if I was God looking down on all the events that were happening. Now I'm basically against the decision or the so called justifiable cause for us to go into Iraq because of their possession of WMD's. Before the war started, I talked to my friend Skulk and we both had feeling that the U.S. wouldn't find any WMD's. With that being said, service members are under oath by the UCMJ (Unifromed Code Of Military Justice) to not organize any protest of some sort to overthrow the government. As we all know, many artists in the various music genres express their feelings through music. After about a month or so after I received AMO, I was trying to figure out when and where I can play it. Well, one of my associates put me on at this spot called Radius Squared where I'm currently playing. I saw that Halloween was coming up and I figured that it was perfect for me to express my feelings about the war and set the atmosphere for the evening. In that set I played, it included songs such as "Invitation to Hell" by Presage feat. Mr. Dibbs and Jel, and "The Murder Faktory" by D-Styles. Believe it or not, people were dancing to 'The Murder Faktory."

Being a DJ in the armed forces isn't quite that easy. Well, I must say it all depends on what career field you are in. Where I currently work at, I work an average of about 64 hours a week with no overtime pay whatsoever. I honestly hate my job with a passion. I always come to job disgruntled. My happiness comes out whenever I leave my job for the day and hit the turns. It's pretty much my escapism from the wacky ass flightline. Believe it or not, I have taken time that I should be sleeping and go out to either practice DJing with my homeboys, spin at Radius Squared, or get footage for the DVD I'm trying to make. Like most DJ's out there, you have to prioritize a lot of things in your schedule. Now there have been times when I get all hyped up to play at my spot and all of sudden the knuckleheads at my job say "Alright, everybody has to come into work this weekend!" As soon as I'm told that, I say to myself "There goes my frikin weekend!" Imagine a even worse scenario if you were told, "You're deploying to Iraq tomorrow!" Now what do you do being the super DJ that you are back at your home station. Both the foreigners and Americans love your style and you are an enlightenment in their lives. What do you do? You cannot take your turntables and mixer to Baghdad you know.

In conclusion, speaking from a military perspective, don't let nothing such as the state the country, or your job bog you down. Think of whatever hobby you are doing as your escapism from all the bullshit out there. Do it religiously for yourself and the people whom support you.

------------------------------------------------------------------------------

Well, it's 8:53am, Saturday April 3rd. I have to get some sleep because I have to meet up with my homie for little jam session at 2pm today. THEN, I have to go to duty again tonight. :-( Thanks for reading.....LaterZzzz. ALF
---
FUNNY BUT TRUE STORY OF THE WEEK
THE SCENE: A golf course in Texas.
THE PLAYERS: Three doctors, all well paid surgeons.
FIRST DOCTOR: "I'm the best surgeon in all of Texas. A concert pianist lost seven of his fingers in an accident and not only did I reattach them but within a year he was performing at Carnagie Hall"
DOCTOR #2: "That's nothing. I succesfully operated on a young man who had lost both arms and legs. I reattached them all. And guess what? Six months later he won a gold medal in field events in the Olympics."
SURGEON #3: "Shut up you two....You are just amateurs. Clearly I am the best doctor in all of Texas. Several years ago a cowboy who was high on cocaine and alcohol rode a horse head-on into a train traveling 80 miles an hour. All I had left to work with was the horse's ass and a cowboy hat. Now he's president of the United States."
---
BAY AREA DJ PROFILE #019: DJ STEF
DJ Name: DJ Stef
Hometown: I was born in San Pablo, lived in Richmond as a baby, grew up in Concord, but I claim San Francisco as my hometown.
Trademark saying or philosophy toward music/life: Hip-hop keeps you young.
Groups/crews that you have been a member of: Sister SF guest DJ (www.sistersf.com), Brick crew (with Big DJ Serg and RasCue), and back in the day my partner Stacey and I were I.T.M. (In The Mix).
How would describe the music you spin? I like to play a variety -- old to the new, underground to popular, hip-hop, R&B, soul, funk, electro, bass, jazz, rock, dance, electronic. I love it all but my very favorite sets are uptempo classic/old school hip hop or mellow, soulful stuff.
Is there a style to the way you put your music together? Sometimes I play a lot of genres all at once, sometimes I stick to a theme and sometimes I cater to a specific crowd or situation. Typically, if I have a gig, I'll start with something I think the crowd will dig and I'll like playing, and build from there.
DISCOGRAPHY: Old School I and II, Hip-Hop '94, Down There, & "When I Hear Freestyle," an 80s freestyle mix recorded for Spinner.com
The first record you ever bought: Other than a Chipmunks album when I was really little, Maybe Tomorrow by the Jackson 5 was the first record I bought myself. I was 9. I still have it too.
Most influential record(s) in your life: "Rapper's Delight" was the first rap record I heard, so definitely that one
for introducing me (and a LOT of kids around me) to rap. And then Super Rhymes shortly after that. I remember buying the first Public Enemy album without hearing it, just seeing it when it came into the store (Aquarius Records when they were on 24th Street), that it was on Def Jam and from the picture on the cover. The first Public Enemy, Boogie Down Productions and Gang Starr albums all blew my mind in terms of new styles and what the future held for hip hop at that time. Also when I was little I loved the Beatles' Magical Mystery Tour album. I'd sit and listen and follow along with the book. I learned how a record could transport you to another place.
When did you first DJ? I used to play records during lunch in junior high. We played from a classroom next to the quad. But my first club gig was at DJ EFX and Mind Motion's Sunday night weekly at the Nightbreak on Haight Street. That was around '86.
What made you want to be a DJ? I've loved playing records since I was a toddler. I wanted to make people
dance and get the party started, or keep it going. I would think of mixes and then HAVE to hear them for real. It was especially fun to mix in the 80s-- throw together Miami bass, freestyle, R&B, hip hop, new wave, rock.
What makes you continually want to be a DJ? Music soothes and excites me. I get a kick out of playing that right record at the right moment for the right people. That keeps me going. As long as people keep asking me to spin, I'll spin. And it's still fun to mix!
Most memorable performance of your DJ career: I opened up for Atmosphere at the Fillmore last year, to a packed house. I was scared -- I'm not used to people standing and watching me, especially that many, but once I started and got love from the crowd, it was fun. It was actually easier than a lot of club gigs because the sound was so clear and the equipment setup was perfect. (Thanks, JBird and Mr. Dibbs.) It's an historic venue. I can say, "I played the Fillmore."
Do you play CDs ever at gigs? No. I have before though- I had a DJ job at a restaurant/bar and the music director asked me to play some of their CDs. I played with the CD mixer there sometimes but I got bored with it. I don't like CDs.
In your opinion who is the best DJ of all time? That's a tough question because there are so many great ones and every DJ has his/her unique strengths... Be it scratching, mixing, selection, playing for emcees, battling, innovating technique, hyping the crowd... If you could combine QBert with DJ Premier and give him all of Afrika Bambaataa's records (and 80s outfits), that'd be the best DJ of all time.
Best website to find out more about you: VinylExchange.com -- The message board is pretty active and you can stay in touch with me there.
---
HIP HOP SLAM BAY AREA RAP NEWS ARCHIVES: APRIL 1996
by Billy Jam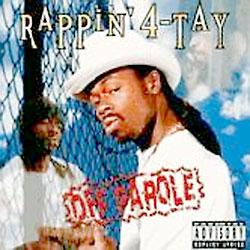 Dion Stewart (aka The True Lesson Giver) of Oakland's Black Dynasty was shot and killed on the morning of March 24th as he attempted to hold up an East Oakland truck rental business. "Just after his death his girlfriend discovered a poem he'd written 2 days previously entitled "Bye Bye Baby," said Andy Herrera of Another Hit Record (the artist's label) indicating that Stewart was perhaps on a self-destructive mission. He was scheduled to go into the studio with fellow Black Dynasty member Kareem Abdulah to record a new album. Stewart is survived by his girlfriend and their two kids......Jail Watch: The Govenor is out of jail and anxious to get back to his career as a rapper. We wish him all the best...Meanwhile Rappin' 4-Tay's new album is out but he's still in the slammer (San Quentin) serving time for parole violations. Ironically his new album is entitled "Off Parole". "That's one of his main goals, to get off parole," explained manager/friend Franky J, adding that "4-Tay should be out in a month. He would have been out by now but he got an extra 30 days for a bullshit charge. He supposedly started a riot.....all by himself," related an exasperated Franky J.
NEW RELEASES: chart additions this week include the stellar East Oakland "Cell Block Compilation" which, with an incredible lineup inc Luniz, Too Short, Richie Rich, J Dubb and Askari X, blows all previous Bay Area compilations away. Another cool new add this week is the Twisted Mind Kids demo tape from the lyrically innovative San Jose hip hop crew which will be coming out on No Exit Records: (408) 815-2164.......
Cougnut of IMP went to LA recently for the Soul Train Awards and confirmed that there was some definite friction between the 2Pac/Death Row and the Biggie Smalls/Bad Boy camps. Speaking of 2Pac, major props to his label for putting out the four-piece vinyl set of "All Eyez On Me." In fact recently labels have been issuing more and more albums on vinyl for commercial consumption.
IN THE STUDIO: Total Devastation are back in the studio recording a new album with producer The Enhancer who also did a few tracks for Nate Banks' forthcoming album....San Francisco's 11/5 have been hella busy recently putting the finishing touches to their new album "A 1 Yola" with production credits including T.C., Regi-Reg and his brother Race.....Meanwhile their Dogday labelmates Closed Caption have been equally active across the Bay in East Oakland's Ice Chamber studios with their DJ/producer Stevie K recording their second album which will include songs such as "Greens", "Hit The Cock", "Stickup" ("about doing a robbery"), a collaboration with The Coup, and "Keep On Stackin'" which features soaring vocals from female powerhouse Izaya.....RBL Posse (Black C and Hitman) who are in the studio with N.O.H., have reportedly closed that deal with Atlantic Records.

AWARDS: PART DEUX: Once again 4080 hip hop magazine and Hip Hop Slam have joined forces to bring you the second annual Bay Area Hip Hop Awards. The actual ballots for fans to fill in will be published in the next two issues of 4080 (#'s 32 & 33). Right now Bay Area rap industry insiders are determining those ballots by filling in questionnaires faxed to them by 4080's Eric Arnold - (510) 848-4080....For info on Awards and other Bay Area rap things call the Bay Area Rapline 24/7 @ (510) 658-4**3

(THIS BAY AREA NEWS REPORT BY BILLY JAM WAS ORIGINALLY IN A FREE HIP HOP SLAM NEWSLETTER, APRIL 1996)