• Hip Hop Slam Releases Final Scratch Attack Compilation
• The Death of the Mixtape: What the fuck happened to my Walkman?
by DJ Munkifunk
• 50 Cent: Biggest Hype or Biggest Talent of 2003? by DnZ
• Triple Threat DJs new album by Billy Jam
• DJs from Greece, Russia, Northern Ireland share thoughts
• Peace Crane by Shing02
• Refa-1's tribute to 23rd Yard
• DVD REVIEW: DJ's Complete Guide: All you Need To Know About The
World Of DJ'ing
---
Hip Hop Slam Releases Final Scratch Attack Compilation
The third and final volume in the critically acclaimed Scratch Attack compilation series is now available at a few select spots (including here). (It's official in-store release date is April 28)
Scratch Attack Vol. 3 is a quality-packed (nearly 74 minutes) collection of some of today's most exciting DJs including the fuckin amazing (albeit underrated) DJ T-Rock who delivers five killer tracks (including some of the routines he is currently doing on the BOMB European Tour). The Atlanta born T-Rock recently moved to LA where he has been busy performing (both solo and with his new group LA Graffiti Death Threat) and recording several projects including a new full-length album plus a DVD. His discography includes the albums Who's Your Daddy and Sikinthehead and numerous compilation contributions (including Scratch Attack Vol. 1) plus a collaboration with Mr. Dibbs. Visit his website (www.djtrock.com) or email him (djt_rock@hotmail.com). DJ Pone, who instigated the DJ Prank/Arnold showdown, pops up throughout this compilation which he co-produced with DJ Dank. For Dank's track (#20) which is taken off DJ Dank's Biggest Bong Hits he utilizes a track by Alien Army. The ever-talented Italian crew Alien Army contribute "Jazz"—another tease from their highly anticipated 2003 Hip Hop Slam album The End. The Live Human track "Elephant Remix Remix" was recorded live in San Francisco and is taken from their limited edition Live Human Live CD on COD Records (available at their shows and here). Meanwhile Live Human's DJ Quest is one of the DJs (along with Z-Trip and DJ Zeph) to call in (#27) and offer his thoughts on the tragic loss of Jam Master Jay during the Scratch Attack pirate radio special KJMJ. Cory Robbins' call in is also from that Scratch Attack special (he signed Run DMC to Profile). Also from that show is DJ Platurn's "KJMJ Skratch." Platurn, who organized the KJMJ special, delivers two other tracks to this collection: the studio recording "A list b-boy" which will be a 7" B-side on Slept On Records and "Ducks n Geese (Barnyard Scratch)" which was recorded live (with extra cuts by DJ Pone) during the UK "Turntable Radio"/Scratch Attack special. Platurn interviewed Shing02 (#26) about his "Faderboard" invention which will be manufactured by Vestax later this year. The Shing02 & Freelancers United track "Organ Transplant" was recorded live at Hip Hop Slam during the December 10th, 2002 Scratch Attack special. Later remixed/rerecorded it features Shing02 (faderboard), and DJs Cosiner (bass), DJ A-1 (drums), and Icewater (sample). Shing02 is also responsible for the production of Heiankyo's "Hmk Rmx"—a track dedicated to Jam Master Jay by the six emcee Japanese crew. It is remixed by Vector Omega with cuts by DJ Top Bill. "It uses a rock break and stereo pan to emulate a DJ juggling the beats," said Shing02. "The hook & title comes from "Himiko"—a Cleopatra like figure from ancient Japan." (for more info. on Shing02 and his Faderboard: vestax.com and e22.com). Another Japanese artist featured is the late great DJ Sushi (#9) from his Hip Hop Slam release The Lost Dub Plates EP (hiphopslam.com). dawgisht (#17) is longtime Hip Hop Slammer and beatmaker/artist Geoff Rantala who used to be in H$O. He is joined by fellow Hip Hop Slam member DJ Stoic on the drunken scratch track which is also available to download for free (www.dawgeatdawg.com/dawgisht/music/). DJ Stoic is also featured on #15 (taken from the "Turntable Radio" special) along with DJs Cutso (Finger Bangerz) and Spair (Oakland Faders). But note Stoic is not on the turntables but playing a $16.99 Kawasaki keyboard… and he was drunk! The talented Kid Ginseng (KG) continues to push the skratch envelope with "The Haunting of Andy Warhol." KG, who was also featured on Scratch Attack Vol. 1, is heavy into electroclash these days and is in the band Mad Happy. He has also performed with the Tom Tom Club and Deep Banana Blackout. Reach him at KidGinseng@aol.com. DJ Haste (of the UK duo The Wristerons), who was featured on Scratch Attack Vol. 2, returns with another dope track.
Since Scratch Attack is 100% commercial-free we include two commercials (#22, 25) for their artistic merits only. Thanks to DJ QBert for the Twix commercial (with voice-over by DJ Flare). And of course Scratch Attack's always most-vocal host Bas-One can be heard throughout the CD including his call to the "loud drunk unruly people" which was culled from the August 2002 Mexican Wrestler DJ Battle/Scratch Attack Special in East Oakland.
---
The Death of the Mixtape:
What the fuck happened to my Walkman?
by DJ Munkifunk
So I bought my daughter a boombox last Christmas. Actually it's more ergonomic than booming with its rounded edges and alien pod design, but what the hell. It has a radio tuner, compact disc player and cassette recorder. In addition, I also got her the prerequisite Nellyville and Justified both on CD format. She's 11 years old and just starting to really get into music, and damn if the beats on Justified ain't banging… just ask DJ Pone! To balance it out, I also made her a mixtape of songs from all different kinds of music that she wouldn't necessarily see or hear on MTV, MTV2, or Clear Channel radio. Merry Christmas. A few weeks later, I got a call from her asking how to operate the cassette player:
"What do you mean?" I answered irritably. "You pop in a tape and press the goddamn play button."
"But how do you know where the beginning of the song you want to listen to is?"
"You just have to fast forward and rewind the tape to where you think the song is on the tape."
"Well, that's stupid!"
"And remember that a tape has two sides."
"Huh?"
Welcome to the 21stCentury. Analog is out. Digital is in. Technology crept up on your ass and caught you slipping. Now your Walkman has turned into a goddamn Discman, and you're plugged like a USB port. You fucking yuppie. No wonder people hate on you when your ride the bus…
Or maybe not… this is supposed to be an obituary for mixtapes, but like Samuel Clemens said, "The reports of my death have been greatly exaggerated." Mixtapes still exist, albeit barely. Megamixes are now being put out on CD-Rs as opposed to the old-school TDKs. I guess that's just the way of the digital revolution. High profile DJs like Dan the Automator, and Mixmaster Mike have already put out their official [read: licensed and sanctioned] studio mix CDs. Even some underground classics such as DJ Spinbad's Rock the Casbah and QBert's Demolition Pumpkin Squeeze Music have made it out on digital format. What does this all mean? Nothing really…
Consider this another lament waxing over old-school nostalgia. Almost gone are the days of dirty 4-track recordings dubbed to imperfection on home stereos. Back then, if you had a 4-second sampler, you were ill on the production tip. And it didn't matter if you made a mistake, as long as it was funky. Nowadays, kids are getting sick with computers and hard disk recorders, making slick recordings right out the box. Tape edits? Nah man…point & click, cut & paste, burn & duplicate! The future is now… "I've been doing mix CDs out of my mixtapes for over a year," revealed mixtape veteran DJ Quest. "It's easier to deal with than making tapes. Making tapes is almost risky. When you're recording, sometimes one of the tapes may not record one side. Most people that listen to a mix on a tape are going to listen to it on a Walkman. And a Walkman is always going to sound a certain way. It's never going to sound like a studio. Although a CD doesn't sound exactly like it did in the studio, the levels are more consistent than any tape. Right now I think it's the thing to do because you gotta evolve with the times." "It's just technology," adds Eddie Def, creator of the widely popular Hemp Lords mixtape series. "I don't really care anymore." Apparently neither do retail stores. Quest explains, "I would say that 100% of the stores now would prefer to buy CDs, even if they are CD-Rs, [as] opposed to buying mixtapes."
In fact, opposition to the whole analog/digital conversion comes from one of the most unlikely and unexpected places: "Surprisingly, in Japan most cats don't fuck with CDs," said Quest. "They buy tapes. They're big on tapes. They're probably the biggest market for cassette mixtapes. I guess they're just being more traditional." But no matter where the sounds come from, it's all good. Whether it be in your headphones, a passing car, or even your computer monitors… like Shannon sings, "Let the music play." If it's a banger, then it will bump, and you will feel the beat.
Be on the lookout for DJ Quest's new mix CD entitled Mutationmann dropping soon!
---
DJs from Greece, Russia, Northern Ireland write…
>From Greece, Skeptic writes: "Well, I'll probably disappoint you….There is a dead-shit situation here: Too many MCs and groups, in too many mainstream bullshit! You know, radio-friendly songs and all these shit! We have some talented turntablists though, but not many things cause the record companies are not interested in turntablism collaborations, scratch albums and of course battle-records!"
Skeptic, recommends checking out the site: www.marwax.com



>From Russia, Basil (djbazil@mail.ru) writes about what he does in Russia: "I just play at hip hop parties, and organize hip hop parties. Also i have a few friends who I teach to scratch. I just propagandize a scratch (I'll copy all skratch-video that have to my friends and to all hip hop dj whom i know). On Russian net i explain to beginner hip hop djs about turntablism, skratch-technics (chirps-flares-crabs and stuff) and give them links to US and European skratch websites…Also i work with rap personages, u know scratch in songs, on the concerts…In April we going to organize the DJ battle (just a scratch-juggle show seminar for press and for skratchers) We name it SPb (Saint-Petersburg) Spring Skratch Games. I want just call all hip hop DJs from SPb and pay attention to tha turntablism-aspect of DJing (lot of them are just mixing :). I enlighten people 'bout turntablism-culture. I am not alone but there are only a few of us, and we haven't money which we can put into developing Russian turntablism."



>From Derry, Northern Ireland writes Little Dunky: "Not many people know this, but there is a storm brewing…………. Stereo Types are Fitzy, Plan-B and Munrizie. They live here in the city but you dont see them around much. Reason being, they're steady at 'Da Lab' knee deep in tracks and routines or rippin shit up at their residency spots (Hustlers Convention Portrush, Breakdown Derry). Although Ireland isnt big on 'real' hip-hop, Stereo Types are fast becoming Ireland's finest export (besides Guinness). Having done the usual (entering DMC etc. etc. blah blah), they quickly got tired of the battle scene and found more fulfillment in skratch music."
---
50 Cent: Biggest Hype or Biggest MC?
by DnZ
The wait was over on Tuesday Feb. 11th which was, for many, probably one of the biggest albums to come out this year, 50 Cent's Get Rich or Die Tryin debut, which sold 874,000 in the first four days. Record stores were having trouble keeping the album in stock. Is it the hype that helped him sell so many? Maybe. He's signed to Shady and Aftermath Records which is run by Eminem and Dr. Dre. This could also have a lot with how come he's the hottest rapper out. Or could it be cuz he does have some skillz and that it had nothing to do with Em and Dre's help? He does have some flows but I think it's shit we've heard before in the usual hip-hop commercial scene, from selling drugs, money, cars, and shit like that but he does add another element to it and that element is trouble. 50 Cent is a rapper with scars to back up his tough reputation. As you already know he got shot nine times, something that plays a role in the lyrics on several of the album's tracks. He also gets on Ja-Rule (as if you didn't know) who he accused of masterminding his infamous March 2000 assault, that required stitches to close lacerations on 50 Cent's back and head. 50 Cent also goes after Jay-Z, DMX, and Nas. So back to the big question: is it hype or genuine skillz? In a way I think it's a little of both. Em and Dre have created a beat that will be in clubs and on the air waves for a while, "Wanksta" & "In Da Club." I'm not hating or anything, I ain't gonna lie, I've been juggling his beat for the last two weeks and there is not one party or club I go to where someone will go up to me and say "can you play In Da Club one time" and the place will go wild when it goes on. So to end this piece will 50 Cent be still a big name or will he fall off like Em's D12, Time will only tell and we'll just have to watch and wait to see if 50 cent is truly just hype or house hold name.
Those of you who read this who also have an opinion on this matter can e-mail me at: tfsdjz@hotmail.com and you might see your thoughts on our next update.
!!!OnE!!!
---
NEW PIECE BY REFA-1: An ode to Oakland's
infamous graf spot: 23rd Yard (1985–1995)
by Legendary Oakland graf artist Refa-1
This was 1 of 2 pieces I did as an ode to the Oakland Hall of Fame bka the "23rd Yard"!


I grew up with this Yard just as many other writers, especially those from the 80's era (golden age). During the months of October - December me and other Bay Area alumni returned (some after nearly 13 years) to pay our respect to the place that gave us so much inspiration as well as artistic freedom. This was a reunion and a giant jam session. The Yard ended up being completed end to end and top to bottom for the first time in history. Given the size of the wall, this was a feat! I will post the mural in it's entirety when I get a chance. In the meantime…

Here's a sample of what I consider to be Style Supremacy.
23rd Yard

Born 1985
Died 1995
Resurrected 2002
Adorned and sent to Glory December 2002
-RefaOne… HipHop Culcha and Spirit
---
Triple Threats's Diverse Debut Album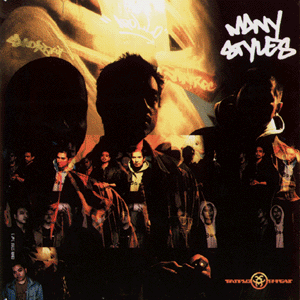 Many Styles (Fat Beats) - the debut album from the Triple Threat Djs (Vin Roc, Shortkut, and Apollo), which was appropriately released on 3-3-03 (March 3, 2003), is as the title suggests; many styles of music. It ranges from straight up skratch tracks to emcee based hip hop, neo soul, reggae-dancehall, plus lots of comedy/skits. Its many cameos include Talib Kweli, Mystic, Rob Swift & Roc Raida of the X-ecutioners, Souls of Mischief, Main Flow, Goapele, Nimm and Zion I. At the album record release party (March 1) at Milk (Frisco's newest & coolest club on Haight - opposite Amoeba) the joint was packed as the Triple Threat DJs spun all nite, doing their trademark unbiased mixture of both mixing popular songs (from hip hop and soul to reggae) and scratching up battle records. They reconstructed live the album tracks "We're Triple Threat," "2 Minute Warning," and "Bring The Ruckus" (*which also appeared on last year's X-ecutioner's album). Triple Threat are unique in that they are all legendary veteran battle/scratch DJs who haven't given up on their love of scratching but believe in bringing the hip hop DJ back to when his/her job was to keep the party going, and not just scratch all nite long. "We have always believed in being all around DJs: not just all scratching because we come to rock the party. But we love scratching," said Shortkut, no doubt in reference to the flak that some diehard scratch fans give them for not doing nonstop scratch routines. On one of Many Styles' many very funny skits they address this issue in a humorous way. In the skit Butter B acts like a diehard scratch/battle DJ who loves the DJs from their collective skratch histories (Invisible Skratch Piklz, Beat Junkies, 5th Platoon) and who is upset when he goes to a club to see his heroes including Shortkut, who designed the 05 mixer. This fan just happened to have brought his mixer along in his backpack to have it signed by his idol. "That and all the skits on the album are just fun," stressed Shortkut, not to alienate anyone. But apparently some DJ's don't have a thick enough skin to laugh at themselves and are upset at this particular skit. Which is too bad, because the equal opportunity skits (which make fun of all types of club goers who interrupt the DJ, from the West Coast gangsta fan who doesn't like the "hip hop" the DJ is spinning and has a suggestion for playing "the new Pac… it will mix great with this one" - to the insistent dancehall reggae fan) are all absolutely hilarious and any party or club DJ who has had to deal with drunken in-your-face pundits should laugh hard at them.
For more info on this album or the DJs: www.triplethreatdj.com
---
SHING02's Peace Crane
www.e22.com/peacecrane
by Shing02
Normally, origami cranes are folded using colorful origami paper, and traditional patterns. We hereby propose a new movement by spreading the crane with camouflage patterns of military around the world. Using the camouflage on the cranes represents the irony of war and peace that are inherent in our society, as if one cannot exist without the other. Today, we must confront the stark reality that the military complex is a worldwide industry, sponsored by the government (not to mention tax payers), which in turn supports the lifestyles of the unassuming public. We must not forget that we share equal responsibility in the proliferation of arms in the world today. We also understand that the mere presence of military force overseas alarm the foreign citizens and governments, instead of stabilizing politically volatile areas. Upon further introspection into the history of camouflage, its evolution and adaptation of design to the ever-changing political balance is parallel to the way humans have adjusted to the economical needs of the world, only to stray away from values of nature, ironically. It must also be noted that the camouflage patterns used herein do not represent any political messages, except for those calling for immediate and everlasting peace.
Reality is not immutable like a rock, rather it is dynamic like water. Although it may be a strong force, we can shape the future by taking part in it, no matter how small the drop. We sincerely hope that this project, done literally by the hands of the people, would reach the hearts of those who desperately seek peace, as we speak. Lastly, the only way to reach true peace will not come from agitated fear, but from true knowledge and inner peace.
---
DVD REVIEW

DJ's Complete Guide:
All you Need To Know About The World Of DJ'ing

Running Time: 90 minutes approx.

Crome Dreams (www.chromedreams.co.uk)

Review by DnZ (tfsdjz@hotmail.com)
DJ's Complete Guide: All You Need To Know About The World Of DJ'ing is a UK produced DVD that will get you spinning dance music like a pro. Delivered in an English accent it might throw you off a bit, at least in the beginning. But the DVD is good if your a beginner because it covers stuff like everything on the turntable, mixers, needle set up, how to read beat's or bars, BPM info, and the different ways to mix as in the classic cut mix. And who can forget the Blend, Cross mixing, and Break mixing, but aside from the basics they also show you more of the advance techniques. There is one tiny section on scratching but it's not a really good explanation of scratching since they just run through scratching as a whole rather than break down the different types of scratch techniques such as say crabbing and other basics that should have been in there. They said nothing about it really than it's a creative thing to add to your mixes. The DVD does give you an insider look of the DJ world from top UK club DJ's and DJ producers. Some of these DJs give you secrets on how to self promote and increase your chances of getting a gig. If you like dance music and want to learn how to be able to spin and DJ at clubs or raves then this DVD is for you. But if you are trying to be a hip-hop DJ I would have to say pass this one up. All though it had some pretty good info on it. And as I noted earlier at some points of the DVD I was lost due to the thick English accents, but hey that was just me. I think it should be titled DJ's Complete Guide For Spinning Dance Music!
Rated: 5 out of 10
OnE