HIP HOP SLAM
NEWS SERVICE
#022A — 12/16/03
#022B — 12/16/03


SCRATCH ATTACK NEWS

#02 — 02/04/02

#01 — 09/15/01



• Z-Trip produces new 2Pac track
• DJ News Headlines by Billy Jam
• DJ Pone's 2002 DJ Battle Roundup Report
• Fuse-One from the Red Bull DJ Academy in Brazil where "every girl has ass"
• Reviews of new Scratch Attack Vol. 2 compilation
---
Z-TRIP PRODUCES NEW 2PAC TRACK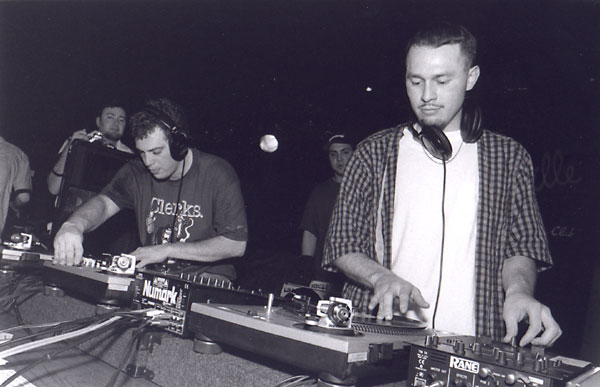 Z-Trip, who is on the brink of being a major major star (he is even hyped in the new Rolling Stone magazine… "you read Rolling Stone?"), has just produced/remixed the title track off the new 2Pac album, Better Dayz. Not included on the new double CD set from the late rapper, Z-Trip's remix is expected to drop as a twelve inch version sometime in 2003. "The head of Warner Brothers called me up when I was on the road and asked me to do the Pac track," said the successful but very down to earth DJ during one of his recent visits to San Francisco. Apparently so insistent on having Z-Trip do the remix Warner flew out a rep to the mid West where the DJ was performing just to play him a copy of the song. They then flew Z-Trip back to his LA studio where he reproduced the Tupac Shakur track, working only off an acapella, within 24 hours. "The opportunity came along and I took it. I did it in a day. I'm just psyched to be on a Pac track," said Z-Trip who was in his home away from home, San Francisco, busy recording in the studio, playing in the clubs, and (of course) crate digging at the many great Bay Area record stores. He was recording with Jack Dangers (Meat Beat/Tino Corp) and performing at such diverse Frisco spots as the Top, Mission Rock, and the Warfield (with Tino Corp opening for DJ Shadow). What makes Z-Trip such an endearing person is that he loves the music and always looks out for his old school partners in the Bay Area. This past year or so has been an amazing time for Z-Trip. Highlights included, he said, "getting to go on the road with Linkin Park" and "performing with Beck." But dont call Z-Trip an overnite sensation. He has been DJ'ing for 16 years, professionally for ten. "Finally all the work is starting to come together," he laughed. When asked what he suggests people should do for Christmas, Z-Trip recommended, if you haven't seen it already, to go see Micheal Moore's thought-provoking movie Bowling For Columbine. And then next year be sure to buy his solo album which he is currently working on getting sample clearance on all the tracks.
---
DJ NEWS HEADLINES
by Billy Jam
DJ QBert has been extremely busy lately. Before recently leaving for the Japan and Australian Scratch tours he was busy in both Hawaii and the Bay Area working on various projects such as finishing up his much anticipated volume two of his DIY DVD which is going to be even better than Volume 1 and will include numerous guests such as DJ Spair, DJ Quest, and Teeko………
He has also been working with Dan the Automator, recording tracks that will appear on both artists' forthcoming solo albums. The highly anticipated follow up to QBert's Wave Twisters album (to be released in 2003) is also rumored to include a DJ vs. Emcee battle track with beat-box master Rahzel… "Yo DJ QBert show em how it is to bite into a Twix," roars DJ Flare as QBert rips it up on the ones and twos in a brillliant turntable display on the recently recorded Twix candy bar commercial that QBert and such other DJs as Funkmaster Flex were invited to record. The amazing but too short (30 seconds) radio commercial will air sometime in 2003………
DJ Shadow has been busy touring the world in support of his Private Press album. For his November 20th show at the Roseland Ballroom in New York City DJ Shadow invited his heroes Double Dee and Steinski (who inspired his 1991 "Lesson 4") to open for him in their first ever public performance together. "Shadow gave us a rousing introduction," reported Steinski of the concert that he noted was recorded on video by Jazzbo and may be commercially available in the future. Note that while the legendary hip hop duo of Double Dee and Steinski, who recorded the landmark "Lessons 1, 2, and 3" in 1985, have never performed publicly together Steinski has performed several times in the recent past including on July 1st, 2000 at the Thud Rumble: The Main Event concert at San Francisco's Fillmore Auditorium where he joined onstage DJ Shadow and (fellow "Lesson 4" producer) Cut Chemist………
Cut Chemist, Rob Swift, DJ Swamp and QBert are among those who were interviewed for the recent New York Times article about DJs and digital CD scratching ("Scratching Without Vinyl: A Hip-Hop Revolution" Dec. 3, 2002). The article, in which author Michael Endelman reports that "Digital turntables have become so popular that they are now often de rigueur in many dance clubs, occupying a spot alongside the traditional turntable workhorse, the Technics 1200" can be viewed online: www.nytimes.com/2002/12/03/arts/03SCRA.html………
Shing02 and his crew, the Freelancers, recently demonstrated the new "Faderboard" technology at Aquarius Records in San Francisco. The Japanese native, who now lives in Oakland, spent the past two years designing the electronic DJ instrument for Vestax who will begin selling it sometime in Spring 2003 at an estimated price of $800. Aquarius owner Windy Chien described the Faderboard, which produces eclectic sounds from its faders, as like "a keyboard but instead of keys there's a row of up-faders that you play the scales and drums with." During the fun instore demo, which was fleshed out with turntable scratching, Shing02 showed how you can sample all types of sounds (up to 30 seconds) and nicely manipulate them in countless ways. Dave Paul (BOMB Hip Hop), who was one of the attendees, was impressed but said that "I like it but I think that it will appeal more to house music DJs rather than hip hop DJs."
Shing02 and the Freelancers (DJ Top Bill, DJ Icewater, DJ A-1, Cosiner) once again worked their magic at Hip Hop Slam (Scratch Attack Vol. 2 release party) on Dec 10th and then again, two days later at the Dec. 12th Future Primitive Soundsession party (111 Minna Gallery in San Francisco). Also on that bill will were Rob Swift, Live Human featuring DJ Quest, Doc Fu, and DJ Zeph………
The movie Scratch recently premiered in Japan to coincide with the Scratch tour of Japan (QBert is among the many DJs on tour). Next stop for the Scratch tour is Australia. (visit www.scratchmovie.com for more details)………
DJ T-Rock, Dave Paul, Foreign Legion, and Azeem will be heading for Europe in March for the BOMB Hip Hop European Tour… more info at www.bombhiphop.com/newbomb/bombpages/Europetour.html
---
DJ PONE's 2002 DJ BATTLE ROUND UP
For the battling DJ, competition is at an all-time high. With the current proliferation of turntablism in the mainstream, it's no surprise that there are more big DJ battles than there were several years ago. This year, on top of the well-known D.M.C. World DJ Championships, we've seen other large-scale, corporate-sponsored DJ competitions such as the Kool Mix Battle and the Guitar Center Spinoff. The 2002 DJ battle season ended with a bang, with the I.T.F. World Championships and the Vestax Turntablist Extravaganza World Finals in November, and the Allies All-Star Beatdown World Finals both his month, December.
This year's I.T.F. World Championships were held in Munich, Germany on November 16. The Advancement Class competition featured the 2001 I.T.F. runner-up DJ Kodh from France defending the world title, as 2001 Champion DJ Woody (Table Gimps, UK) did not defend this year. Facing DJ Kodh in the final round was the U.S.A.'s I-Emerge (5th Platoon). In a close battle, DJ Kodh came out the 2002 World Champion. I-Emerge came out the champ in the Scratching category, after facing France's DJ Netik (2002 DMC World Supremacy Champion), and Ritchie Rufftone (Table Gimps, UK). France won another championship in the Beat Juggling category - DJ Troubl beat defending champion Jr. Flo (Funky Teknicianz, Canada) and Kiko (Platter Pirates, U.S.A.). In the Team category, the Nocturnal Sounds crew (U.S.A.) successfully defended their world title, facing competition from Killa Tactics (Belgium) and Impy's Pizza (U.S.A.).
The Vestax Turntablist Extravaganza World Final 2002 was held in London, England on November 21. Thirteen DJs from around the world competed for thousands of dollars worth of cash and prizes. Among the competitors were the U.S.A.'s Lenn Swann (the 2002 Guitar Center Champion), Canada's DJ Dopey (Turntable Monks), and Germany's Man-At-Arms. The UK's DJ Woody won the competition, with Japan's DJ Taiji following as runner up.
This year's tremendous battle season ended with what is perhaps the ultimate DJ battle, the Allies All-Star Beatdown World Finals—created and judged by the Allies, some of the most successful battle DJs in history. The world's best battle djs were selected and invited to battle in three regional championships around the globe. The best of those DJs made it to the World Finals, held at Irving Plaza in New York on December 10. Eight djs competed for over $10,000 in cash and prizes, a lifetime royalty deal from sales of the battle video, and the World Championship title. Battling were Precision (Lo Lives, U.S.A.), Solution (Nocturnal Sounds, U.S.A.), Perseus (Turntable Technicians, U.S.A.), Netik (France), Troubl (France), Gimamen (Switzerland), and P-Money (New Zealand). Canada's DJ Dopey defended his 2001 title. France's DJ Troubl continued his successful battling year, winning the Beatdown championship. He faced tough competition each round - the U.S. Champion Precision, the European Champion Netik, and ended by facing the defending champion DJ Dopey in the final round. For more information, check www.allstarbeatdown.com.
---
FUSE-ONE'S BRAZILIAN DIARY
This place is amazing! Not only that, the line-up for the guess lecturers is mad thick. Cut Chemist, Madlib, J-Rocc, Babu, Paul Humphrey, James Gadson, B+ (who is down here filming a Brazilian version of "Keep In Time" with Funk Drummers, Brazilian Drummers, and Turntablists)… just to name a few. The "Keep In Time" thing is going down on Monday, and we're all gonna go down there to peep it out. I'll let you know how that goes… Anyways, things here are just kicking off today, right now I'm at the BBQ for all the RedBull Participants… they have the best beef in the world here, for reals. The lecture they had today was the history of Brazilian music… I thought I knew a thing or two about Brazilian tunes, but turns out, I didn't know shit until today. Very informative stuff. I left the schedule upstairs, so I can't really run down the whole line-up to you just yet. I think even Carl Craig is on the list of speakers. If you want an even more detailed run down of the things happening here, you can go to
www.redbullmusicacademy.com and they will chronicling everything on there day by day………
>>>> Some Daze Later:
… Things are just amazing here. Monday night was an incredible event entitled "BrazilInTime"… which is a continuation of the ground breaking short film entitled "KeepInTime" produced by B+, in which he pitted '70s funk drummers with HipHop Djs of today. This time, B+ decided to add a twist… not only did he put together DJs and funk drummers, he also added legendary Brazilian drummers to the mix. The heavy line-up looked a little something like this: US drummers Paul Humphrey, James Gadson, & Derf Reklaw / Brazilian drummers Joao Parahyba, Mamao, & Wilson Das Nevas / Djs J-Rocc, Babu, Cut Chemist, Madlib, & Nutz (Brazilian DMC Champ). For some, this was the first time they had ever met one another. Knowing this fact, it was amazing the way they worked and vibed off each other… jamming unrehearsed for over 2 hours. First, Paul Humphrey, James Gadson, & Derf Reklaw took to the stage with the Djs… Then, it was Joao Parahyba, Mamao, & Wilson Das Nevas with the Djs… in the last half hour was one of the most mind blowin sounds I've ever heard… 6 of the greatest drummers the world has ever seen, simultaneously with 5 of the world's greatest djs. You would think with that much fire power all at once, there would be miscommunications of some sort, and slip-ups here and there… but none of them missed a beat. I don't think something like this will ever take place again, considering that Mamao & Wilson Das Nevas left to go back on tour the next day. I don't know when the film will be available to the public, but you have to get it when it does! That was probably the greatest highlight so far in the week that has passed… but I can't leave out all the other things that have been goin on either. Cut Chemist, Madlib, J-rocc & Babu all playing out in the city… not mention I got a chance to play out last night as well. You would think that Brazil wouldn't have much of a scene out here, but I think the crowds are more receptive out here than in the States. Maybe it's because they don't know much of the lyrics in the songs, and they just feed off the beat. Anyways, the clubs close when the last person has left (6 or 7 in the morning?) and the bar never closes. Plus, the Brazilian women here… daym. Let's put it like this… the most average Brazilian girls at the clubs, would be the ones that all the fellas would be drooling over in the States… and the clubs will be packed with em!… Along with all the music happenings, I can't forget the record stores… there's a place here called the Galleria, with is like a 5 story building… and 2 stories are all record stores! The prices seem high, but you gotta realize this… you get 3.5 reais (the Brazilian dollar) for every 1 US dollar. So if you see a record for, say 40 reais, it's actually about 7 or 8 dollars. Beer out here is only 3 reais! (about 75 cents) You can go to a club and only spent maybe 10 dollars….have you ever heard of that?… I could go on and on about this place, but there's just way too much to talk about. For more information on the happenings here, you can go to www.redbullmusicacademy.com and click on the icon that says "the academy"………
I'll leave you with this summary of what the best part of Brazil is: every girl, and I mean Every girl… has ass.
Take Care,
fuseone
fuseone@hotmail.com
---
REVIEWS OF NEW SCRATCH ATTACK VOL. 2 COMPILATION
Here is a sampling of some emailed reviews on the new Hip Hop Slam release Scratch Attack Vol. 2 from folks who bought it from our shop before its December 10th street release date… plus a couple of quickee reviews by featured artists DJ Skizo and Bas-One.

>>>>
About the record, I listened to it on headphones and it blew me away. I saw all kinds of bright colorful patterns on the inside of my eyelids (no drugs). It even inspired me to draw! The use of recording tehniques is really taking scratching to the next level. The only thing I didn't like was that person with the annoying voice between tracks.
Bryan,
an aspiring scratch Dj

>>>>
The CD is pretty dope. I enjoyed the Q-bert track, Alien Army, and D-Styles the most. All in all a good compilation.
Thanks,
Paolo

>>>>
yoyoyo, **su0p bro, yeah i got the cd man, its fuckin dope!!! i was hyped cuz im from sicily and i had talked to Inesha from the alien army n he told me they had 2 tracks on that cd, plus i recently found out that q had turbo platoon on it so… thats just a must have… the cd is just dope pure fuckin dopeness… do you know when the alien army album is comin out? skizo told me its posed to drop soon but… any specific date? i dunno im just really impressed, keed droppin dope material like this and hit me back
much rezpect
hentsickz

>>>>
the cd's cool - the production kinda sucked on it (na just playing - it's all cool), umm feedback on the cd, generally it's all rocking - liked to snippits of history thrown in at the end, gives it a nice live/radio feel. yeah it'd be good if you could email me with any new releases etc, do you have any copies of Vol 1?
cheers,
John

>>>>
I must say, I'm quite surprised with the personal response - Thanks! I was just expecting a generic order confirmation. I take it that DJ Pone on the CD is not the DMC French Champion, but a Bay Area Dj?
I look forward to getting the cd and will holla back with some feedback
Peace
tuseef

>>>>
I have been listening to Vol. 2 the last few days and it hits.
Thanks,
mpm/USA

>>>>
What the deal DJ Dank and the HipHop Slam fam. The cd was crazy! you guys cut and scratched the hell out of those records. Turntablism has always been something I liked and sought after; I don't feel the deejay has ever received the attention for his craft that they deserve. I do my thing on the tables too but nowhere near the level you guys put it down on, simple mixes and blends for me. I am also the Urban MD/PD at WQFS here in Greensboro, NC so you can definitely believe that the cd will be getting some airplay on my radio show from hence forth and I am going to let people know about the website to check you guys out. You guys definitely did your thing; and even the added connection to early pioneers with the interviews added a touch of education to the mix also. I also have another cd that I saw on your website, Ths Shiggar Figgar Show or something like that. You can definitely put me down with notice of any other projects that you have in the works and notice of any events/showcases you guys will be featured in on the East coast.
I don't know if you know of this site or guys at www.33third.com but that is a good DJ site to look into connecting/networking with since you both are try to serve the DJ community.Thanks for reaching out and thanks for keeping the Hip Hop culture shining.
Easy.
Wesley E

>>>>
The CD is slammin'—great stuff! Please do e-mail me advance notices of other good upcoming releases :).
Thanks,
~David

>>>>
Many thanks for prompt delivery, 5 days fromordering to England is good going. The CD is excellent, new Q track is tightest yet. Those Italian guys are interesting as well, I will check the LP when it hits. Keep the history lessons going on the CDs as well! Feel free to add me to your e-mail list, I am a scratch addict since first hearing Cuttin Herbie in '82, shit I feel old!.
Peace
Simon

>>>>
hi. I got the CD today and I'm listening to it right now. And I must say I enjoy it very much. Just as I do with all my Hip Hop Slam releases. However, I don't have Turntables by the Bay vol 3 yet and I was wondering if it will ever be available in your online shop? I know I can get it from some other online recordstore, but I don't know any other place where I can pay with paypal. I haven't listened enough to give proper feedback yet but so far I can tell you that I really like the track by Quest & Live Human. It's always nice to hear turntables together with more traditional instruments. And it was really cool to hear Apollo getting introduced into the Hip Hop Slam Hall Of Fame. I assume it's a very fine award to receive since you guys seem to have done a lot for the DJ/turntablism scene.
thanks.
//bjorn

>>>>
damn, this shit is dope as fuck. i got it the other day, but didnt get a chance to listen til today. it came in the mail before i even remembered that i had ordered it. man…. im especially diggin the alien army shit. classic material. is it possible any of these guys would wanna do a collab? im piecing together my album and i would really like to get some good scratching material on some of my tracks. i got a page with a few of my tracks and shit if u wanna peep. subterranean dark poetry emcee type shit… i have tables, but im not very good with em…. id have to practice for years to get where any of you guys' are at. beats would be ready for anyone to do a trial run over….they could hit me up or vice versa and ill link em to the track. anyway, if you don't wanna be a middle man or anything i'll understand. heres the link to a few of my songs/instrumentals…..i did all production, invento is featured on a couple of the tracks….
www.soundclick.com/bands/elementsofapokalypse_music.htm


>>>>
damn, volume two is tight, hellatight, and i've only heard the opening three tracks. q-bert's latest is supernice. stream of consciousness, but thanks for the shipping quickness and i would definitely be down for a little advance notice action. thanks again, you guys turn it out with consistency
gordon king

>>>>
"It's a classic"
—Bas-One

>>>>
So far this is the best scratch attack collection……really liked the qbert track ..one scratch of dstyle with cut like a guillotine …..maaad and the happee track is tight too……love the double d track and really like the cover art by Dug-One …and we are very proud to be part of it too!!!!!!
DJ Skizo
(Alien Army)