Don't Forget to Check Out the
Second Half (#022B) of this Double Update!
• HIP HOP SLAM BEST OF 2003 LISTS (Part One)
• Hip Hop Slam News by Billy Jam
• Bay Area DJ Profile #011: D-Styles
• The Scratch Tour in San Francisco by DJ Pone
• QBert in Dublin
— Tall Paul Lowe Reports from Ireland on QBert's European Tour
---
Hip Hop Slam News Headlines
by Billy Jam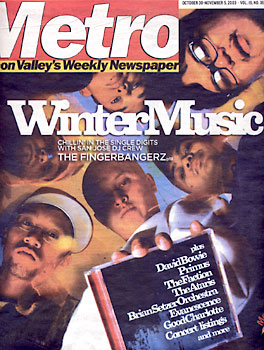 For the first time ever an Irish DJ won the ITF world champ when Dublin's DJ Flip took the title in Munich at the heated world finals recently..... Meanwhile D-Styles (who is our featured DJ in this issue's BAY AREA DJ PROFILE #011) was also at the ITF Finals in Germany where he was honored with the Grand Wizard Theodore Award. Be sure to get the new DVD live at the Knitting Factory featuring D along with Beat Junkies and members of Gunkhole..... Gunkhole's Mike Boo and Ricci Rucker's new enhanced-CD/book "Scetch Book"is two great things (an inspired CD and an incredibly engaging art n text. well thought out, thick bound booklet.... How do I describe it? In two words: Fuckin Amazing! For real...This one will be a collector's item fetching DJ Shadow Lesson 4 scale bids in future years on Ebay..... For more on Ricci Rucker, as well as Mars-One, and Dawgisht check out DJ Stoic's cool site www.line-in.org for his recently uploaded "winter edition"....... Paris ( whose highly recommended return revolutionary album Sonic Jihad is selling really well) will be ....wait for it..... producing the next Public Enemy album. Wow! What a fuckin' amazing collaboration that will be. I can only pray that they bring in such fellow minded artists as Boots Riley and Dead Prez...Ever since cool-ass Bay Area hip hop scribe Todd Inoue, who consistantly shows love for the DJ, recently wrote that Metro cover story on hometown DJ group the Finger Bangerz, the six member San Jose crew have been getting a lot more deserved attention. Look for their new full-length V.I.R.U.S. ...Another San Jose DJ deserving attention and much respect is Fuse-One for his consistantly strong weekly DJ club Stank...... Ageless b-boy & Rock Steady Crew prez Crazy Legs (who never seems to look any older and can still bust a move or three) has signed a deal with Fila to put out a Rock Steady Crew sneaker that will be stores on April 1, 2004 (no, it's not a April Fools joke)..... Mixmaster Mike is expected to come out with a new mix CD soon. In the summer he will release both his new solo foint and the next Beasties album which he has a lot of input on..Lots of cool Christmas gifts out there..... including Turntable Timmy book/CD (www.freewillpress.com/order/) and also those DJ Skribble dj toys @ ToysRus that DnZ wrote about in a previous NEWS report..... In keeping with the holiday spirit DJ Pone has laced up a fresssh CHRISTMAS mix which he will be performing live on he ones-and-twos of various Bay Area radio stations this season. He will be on KALX 90.7 Berkeley on Sat. Dec 20th at 2:30PM, KPOO 89.5FM on Sunday Dec. 21st between 4-6PM, and on KUSF San Francisco 90.3FM on Sunday December 28th sometime between 6PM & 8PM on.... Speaking of the wonderful weekly Beat Sauce show. Its producers recently made a bit of a blunder when they announced that they were celebrating its tenth year anniversary which began broadcasting in 1994, not 93. Maybe it was all that that killa cali skunk weed they were smoking or the fact that they bumping '93 til Infinity back then ... oops! Regardless the show's producers, supertalented DJ trio Raw B, Wisdom, and J-Boogie do an amazing job week in/week out....... Welcome to new Hip Hop Slam crew members PenCzar and DJ Kipplestock who are among the new 2004 Hip Hop Slam Cru and both of whom contributed below to Part One of the two-part Hip Hop Slam Best of 2003 Lists. Also included here are the Best of 2003's from Fresh Joyce, Dawgisht, DJ Pone, DJ Munkifunk, Tall Paul Lowe, and Bas-One. Check the NEWS update #22B for the rest of the Hip Hop Slam Best of 2003 Lists.
---
DJ Pone's Top Five of 2003
(not necessarily the best… but the most important things)
1) bushie's war
- even though not a lot of people noticed what was going on.
2) teeko's 2003 DMC routine
- hopefully people notice this return to musicality in the battle world
3) the return of political hip hop
- but why did it take a war to do it?
4) sketchbook by ricci rucker & mike boogie
- hopefully people notice this return to musicality in the the recorded scratch world
5) triumph of the dirty south
- for a while, all you thought the south was about was some miami bass stuff. even though a lot of it's commercially craptified, hey, even Nas is jumping on the dirty south bandwagon.
---
PenCzar's Top Five Rap/Hip Hop Items of 2003
PenCzar, a Boston-based scribe/journalism student/hip hop fan, is Hip Hop Slam's newest member. He begins fully in January 04… Meanwhile here is his Top Five and also his location, creed, and goal:
Location: Beantown via Hawaii.
Creed: creativity over mainstream anyday.
Goal: to rule the world with a pen, not a scepter.
1) Best Album:
Outkast-Speakboxxx- Creative, innovative, and finally a real Long Playing album, Dre and Big Boi continue to push the boundaries of rap. After years of making tight albums, only one question remains: can these guys ever do anything wrong?
2) Best Album that the typical rap fan never even heard of:
-DJ Vadim-USSR The Art of Listening: Vadim experiments with new sounds and features dope guest stars to take turntablism to new heights. If there's one album to cop this year that's not on the Billboard top 20, it's this album.
3) Most significant event:
Jay-Z's exit from rap- The first emcee to earn enough in the rap game to make a clean break is a significant moment for hiphop. Will he remain retired? Will this keep hiphop the "voice of the streets"? Only time will tell but Jay's exit definetly marks a turning point for hiphop.
4) Worst moment:
The 50 Cent-Ja Rule feud- The combination of 50's bravado and Ja's retaliation is not only reminscent of the Pac-Biggie feud, it is just growing old. Worst of all, I can't help but think that this feud is largely about making paper.
5) Worst Newcomer:
Bad Boy's Da Band- Their inception was based on the corporatization of hiphop, financed by the bottomless wallet of P. Diddy, and portrayed through the shameless lens of reality television. It gets associated with hiphop then there's a problem with the rap community.
---
Scratch Tour, San Francisco, Friday, Nov. 8, 2003: the Fillmore
by DJ Pone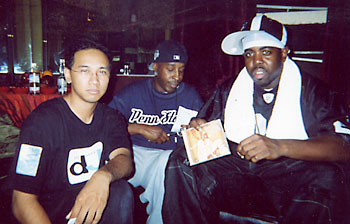 The Scratch 2003 Tour, featuring the most notable DJs from Doug Pray's documentary Scratch, came to the Fillmore in San Francisco on November 8. Although the movie Scratch featured the world of the turntablist - with scratching, battles, and all, this show was no DJ battle - the headlining DJs performed long mix sets. However, each DJ performed their mixes with the turntable trickery you would expect. The stage seemed filled with mixers and turntables, as each DJ had their personal DJ setup on stage. The show opened with a performance by Bay Area tone scratch legend DJ 8-Ball. The first of the headlining DJs to go was old school legend Jazzy Jay. Performing with a combination of turntables and a modern Final Scratch computer setup, Jazzy Jay cut and mixed a set of hip hop and classic breakbeats. Representing the next level of turntablist evolution, the X-ecutioners (Total Eclipse, Rob Swift, and Roc Raida) followed with a tight set of quick mixes, scratching, lightning-fast body tricks, and team beatjuggling. When mashup maven Z-Trip was announced, the Fillmore's main floor swelled to capacity. Z-Trip took a party-rocking approach to the event, appealing to the crowd by playing a variety of favorites, from AC/DC to NWA, all while soliciting crowd responses on the mic, of which the raucous crowd was all too ready to give. With the crowd already exhilarated, Mixmaster Mike closed the show with a furious quick mix - scratching familiar battle break sounds, juggling classic and current hip hop with some hard rock thrown in for spice, and climaxing his set by dropping House of Pain's "Jump Around", which brought the hundreds in attendance to a jumping frenzy, shaking the Fillmore dancefloor, almost literally bringing the house down. Not since the Thud Rumble show of more than 3 years ago has the Fillmore been so thoroughly shaken by an all-turntablist show.
---
Dawgisht's Happy Fun Thirteen de 2003
01. Moving out of a soot-box and into a nice place (thanks for help B, D, M and E)
02. George Clinton + P-Funk @ The Paramount (thanks Mrs. N)
03. 1st/13th Anniversary on Napa Valley Wine Train (best- steak- ever)
04. WAR (if it feels good, do it!) CD ("… and war, is what they got")
05. Getting Hungry to Make Beats Again (ie, writer's block eats a bowl)
06. SF Anti-War Rally, January 18th (… and feeling like a hypocrite for missing the other ones)
07. Steady Work (thanks K)
08. More Hip Hop Slam B-B-Qs (TJ's chicken skewers n' sauce)
09. Meeting New Friends (hey P and Z)
10. The Supplicants @ The Jazz House (thanks S02)
11. Mr. Show Third Season DVD ("they gave me some beer and some frozen peas")
12. Jammin' with Family (took me long enough)
… and, on the not-so-happy-fun side:
13. R.I.P. SoulBeat
---
QBert impresses Euro-fans with QFO
Tall Paul Lowe Reports from Dublin
Dec. 3, 2003 at Venue The Village, Dublin Tax €20.
QBert headlines with support The Choice Cuts Crew DJ Mayhem & DJ Rizim

Upon entering the Village and walking up the stairs I was greeted with the wonderful sounds of a DJ scratching ah music to the ears. Walking up the stairs, there was a mural of Q-Bert. I later found out that the mural is the work of Cool C.
On the decks upon entering DJ Mayhem was warming up nicely some lovely mixing and some solid tunes been dropped as well. Nice display of skills as well as technical skills. Displaying as to why he is one of Ireland top DJ's. The use of beat juggling some of the tunes dropped by Mayhem were Lords of the Underground, NWA Express Yourself, Hazo and Captain Moonlight Stepping through your dreams.
Next up on the decks was DJ Rizim this boy is going from strength his mixing is getting really tight which is a great to see. Drops some lovely tunes the likes of Jedi Mind Tricks, Pharacyde Soul Flower, 3rd Base, Brooklyn Queens.
Mayhem was back on after this and hit us all with the funk and broke it down. Other tunes dropped by the Mayhem were KRS-1, Pharoh Monch "Simon Says", Pete Rock & CL Smooth always a pleasure to hear "Straighten It Out" Blahzay, Blahzay," Danger When The East is in The House".Next up DJ Yoga Frog to introduce the Grandmaster DJ Q-Bert. One thing that I did notice was that the crowd was really mixed on the one hand you had the homies and Hip Hop heads, people who appreciate Q's music for what it really is. And on the other there were people going around in shirts, ties and suits I guess this must be the popularity of Q-Bert. So does one describe a DJ Q-Bert show and how was he going to reinvent himself after last year amazing show along with Danny The Wildchild?
The answer was quite simple he was going to unleash the QFO on us and watch as we all gave him major props for bringing such an amazing piece of equipment here with him. On stage before Q set down there was a turntable on the stage I didn't see a second one so I thought nothing of it.
So what is the QFO? The QFO is a turntable that Q has designed with Vestax it is very portable and can be plugged into anything. This system has everything a DJ could want all in one. You have a mixer, cross fader and some switches around the side for pitch etc. o on with the show. Q set down for the whole set of this gig, this I had to admit I was amazed at as I have never seen a DJ sit down at a gig before. So Q kicks off the show and gives the demonstration as to why people consider the worlds best. How do you describe a Q-Bert show awesome amazing out of this world. Yes with the QFO Q has done it again and taken scratching to a new level and interstellar heights.
At one point in the show Q did not use the fader and just broke with his hand and the vinyl, man that was sight to behold. I was so glad that they had the big screen on behind as everyone could appreciate the skills that Q has and witness the quickness of his hands. Earlier on in the night I believe there was talk of not doing this. Which would have been a huge disappointment for people who were not in the first two rows.
During each interval of each set Q would raise his bottle and take a sip and give props to the crowd.
Yoga Frog was calling for the crowd to make noise and asking "Dublin are you all having fun?" Whistles and screams of approval is what greeted his question.
Q went back in the day and broke it down with the Rockit mix, Al-Naayish Hashim (The Soul), Run DMC, Electric Kingdom Twilight 22. After this amazing skill display of breaking it down and how they used to perform back in the day. He brought it back to the present and broke it down with a Drum n Bass session with awesome scratching and had the crowd boogying and whistling. Towards the end of the show, Q and Yoga decided to do something special and brought the Choice Cuts crew on stage DJ Mayhem, Rizim and DJ Scope. Q was going to do a scratch show with them; this was pretty cool and went down really well with the crowd. The Choice Cuts crew loved this and appreciated it, so much so that Mayhem came back for more. At the end of the show Yoga Frog and Q thanked the crowd for coming out and partying with them. The crowd was informed that so far on the show Dublin was the best city for partying in so far. After the show Q went back and signed autographs and posed in photos with his fans.
---
Fresh Joyce's Top Three of 2003
1. The destruction of the Bush statue in Trafalgar Square during his visit with the Queen of England.
2. HHS's War album and all the artists/folks out there voicing their beliefs in the current climate of political/ideological intolerance...Fuck Big Brother.
3. Outkast's Speakerboxxx/The Love Below because the year wasn't ALL bad.
---
DJ Munkifunk's Top Five Countdown of 2003
5. GETTING FIRED
After years of tardiness, drinking on the job, being verbally abusive, and physically threatening the regional manager, I was finally laid off unceremoniously in the midst of some bullshit corporate takeover. Fuck you...I never did shit and still got paid, biatch!
4. DJs of MASS DESTRUCTION @ GREAT AMERICAN MUSIC HALL. 9/11/2003
Cat Five, DJ Pone, DJ Quest, Shing02, DJ Icewater, DJ A-1, and Emcee Dubya participated in a Gathering of Consciousness to pay tribute to the events of 9/11 and protest the actions of the Bush administration. This was the Hip Hop Slam show of the year orchestrated by none other than Billy Jam, goddamn that DJ made my day!

3. MUSIC CRITICS DECLARE TURNTABLISM OVER
The same critics that spent the last 5 years hyping scratch music as the new rock and roll are now writing
its obituary. Go figure, just as the culture starts to evolve into the next level, fools decide to go back to sleep. Rock is dead. Fuck the Rolling Stones. Listen to Alien Army's full-length The End and then kill yourself so I can take your job you hack!

2. A NIGHT AT THE KNITTING FACTORY
D-Styles' compositions performed live by the World Famous Beat Junkies. "Nuff said!

1. ADOPTING MY DAUGHTER
My daughter is an honor roll student and can kick your kid's ass!
---
BAY AREA DJ PROFILE #011: D-Styles
DJ Name: D-Styles
Hometown: I pretty much grew up in San Jose. All my friends are in San Jose. My first influence for scratching was TDC (Turntable Wizards) from San Jose.

Trademark saying or philosophy: Follow your own path. It's easy to get influenced by people you admire, but eventually you have to find your own sound. There's so many people trying to sound like their hero. It's cool, but after awhile you have to search for your own identity.
You've gotten to practice your craft and do so on regular basis....get into a routine of practicing on a daily basis. When I was battling I used to practice all the time....sometimes from sundown to sun up....I would lose track of all time.
DJ Crews: Turntable Troopers (w/ RPM, DJ Ruthless), ISP, Beat Junkies, Gunkhole
How would describe the music you spin? I just play music that I like whether it's rock, blues, or hip hop. I like to play a lot of instrumental stuff.
DJ battle history: The biggest contest I won was the 1992 Extravaganza at Santa Clara University. I remember Quest, Positively Red, Sonny Abad, TDC...it was a good battle. The last battle I was in was the 1993 West Coast DMC. That's the one that Rectangle won, and Disk took second place. I don't think you can battle for the rest of your life. You have to find what you want to do. Battling is just an outlet. It's not going to pay the bills. You have to find what your niche is.
First record you bought: It was either "Scratch Party," an old megamix...one of those one-sided records that came out of New York, or it was Egyptian Lover, "Egypt, Egypt."
Most influential record in your life? Herbie Hancock's "Rockit", McLaren's "Buffalo Gals", Run DMC's first album, all the Roxanne Shante stuff, UTFO...etc.
When did you first scratch? I learned to scratch first in 1984. It was my dad's turntable. The platter was a little 45rpm. It was a horrible turntable. You had to be real gentle. It actually helped in the long run because I had to be real gentle with the record. After that I learned to mix. In junior high I was doing little house parties 1985-1986.
What made you want to DJ and to scratch? I heard it on records. My neighbor had turntables and a mixer. When I actually tried it, I realized it's not that hard. I could actually get the sound. It was fun and it just felt right. It just felt natural.
Most memorable performance? Performing with Q was a big lesson to me. Every night it seemed he was kicking my ass and it forced me to grow up musically and mature. He was so advanced and I had to really learn to have self-confidence. I still fight with my self-confidence. He taught me a lot. The ways solos went and just the freedom of music and all music curiosity. There's not just one event. That was such a great time to me. We had some good shows in Japan. Me and Q and Short had some great shows in Germany. It sucks because none of it was videotaped that I remember.
How do you transport your records to gigs? I only have a few records that I bring. We make show vinyl where I press up only 10 copies and I put all the sounds that I need on one record. I'm only showing up to the gig with 10 records. I drive usually. It's easier that way.
Do you play CDs ever at gigs? No. Sometimes we go off of it as a skeleton track, but not to mix.
In your opinion who is the best DJ of all time? I give it to Melo D. I think he's really versatile, really dope. QBert is still untouchable. He's constantly innovating. He has power, finesse. He has everything. I don't really want to say who's the best.
Best way for folks to find out more about you inc. your discography: www.djdstyles.com
---
Bas-One's Top Over 3 for 2003
Now based in Germany Bas-One (Hip Hop Slam's fifth element) emails us, at the end of his first year of living in Europe where he is staying focused on hip hop, to report his Top Eleven or rather his Top Over 3:
DEF JUX
HOT SHIT PEACE 2 PHASE 2(HARMEGEDON MATH THANX 4 THE EMAIL CORRESPONDENSE BRO I RESPECT U & APPRECIATE IT)
UK B-BOY CHAMPIONSHIPS
A GREAT EVENT LONDON ENGLAND(DJ LEACY BREAKS BLAZIN HOT SHIT)
BATTLE OF THE YEAR INTL. GERMANY
A GREAT TIME
IMMORTAL TECNIQUES
ALL I COULD SAY IS LYRIKAL I JUS HEARD IT RECENTLY SO 2003 BEST
HARD 2 BURN MAGAZINE
THE STAFF REALLY TEACHES ME GERMAN HIPHOP HISTORY A GREAT MAG ALSO
MATRIX 2 AND BRUCE ALMIGHTY
Two best MOVIES
PARIS HILTON: BEST MEDIA SLUT
MOVE OVER PAM ANDERSON. THIS GIRL SPAMS AND SWALLOWS
HIP HOP SLAM
FOR STILL BEING AROUND AND STILL BEING REAL (BLOW 1 4 YA POTNA)
E-40: VERBAGE INNOVATION
DUDE I'M HERE IN EUROPE AND PEOPLE HERE EVEN USE THE LINGO
THE GREEN TRIANGLE CALI KRON
NOWHERE FUX WIT CALI TASTE SMELL... EVERY THING. Oh YEA DONT SMOKE IN EUROPE WITHOUT SAYIN ROLL A PURE CUZ THEY SMOKE TOBACCO AND HERB MIXED....I CALL THOSE BLASTERS
GOOD FRIENDS FRUM THA YAY
THATS THA BEST 1-L FOR MY REAL FOLLIES

Check the new BACKSPIN (ISSUE WIT BOOYAA ON THE COVER) since I got an interview in it.
REPPIN THE BAY YAY STILL IN THE WORLD
FUCK THE WAR.......BUSH.....SWARZALOSER....CHENEY AND ALL BULL SHIEZER THAT COMES FROM THE STATES
- Bas-One
---
DJ KIPPLESTOCK's TOP FIVE HIP HOP MOMENTS Of 2003
The Scandinavian hip hop fanatic DJ Kipplestock hit the ground running in early December when he joined Hip Hop Slam. On an exchange student visa, this visiting Swede has demonstrated more passion for hip hop than seen at the last Rocksteady reunion... not to mention he has helped reorganize the Hip Hop Slam office. Here's his five:
5) Scandinavia's uncrowned kings of hip hop
A big up to Scandinavia's slept-on Loop Troop, featuring DJ/producer Embee + lyricists Promoe, Cosm.i.c. & Supreme, who - for over ten years - have been rocking the Swedish hip-hop underground scene . I give them mad respect because in Sweden, Norway, and Finland it is not so common to be a real hip hop head- not some Eminen or Ludicris pop-radio/MTV Europe type bullshit rap wannabe -but real hip hop that salutes all the four elements. One of my all time favorite hip hop tracks about graf by any artist (USA included) is Loop Troop's classic "Ambush in the night" (off LP Modern day city symphony) where they express their love for all cyphers worldwide. Loop Troop have even done shows in Sweden with some U.S. top acts such as Company Flow & Arsonists who always give them mad respect.
4) Style Wars coming out on DVD.
The classic hip hop documentary, which is responsible for inspiring most of Scandinavia's greatest graf artists to date, came out on DVD in 2003 and believe it or not, it is even better than the original 1982 film. Thanks to producers Tony Silver & Henry Chalfant and Plexifilm who put out the 2 disk DVD, the new version has all of the amazing original footage plus many many new bonus minutes (including brand new footage and classic outtakes). With must experience chapters as the Disc 2 featured "Destroy All Lines" which is a 30 minute loop of over 200 whole cars and burners...Sweet! This is a must have DVD for any true graf or hip hop head.
3) Getting my student visa for America and getting opportunity to see USA hip hop, especially DJs, on their own turf!
Even though I will only be in America for a bit over five months I already feel that I have done the best cultural transformation in my life to date since, besides my getting to do some of my studies at a USA university, I also have opportunity to first hand witness my real love in life: HIP HOP CULTURE and its four ELEMENTS. I have been a graf artist now for 8 years and a DJ for nearly 4 years. And even though I come from a small Scandinavian town with only a very few real hip hop headz, and faraway from such hip hop breeding grounds like the Bronx, NY or Daly City, CA my love for the all of the elements of hip hop is as great as any American b-boy. Therefore when I finally come to America to be in the Bay Area (I stayed in Brooklyn, New York for five days in November and went to see all the graf spots in NYC!) it is like a dream to me. I love to shop for records in San Francisco and am surprised at how cheap they are here. Amoeba Music is amazing: especially the dollar bins!
2) Being able to join Hip-Hop Slam:
I have been down for Hip-Hop Slam since I first got the Shiggar Fraggar Shows in the start of 1998 on CD and on video. Once I saw these videos I said to myself "That is real hip hop shit!" I then found out about the Turntable TV video series so I bought all of those from the Piklz website (dope, dope, dope). Then my friend told me about the Return of the DJ series on Bomb HipHop. Later on I found out about the other Hip Hop Slam releases at a record store in London when I went to the DMC. (My collection includes the Turntables By Bay records, Global Turntables, and the Scratch Attack CDs). Skratch music in Scandinavia is very hard to find so you have to buy it online at sites like Qbert's, or turntablelab or hiphopslam.com. About a year ago I emailed Billy Jam and told him that I was a big SKRATCH fan and that I would be on visa in America for nearly six months in total. I also asked if Hip Hop Slam ever needed any hip hop headz to help out. Much to my surprise he wrote me back right away and said "maybe" and that I was to contact him after I arrive in USA. I did this just at the end of November and already I am now working with Hip Hop Slam one or two days a week. It is really great for me since I am learning a lot of information about hip hop culture and business. For me, a true hip hop disciple coming from just a small Swedish town, this is truly an honor!
1) Seeing DJ QBert perform for the first time ever.
I arrived in San Francisco one week earlier than I was scheduled just so I could catch the SCRATCH tour but when me and my two Swedish DJ friends, who already live in the Bay Area, got to the Fillmore Auditorium in San Francisco we found out that QBert wasn't going to be playing after all. And even though we still enjoyed the show very much (8-Ball,
X-ecutioners and Mixmaster Mike were all amazing and we were right up front!) we were very disappointed and a little confused that QBert did not play in his hometown. Afterwards some DJs from Daly City told us that Q would play the other dates on the Scratch tour (Boston, NYC, etc). They also told us that he would be playing in San Francisco at a smaller club a month later. We bought our tickets early for that show which was at the DNA Lounge on November 22nd and we got there right at 9PM when the doors opened. Vin Roc, who is an all-around DJ with mad talent, opened with a long set. And by the time the man QBert (who I have only seen in videos and in the movie SCRATCH) arrived onstage the club was hot and packed. We were all squeezed up against the stage. After Yoga Frog introduced Q he came out and sat down for the whole show....unlike any DJ ever....and then he did another unique thing: he played his whole set on one turntable, or really on the QFO which is like a turntble with a mixer. It is QBert's dope new invention for Vestax but it is not for sale on the market yet. The concert was so amazing and the best DJ show I have ever seen. It was like a religous experience. No kidding! I even saw one DJ (who brought his mixer to be signed by Q afterwards) in the audience cry during Q's Rock the Bells routine. Honestly! We all saw it: A grown man crying over Q's skratching!. For me that says all there is to say about how fantastic QBert is!
---
Don't Forget to Check Out the
Second Half (#022B) of this Double Update!