• Hip Hop Slam DJs on KALX and at Expo for the Artist & Musician by DnZ
• DJ News by Billy Jam
• Triple Threat Bring Back 1980s To Frisco Show by DJ Pone
• Bay Area DJ Profile #001: DJ CutSo
• Denmark Hip Hop Report by Fresh Joyce
• New Additions to The Shop (Vinyl, CD, VHS)
• The Hella Broke Guide to Record Shopping by DJ Solehole
---
DJ NEWS
by Billy Jam
DJ Shadow has just released a limited edition (1000 copies with each one individually stamped with a number) of his new Diminishing Returns Party Pak. Included in this fun brightly colored party pack are two drink coasters, two stickers (each advertising www.djshadow.com), and most importantly two CDs (120 minutes of music "in the mix"). CD1 or rather Part 1 is the eighty minute disk from the John Peel/BBC Radio One broadcast that originally aired on the UK national radio station on March 29, 2003. Meanwhile CD 2/Part 2 is the forty minute continuation of that broadcast plus the "previously unreleased" bonus track "War is Hell".
San Francisco DJ Wisdom (of KUSF's Beatsauce fame) has just released the reggae flavored break record Beef Patty Breaks (Super Duck Records) which also includes some Jamaican gangsta sound bites from the movie Belly. Wisdom tells Hip Hop Slam that this is the first in a series and that "The concept is to fuse other cultures in with hip-hop. There will be 2 more beef patty breaks coming and La Bodega breaks,a latin flavored record." You can reach the DJ by email at or find out more about him and/or his records at www.beatsauce.com, christian@soultrade.de, and www.soultrade.de
Wisdom's Beatsauce buddies, J-Boogie and Raw-B, have also been quite busy lately. Beside the successful benefit for their radio show that they threw at Milk in San Francisco on May 10th, that all three DJ'ed at. J-Boogie has just released a solo album on OM Records and is currently assembling a hip hop compilation for the SF label. Meanwhile Raw-B just finished up a two-week run of the hip hop musical Beatbox (with members of Felonius) at Oakland's Black Box theatre. So well received was the piece that it got invited on June 6th to the New York Hip Hop Theatre Festival.
---
TRIPLE THREAT BRING 80's MOBILE DJ SETUP TO DNA SHOW
by DJ Pone
On Wednesday, April 30, the Triple Threat DJs (Apollo, Vin Roc, and Shortkut) concluded their Many Styles album tour with a spectacular show at the DNA Lounge in San Francisco, CA. When the show began, the stage curtains were dropped to reveal a massive 80's style mobile DJ setup, complete with lighting truss, stacked Cerwin Vega "Earthquake" speakers, and wildly spinning helicopter lights. Continuing on with the 80's theme, Apollo began with a mind-blowing 80's quick mix featuring freestyle and electro, schooling the crowd on how it was like back at a Bay Area mobile party from back in the day. Vin Roc and Shortkut later joined Apollo to rock the party with the combination of quick-mixing, turntablism, and hip-hop music that the trio is world-renowned for. Camera crews were on hand to record the event for Triple Threat's upcoming DVD project.

-dj pone
---
BAY AREA DJ PROFILE #001: DJ CutSo
Name: DJ CutSo (formerly CutSoQwik)
Trademark saying: "… make history or BE history."
Hometown: San Jose, CA
DJ Crews: Finger Bangerz / distracted collective
What Music do you spin? When the situation calls for more than just hip hop, I'll incorporate blends with rock, such as The Zombies, Velvet Underground, The Beatles, The Cure (just to name a few), even kitschy-type stuff like Billy Joel or something. I've also been known to serve a nice helping of Bjork every now and then. I also spin '80's synth pop and new wave, which I would like to do more of. I spin alot of stuff that normal hip-hop dj's wouldn't be caught dead spinning. Most of that sort of stuff is what I do more with my other crew, the Distracted Collective, than the Finger Bangerz.
Your Recordings/Releases (including solo, crew, guest spots, battle records): NC Clothing's Hip Hop Heads Mix CD's Vol. 2-5, FingerBangerz Untouchable Breaks, Flight 162, Fuse One's Metamorphosis mix cd, Finger Bangerz/The Meloists — Used Soul, Finger Bangerz full-length LP (coming soon), Cutso's Wake Up Honey, We're Here EP (coming soon), and of course Scratch Attack Vol. 3!
Your DJ Battle History (solo and team): DMC SF Regional '99 (top six), ITF US Teams '99 (3rd place), ITF Western Hemisphere Teams '00 (Big Winners!!!), Zebra Records DJ Finals '99 and '00 (finalist), People Magazine's Most Sexiest DJ (Singapore), and numerous Car Show, High School, and Swap Meet mixoffs….
The first record you ever bought? Michael Jackson — Thriller
Most influential records in your life? Beatles — Abbey Road, Herbie Hancock — Rockit (no, really, it is.... not 'cause everyone in Scratch the Movie said so.),
When did you first DJ? at a birthday party full of gansters in '94… I got shot 9 times in my mouf. That's the biggest part of my DJ ability.
What made you want to be a DJ? my lack of direction towards a serious career, and seeing Jam Master Jay on the Christmas in Hollis video.
What is most memorable performance of your DJ career? ITF Western Hemisphere Teams in '99. We battled (and beat) Top Rawmen and the Trooperz in a Las Vegas hotel room at, like, 7 in the morning. It was cool....heh heh....
How do you transport your records and/or gear to gigs? my maroon 1987 Dodge Soccer Mom
Do you play CDs ever at gigs? I did a wedding a couple of months ago, and they had me play fuckin' Jimmy Buffet and George Strait. Apparently they don't have George Strait on wax, and I didn't want to shell out any kind of money on a Jimmy Buffet album. Fuck that.
In your opinion who is best DJ of all time? Grandmixer DsT and Jam Master Jay. They were responsible for my start.
Best website or way for folks to find out more about you? www.fingerbangerz.com, www.ncclothing.com, and www.distractedcollective.com (coming soon. everything I do is coming soon.)
---
Denmark Hip Hop Report
by Fresh Joyce
Hip Hop Slam member and UC Berkeley architecture grad Fresh Joyce writes us from Copenhagen, Denmark where she has been studying for past year and is just finishing up her studies, currently preparing her portfolio for grad school and entering some architecture competitions. Fresh Joyce reports:
"The hip hop scene in Denmark is just beginning to gain a foothold here, not counting Nik & Jay, a duo that is a cross between NSYNC and Vanilla Ice with an Eminem edge, I'm serious (I'll try to bring back a Pepsi label with their picture). Otherwise hip hop culture is more interpreted here as a way of dressing than perhaps a deeper appreciation of what it really means. I think part of it is due to the fact that although young Danes are fluent in English, it's still their 2nd language. When I went to the Roots concert in March the call-and-response sequences led by Black Thought didn't quite work, maybe such direct audience participation that is a part of the communal nature of hip hop is somewhat foreign to Danes, who tend to be more insular socially (maybe I'm generalizing here, but that's what I think).

However there is beautiful graffiti in Christiania, the "unknown Amsterdam" right by the heart of Copenhagen. On an afternoon you can see youths spraying an old wooden fence right by a public street and no one bats an eye, but that's due in part to the history of Christiania which is a whole other story. However it's interesting how to see how Scandinavian sensibility extends to graffiti here as well; along Christianshavn Street the fence slats mark the dimensions of each piece so that one lines up neatly next to another; it all looks planned but being Denmark it's hard to tell if it really was.

Well that's the short bit of my experiences here I guess. Of course I'm looking at things from an American point of view, but being here really makes me appreciate the rich hip hop/art/culture scene of the Bay Area.

All right well I'm off to studio, our finals are next week so there are plenty of all nighters waiting for me. See you soon, ffffreshJoyce.
---
HIP HOP SLAM on KALX Berkeley and at EXPO for Artist & Musician: San Francisco — May 4
Report by DnZ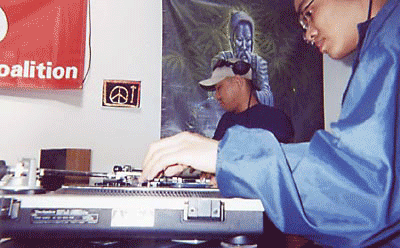 May 4th was one hell-of-a-day. The day kicked off at KALX in Berkeley at 10a.m. and thats pretty early for me since the night before was a night of drinking til' 6a.m. and i had to be out their at like 9:30 but it was well worth it. First to hit the 1's and 2's was DJ Pone who is dope and is a big inspration to me cuz when he gets down im just stuck, this man can "Cut Like A Guilatine" on turntables or on a CDJ 1000. He just did a basic scratch routine and just laid down background beats durring mic breaks. Next up was myself, DnZ, with a WACK routine which is only due to the lack of sleep, practice and alcohol. But if you ever see me on the street, please don't hold this one bad set against me...just show me love. After was a call in from DJ Disk, reportedly from South Africa, and who did he have with him but the always crazy, and most of the time drunk Shiggar Fraggar who was obviously (from his hooting and hollering) happy to be back on the air. Then we had DJ Platurn get on the M I C and do a little interview about how were going to be teaching at the Music and Art EXPO in SF and on his new 7" record. Next was the infamous Frisco 4oneFunk crew members Teeko and AlesOne who did a banging routine. Now as the KALX show wound down like in the last 10 min. or maybe less Shing02 and his Freelancers United partner A-1 busted out with a routine using Shing02's new invention the Faderboard desinged for Vestax. Unfortunately their routine got cut short cuz of the damn sports show that wanted to go on early (little bitches).
KALX showed us much love by letting us get on and do our thing but now we're ready to hit up SF and get down on a funky scratch. Now I had fun at KALX but what I was about to get into is nothing compared to what went on at the radio show, so lets begin. At the EXPO we where there to teach scratch lessons for those that wanted to learn or just get down. We had about 8 or 9 people who in the end got alot better which is good. After Shing02 and A-1 come through and started to set up their stuff like the Faderboard and another mixer so that it would be two turntables, two mixers and the Faderboard. They got down and did their thing and let me tell you, those two are fuckin' dope, not just dope, fuckin' dope. Shing02 also demoed his Faderboard and gave some lessons on how to use it. A special guest who dropped by was DJ Disk (must have taken the Concorde back from No. Africa). Aw Shit, I never thought that I would get to meet a fuckin' great turntablist from the ISP while teaching classes. Disk just came down to kick it and also to get down on a session and that was dope cuz I've never saw him get down in person before.
Also in the house at KALX and the EXPO representing Hip Hop Slam were DJ Stoic, Lee, Billy (Dont Give A Damn What Your Moma Sayz) Jam, Timi D…, Munki Funk (who was tricked into taking a FAT shot of DnZ' magic water), Vannessa, and Quinn.

!!!OnE!!!
---
The Random Record Review
by DnZ (T.F.S. DJz) (tfsdjz@hotmail.com)
Here are some mini-reveiws of a bunch of new hip hop 12" singles recently sent to Hip Hop Slam. The labels include Warp, Coup d'Etat, Quannum Projects, and (Peanut Butter Wolf's label) Stones Throw Records.
1) Prefuse 73 Extinguisher (Warp)
I dont get it!?! It's like this synthy R&B crap, and I see why it was just the beats and not like a whole song with a singer or rapper or anything but I wouldnt think they'ed be able to do anything cuz they would be to annyoed of the sound. Just my thoughts.
2) Akrobatik (A) Remind My Soul (B) Livin' In The City (Coup d'Etat)
Remind My Soul was a dope song, The reason I liked it was because it had this dope spanish guitar and it made me think of some fine ass spanish chicks dancing around, plus the rhymes were tight. Livin' In The City was ok, I mean it did have some koo cuts and all but i just thought it was missing something.
3) Lateef & The Chief Present Maroons Lester Hayes (Quannum Projects)
my overall thought on this track was that it's dope. I mean if I say it's dope then that means you should go get it. I liked the production and it did have some dope flows.
4) JayLib (A) The Red (B) The Official (Stones Throw)
The Red was ok, I was sorrda looking for something tight from JayLib but was let down and the same goes for The Official.
5) Wild Child Secondary Protocol EP (Stones Throw)
Now this was a good record. My favorite cut on this double record was "Operation Radio Raid" which featured LMNO, and this was a dope song talking 'bout fuck a t.v and radio, stright open up a book one time and read. I even liked how after some of the songs there were like these breaks of beats and it like mixed into the next song. This one you should get..
6) DJ Marz Press Record (Records To The Neck)
DJ Marz of the Bullet Proof Space Travelers sent us this advance test pressing of what seems to be his next EP. His scratch skills bless a wide range of beats, from jazz, to old school breaks, as well as some electro shit as well. Once this comes out you should buy it and peep the style that he brings from space.
email Marz @ talktomyagent@hotmail.com
7) H.O.P. 40 Ounce Breaks
I just heard H.O.P. on Beat Sauce on KUSF claiming that this record is some "new techology" - an inovative DJ tool that scratches on its own! Huh? Now if you made a scratch record that scratches itself why the hell would a DJ want it? But after getting my hands on a copy I see that it doesnt scratch itself so I don't know why the producer would claim that. Guess it was meant to be a joke.....Regardless, lets talk about the record. 40 Ounce Breaks has some dope beats. And there is also a beat done with just farts and burps. The one thing I think is different about this record is that it has alot of cartoon samples which is dope cuz sometimes I might want to cut wit some old loony tune tones and bonks. Now you should go and check this out and fuck with it cuz it fun...to drink 40s that is.
!!!OnE!!!
---
HIP HOP SHOP
Check out the shop for five new VHS arrivals this week. These are some videos that we didnt know we still had in stock and are limited in quantity. So we have priced them at $8.98 so as to clear them out. Unfortunately all but one of the videos are in NTSC format only (not PAL). These videos include the titles: Shiggar Fraggar Vol. 3, Shiggar Fraggar Vol. 4, Shiggar Fraggar Vol. 5, Pirate Fuckin Video, and DJ TV Vol. 1.

A new vinyl addition to the shop this week is the 7" single by Cat Five American Military Operations. The title track side A (currently #1 on KALX radio's Top 50) is a brilliant war commentary that samples Dubya Bush and others. Note that a remix of this track will appear on CD on the next Hip Hop Slam compilation All That Bombing is Making Me Bitch by the DJs of Mass Destruction. The B-side of the single is a montage (battle record style) of sound bites tailored for DJs titled Tools for The Mind. The single which is only available here, and at Amoeba and Aquarius sells online for $4 plus S+H.
Another new addition to the shop this week is Eddie Def's Wax People CD—the first in two CD volumes which features highlights from the DJ's legenday and extremely rare Hemp Lords cassettes (Vols. 1 & 2). They pack in tons of records and sample. "I like to keep it moving real fast with just little bits, like bam bam, hitting you from the left and the right like a Mike Tyson fight," says Eddie whose style is in the tradition of the 1980's megamix records. "I'll take a horn, a snare, a scream, a guitar, a moan, a cartoon, or I'll flip an orchestra backwards. I love sounds and I love manipulating them or using them out of their original context," enthuses Eddie.
---
THRIFTIN' FOR A SCRATCH: The Hella Broke-Ass Style of DJ'ing
by DJ SoleHole
If I eat cheese sandwiches and ramen soup for the next week, I can probably go hungry for just one day before the next paycheck. Don't front and act like you don't know what it's like. For many DJs, scraping by is the cost of vinyl addiction and equipment upgrades. And in the post dot-bomb wasteland of maxed-out credit cards and pragmatic labor (if you're lucky to find it), how can anyone afford the hip-hop lifestyle? Welcome to the Hella Broke-Ass Style of DJing.
This first installment of "Thriftin' for a Scratch" focuses on the relationship between your values, time, money and record buying. Future stories will focus on consumer advocacy specific to DJs. Most of the suggestions below are common practices borrowed from the conscientious consumer; ideals, which I'll admit, may run counter to the DJ's culture of must-have collectibles and impulse buying. But, if you're reading this, you're probably as fed up with mindless consumption as a sucka with his ass cheeks sewn together. Ka-Plow!
THINK TWICE BEFORE YOU BUY:
While at the record shop, here are some things to consider before you get to the register. At the end of each item is a suggested action to further clarify your principles, wants and realities.
1) Is this record worth my hours of labor? If a shop at the mall asked you to work a half-day stocking shelves in exchange for just one break record, would you do it? Well, in California, the average entry-level job pays $7.76 an hour before taxes (according to a 2001 state labor report). If that's you, then each new 12-inch record equals about an hour of your labor. Up to three hours of your labor for just one battle record. Add more labor hours if you pay with a credit card. At that pay rate, a $1,000 credit balance would take an entire month's earnings of full-time labor to pay off – and that's without interest.
ACTION: Calculate your per-hour wage after taxes and find out exactly how much of your time is spent laboring for a new 12-inch single or battle record. If you have a fat credit balance due largely to DJing costs, calculate how many days of full-time labor it'll take to pay it off.
2) Can I find it used? Diggers know to hit the used bins and $1 stacks at thrift shops. In a recent flip through the used section at Amoeba Berkeley, I found near pristine copies of the Beastie Boys' License to Ill, Azeem's excellent Craft Classic, Aesop Rock's Labor Days and a reprint of Sly Fox's "Let's Go All the Way" from 1986 – all at a fraction of some of the unopened versions just one aisle over. I passed on a few battle-break records I already had. They're all not old thow-aways, either; some shops will sell promos of brand spankin' new releases at discount prices. Places to look: used record stores, swap meets, garage sales, used bookstores and rummage yards.
ACTION: Get to know the small and independent new and used record shops in your town. Create a list of retailers and make a point of checking them out.
3) Do I really need this record? There's a saying in marketing: "People don't know what they want, until you show it to them." Sales floors, vinyl shops included, are designed to exploit impulsive behavior. If you didn't need that record before you got to the record store, then why alluvasudden is it something you can't live without?
ACTION: Commit to staying within your record-buying budget. If over budget, place selected records in order of most need and use. Put back those records that make up the rear of your stack.
4) Do I support this artist's values and record label? Yes, you can contribute to hip-hop by refusing to purchase certain records and by supporting artists and labels making a difference in the culture. Hell, if you worked hard for your scrilla, then why give it to a no-skill, wack bastard who's living in the Hamptons? In these hard times, independent labels – often the only outlet for underground artists like yourself – are falling like wads of cash in a jiggy video.
ACTION: Support your local hip-hop scene by buying locally produced records and CDs.
5) Do I have the storage space? As much as you own your records, your records also own you. Anyone with a moderate vinyl collection will tell you that proper record storage is a constant life issue. Finding living space that's large enough and safe to support a growing collection often means more labor hours going to higher rent, mortgage or a storage facility. Or living at yer momma's house forever.
ACTION: Make space. Go through a section of your records and donate or sell those you don't need. Developing a normal donate/sell schedule will also help keep your records in order.
6) Can I get the same use via Internet download? For example, non-scratching beat makers: The downsides of vinyl are higher costs, loss of sound quality and quirky storage. If all you need is a sample that doesn't need to be scratched, might as well download a clean version off the Internet.
ACTION: For music saved on computer or CD, invest in or download a wave-editing and/or MIDI sequencing software program. Conceivably, you can create an Endtroducing without ever leaving your home or paying anything more than the electricity bill.
7) Is my money/labor/time better used for something else? What's a better feeling: financial freedom or worrying weather that check you wrote for pizza delivery is gonna bounce?
ACTION: Flip through a few crates of records at home and pull out the ones you've played only once and those you likely won't play again. Be honest with yourself and your role(s) as hobbyist, party-rocker, producer, battle DJ or whatever. When you're done, consider how much of your money/labor was spent for those records. Could it have been better spent elsewhere? If so, in what ways?
SUMMARY:
Okay, enough introspection for the day. Do whatever suggested actions you feel comfortable with and check back here (www.hiphopslam.com - where this article originally appeared) occasionally for additional tips on how to save money. We all love vinyl and there's always better ways of getting it. The Hella Broke-Ass Style of DJing is not dogma; just awareness of one's purchasing power and how it can be used to better oneself and the hip-hop community.
(Note: this article by DJ Solehole originally appeared in liner notes of Scratch Attack Vol. 2)