HIP HOP SLAM
NEWS SERVICE
#022A — 12/16/03
#022B — 12/16/03


SCRATCH ATTACK NEWS

#02 — 02/04/02

#01 — 09/15/01



• Cigarette and Beer Companies Underwrite Hip Hop Culture + More in Hip Hop Slam NEWS Roundup
• American Idol or Asian Sambo? Munkifunk Weighs In on the Fascination with William Hung
• Acid Scratch: Bay Area DJ Peaked on LSD During the 1993 DMC DJ Battle in New York.
• Amoeba Music Compilation Vol. 5 is Now Receiving Submissions from Artists of All Genres
• Too $hort's Born to Mack Was the First Record Sake-1 Bought — Bay Area DJ Profile #021
---
HIP HOP SLAM NEWS ROUND UP
by Billy Jam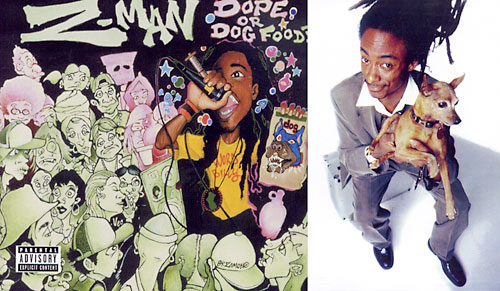 Mr. B from the 4 One Funk crew won the Kool Mixx DJ battle in San Francisco April 16th at 550 Barneveld. Earlier that evening in the MC battle Infinite from Felonious took the emcee title. Snayk Eyez, who came in a close second place in the DJ battle, commented that the free event was jam-packed with 1500 clubbers who didn't seem to have much patience or respect for the DJ or MC battles section of the evening that preceded the real reason most of them showed up there: a free Slick Rick and Wu Tang Clan concert. Ladybug Louie, who said she enjoyed the entire evening's entertainment, reported that the WU set was the clear highlight and that the Clan, whose lineup included Raekwon, Capadonna, Ghostface Killa, RZA, and Takeitha, ran through all their classics including Protect Ya Neck, Method Man (even though he wasn't in the house), C.R.E.A.M., It's Yours, and All I Got Is You. This last song she said was a really "touching and emotional point" in the show as Ghostface prefaced his performance of the blues-fused rhyme by noting that song's dark imagery were far from fictional: that life for him growing up in New York in his poverty ridden family home was just as shitty as it sounded. (Check it' fifteen of us in a three bedroom apartment/Roaches everywhere' cousins and aunts was there/Four in the bed' two at the foot' two at the head/I didn't like to sleep with Jon'Jon he peed the bed). After the show Louie noted that "Everyone in the crowd I talked to were very vocal about the fact that they hated the Kool cigarette company who sponsored the free concert but were 'happy to let them spend their money' on hip hop!"
Bay Area female emcee/vocalist Mystic has licensed her hit single The Life to a large American beer company for a TV commercial. For today's artist licencing one's music to TV spots, video game soundtracks, extreme sports DVDs, and mobile phone companies for use as ring tones have all become more lucrative ways to make money than the traditional selling records route.......Longtime Bay Area emcee Z-Man's Dope or Dogfood album is well worth picking up......Legendary Bay Area hip hop DJ Kevvy Kev, who we recently reported suffered severe flood damage to 5000 records, is still in the slow process of trying to piece back his valued collection. The good news is that many of these 12" records are salvagable but Kev needs anyone with spare record sleeves to give hook a brother up. (get@kevvykev.com).....DJ T-Rock will be dropping his rock band album project Graffiti Death Threat sometime this summer....Z-Trip and DJ P will be doing a one-off live reconstruction set of their wildly popular Uneasy Listening mix CD at San Francisco club The Grand on May 15th......We hear that Future Primitive are working on a new compilation titled "A to Z" as in Azeem to Zeph that will be coming out in conjuction with Wide Hive the label that just dropped the triple-dope Mayhemystics by Azeem featuring the backing of Variable Unit (VU) whose lineup includes the aforementioned Zeph and DJ Quest......Speaking of Quest there is still time for DJ/producer submissions for the Livehuman Breakseven remix project (details listed in last HipHopSlam.com NEWS #32)
Another album project currently accepting submissions (of all types of new music) up until the end of May is the Amoeba Music Compilation Volume 5 - the latest in the ongoing Amoeba Music/Hip Hop Slam, collaborative series which has jointly produced four compilations to date (All That Glitters Isn't Platinum: Amoeba Music Vol. 1, Just Payin The Rent: Amoeba Music Compilation Vol. 2, Independent Sounds: Amoeba Music Vol. 3, and Amoeba Music Vol. 4). Scroll down to the end of this NEWS for exact entry details on this fifth CD compilation.....Much props to Sake-1 of the Local 1200 DJ collective who has been putting it down in da Bay for many years. Too $hort's Born to Mack was the first record he ever bought. Read what his all time favorite records are and much more on him in this NEWS' Bay Area DJ Profile (scoll down).....As it becomes increasingly clear to everyone, even his former supporters, that Dubya really is the bumbling fuckin' idiot that many of us figured out early on, the content of the Hip Hop Slam release, WAR (if it feels good, do it!) compilation, becomes more relevant and timely each day. Consequently it continues to get getting heavy airplay on radio stations such as Radio Ciutat Vella 100.4 fm. in Barcelona, Spain and KFJC in Los Altos, California (#2 this week on CMJ charts).....In the 1998 archived Bay Guardian article reprinted below ("Turntable wizards....") read which Bay Area DJ was peaking on LSD at the 1993 DMC DJ battle.
"WHY SHOULD ASIANS BE CONCERNED WITH WILLIAM HUNG?" - asks DJ Munkifunk. "How does America's stupid obsession with a tone-deaf yellow chipmunk affect me more than Dubya's war on my civil liberties? You tell me" Read below what DJ Jester and other Asians had to say on da Hungsta. Also Munkifunk invites you to email him (if you even give a damn) with your feelings on the topic.
---
AMERICAN IDOL OR ASIAN SAMBO?
by Munkifunk
William Hung...the man, the myth, the American Idol. No matter how hard you try to ignore the phenomenon, it just won't go away. Fifteen minutes of fame have inexplicably turned into a CD/DVD release, an appearance on The Today Show, and a recurring half-time performance for the Golden State Warriors. But while thousands of white Americans cheer for the tuneless pop-star, there is a growing backlash from his fellow Asian brothers and sisters who see him as the butt of a very tired joke. In the current SF Bay Guardian, Kimberly Chun wrote: "I have a sneaking suspicion that a large, unsung portion of his appeal centers on not only his comical vocals and appearance but also some sort of residual racism. Hung plays into mainstream America's mocking derision of that goofy Chinese guy...."

DJ Jester told HipHopSlam NEWS that he worries about the negative implications on the rest of the Asian population: "In my heart it pisses me off because when do Asian-Americans (okay, I'm gonna go there) ever have real role models in the mainstream media (besides QBert and a grip of scratch djs)? When are we not gonna be looked at as just novelties? Why does it have to be taken to this level for an Asian American to sell some hit records? How can we overcome stereotypes if stuff like this is fed into the American psyche night and day?"
But not everyone is rushing to denonunce Hung as the next yellow peril. Oliver Wang wrote on his website and in the Bay Guardian: "The protests against him can be so overstated --one pundit called him an Asian Sambo-- you have to wonder if some male critics aren't dealing with their own self-image issues, ironic given that Hung seems so unburdened by his own."
Americans may be laughing more at William Hung than with him, but in the end when this has all blown over and William Hung has faded from everyone's consciousness, those fools will still have a copy of his CD in their pathetic music collection.

If you give a damn and have an opinion on the American media & public's fascination with William Hung hit us with an email.
---
BAY AREA DJ PROFILE #021: DJ Sake-1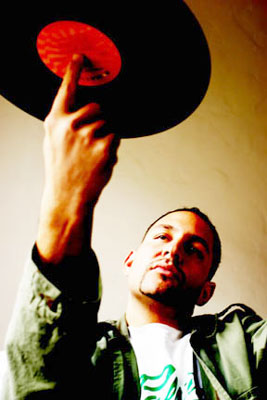 DJ Name: DJ Sake-1

Hometown: San Francisco, CA

Trademark saying/philosophy toward music/your life: "Return to the Source" -Amilcar Cabral

Groups/collectives you have been a member of: (((Local 1200))); SoulDeluxxe Sound System

How would describe the music you spin? 360 Degrees of Soul

Is there a style to the way you put your music sets together? I try to be a crowd motivator -- both in terms of my party-rockin (rather than scratch attack) emphasis and my belief that music and culture can and should reflect the best aspirations of the human race, rather than the worst.

Discography (inc. mix-tapes, compilation contributions etc etc): SoulDeluxxe Vol. 1, 1.5, and 2.

The first record you ever bought: Too $hort, "Born to Mack" LP

Most influential record(s) in your life: Ultramagnetic MCs, "Ego Trippin" ... Roy Ayers, "The Third Eye" ... Boogie Down Productions, "Criminal Minded" ... Nina Simone, "Mississippi Goddam Blues" ... John Coltrane, "A Love Supreme" ... Mac Mall, "Ghetto Theme"

When did you first DJ? High school house party, 1991

What made you want to be a DJ? My thing was bein a hip-hopper.... i could never dance.... I was a graffiti writer but i got arrested hella times.... i liked to write raps but i froze up like Rabbitt in front of the crowd.....so the last option was DJing. I backed into it and i bet ima back out of it....

Most memorable performance of your DJ career: DJing at June Jordan's birthday party in 2000 (Rest In Poetry, June...). Spinnin some Queen Latifah track while June and Angela Davis got they boogie on.

How do you transport your records and/or gear to gigs? I use my car in SF but am open to suggestions

Do you play CDs ever at gigs? i might maybe if its a song i GOTTA play and it aint on vinly but nah i aint a CDJ or nothin....

In your opinion, who is the best DJ of all time? To me, its Larry Levan. But i gotta also mention CASH MONEY, JAZZY JAY, AFRIKA BAMBAATAA, APOLLO and SHORTKUT, and JAZZY JEFF. There are some cats i never heard spin before that i know are dope but i gotta base it on dudes i have actually heard rock
because that's what it's all about, yaoming??

Best website or Email to find out more about you: www.djsake1.com
---
Turntable wizards Eddie Def, Mixmaster Mike, and DJ Disk are turning Bay Area hip-hop on its ear.
by Billy Jam (originally printed in the Bay Guardian in 1998)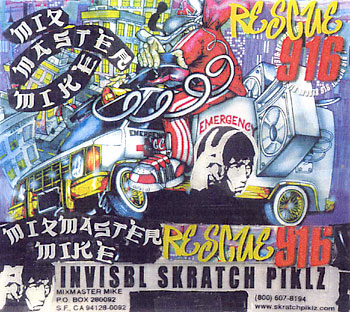 'FOR the 1993 DMC [Disco Mixing Championship] battle in New York, I was on acid," chuckles San Francisco's DJ Disk as he kicks back in his poster-covered home studio. "I had taken a hit about two hours before, so during the actual battle I was peaking. It was intense." Having a psychedelic experience in the middle of a performance isn't that unusual for Disk -- though the psychedelia is usually recorded rather than chemical. At 27, the self-described "phonosycograph" DJ has collaborated with, among others, Rancid, MCM and the Monster, Primus, and Bill Laswell's Praxis. In April he ventures even farther into the sonic stratosphere with The Album: Ancient Termites (Bomb). Its 13 tracks offer a wild, warped trip that draws from hundreds of manipulated live and recorded audio sources, including John Coltrane, Laurel and Hardy, Tchaikovsky, Jimi Hendrix, and old Disney film soundtracks.
Disk isn't the only Bay Area DJ getting freaky on the turntables. Turntablist-producers Mixmaster Mike (with whom Disk was once a bandmate in the Invisibl Skratch Piklz) and Eddie Def (with whom Disk is collaborating on a multiartist recording project called Stew) share his nontraditional approach to hip-hop. Their aesthetic, like Disk's, is based on a childhood diet of early '80s rock, rap, comic books, TV cartoons, and science fiction. Today the walls of their bedroom-studios are altars to their heroes: Metallica, Star Wars, the Beastie Boys, Biz Markie, Kiss, Nirvana, the X-Men, Ultraman, Batman, Gang Starr, Run-D.M.C., and many, many others.
For Disk, Mike, and Eddie the smorgasbord of found sounds and twisted breakbeats they create on record are aural autobiographies. "I'm just re-creating my whole life on tape," says Mixmaster Mike, laughing. "It's what I grew up looking at and listening to, from cheesy sci-fi to all types of music. It's all the things that scarred my brain growing up." Besides his solo career -- he has released 20-plus mix tapes since 1984 -- and his membership in the Skratch Piklz, Mike has also done his share of guest stints, including recently traveling to New York to add his scratching expertise to the Beastie Boys' next album.
Most kids simply watched the visual antics of their pop heroes; Disk, Mike, and Eddie were equally fascinated by the soundtracks. Among the recordings that Mike -- who calls himself a "sound archaeologist" -- has used in his popular mix tapes: sundry Kojak collections ("It's good sinister mafia-type music from the '70s"); the soundtracks of Enter the Dragon ("All music composed by Lalo Schifrin is great") and Taxi Driver; various works by Sun Ra ("Back in the day, I wanted to be an astronaut, and when I listened to Sun Ra I felt that he had that same vision, too"); and Mike Bloomfield, Al Kooper, and Stephen Stills's Super Session ("It has some good strumming and guitar licks").
The listening selection at Eddie Def's home studio is equally eclectic. The 26-year-old Def -- a member of the Space Travelers DJ crew and a prolific solo artist who has made some 300 mix tapes since he started DJ'ing 13 years ago -- stocks his shelves with '80s-era Sega games (for the noisy effects) and lots of records: Beethoven, theme music from The Green Hornet and other TV shows, and albums by the Wu-Tang Clan, Nine Inch Nails, the Beach Boys, and ABC.
Eddie's television is his favorite sample source. "Oh man, TV is the best; I'm always jacking it," he enthuses, pointing to a tangle of "line out" stereo cords snaking from the back of his TV set. He also culls material from the streets around his Mission District home. "I might take my tape deck and go to a gas pump, record the sound, and then come home and loop it." Mixmaster Mike, too, practices the art of DJ vérité; he recently sampled his personal beeper and pressed it onto a record to use as a scratch tool.
Sound traffic control
Give Mike, Disk, or Eddie a familiar noise and they'll manipulate it beyond recognition. Boasts Eddie, "I'll take the sound of a horn, a snare, a scream, a guitar, a moan, a cartoon, an orchestra, or even someone popular like the Foo Fighters, spin it backwards, and get some crazy sound. And no one is gonna know what the hell I used." DJ Disk, whom fans have acclaimed as the Jimi Hendrix of turntablism, has made distortion his specialty. On "Disk Drisks," a track from his upcoming album, he bends and scratches a Hendrix record while simultaneously miking it through a speaker in another room to cause a feedback effect. Disk also likes to scratch spoken phrases, filter them through an effects pedal, and then use a vintage '80s Vocoder to add a layer of old-school robotic vocals. "I like to advance turntablism by doing totally different things," he says. "Otherwise it's just boring."
The process of making music from existing sources is a meticulous one. Mike, for instance, composes "new" songs by carefully piecing together scraps of old ones. He says, "I'll take a sentence from, say, a Dylan record and make it rhyme with the last sentence that I used off of another record, and then build out from there to make a whole rhyming verse." On a particularly inspired segment of his 1997 tape Mix Masterpiece: Muzik's Worst Nightmare, Mike blended the Doors' "Riders on the Storm" with Method Man's "Release Yo' Delf" to create a cut-and-paste song that somehow makes perfect sense. "It's a match-up game I'm constantly playing in my head, and I don't always know how it's going to come out," he says. "But often by taking a sound out of context you bring it back to life. It's like I'm building a Lego house of bits of deconstructed samples that all intertwine and take you on a journey. It's sound traffic control." Though their fan base is growing, Disk, Mike, and Eddie are still considered outsiders by hip-hop's more traditional DJs. "I always had a hard time making people understand what I was doing," sighs Mike, whose early critics usually demanded something they could "dance to." "I tried to explain that this is something you listen to with your headphones. People would complain, 'Why don't you just leave the record alone, or why can't you just play the song?' I would say, 'But this is the song!' "
On the other side of the popularity coin, Eddie worries that the current trendiness of DJ music will sap its innovative energy. "I'm starting to hate the whole formulaic, scratch-trend-Vestex-mixer little universe that relies on breakbeat records for sounds," he says. "It's taken away what was the main element of DJ culture in the first place: being creative."
"Look at that record," he says, pointing to a copy of the Moody Blues' In Search of the Lost Chord among a stack of 25-cent LPs stacked on the studio floor. "I could take a loop from it and make a damn hit, and no one would know it. But if I take a loop from the most popular breakbeat record out there, they'd know that I jacked it. That ain't creativity!"
If there's a secret to the collective creativity of Eddie Def, DJ Disk, and Mixmaster Mike, it might be that they go out of their way to follow neither trends nor rules. "I make music to please no one but myself," says Disk, smiling. Hendrix, wherever he is, couldn't have said it straighter.
---
MAY 31st DEADLINE FOR AMOEBA MUSIC COMPILATION VOL. 5
The Amoeba Music Compilation Volume 5 is accepting submissions until May 31st, 2004. Amoeba Music and Hip Hop Slam, who have jointly produced four compilations to date (All That Glitters Isn't Platinum: Amoeba Music Vol. 1, Just Payin The Rent: Amoeba Music Compilation Vol. 2, Independent Sounds: Amoeba Music Vol. 3, and Amoeba Music Vol. 4) are currently in pre-production on this fifth CD collection in the new music showcase series. As with the previous four compilations this one will also feature a diverse range of new music from all genres with contributions from Amoeba Music staffers and non-staffers -with an emphasis on artists from LA and the Bay Area.
GUIDELINES TO SUBMIT MUSIC
• Open to all genres of music as well as spoken word.
• While any length song is accepted, desired time is four and half minutes or less.
• Should be new or recent recordings. (Note: Can be from a forthcoming, new, or recent release as goal of project is to cross-promote new releases as well as promote individual artists)
• Submissions can be previously released, so long as they are on an indie label.
• Format: CD, CD-R, or Mini Disk
• Mastered tracks are preferable but not necessary.
• Include (if available) bio, photo or art, and contact information.
• Official Deadline: May 31 but due to Memorial Day Holiday: Tuesday, June 1st, 2004 @ 5PM.
• Mail to: Hip Hop Slam, Attn: Amoeba 5 A&R, PO BOX 5124, Berkeley, CA 94705
MORE ABOUT THE AMOEBA COMPILATION SERIES
The idea of the Amoeba Music Compilation series is to present a cross section of some of the best indepenent music being made today that deserves to get heard by a wider audience. To attain this end these budget priced compilations, which contain bio & contact info. on each of the artists, are sent to a long list of radio, press, labels, promoters etc. across the country. They are also heavily promoted in all three Amoeba Music locations and included in the weekly newspaper Amoeba Music advertisement spreads. The music selected for the compilation is done by an A&R committee, independent of Amoeba Music, with the goal of presenting the best possible cross section of music drawn from submissions by both Amoeba staffers and non-staffers.