• DJ News From Round Tha Globe by Billy Jam
• DJ Prop vs. DJ MIA by DJ Munkifunk
• Hip Hop Slam/Scratch Attack Memorial Day BBQ—Report & Pictures
• French Government Targets Graffiti by Reiko Underwater in Paris
• UK DJ Report by Mr. Trick in London
• Hip Hop Slam News including Radio Play and Scenes & Zines Exhibit
• DnZ's Random Record Reviews
(Ugly Duckling, Bukshot, Ngobility, and OM's Golden Gate Breaks)
• Bay Area DJ Profile: DJ Quest (#002 in new series)
• In Da Club by DJ Killahoe
• X-Raided's Letter From Lockdown (first in a new series)
• New Additions to the HipHopSlam.com Shop
---
DJ NEWS FROM ROUND THA GLOBE
by Billy Jam
Our mainman Bachir in France reports that the results of the recent French DMC finals are: DJ Gero won for the 6min battle. DJ Pfel (from Coups de Cross) won the battle of world supremacy. And Coup de Cross won for the best French DJ team. Look for Bachir's French DJ report in the next HipHopSlam.com NEWS update.
In the recent Italian ITF Finals DJ Metz of Alien Army took the ITF title, for the third year. Meanwhile Alien Army fans can look forward to the long awaited release of the Italian super DJ group's debut album, The End, in Europe soon and soonafter in the USA. Note that Hip Hop Slam, in association with BOMB Hip Hop, will be jointly releasing this much anticipated turntablist album in North America.
The topical release by San Francisco's Wide Hive under the group name Variable Unit features such guests as DJ Quest & Azeem: Album (CD/LP) title is HANDBOOK FOR THE APOCALYPSE, A HITCHHIKER'S GUIDE THROUGH THE CONFLICT (www.widehive.com)
Cuts D-Fined is the name of the talented Scottish female skratch duo who have just released their self-titled mix-CD. Comprised of DJ Phicks (Fiona) and D-Play (Laura), these two Glasgow DJs who teamed up two years ago when still in their teens, have managed to recod a refreshing debut mix CD that strikes a real nice balance between old school styled megamixes interspersed with some nice scratch routines. Their recommended debut mix CD is most likely the first of many exciting releases from these two talented young women skratch artists. (cutsdfined@lycos.co.uk)
Meanwhile Bay Area female skratch duo Deeandroid and Cellskiii along with DJs Winston and Amerriica, have officially kicked off their monthly skratch nite Skratchpad @ Sublounge at 628 22nd Street (near 3rd Ave) in San Frandisko. Happening the first Weds of each month Skratchpad follows respectfully in the footsteps of the legendary pioneering Frisco DJ nite "Beat Lounge" (Note: originally called "Many Styles") from back in the day at Deco (run by Apollo with help from others inc. Shortkut) with its similarly themed open turntables
for skratch heads to get busy on. On the main floor is funk, soul, hip hop plus an open bgirl/bboy circle. While the basement is where skratch DJs will find the open turntables. Just bring your own records & needles. Next Skratchpad is July 2nd. More info: onthe_one@yahoo.com
Precision Scratch Training #2 Materialized by The Phonosycograph Disk and Focus is the title of the hard-to-find but worth-the-search 7" battle record by these two DJs/producers (www.DJDisk.com, www.FoculPoint.com, www.ScratchArtist.com). Note that DJ Quest will soon be collaborating with Focus to record another 7" battle record.
Yoga Frog tells us that television viewers in Hawaii can now check out the wacky Skratchy Seal Show Wednesdays @ 10:30PM on KIKU TV, Channel 9 with QBert and YogaFrog making occasional cameos. In related news, look for the brand new QBert DIY Vol. 2 DVD, about to drop real soon. www.djqbert.com
Vestax has now put out a portable turntable named the Handy Trax that can run on batterys or by AC, it has a built in amp, line out/in, plays 33, 45 or 78 and will also operate sideways if you wanna get all rockstar on it. Retail price: about $150.
Talented Rochester NY, producers/DJs Chuck Wagun and Brasby, collectively known as Discolobos, have a cool-ass CD out called Profiles that is available, along with other info on the East Coast talents, at their website (www.discolobos.com)
The UK's DJ Format delivers a tight ass mix of funky as fuck breaks and classic hip hop joints on his recommended CD Average White Bloke. More artist info: ghostridemgt@hotmail.com
DJ Ngobility from the Finger Bangerz has just dropped a new battle record called Battle Scar Breaks (BeatKO Records). G-wrex and Replay, a.k.a The Moloists from the Finger Bangerz are also dropping a mix CD called Used Soul with a blend of turntableism and urban music. Look for it to hit the stores in May.
Bay Area DJ Riddim, who spins at various spots including his weekly at Lion Rock (Oasis in Oakland on Weds.), is one busy man. Beside being a busy DJ and avid 7" collector Riddim spends most of his time running Funky Riddim Record, the independent record store that he owns and runs in Berkeley, CA. (2328 Bowditch). In its third year and boasting an impressive mix of hip hop (including a nice selection of the latest DJ battle records), funk, and reggae records, plus videos and various other hip hop accessories Funky Riddim is a rarity in these tough economic times: a surviving lil indie record store. So be sure to support the store and underground music next time you are in Berkeley. (510-548-RIDM / www.funkyriddims.com)
Meanwhile based on the three advance tracks from the Finger Bangerz' debut album (Virus) that we played on the soon to air Hip Hop Slam/Scratch Attack specials for both WFMU and Turntable Radio, the Bangerz album, which will drop in December, is going to be a landmark skratch album. For info on all of above: www.fingerbangerz.com
Two of the Bay Area's most talented DJs (DJ Pone & DJ Spair) recently teamed up to share their unabashed love of such nineties classic pop hits as Skee-lo's I Wish, PM Dawn's Set Adrift on Memory Bliss, and Color Me Badd's I wanna sex you up in the form of their new mix CD Hits from the 90's. Pone also appears on another new Bay Area CD, Tell Me What You Want from the reggae band Dub FX that he also DJs with. For more info on either of these new CDs email djpone@hotmail.com
---
DJ Prop vs. DJ MIA
by DJ Munkifunk
When was the last time you caught a DJ cutting it up live on television? I mean really cutting it up...not just waving their hands in the air, singing backup for some crooning gangsta...yeah, that's what I thought. It's an ironic reversal of turntables for the DJ. That mythic being who was once the backbone of hiphop has now been reduced to something less than a dancing jukebox. And what for? To give some wack MC a little street credibility? Yo...here's a clue...we can SEE that YOUR DJ AIN'T DOING SHIT! Especially when the needle isn't even on the goddamn record! Fools better recognize that this type of shit won't fly with the real heads. We like our wax, and we fondle them often. That's why I'm going to give props to both Blackstar, and Busta Rhymes who both performed recently on the critically acclaimed (Dave) Chappelle Show. Both the aforementioned acts featured DJs that actually scratched! In fact, if you catch a rerun of Blackstar's performance, you'll notice in a close-up shot of their DJ, that he's using a copy of Super Duper Duck Breaks to drum out an ill beat for Mos Def and Talib Kweli to rhyme over. If only more DJs could get the chance to represent the culture like this...then I could write less bullshit rants...and concentrate on more substantial topics...like how King George and his Court of Thieves used our taxpayer money to blow up Iraq, and then hired VP DICK Cheney's old Texas company, Halliburton Co., to put out the fires and take charge of the "operation/distribution" of that country's oil. That contract is worth up to $7 billion for Bush's Texas Cronies. And this is the same company that built that detention camp in Guantanamo Bay, Cuba for $9.7 million. Bling-bling indeed, motherfucker!!!
Hip Hop Slammer DJ Munkifunk, who as well as being a contributor to the Scratch Attack radio/CD sessions, is also closely assisting Billy Jam with the (almost done) DJ QBert book. To reach Munkifunk email: fc_2nd@mindspring.com
---
FRENCH MAGAZINES BANNED FROM PUBLISHING PICTURES OF GRAFFITI: FRANCE's NEW "INNER SECURITY" CAUSES CONCERN
by Gloria a.k.a. Reiko Underwater — Paris, France — May 30, 2003
I think we're in troubles over here. Just to let you know that France is not the ideal place right now. Our home secretary, Nicolas Sarkozy, is developing a project of laws for inner security system. Pure repression & exclusion. Who can say where are the borders? Everyday something new is happening. More power for the police. More police in the streets. Trying to avoid the amount of violence. Cleaning the city. Making Paris more "bourgeois". Even the media is getting closely monitored. And nobody seems to care, or to know. They are cleaning the poverty off the city.
The hip hop culture is one of the first targets of this inner security. One of its discipline: the street art so called graffiti, right? French magazines are getting censored as well. No more graffiti pictures are allowed in the magazines. Censored. It's an incitation to commit an offence: " Destruction, degradation, deterioration of goods belonging to others". But nobody seems to really care. They're working with "discretion". Reassuring the mass, manipulating medias. The list of prohibitions is just growing everyday. I still dare to believe that art, culture and free expression are still synonymous of our culture, as we were always an example of freedom,
tolerance, and cultural mixes....ok peace

Gloria, aka Reiko Underwater, who can be reached at reikounderwater@tsunami-addiction.com, describes her Paris based company, Tsunami-Addiction, as a platform for independent music in France, from lo-fi electronic music, independent hiphop, to lo-fi rock. "We're embracing all kind of music, not only hip hop. we're more into defending the independent scene as well as a social phenomenon.....and... trying to break the borders between sounds and culture." http://www.tsunami-addiction.com
---
BAY AREA DJ PROFILE #002: DJ Quest

Name: DJ QUEST
Trademark Saying: "You Sleep, You Slip!"
Hometown: San Francisco, CA
DJ Crews: Bullet Proof Scratch Hamsters / Space Travelers / Live Human
What Music do you spin? I love playing things that have breaks...really pumped hip hop shit...that's got a lot of energy. I love playing electro.
QUESTOGRAPHY: featured on various albums including ones by Sacred Hoop, Peanut Butter Wolf, Blackalicious, Handsome Boy Modeling School, Mi Selecta compilation, Kubiq, the Future Primitive Sound Collective's 12" (Black Hole) & Urban Revolutions comp, and the recent Variable Unit comp. Also Quest is on BPST's Hamster Breaks Volume 1, Space Travelers' Hamster Breaks 3 1/2, The Dark Ages BPSH 1996 mix-tape, Hip Hop Slam w/ Billy Jam mixtapes from 1995/96, Live Human Featuring DJ Quest 12" from 1997, Improvisessions Live Human 12" 1997, Cue's Hip Hop Shop Volume 1 (w/ Live Human & Space Travelers), 1998, Attack Of The Killer Cuts mix-tape, 1998 Space Traveling 101 mix-tape, 1998, Etchings of the Upper Dynamic Frequencies LP (w/ JWicked), 1999, Monostereosis: the new victrola method Live Human, 1999, Orange Bush 12" 1999, Elefish Jellyphant Live Human, 2000 Elephant's Bliss 12" Live Human, 2000, Cue's Hip Hop Shop Volume 2 (w/ DJ Cue), 2000, Turntables By The Bay Volume 1 (with Eddie Def), 2001 Built To Last Bullet Proof Space Travelers, 2001, Questside DJ Quest, 2001, Live Human Live (COD) 2002, Mutation Mann mix CD 2003.
QUEST DJ BATTLE HISTORY 1991-96: 1991: Sound & Sight, 1991: Manor Music, 1992: Club Inn, 1992: DJ Extravaganza, 1992: DJ Trixx Off, 1992/93: Dynamic Sound & Lighting, 1992: West Coast DMC, 1993: Communities in Harmony, 1993: West Coast DMC, 1994: New Music Seminar (Superman DJ Battle), 1994: West Coast DMC, 1995: Club 181, 1995: Vestax (USA), 1996: Music Systems
The first record you ever bought? "La di Da di" by Doug E. Fresh
The first record you ever owned? one by the Beatles
Most influential records in your life? "Push the Button" by Newcleus is my favorite jam. That shit is just so fucking dope. And just the fact that what he's talking about...computer age...all that shit is what's happening now...and that shit is twenty years old! It's got that electrofunk feel with some melodies. It's sort of what inspired me to get into this type of music.
When did you first DJ? The first time I ever deejayed was a nightmare. I deejayed this party at my middle school. It was the last day of summer school. I had some borrowed equipment, and busted-ass speakers. I remember I was so fucking nervous that my hand was shaking. I couldn't even put the needle down on the
record! That's the kind of shit that just makes me want to improve.
What made you want to be a DJ? I just love music. I love playing music. When I first got into collecting music, I didn't even own records. I would just collect tapes of tracks I recorded off KPOO. I started compiling different types of music for my own listening pleasure. When I saw Beatstreet, and those old movies, that shit just blew my mind! I was so fascinated by that shit! Breaking came first, and then I tried rapping and failed at it completely. It was mostly 'cause I started DJing around the same time and it just took over. It was just fun. It wasn't a sport. I didn't start battling till the Nineties. I didn't give a shit. I just wanted to do it all!
What is most memorable performance of your DJ career? Definitely the Live Human festivals in Europe. They were huge shows...almost like a dream. The Montreux Jazz Festival stands out as a clean show. In reality, a lot of these underground shows had moments that have just blown my mind as much. I might be playing with a group, and there's people dancing, there's all this energy happening, and the crowd just elevates with you. When that shit happens, it leaves you high for a couple days.
How do you transport your records and/or gear to gigs? I use my son's skateboard. I put my records on the skateboard and I drag it. I also transport stuff on my bike. I have a Huffy 2000.
Do you play CDs ever at gigs? Nah, I'm not saying that I never will, but the type of DJing that I do is not about playing CDs.
In your opinion who is best DJ of all time? DJ Quest. To some point, I just got to give myself credit. Only I know what I've gone through. I see DJs come up and go all the time. Although I never really broke through, I'm still here. Besides me, there's definitely Cash Money. The reason why I like Cash Money so much is because he was out doing the DMCs in '86-'87. Now in 2003, he's still got all his skills. He's still on top of his game. He can produce. He's got titles. Not to mention the fact that he's super funky and he's still doing it. The longevity of a person being here doing something is worth more than having 3 DMC titles for a couple years or whatever...
Best website or way for folks to find out more about you? www.djquest.com
---
In Da Club: Non-Skratch Bay Area DJs
by DJ Killahoe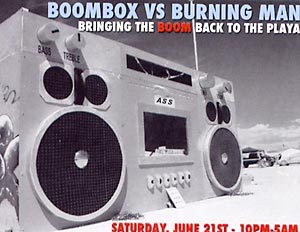 For the past few weeks myself and some diehard Yay Area niteclubbers have been hittin' the town in style, sipping on tha gin'n'juice. suckin on that sticky Cali green, and stopping by numerous San Francisco and East Bay clubs to enjoy every strain of DJ music, from hip hop and reggae to every type of electronic music. Along the way we noted that the San Fran doormen (generally speaking) are a pretty cool bunch, certainly sporting a lot less attitude than the bruisers at yer typical Manhattan nite club. But we also found that the typical SF club tends to charge more than they adverstise ahead of time and also to often close a bit earlier than they advertise. But that aside we were really impressed with was how amazing the musically diverse range of Bay Area DJs spinning around town were. DJs that rocked our world recently included Riddim & Jah Yzer at the weekly Weds nite club Lion Rock at Oasis in Oakland (fuckin' killer reggae and a cool ass vibe right in downtown Oakland), Wisdom and Rueben at Tunnel Top on a Tuesday (reggae and all flavas of great Latin dance), DJ Blackstone at End Up (funk fueled deep house and beyond), Philip Sherburne at Dalva (wide range of cool ass fuckin beats from dub to electro to hip hop and beyond), Joey Mazzola at 1015 Folsom who impressed the trance/house crowd by scratching off of the Dirt Style classic Bionic Booger Breaks, Franky Boissy @ Remedy at DNA who played real nice house music. Other cool ass DJs that impressed me with their hypnotic electronic dance music sets included the Brasstax crew (including such DJs as Goldilox and Tung) who are currently building a thirty foot boombox (see flyer) for their trip to this August's Burning Man (www.burningman.com). To help fund this huge undertaking they are having a benefit in San Fran on Sat, June 21st from 10PM-5AM called Boombox Vs. Burning Man. For more information: www.TheBrasstax.com
---
UK DJ Report
by Mr. Trick (Turntable Radio)
Summer is approaching, and as ever things are hotting up nicely on the turntablist calendar. The DMCs continue apace, with 2Tall, Blakey, Scarfade, Itchy, Muzzell and Daredevil among others already through to the UK Final. Without question this year's contest will be one of the most wide open yet - with no clear favourite any one of 5 or 6 people
could take it. With the event also being a fine reason for the tablist community of the UK to hang out together, this year's final is gonna be a night to remember, no question.

Needlework - the UK's first dedicated turntablist night - is also growing and developing more than we could have hoped for. Vestax are now on board as product sponsors, allowing us to pick and choose the equipment used. The night will also now feature showcases of new product, along with "challenges" set to some of the nation's finest; they will be given a new or innovative piece of tablist equipment and challenged to showcase a set that uses that kit to the fullest - the
idea being that this will assist in the innovation and development of the tablist artform as well as providing something original and interesting to check out. In addition to the regular monthly night, the Needlework team are also putting together not one but two special one-off events; an all-day invite-only skratch BBQ (to allow our more Northern cousins to travel down and rep for the day) and a longer club night to be held at our sister venue the Ruby-Lo - replete with a bigger name DJ and more madness than ever.

Music-wise, the UK is turning out some of its finest tunes yet. Anyone missed Timestretch, Benjamin and Nerve's Panic track? If you did, you're missing out; its one of the hottest tablist tracks of the year so far. Also the Turning The Tables LP is coming along great. For those who missed the previous word on this, it is an album that aims to showcase the finest of the UK's turntablist talent. Some sick tracks are already in the bag from the likes of 2Tall, Short-e, Timestretch, Scarfade, Mista Ed, Wristmaster and more. The real highlight though, is a 14-strong posse cut produced by DJ 2Tall. Proud? Dammit we wept like children when we heard it!
So for now, much goes on... and with the Allies coming over to host the World Beatdown Final, the Vestax Championships just round the corner and a proposed Needlework UK tour in the pipeline, shit is only gonna get
hotter as the year draws on. More news next time yo... peace!
UK DJ reporter Mr. Trick hosts the influential Resonance FM, London, England turntalbist radio program Turntable Radio. He can be reached at: trick@turntableradio.com
---
HIP HOP SLAM BBQ / SCRATCH ATTACK RADIO SESSIONS
On the sunny and hot Memorial Day, 2003, May 26 Hip Hop Slam threw a big BBQ/Scratch Attack session at its longtime Oakland space. The BBQ was hella fun with many drunken & danked-out, cool muthafolkers in tha house and also out in the back garden. The special Hip Hop Slam/Scratch Attack radio sessions recorded inside in the living room were for upcoming summer 2003 episodes of Re:Mixology for WFMU and Turntable Radio for Resonance FM (London England with Mr. Trick). Details on when these will broadcast on the radio and online will follow in the coming weeks. Main radio show producer DJ Pone noted that these sessions were being recorded with the exact same turntable setup in the very same living room at Hip Hop Slam where seven to nine years previously the five Shiggar Fraggar Shows with the Invisibl Skratch Piklz and the two Pirate Fuckin Radio shows with the Bullet Proof Scratch Hamsters had all being recorded. And the vibrancy as the DJs got busy on this Memorial Day, 2003, captured that same exciting energy as those legendary mid-1990's turntablist orchestartions had. For this session the DJ's rockin' the decks and or contributing somehow to the mix included the aforementioned Pone, Stoic, Shing02, A-1, Platurn, Spair, Cutso, Teeko, Billy Jam, Impereal, DnZ, Cat Five, T-Rock, DJ Minus-1, and the Finger Bangerz. Also in the house or in the garden that day were a ton of other folks including O-Dub, DJ Ryan, Timi D…, Timer & his girlfriend, Fresh Joyce, Tim, Munkifunk, dawgisht, O'nell, Albert Mathias (Live Human), Joshanda Sanders (SF Chronilel), Veronica (WBAI), Mike Mechanic (EastBay Express), Dave Paul (BOMB hip hop), Evelyn & Carlos Mena, Rani, DJ Kitty, Matthew Afrika, Albert (KALX), Carlos Mena, Balanceman.
To see photos from the BBQ/DJ session click here.
---
HIP HOP SLAM NEWS
by DJ Dank
The Richmond Art Scenes and Zines exhibit was real cool sporting tons of local Bay Area album covers including several Hip Hop Slam cover art pieces…
Meanwhile the latest Hip Hop Slam releases are getting played at select radio stations across the country including KUSF, KZSU, KFJC, & KPFA (peace DJ Sep) in the Bay Area and at such stations as KZUU, Pullman WA (thanks Nate T. Prudhon) and KGLT in Bozeman, Montana where Scratch Attack Vol. 3 is in the top 20 this week… Whadup Eammon Bryers! KALX, Berkeley is another one of the stations playing the musically diverse Amoeba Music Compilation Vol. IV.
Now as for all of the many radio stations that we sent out the new Amoeba Music Compilaiton Vol. IV compilation to but who still havent added it or played even one of the 39 musically diverse tracks off it, please stop whining about how you are so down for the underground and hate the major label crap when your playlists ignore this amazing all independent artist release as you kiss up to the majors. Biaaatch!
---
THE RANDOM RECORD REVIEW
By: DnZ
Golden Gate Breaks, put out by the Bay Area's own OM Records, is a mix CD of breaks (and its not hip-hop but electronic breaks, so open your minds if you are locked into only one type of music) from artists on the OM label. With originals and remixs by producers such as Boswick Gates who has done some pretty dope break remixes this year already, DJ Abstract who did the remix for Ming & FS' "Freak", and Gershoni & Tello who have this dope song I like called Evolution. With twelve tracks clocking in at just over 70 minutes this is a dope ass CD coming out of the Bay's break scene. If you like any kind of electronica or breaks or just tryng to expand your taste in music then get this and support the Bay Area music scene cuz this will make you just wanna get up and bust-a-move. 8 outta 10. (www.omrecords.com)
DJ Ngobility from the Finger Bangerz has just dropped a new battle record called "Battle Scar Breaks" (BeatKO Records). While the beats on this record, in my opinion, are nothing to go wild about (sorta' a cross between some lil' Jon shit and some Dre and Neptunes), the samples he has collected on the scratch sentences are good to come up with some quality DJ routines. So on a scale of 1-10 I have to give it a 5 due to it's lack of beats but balanced out by its good scratch sentences. (www.fingerbangerz.com)
"They Still Don't Love Me" (MobStyle Music) by Bukshot out of Louisville, KY. This album features rappers such as Brotha Lynch Hung, Haystak, Gansta Blac, and X-Raided. This CD also comes with a bonus CD with unreleased song with Bubba Sparxxx and Big V of Nappy Roots, and a song produced by Jazze Pha called "Ready Or Not." The bonus disk is an Enhanced CD featuring video footage of Buk and his homies just chillin' in the parking lot and getting in trouble with the local 5-0. If you're as gangsta and hardcore as me and will beat down any sucka DJ or person then you'll like this G-riding, drive-by'ing, and kill-a-hoe style CD. But if you're a kid from the suburbs then keep your ass away from it and the hood...Peace out Bitchz. 6 outta 10 just cuz of the bonus CD. (www.mobstylemusic.com)
On "Taste The Secret" (Emperor Norton Records) Ugly Duckling take the hip hop listener on a creative and humorous hip-hop journey back to when they first met at their old minimum-wage job at Meat Shake. Lots of good head-nodding underground type hip hop tracks on this latest release by tha Ducklings. I particularly like this CD because of their fun skits and cuz I really like a lot of the beats. You should at least check out this CD. I'll give it a 6 1/2 outta 10. (www.EmperorNorton.com)
All reviews are the opinion of Hip Hop Slam's #1 critic DnZ (tfsdjz@hotmail.com) who tells it like he sees/hears it. You may agree or disagree with him but if you disagree don't bother to write us. Instead start your own hip hop website, write your own review, and then send us a link to your site.
---
X-Raided's Letter from Lockdown: Which Man is Really "Free"?
by Anerae Brown (a.k.a. X-Raided)
Written: May 22 / Received: June 5—
Salutations, my friend.
Indeed, I've also noticed the delay with which my letters exit the prison and get to you and others I write. Lately I've even taken to writing the date of which I place my letters in the "mailbox" on the envelopes below my address. I keep from being angered and frustrated by remembering to see the irony of it all: These people, having reduced all of us (inmates) to a level, in their minds of sub-human, often fail to realize the impact of their ineffective execution of their "jobs." (On the inmates, that is.) It has been my experience that my life is viewed, via my mail, like some sort of "reality entertainment." Some idiotic (prison) officers, not realizing that I view it as a childish disrespect (unintentional, but disrespect nonetheless), will actually comment on the subject of one of my letters, photographs, or a phone call they monitored: "So, Brown, what do you think about..." they'll ask, as if I don't understand the question's genesis. Regardless, I get a laugh out of it when I realize that certain aspects of my life are more interesting and exciting then these "free" men. It's pathetic. Really.
Rapper Anarae "X-Raided" Brown is an old friend of Billy Jam's and has been communicating with him since he was first incarerated a decade ago. Brown, who is currently in lockdown until July, is imprisoned in Corcorcan State Prison, California, where he has another twenty years of time to serve on his sentence. This short excerpt from his most recent letter to Billy is the first in a new series on this site.
---
HIP HOP SLAM SHOP ADDITIONS
New additions to the Hip Hop Slam Shop include DJ Dank's Biggest Bong Hits which features the best of West Coast early 1990's hip hop/rap dank (weed) anthems: a time when the sticky green was widely and loudly praised in rhyme. Included on DJ Dank's well put together 22-track mix CD (songs interspersed with skits from THC-inspired movies) are Tha Alkaholiks' Mary Jane, Luniz' I Got 5 On It (Remix), Total Devastation's Many Clouds of Smoke, RBL Posse's Don't Gimme No Bammer Weed, and The Pharcyde's Pack The Pipe plus some lesser known chronic-raps such as Young "D" Boyz' Mr. Chronic, C-Funk's Smoke Tru, and Mac Dre I Need An Eight. The liner notes of this limited edition CD in the Hip Hop History Series contain some interesting info on weed and hip hop and on the laws surrounding dank's legality.
DJ Marz's Brain Language — the rare 1999 13-track mix CD on which the sometime Bullet Proof Space Traveler DJ drops some amazing shit that boldly displays his diversity and love of all things musical: from tripped out twisted hip hop to gangsta and way beyond, is another cool new addition to the shop this week. Besides the Space Travelers and his busy solo career the ever prolific DJ Marz has recorded/performed with the likes of Sacred Hoop, Latryx, 99th Demention, and punk rock legends The Dwarves.
Also just added to the shop are some copies of the out-of-print legendary Shiggar Fraggar Show Vol. 5! CD featuring DJs Mixmaster Mike, QBert, Apollo, Shortkut, Disk, and emcee UB all recorded live in May 1996 with Billy Jam at Hip Hop Slam in Oakland CA, as one of the one hundred "Pirate Fuckin Radio Shows" - released originally on cassette by the Invisibl Skratch Piklz and then later on this remastered CD by Hip Hop Slam.
Another new shop item is the first Live Human (feat. DJ Quest, Andrew Kushin, & Albert Mathias) full-length Monostereosis which is available in both CD and 2/LP formats. Fans of DJ Quest, who already have such solo mixes of his as Questside and Mutation Mann should be sure to add this and all other Live Human titles to their collections. Note that Monostereosis was originally released in the UK on Fat Cat Records in 1999. And this version, featuring the bonus DJ Quest long megamix Monstersaurus, was released in 2000 in the USA on Hip Hop Slam.