SCRATCH ATTACK NEWS
updated 06/26/02
HOW TO BUILD YOUR OWN PIRATE RADIO STATION
BAY AREA DJ LIST
updated 07/09/01
TOP TENS & PLAYLISTS
updated 06/26/02
Classic Tracks &
Recurrent Kuts
07/14/01
DJ Battle & Break
Records in Rotation
07/14/01



"SCRATCH ATTACK" SUMMER 2002 BROADCAST SCHEDULE
EAST COAST
Friday, July 26 — 8:00PM (EST)
"Scratch Attack" premieres in New York/New Jersey, July 26th on WFMU: New York/New Jersey radio listeners will get an opportunity to tune into "Scratch Attack" radio when WFMU will broadcast, as part of its "Mixology" summer series, a special one-hour edition of the critically acclaimed West Coast radio show from an episode that was a few months previously recorded at a live underground skratch session at VulcanRadio.com in Oakland. The stellar lineup includes Tico & H.O.P., DJ Quest & Marz, '89 Skratch Gangstaz vs. Cat Five, Finger Bangerz, Oakland Faders, and Deeandroid & Celskiii. WFMU FM, an independent freeform radio station, broadcasts at 91.1FM in the New York City area, and at 90.1FM in the Hudson Valley, and also live on the web at: www.wfmu.org/ssaudionet.shtml For a complete playlist on this show click to "Scratch Attack" on this site.

PLAYLIST FROM JULY 26, WFMU SHOW
1) Intro: Bas-1, Hip Hop Slam
2) 8-Ball (2Tone Cut) from different live "Scratch Attack" show and featured on the new "Scratch Attack. Vol. 1" compilation on Hip Hop Slam
3) Cat Five vs. 89 Skratch Gangstaz: 89 Skratch Gangstaz feat. Mike Boogie, Snayk Eyez, & DJ Pone. Cat Five feat. Balanceman, Darkat, Tweak Tech, Dr. Oliver, & DJ Ryan
4) Bullet Proof Space Travelers feat. DJ Quest & DJ Marz
5) Finger Bangerz feat. Cut So Qwik & DJ Ngobility
6) Deeandroid & Celskiii
7) Tico & H.O.P.
8) Oakland Faders feat. DJ Spair & DJ Platurn + Bas-1 on the mic
9) Outro over DJ KNowledge & Cold Crush track from "Global Turntables" (Hip Hop SLam)
---
WEST COAST
Monday, August 5 — 8:30PM (PST)

Online stream from www.vulcanradio.com
(choose the "live stream 1/mothership studios" from the top of the pop-up window)

SCRATCH ATTACK: Underground Show scheduled for August 5th A special second episode of "Scratch Attack: A Nite At The Vulcan" is scheduled for August 5th to celebrate the release of "Scratch Attack Vol. 1" and also the two Last Kreep battle records on Chip Shop Spam ("Space Breaks" and "The Good Scratching Record") we will be broadcasting (from a secret Bay Area location) a Mexican Wrestler DJ Battle on Monday August 5th. Also scheduled for this special broadcast, which will be streamed (audio/video) on www.vulcanradio.com, will be performances from the Oakland Faders, DJ Pone, Deeandroid & Celskiii, Teeko and many others including some very special guests. There will also be such other distractions as Dj Pone's Porn Report, a Hip Hop Slam Hall of Fame Award being given in honor of the late graffiti great Mike "DREAM" Francisco, a special breakin' performance by the 8-member dance crew 69 Degrees, and lots more shizit including the aforementioned DJ battle. Note that Mexican Wrestler DJ battling has been banned in the USA since 1996 when San Diego's DJ Grim lost an eye in the final round of that year's So. Cal Regionals against DJ Alto Gringo.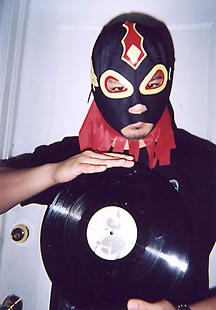 The controversial DJ Alto Gringo, who just got released on good behavior after six years in San Quentin for the attack, will be one of the DJs in the Hip Hop Slam sponsored event. But despite his and other Mexican Wrestler DJs' bloody reputations, certified referee Bas-One insists that "No physical fighting will be tolerated whatsoever at this Mexican Wrestler DJ Battle." Other Mexican wrestler DJs competing at this battle will include El Nino, El Destroyo, El Chorizo Grande , El Panochero, and El Loco.