The Shiggar Fraggar Show!
Vol. 5
Video + Audio Pack
DVD & CD
Only $10.98 (plus S&H)
$5 (USA) / $7 (Int't)

ORDER
By Credit Card /
Direct Payment
The Shiggar Fraggar Show! Vol. 5
DVD + CD Package
(SHIGGARv5-PACK)
This video version of Vol. 5, which is almost identical to the CD version, offers the bonus of being able to visually experience the amazing dexterity of the legendary DJ crew prompting Jeff Chang to write in the Bay Guardian: "What really separates the Skratch Piklz from the ordinary is their invitingly idiosyncratic mix of hard-cored B-boy credentials, post-adolescent awkwardness, and goofy, cartoon/animal/alien/inamimate object cosmology." Meanwhile URB magazine wrote of this release: "Rare examples of turntable purity... an underground classic that's all about the Bay."

Also includes the matching CD:
Live turntable orchestration session starring the now-defunct Invisibl Skratch Piklz at their peak when the lineup was QBert, Disk, Apollo, Mixmaster Mike, Shortkut, Shiggar Fraggar, and emcee UB40. Recorded live in May 1996 at Hip Hop Slam in Oakland, CA as part of the Pirate Fuckin Radio series. "What's most amazing is that it was all done live. Pure brilliance!" is what PAPER magazine wrote of this release that was recorded live with absolutely no overdubs or studio trickery. Note that originally these sessions, which were 90 minute mix-tapes/radio shows, were both distributed by Hip Hop Slam to about a dozen pirate radio stations around the USA and by the Piklz as mix-tapes.


Pirate Fuckin' Video
Video + Audio Pack
DVD & CD
Only $10.98 (plus S&H)
$5 (USA) / $7 (Int't)

ORDER
By Credit Card /
Direct Payment
Pirate Fuckin' Video + Pirate Fuckin' Radio 100
DVD + CD Package
(PFR100-PACK)
This one-hour video is an attention grabbing hip-hop/DJ themed VHS companion to the Pirate Fuckin Radio 100 CD. Many, but not all, of the video tracks corresspond with the CD version. Included are he live orchestrated turtablist tracks from the Invisibl Skratch Piklz and the Space Travelers, plus new interpretive video versions (with lots of graffiti/DJ still shots) of the CD tracks by Peanut Butter Wolf, DJ Marz, Drum'n'Bass Army, and DJ Sushi. Also included is a condensed video history of the Hieroglyphics, a classic, rarely seen Kool Keith video, an interview with Doug Pray (director of documentary Scratch), live Live Human, DJ Disk vs. Finger Bangerz, and an out-take of Qbert from The Shiggar Fraggar Show! Vol. 3 ("Qbert Rocks The Bells").

Also includes the matching CD:
Pirate Fuckin' Radio has turned 100. Five years of low-watt, battery-powered, indie-as-fuck, hip-hop slam rebellion, flying below the FCC scanner and above the city's power structure, uncensored beat-banging airwave anarchy—Is it just a coincidence that Pirate Fuckin' Radio arrived the same time as the Zapatistas emerged triumphant in indigenous Mexico's Lacandon Forest?
To Irish punk-turned-turntable provocateur Billy Jam, the end of a shining college radio career was the beginning of a free radio mission. "In 1994, I got an advance release of Public Enemy's new album Muse Sick-N-Hour Message which I played in its entirety on KUSF without bleeping out all the curses," he says. Oops. End of show.
But when Jam met international pirate radio avatar Stephen Dunifer and his chief technician Captain Fred, the leaders of a bedroom station in the Berkeley Hills on Sunday evenings, destiny was sealed. "Captain Fred told me that micro-powered radio would be the perfect home for Hip Hop Slam—a place where the art of hip hop would no longer be censored or tampered with in any way."
Under the FCC-free slogan, "Fuck The Bullshit", Jam revived Hip Hop Slam. "Taking example from something I'd seen the folks at Maximum Rock-n-Roll do I started dubbing off these Pirate Fuckin' Radio shows onto cassette and mailing them to any stations that would rebroadcast them." The show was "picked up" across the country, including stations like San Francisco Liberation Radio, Free Radio Santa Cruz, Steal This Radio (NYC), Pirate Radio Seattle, KBUD (Mendocino, CA) and 808 The Bomb (Miami).
Free Radio Berkeley was finally forced off the air by the FCC in June 1998. "In a show of good faith we decided to give the FCC time to create a low power radio service for local communities," says Captain Fred. "They don't care that we have no access to the media, which has been bought up by huge corporations. They don't care that freedom of speech has been sold to the highest bidder in government sanctioned auctions." The Free Radio Berkeley crew's push for legal low-power station is still being discussed in the sterile halls of federal agencies.
(For more information, see www.fcc.gov). Many of the former FRB volunteers can now be heard on the new Berkeley Liberation Radio (104.1FM). Hip Hop Slam continues on D'z Nutts, the rap pirate station in Vallejo, CA.
On March 13th, 1996 Jam organized a whole day of Pirate Fuckin' Radio—the first hip-hop event of its kind-broadcast from the oily scaffoldings of an auto shop two doors down from San Francisco's DNA Lounge. On the club stage, the Invisibl Skratch Piklz, The Coup, DJ Shadow and Latyrx and the Conscious Daughters were broadcast worldwide via transmitter and over the Internet. "I wanted to make the point that there should be an all rap radio station that plays uncensored music", says Jam. He succeeded. FCC vans cruised up and down 11th Street all day and night, but never found the signal source. Another victory for the little guys.
In truth, there's nothing like the rush of a good pirate radio broadcast. Free radio is the sound of the edge, skirting outside society's rules, penetrating inside your private space. "No censorship, no commercials, no silly rules," says Jam. "It's total artistic freedom—the way radio as an art should always be!"
This CD, a document of Pirate Fuckin' Radio's 100th anniversary show, captures the best of Hip Hop Slam's five fuckin' great years on the illegal pirate airwaves. Enjoy it, get inspired, and go do it yourself.
written by Jeff "DJ Zen" Chang and taken from CD's liner notes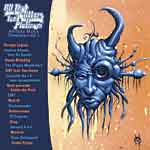 Amoeba Music Compilation
Vol. I-IV Series
4 CDs (vol. 1-4)
Only $15.98 (plus S&H)
$6 (USA) / $12 (Int't)

ORDER
By Credit Card /
Direct Payment
Amoeba Music Compilation Vol. I-IV
CD Series 4-Pack
(AMOEBA-PACK)
All four CDs in the Amoeba Music Compilation series released over past three years. Included in the 4 pak (six CDs in all) are All That Glitters Isn't Platinum: Amoeba Music Compilation Vol. I, Just Payin The Rent: Amoeba Music Compilation Vol. II, Independent Sounds: Amoeba Music Compilation Vol. III, and the new release, Amoeba Music Compilation Vol. IV. Note that these are not exclusively hip hop music collections by any means, but rather musically diverse compilations of underground/unsigned type music, mainly out of Cali over past three years. Included are hip hop, electronic, rock, spoken word, pop and sometimes just plain weird stuff. If you have a musically open mind and want a good overview of mainly Cali artists at a nice price then these are for you. Note they can also be purchased at all three Cali Amoeba Music locations in Berkeley, San Francisco, and Hollywood.