INTERVIEWS
Style Wars:
Tony Silver & Henry Chalfant
Space Traveling (part 1):
DJ Quest
Space Traveling (part 2):
Eddie Def
Space Traveling (part 3):
DJ Cue and DJ Marz
ARTICLES
Sacramento Rap History Lesson by X-Raided
He's The King of The Smut... On Two Turntables: The Porn / Turntablism Connection — Part 3— DJ Relm and DJ Streak Interview

Just Whatever Rocks: The World Famous Beat Junkies

Waxing That Wax: The Porn / Turntablism Connection — Part 2 — D-Styles Interview

Thriftin' For a Scratch:
The Hella Broke-Ass
Style of DJ'ing

DJ Pone Reports from the 2002 Adult Entertainment Expo in Las Vegas

DJ Apollo Receives "Hip Hop Slam Hall of Fame Award"

2001… A Scratch Odyssey:
Year in Review

QBert Receives "Hip Hop Slam Hall of Fame Award"
How to Manufacture Your Own CD, Record, or Tape
Dirt Hustlin':
Oakland's New Underground'

BEATS TO GO:
Filipino American DJs of the Bay Area
Party Blocking at the DMC American Battleground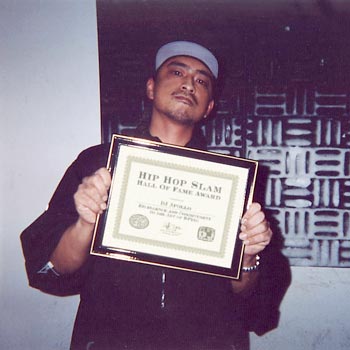 On Jan 7th, 2002, DJ Apollo was awarded with a "Hip Hop Slam Hall of Fame Award" for "Excellence and Commitment to the art of DJ'ing." He received the award live on the air on the "Scratch Attack" radio show on KPFA. Apollo, who grew up in the Bay Area's Daly City, started his hip hop career not as a DJ, but as at first dabbling a bit in graffiti and then as a breaker with the Star City Crew in 1984. (Note: Apollo also rapped a little but no tapes of these are known to exist). Not long after he turned to the turntables and knew he had found his true art. His first mobile DJ crew was Unlimited Sounds. Next was TWS (Together With Style) along with Mixmaster Mike. Then came The Shadow and later the emcee/breaker/DJ crew FM20 feat. DJs Apollo, Mike, and QBert. Later they helped form the West Coast chapter of the Rock Steady Crew and soonafter became known as the West Coast Rock Steady Crew DJs and by 1995 they started going by the infamous name of Invisibl Skratch Piklz. But it was In 1993, after Domino of Hieros spotted the talented DJ, that Apollo became the DJ with Souls Of Mischief. That led to Apollo been brought to Branford Marsalis' attention who in 1995 invited to join the jazz artist's touring Buckshot LeFonque project. As such they played all over including countless high-profile TV performances (Jay Leno, David Letterman, etc.). When they got to San Francisco they played to a packed Fillmore audience that included Apollo's mom who that night got to see her son perform for the first time. Apollo was also one of the founders of San Francisco's Deco club's "Beat Lounge" which drew visitors from all over the world. For the past few years Apollo has been best known as part of the superstar DJ trio Triple Threat along with Shortkut (ISP/Beat Junkies) and Vin Roc (5th Platoon & two-time ITF champ). Look for the anticipated Triple Threat DJs album this summer. Currently available from Apollo (aka P-Lo) is a series of popular mix-tapes/CDs including the recent CD release: "Reggae Dancehall Classics Mix-Tapes no. 6."DJ Apollo is the sixth person to receive one of these awards from Hip Hop Slam over the past decade. Previous recipients include Grand Wizard Theodore, KRS-One, Too $hort, QBert, and Paul Mooney.
For more info on Apollo visit www.triplethreatDJ.com